We're launching two brand-new podcasts in 2017—and we really think you're going to love them. They're completely different in format and neither of them are your run-of-the-mill interview shows.
Take a look, click the links to learn more and let us know what you think!
Freelance to Founder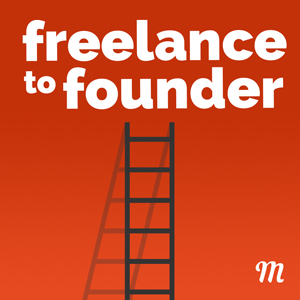 Freelance to Founder tells the stories of freelancers and solopreneurs who have scaled their businesses to be much bigger than themselves.
You'll hear from a photographer who literally walked into the offices of Time Magazine and asked for contract work. Now he does work for people like Oprah, Time and The Wall Street Journal.
Episode one starts with the story of a stay-at-home mom who, during the height of the mommy blogging craze, decided to go a completely different direction—a decision that took her business through an important pivot and, ultimately, millions in revenue.
These aren't interviews. They're fully produced narrative shows you'll be hooked on from episode one.
Freelance to Founder is hosted by the very talented Dallan Wright.
Season one of Freelance to Founder is sponsored by Freshbooks—the #1 invoicing software for freelancers and solopreneurs. 
Sidegig
Sidegig is a talk show hosted by 3 guys who have built successful side-businesses all while working a 9-5 job.
Preston, Ryan, and Ian swap stories, share tips, and explore the world of building a side-hustle in a raw, unedited, open way—exactly what you need when you're starting your own business on the side.
Each episode is packed with actionable advice and real-life solutions to the problems you'll face when starting, growing, or scaling your side business.
More shows…
We're also looking into acquiring or starting more shows soon. If you have an idea for a podcast or have a podcast you'd like to partner with Millo on, please reach out to our content team at content@millo.co.