Cash. Money. Moolah. Coin. Pennies. Dimes. Dosh. Dough…
Call it whatever but let's be honest…it can be the painful, blistering bane of your existence if you're not careful.
How many nights do you lie awake staring at the ceiling stressing about how to pay your suppliers, staff, taxes, rent, house, car payments, school fees, heck even just to put food on the table sometimes — worried sick about where the next lot of cash is coming from?
Countless, right?
Me too.
Well, that is until one day not so long ago I said to myself: "I've had enough!!"
I had had enough of the stress. The fear. The lack. The scarcity. The doubt. The ups and downs. The tears. The panic. The downright mental torture of MONEY.
So I simply said to myself…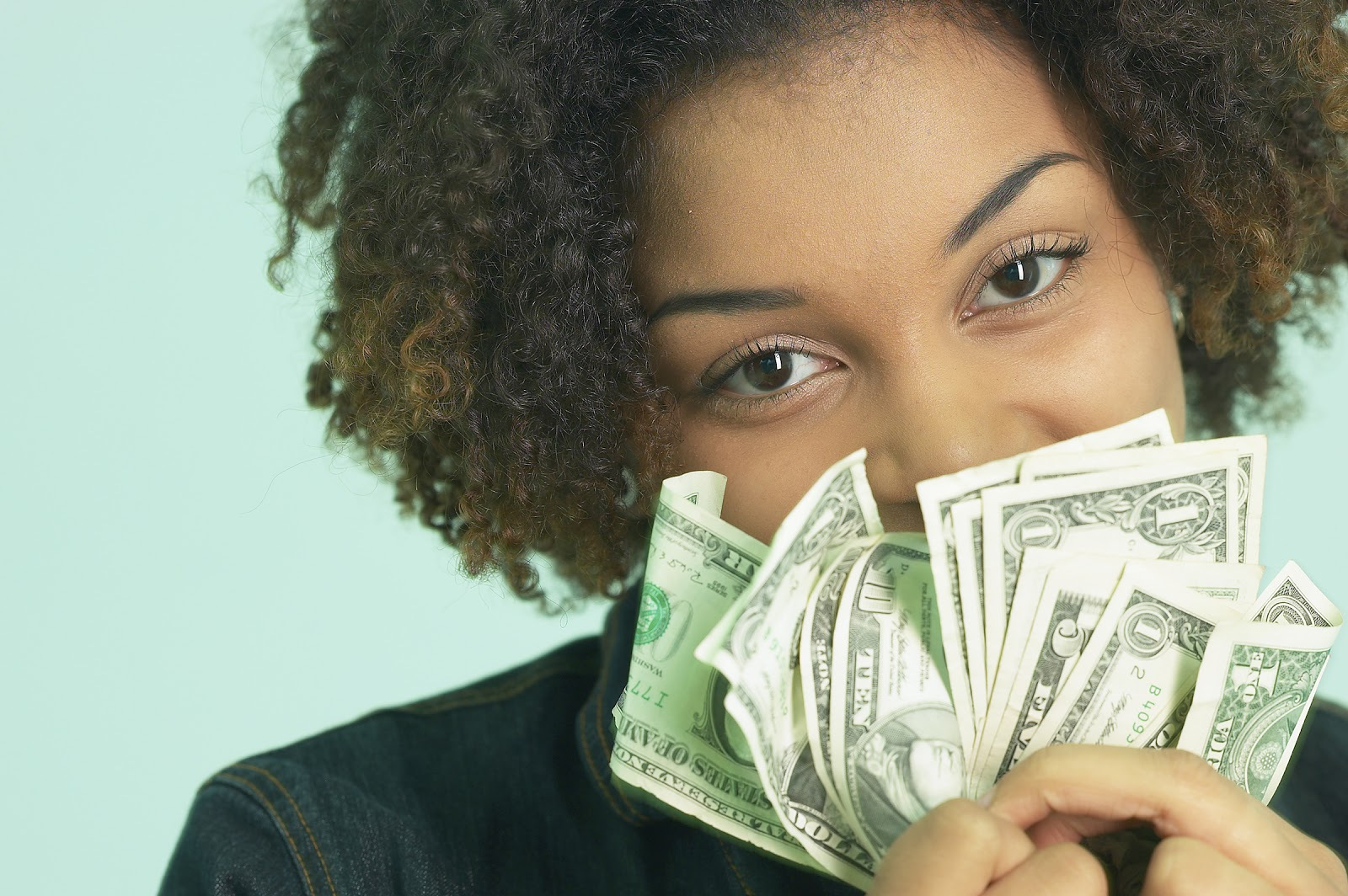 That's it! I'm going to master this money sh*t once and for all. Bring it on baby, hit me, I'm ready. No more crap. No more stress. No more robbing Peter to pay Paul. I've learnt my lessons.

No. More. Excuses.

I'm gonna do whatever it takes to stop this cycle and live the rich, abundant, wealthy life that I set out to live when I started this business…and I'm going to do it NOW dammit! I. Am. Ready!!!
And I set about to conquer it once and for all.
I immersed myself in money books, business lessons, money courses, abundance principles, affirmations, meditations, visualisations, EFT tapping techniques — you name it — I did it.
I got to work.
I attacked my fears head on.
I trained my mindset to accept a different way of thinking.
I showed up.
I put in the work every day, giving 110%.
I did the inner AND the outer work required to turn things around.
And then, I realized I was getting somewhere.
Money started flowing easier.
Faster.
Better.
I learnt how to love money, not fear, hate or even loathe it.
I learnt that it takes blooming hard work. But it's worth it.
And I learnt that it's limited only by our ourselves, and the permission we don't give ourselves to make more money from our business.
The best part?
I finally mastered the hell outta dat money sh*t!
(Well it's always a work in progress and it still takes daily practice but damn it feels good!)
So it's been a crazy ride to get to this point but one worth sharing, especially at this time of year as you're planning out your goals for the new year ahead and secretly trying to convince yourself that this year WILL be better than your last.
(It will be by the way, stick with me.)
Follow these steps to master your cash flow…and ultimately your wealth!
Stop burying your head in the sand and hoping things will one day turn around.
They won't.
1) Accept that cash is King
Respect that money is what makes your business tick and give it the time (and love) it deserves. It's the ticket to your freedom…a better headspace, a happier life, a healthier business, better relationships with your partner, a better life for your kids, inner and outer growth, well-being…EVERYTHING!
Making more money from your business can fix a LOT of problems. It's not the be all and end all but geez, it goes close. Not for what it is – but what it can do. Imagine how much good you could do in the world if you had a lot of money. Amazing!
So take charge of your finances, know where every penny goes IN and OUT and start paying it the respect it deserves. Treat it like a King and it will repay you a million times over.
2) Know your numbers inside out
You simply have to know your numbers DAILY and always. Every morning:
Check the bank.
Check your receivables.
Check your pipeline.
Check your expenses.
Check your inbound leads.
Your traffic.
Check your budget vs actual.
Check everything all the time!
If you don't know your numbers, and you don't know exactly where you're at on a daily/weekly/monthly/quarterly and annual basis, you'll struggle to master your cash flow.
To find out how I mastered our cash flow in under 60 minutes a day, check out this post here.
3) Get brutal: cut costs left, right AND centre
Be frugal with every cent (if you're not already) and get brutal. I used sign up to different things like courses and subscriptions, login for a few months then forget all about them. Big mistake!
I now assess all our recurring payments on a weekly basis when my bookkeeper sends me our Thursday wrap up report. Every single recurring subscription is listed and if we ain't using it, it gets scrapped that very day.
4) Introduce tougher terms for late payments
Don't be afraid to let problem clients go; they're draining on your cash flow and will most likely never change.
Introduce tougher terms for late payments like we do. If a client doesn't pay on time for 3 consecutive months, or if their credit card is declined with insufficient funds, we'll switch them from monthly credit card payments to 6-months payment in advance.
We don't have time to constantly chase clients every month for small amounts so we warn them repeatedly (and nicely of course) and if they make a habit of being late, we change their terms to cash up front – 6-months in advance.
And here's what I do if my web design clients don't pay me at all. Maybe you can try it too!
5) Negotiate your little toosh off
Ask for better rates from all of your suppliers and negotiate your little toosh off.
Try and get discounts for early payments.
Always ask, "Is that the best price you can do?"
And don't be afraid to walk away and find another supplier.
Get tough. Negotiate everything. It pays off.
6) Create a budget and stick to it
I know as creatives we tend to shy away from budgets and numbers, but in my experience, you really must tackle this one head on if you want wild success with money.
The trick though is not to just do a budget or forecast for the year and never refer to it again — you gotta track your progress!
I create our sales forecast and expenses budget all in one spreadsheet so I can map out our profits or bottom line all in one sheet. In fact I did this year's budget about 3 months ago. We plan out the entire year, predict the sales, work out the expenses required to do those numbers and THEN — and this is really important — we track our progress regularly.
We track our expenses through daily and weekly reporting but then we also weigh in at the mid-month mark and see how we're going against our monthly budget as a total amount.
If some unexpected costs arise, then we know we have to cut spending from somewhere else. We don't wait until the month is over and say to ourselves, "Oh bugger, we overspent that month! Better luck next month…"  We make sure we watch our pennies as we go. Very powerful exercise to get into the habit of, I assure you!   
7) Look outside the square
Move offices, change suppliers, assess current hardware and/or software, email, hosting, everything! Don't do things this way just because you've always done them, look at WHY and decide if there's a better and cheaper way.
We just moved office in Melbourne and negotiated free rent for December and January for four years as part of our lease because these are traditionally quiet months for us. We saved $120,000 over a 5-year lease just by asking the question and negotiating well.
You can do this too!
Get smart and stand strong. If you don't ask, you don't get. 🙂
8) Keep an emergency fund as a backup
Even if things are feeling really, really tight right now, try to save $1000 and put it in an emergency fund. And by golly, whatever you do, don't touch it unless you have an emergency. It's amazing what it does for your headspace. (I read that one in a book called The Total Money Makeover by Dave Ramsey and I totally recommend you read it too.)
Another tip: Start giving money a home.
This is one of the biggest takeaways for me on my money journey. Start free online bank accounts for all the different things you want in your life and business and start sending small amounts to them each week, even if it's just $5 or $10. Then gradually increase it each month as you can.
For our business, we have accounts for:
Day-to-day trading
Tax
Superannuation
Buffer / Rainy Day / Emergency
Savings
Whenever we receive payments in to our trading account, we immediately transfer 3% to our business savings account. It doesn't sound like much but it soon adds up.
For me personally, I have just started free online accounts for:
Living
Giving
Travel and Adventure
House
Boat
Splurge / Pamper
Rainy Day / Emergency Fund
I set up automated recurring transfers for different amounts to each of those accounts each week. Some only get $10 per week but it's the power of intent behind my actions that sends the right signals to my sub-conscious and creates a healthy, wealthy and abundant mindset.
9) Introduce better systems
Systems (as unsexy as they are) totally rock! If you do something more than once, you should totally create a system for it. We never used to have systems for our money (and believe me, I'm only just getting warmed up) but we've learnt that systems really are the key to success.
Our bookkeeper knows exactly what system to follow on a daily/weekly/monthly basis so that the bills and wages get paid, she knows the process for asking for discounts, when/how to chase for outstanding accounts, the systems around reporting, transferring funds, paying taxes — we have systemised the lot!
If you want to break free?
Create systems. Full stop.
10) Get more sales!
What are you doing each and every day to generate sales? You can't wait until the money dries up and the panic sets in before you get on the marketing bandwagon again.
You need to hustle every day.
Try to spend the first hour of your day doing at least one thing to generate sales. It could be an email, a blog, a Facebook post, setting up some Facebook ads, a tweet, a letter to a prospective new client.
Whatever it is, try to do SOMETHING to generate new business EVERY. SINGLE. DAY.
And make sure you put it out there. Publish your work, empty your soul. You can't slave away on a new eBook for 3 months and not hit publish. That doesn't count.
We track how our sales and marketing are going daily and weekly and then also how we're tracking for the month. We measure things like:
how many sales days there are that month,
how much we have to sell each day to stay on track,
how far off track we are if we do get off track,
how much cash we've banked month to date,
how much we've invoiced,
and how much we have left to make budget.
We keep the momentum (and motivation) going every day. And it's fun!
We don't get to the end of the month and say to each other "Shoot, we missed budget by $20k that month, that sucks." We are constantly pushing to meet budget and if we're off track we'll get some marketing going quickly to get the sales up.
It's not pretty by any means, it's messy.
We certainly know how to hustle and we do all the time BUT we have pretty much met or exceeded our sales targets every month since we started 10 months ago. And THAT my friend does wonders for cash flow!
11) Most importantly, adopt an 'abundance' mentality
I had to leave the most important until last — you know me. 😉
Now, please take note and listen up…
You can have all the tools, tactics, strategies, systems and templates in the world for managing your cash flow BUT, and this is a huge BUT, if you don't get your head right, you'll likely never master it like the pro that you are.
Yes, strategy is important. But an abundance mindset is just as, if not 10 times more, important than any tactic or system you can implement.
I believe you need to do some serious work on untangling those money blocks you carry around with you. You need to squash those self-limiting beliefs of yours. Burn those fears around money…or success…or failure once and for all. Do away with the doubt and self-sabotage and get out of your own way.
You are the one who's holding you back. No one else…YOU!
I'm not going to tell you what to do because your journey will be vastly different to mine but whether in the form of affirmations, meditations, visualisation, manifesting, journaling, being grateful every day, writing your money goals every morning, setting intentions every night, EFT tapping or WHATEVER — you need to work on creating a healthy mindset towards money if you want the money to roll in.
There could be things holding you back that you don't even know about and when you learn how to do away with all that baggage?
Well, let's just say be ready for what's around the corner!!
It honestly feels like magic.
Manifesting magic!
You'll be bringing in more money than you ever thought possible and you'll say to me "Damn girl, how is it THIS simple? And why did I wait so long?"
Now, let's have some fun!
Tell me one money 'thing' you want to work on for 2015. It can be a goal, a system, a routine or ritual…whatever is most beneficial to you. Sound off in the comments!
For me, I'm going to spend 30 minutes every morning working on my abundance mindset, no excuses (hangover days and all!)
I like to mix things up as I get bored easily so I'm locking in 30 minutes of 'something' money-orientated every morning – whether it's reading a money book, doing a guided meditation, journaling or any of the other things I listed above.
Now, over to you…what's yours?
Keep the conversation going...
Over 10,000 of us are having daily conversations over in our free Facebook group and we'd love to see you there. Join us!