Having a strong online presence is one of the most important things you can have as a freelancer.  Every day, tens of thousands of clients go online to search for the right person for their project. 
The problem that most freelancers have is that they don't have profiles on all the sites clients search to find creatives to work with.
If you're not on the sites where clients are looking for freelancers to hire, you're missing an opportunity to land quality clients.
Rather listen than read? You'll enjoy this...
To be clear, we're not talking about marketplaces like UpWork, Freelancer.com and Fiverr. We're talking about sites where clients who are more motivated by talent rather than price go to find partners.  
Below, we'll outline the top 5 sites you should be taking advantage of along with some helpful hints on how to make the most of your presence on them.
For an even more in-depth report, download our ebook 25 Top Freelance Job Sites for Finding Real Clients with Big Budgets by entering your email below: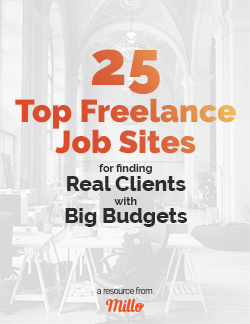 Now, on to the list!
1. Yelp
When you think of yelp you probably think about people snapping photos of their boozy brunches and leaving reviews about restaurants.  What most freelancers don't realize is that clients use yelp as a way to find new freelancers and agencies to work with.
Sidenote: It's 2019! Trade some of your worst clients for the best companies in the world with SolidGigs, our premium weekly freelance job list & course library. This is the year you level up your freelancing. Join in January & save 30% with promo code Jan30.
It makes sense that clients would want to browse yelp. Profiles come complete with reviews of creative services and a comprehensive description of the services you provide, as well as social proof that you're great at your job in the form of reviews.
Take advantage of the ability to market yourself on Yelp by creating a profile and listing your business under the appropriate categories.  Yelp has categories for a number of creative services such as web design, graphic design and more.
Remember, clients who are searching Yelp to find small agencies and freelancers are looking to hire someone. Take the time to add photos of what you do and for writing a compelling description of your business.
2. Google Business
A Google Business Listing is another opportunity for you to be found, and look good for new potential clients.
When a client goes to google your business, your Google listing is displayed on the right-hand side of the search results page. The listing includes important information about your business such as your phone number, address, photos of your work, a link to your website, and reviews.
The first thing most people do when they hear about you is Google your business. Based on the location of your business listing on the search results page, it's most likely the first thing they'll see when they conduct that search.
That's why it's important to make your page look good by adding visuals and ensuring the information Google has about your business is correct. You want to make sure the first interaction the client has with you and your brand is a good one.  
3. Clutch.co
For those who are unfamiliar, Clutch.co is a place where agencies and some freelancers can list their services and be found by prospective clients.  
The site caters to higher-end clients and has a more stringent vetting process, requiring 3-5 references from past clients to be listed.
If you qualify to be listed on the site there are many added benefits of being listed. Unlike Yelp and Google Business Listings, Clutch is designed specifically for businesses that provide creative, marketing, design and development services.
It even has features that show the client what type of services you focus on along with may additional filters for the type of work you do and the price range your services are in.
Although Clutch.co isn't for everyone, it's a great source of clients that care about the quality of creative work.
4. Free and Willing
As the name would suggest, Free and Willing provides freelancers the ability to let prospective clients know that they are available for work. It's a different approach than the other sites on this list.
Rather than being found for listings through reviews, you indicate whether you are available to be hired.
This approach works well due to the ability to present scarcity of your time. By showing clients that you're busy and have limited ability to work on projects you become a more attractive partner for their project.
Scarcity shows that there's strong demand for the services you provide and that your time is valuable.
Although the approach is different, the fundamentals of being found online are largely the same. Set-up your profile and make it look good using visuals and adding as much relevant information as possible.  
Indicate when you're going to be available and wait to be contacted for the right project.
5. Linkedin
For freelancers, being on Linkedin seems pretty obvious.Linkedin is the largest professional network in the world boasting over 450 million members and 106 million active users.  
There's one fatal flaw that freelancers make over and over when it comes to Linkedin. Not having a link to your portfolio, relevant social pages, and email listed in the personal information section on the top right corner of the profile page.  
Your goal as a freelancer should be to make it as easy as possible for a client to see your prior work and contact you. All too often this section of the Linkedin page is empty and results in lost opportunities.  
Another key section of the Linkedin page is your professional summary. You should talk about the services you provide, your core focus, and what differentiates you from others in the space. It's important for you to stand out here and answer the question, "Is this the right person to work on the project I need help with?"
All of the above are free tools that can help you improve your online presence. Although each page is different, the same principles apply.  You need to be able to be found when clients are looking to hire you, and make sure your pages look as good as possible.
Oftentimes, when clients are making hiring decisions it's the little things that make the difference between getting hired or not.
BONUS: Let SolidGigs do the work for you
If you haven't heard, Millo recently launched SolidGigs—a gig-hunting service for freelancers. SolidGigs saves you hours each week by scouring the internet for the best freelance gigs and sending them to your inbox every week.
So instead of spending your valuable (and billable) time searching for gigs yourself, sign up and have them do it for as low as $9.79/month. I personally just signed up, and so far it looks very promising.
Share what you think about these sites in the comments.