Below you'll find some of the best books for freelancers & solopreneurs written over the years. The list that follows is a combination of the Millo community's most recommended books and our recommendations from the Millo team.
These books have helped us start, grow, or scale our creative businesses and they'll help you to. If we left out your favorite book, be sure to let us know here and we might just add it to the list. Thanks for reading!
(PS: If you're looking for our free guides, try clicking here instead.)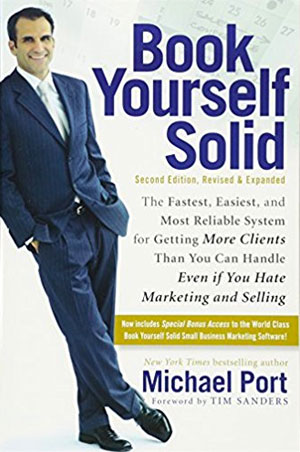 Book Yourself Solid
Michael Port
The sub-title of this book says it all: It's the fastest, easiest, and most reliable system for getting more clients than you can handle even if you hate marketing and selling.
Read the first few pages on Amazon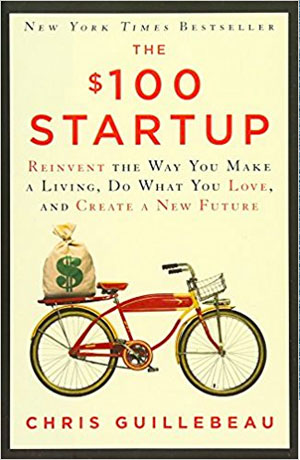 The $100 Startup
Chris Guillebeau
In preparing to write this book, Chris identified 1,500 individuals who have built businesses earning $50,000 or more from a modest investment (in many cases, $100 or less), and from that group he's chosen to focus on the 50 most intriguing case studies. In The $100 Startup, Chris Guillebeau shows you how to lead of life of adventure, meaning and purpose – and earn a good living.
Read the first few pages on Amazon
Work for Money, Design for Love
David Airey
Unlike other dry business books, this refreshing, straightforward guide from Logo Design Love author and international designer David Airey answers the questions all designers have when first starting out on their own. In fact, the book was inspired by the many questions David receives every day from the more than 600,000 designers who visit his three blogs each month.
Read the first few pages on Amazon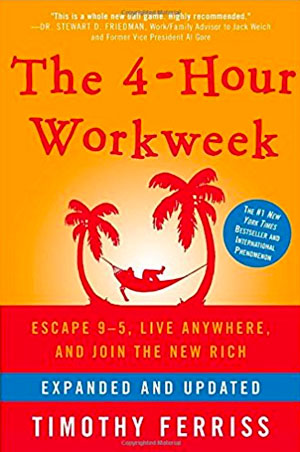 The 4-Hour Workweek
Tim Ferriss
Forget the old concept of retirement and the rest of the deferred-life plan–there is no need to wait and every reason not to, especially in unpredictable economic times. Whether your dream is escaping the rat race, experiencing high-end world travel, or earning a monthly five-figure income with zero management, The 4-Hour Workweek is the blueprint.
Read the first few pages on Amazon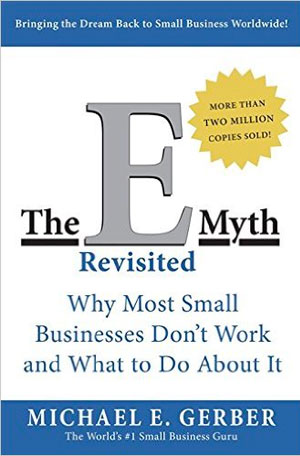 The E-Myth Revisited
Michael E. Gerber
In this first new and totally revised edition of the 150,000-copy underground bestseller, The E-Myth, Michael Gerber dispels the myths surrounding starting your own business and shows how commonplace assumptions can get in the way of running a business.
Read the first few pages on Amazon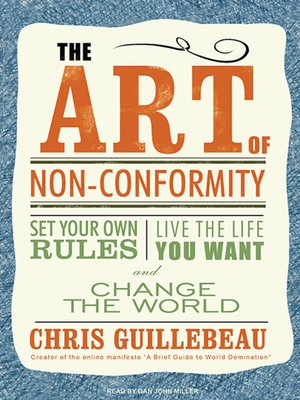 The Art of Non-Conformity
Chris Guillebeau
This book helps you defy common assumptions about life and work while arming you with the tools to live differently. You'll discover how to live on your own terms by exploring creative self-employment, radical goal-setting, contrarian travel, and embracing life as a constant adventure.
Read the first few pages on Amazon
Burn Your Portfolio
Michael Janda
It takes more than just a design school education and a killer portfolio to succeed in a creative career. Burn Your Portfolio teaches the real-world practices, professional do's and don'ts, and unwritten rules of business that most designers, photographers, web designers, copy writers, programmers, and architects only learn after putting in years of experience on the job.
Read the first few pages on Amazon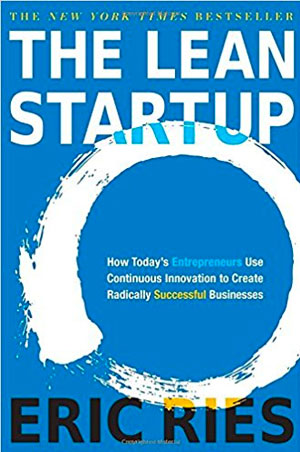 The Lean Startup
Eric Ries
Rather than wasting time creating elaborate business plans, The Lean Startup offers entrepreneurs - in companies of all sizes - a way to test their vision continuously, to adapt and adjust before it's too late. Ries provides a scientific approach to creating and managing successful startups in a age when companies need to innovate more than ever.
Read the first few pages on Amazon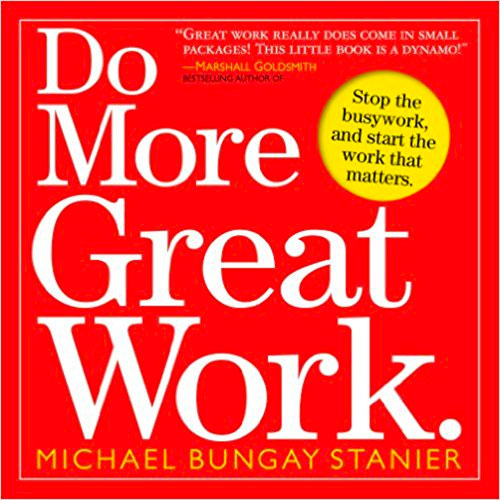 Do More Great Work
Michael Bungay Stanier
You work hard. You put in the hours. Yet you feel like you are constantly treading water with "Good Work" that keeps you going but never quite moves you ahead. Or worse, you are mired in "Bad Work"―endless meetings and energy-draining bureaucratic traps. Do More Great Work gets to the heart of the problem with fun, creative, mind-opening exercises.
Read the first few pages on Amazon
Start
Jon Acuff
There are only two paths in life: average and awesome. The average path is easy because all you have to do is nothing. The awesome path is more challenging, because things like fear only bother you when you do work that matters. The good news is Start gives readers practical, honest, actionable insights to be more awesome, more often. It's time to punch fear in the face, escape average, and do work that matters.
Read the first few pages on Amazon
Side Hustle
Chris Guillebeau
What if we could quickly and easily create an additional stream of income without giving up the security of a full-time job? Enter the side hustle. Chris Gullibeau is no stranger to this world, having launched more than a dozen side hustles over his career. Here, he offers a step-by-step guide that takes you from idea to income in just 27 days.
Read the first few pages on Amazon
Rework
Basecamp founders, Jason Fried & David Hansson
Most business books give you the same old advice: Write a business plan, study the competition, seek investors, yadda yadda. If you're looking for a book like that, put this one back on the shelf. Read it and you'll know why plans are actually harmful, why you don't need outside investors, and why you're better off ignoring the competition. Those are all just excuses.
Read the first few pages on Amazon
Originals
Adam Grant
In Originals Adam Grant addresses the challenge of becoming original: choosing to champion novel ideas and values that go against the grain, battle conformity, and buck outdated traditions.
Read the first few pages on Amazon
Switch
Chip & Dan Heath
Why is it so hard to make lasting changes in our companies, in our communities, and in our own lives? Psychologists have discovered that our minds are ruled by two different systems—the rational mind and the emotional mind—that compete for control. The rational mind wants to change something at work; the emotional mind loves the comfort of the existing routine. This tension can doom a change effort—but if it is overcome, change can come quickly.
Read the first few pages on Amazon
Free: The Future of a Radical Price
Chris Anderson
In this forward-thinking book, Chris Anderson—WIRED editor and author of 'The Long Tail' shares why "FREE" is such a powerful way to start, run, and scale a business. He argues that a company's core revenues will come from only a fraction of the total efforts of the company and that free products and services will continue to be a gateway drug for life-long customers.
Read the first few pages on Amazon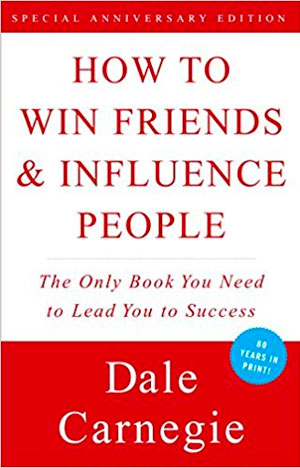 How to Win Friends & Influence People
Dale Carnegie
Dale Carnegie's rock-solid, time-tested advice has carried countless people up the ladder of success in their business and personal lives. One of the most groundbreaking and timeless bestsellers of all time.
Read the first few pages on Amazon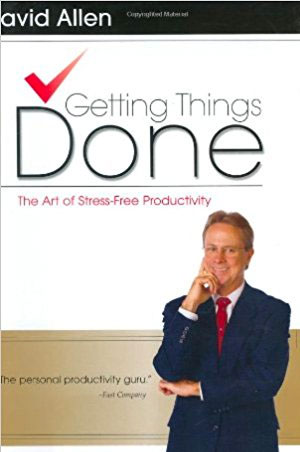 Getting Things Done
David Allen
The key to Getting Things Done? Relaxation. Allen's premise is simple: our ability to be productive is directly proportional to our ability to relax. Only when our minds are clear and our thoughts are organized can we achieve stress-free productivity. His seamless system teaches us how to identify, track, and-most important-choose the next action on all our tasks, commitments, and projects and thus master all the demands on our time while unleashing our creative potential.
Read the first few pages on Amazon
Crush It!
Gary Vaynerchuk
Do you have a hobby you wish you could indulge in all day? An obsession that keeps you up at night? Now is the perfect time to take that passion and make a living doing what you love. In Crush It! Why NOW Is the Time to Cash In on Your Passion, Gary Vaynerchuk shows you how to use the power of the Internet to turn your real interests into real businesses.
Read the first few pages on Amazon
Did we miss your favorite book? Let us know here and we might just add it to the list.