The way you present your work can be the difference between getting your client's approval and going back to the drawing board over and over again during the project, while both you and your client get frustrated.
Below are a few tips on how to sell your client on your work to get them approved faster and with fewer headaches.
Show me, don't tell me
Are you "staging" your work for your client?
Interior designers stage a house by arranging furniture, paintings, and accessories to get buyers to imagine themselves happily living in the home up for sale.
You need to do the same with your logo design.
[Tweet "Sell your final work faster and for more money by staging your work."]
Staging helps sell homes much faster and for 10% more compared to unstaged homes.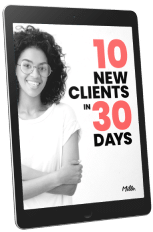 Need more clients?
Get more freelance work with our FREE book: 10 New Clients in 30 Days. Enter your email below and it's all yours.
Selling your client on your work also happens much faster (and for more money) when you get clients to imagine their brand in the real world.
If you're a designer, instead of presenting a 2-D, flat drawing of a logo design, for example, present the design in context using a presentation mock up of the logo on signage or applied to a business card. (You can find these mock up templates on Creative Market or GraphicRiver.)
If it's a website design you are presenting, apply your design to a computer or tablet mock up template.
Instead of asking them to imagine your design applied in the real world, you are showing them the picture and bringing their brand to life in front of their eyes.
That makes it easy for them to say yes to your work.
Sell to future clients by sharing past work as case studies
Another benefit of using these presentation mock ups is how easy it is to reuse them to create a case study to land more client work.
It shouldn't take much to repurpose those presentation slides into your portfolio for prospective clients to see.
Tell potential clients that you present your work in context as a way for them to—as close to possible—see how the work would look applied to objects in the real world.
You can point this out as an additional benefit of working with you. Again, if you're a designer try saying something like: "Seeing the design in context lets you see how it will look before committing to the design."
This decreases risk for them and boosts their confidence in the idea of hiring you.
You can even share your presentations (as a downloadable PDF) as a way for those prospective clients to get a feel for your process and understand exactly what they'll experience if they agree to work with you.
If they know what to expect from you during the project, they'll be more comfortable agreeing to work with you on the project.
Only show your best stuff
"There is an inverse correlation between the quantity of creative options we present to the client and the confidence we have in their quality."  -Blair Enns
Showing work you feel iffy about always backfires.
When you present final work you don't really like or feel unenthused about, 100% of the time the client picks that option. Am I right? 🙂
The client seems to pick up on you hoping they'll avoid that choice which creates some weird force field that attracts them directly to it.
I'm kidding of course, but it feels like that's what always happens.
The solution: Don't present ANYTHING you don't feel comfortable with them picking.
That means you never present an option that you are unsure of.
Stick with only your best stuff, and you'll never have to feel disappointed in the option they've chosen.
How many options should you present?
Have you ever tried to order off a menu that has 50 things on it? It's hard to make a decision, isn't it?
You reluctantly make a decision, but after you order, you aren't confident you chose the right thing and want to change your mind.
[Tweet "Decision fatique can happen when you presesnt too many options for your client to choose from."]
That same thing happens when you present too many options to your client. It leads to decision fatigue and makes it harder and harder to make a choice.
To avoid that, only present a maximum of three of your strongest (see above) final options.
Presenting more options than that to your client will just confuse them and bog down your project momentum.
Explain your final work
What was the thought process behind your decisions? If you can show them how you arrived at your decisions and how it relates to their business goals, you'll have an easier time getting their approval.
Share insights and the story on how you got there. "First I was thinking X, but then I realized that wouldn't work because…" And so on.
Showing you've already explored different avenues will allow them to understand why the options you are presenting to them makes the most sense for their business goals.
For example, if you're asked about a particular font you've used—and "classy" is one of the brand characteristics—explain the historical association some serif fonts (like the one you've chosen) have that lend a classy feeling to the design.
You chose this style of typography because it has a particular history to it that makes others perceive it a certain way. And the way it's perceived is what aligns with the project goals.
This sort of logic gives them a reason to buy into the design.
But keep it honest
Every creative professional should be able to back up their choices with a reason linked to the project goals.
Make sure you've got yours but don't get carried away or exaggerate.
"This bold new brandmark expresses the brand's progressive attitude to new technology and the connected way in which the network views the media landscape."
Um, no.
If your work is simple, that's enough. Own that and be proud of it instead of trying to make your client see what isn't really there.
I prefer a no-b.s. approach that is grounded in reality instead of subjectivity.
Paul Rand (the great designer of the IBM logo and many other timeless brand identities) said it best:
"Most clients or people on the street think what's important about a logo is that it illustrates what the business does or what it represents… A logo becomes meaningful only after it's used… that requires that the thing is seen and associated and the association is the thing that makes the logo."
"…there's nothing about the IBM symbol that suggests computers—except what the viewer reads into it. Stripes are now associated with computers because the initials of a great computer company happen to be stripped."  -Paul Rand
Understanding this practical approach towards creativity and getting your client to understand it saves everyone from wasting a ton of time bogged down in the small details that kill a project's momentum and don't affect the project's outcome.
Your client will already read into the final work and see all kinds of things that aren't really there. There's no reason to encourage this behavior even more by pointing them towards subjective feedback.
Stick to historical associations as a way to explain your reasoning, and you'll be fine.
Use these tips next time you present work to a client and you'll end up with better portfolio pieces and quicker feedback and approval from your clients.
How do you present your work to clients? Let me know in the comments.
Keep the conversation going...
Over 10,000 of us are having daily conversations over in our free Facebook group and we'd love to see you there. Join us!