Too many freelancers never actually build a business that works
for
them. Instead, they just build another job for themselves—trading
one annoying boss
for a dozen high-maintenance clients. What a drag.
In today's episode of Freelance to Founder, we sit down with one agency-builder who's doing it right. His name is Bobby Macey and he's the founder of Macey Media.
After experimenting with a series of side-jobs through a series of frustrating lay-offs, Bobby finally decided to take matters into his own hands and start a content agency.
He's doing a lot of things right and his business is growing fast.
But Bobby still finds himself doing a lot of the client work he books—leaving him with late nights on his laptop and a work-life balance that's a bit uneven.
In today's show, Clay and I share what we've learned about work-life balance and help Bobby answer important questions about when to hire and who to hire in order to best scale his business and rescue some of his personal life.
Leave us a review on Apple Podcasts: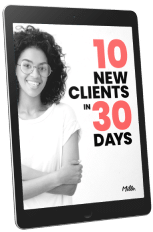 Need more clients?
Get more freelance work with our FREE book: 10 New Clients in 30 Days. Enter your email below and it's all yours.
If you enjoy the show, can you do us a favor and leave us an honest rating and review on Apple Podcasts? We'll love you forever. Click here to leave a review.
Be a guest on an upcoming episode:
We'd love to feature your business and offer some free on-air advice for growing your business. To see if you're a good fit, click here.
Support our sponsors so we can keep airing new episodes:
Harpoon — The next-generation time-tracking tool helps you plan for a profitable future.
Participate — Create a space for collaboration, communication and learning.
SolidGigs — Get more freelance jobs.
Dripify — Premium learning platform for entrepreneurs.
Connect with today's guest on Social Media:
Bobby Macey on Linkedin | Instagram | Twitter
Keep the conversation going...
Over 10,000 of us are having daily conversations over in our free Facebook group and we'd love to see you there. Join us!