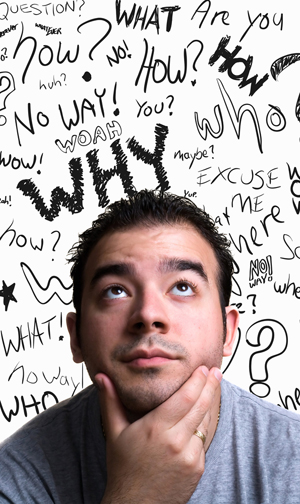 I make an effort to frequently visit the web sites, portfolios, or blogs of people who take time to leave comments here at Millo, follow me on twitter, or 'like' Millo on our facebook page. Needless to say, I spend quite a bit of time looking through content that other designers produce. And there has been a common concern that I have experienced nearly every time I visit a designer's company or personal blog:
They don't seem to think about why they are blogging.
Today I'd like to help you discover the "why" behind your design blog. By doing so, you will be able to attract a larger percentage of your target audience and, ultimately, be a more successful designer and blogger. Read on, my friends.
You'll also enjoy this episode of our new podcast...

Why do YOU blog about design?
Before I get to far into the article, I'd like to know what your motivation is for blogging about design. Are you hoping to become the next Smashing Magazine, Web Designer Depot, or Elliot Stocks? Are you trying to use your blog to increase traffic and consequently find more clients? Are you blogging about design so you'll be more attractive to potential employers? Or (dread the thought) are you blogging about design because that's what all the other designers are doing?
Take a minute and share your motivation for blogging with us by leaving a comment on this post.
Reasons designers blog: and why most of them don't make sense
This is the first time we have covered this particular topic here on Millo, take a gander at one of our favorite posts: "Top Designers Discuss Why They Blog". It discusses reasons designers should blog, advice and resources for starting a blog, and opinions from top blogging-designers like Chris Spooner, Jon Phillips, Jacob Cass, David Airey and more.
As I've investigated this topic, the following are the most common reasons for blogging:
💵 Turn complete strangers into paying clients using our new easy-to-follow workbook course, Cold Emails that Convert. Disover the framework we use to book thousands in new clients each month. Save 30% in April only with promo code MILLO30. Click here to learn more.
Establish yourself as an authority within the design community
Create good relationships with other designers
Become "popular" and generate a large following
Make money from advertising
Now, none of these motives are bad in and of themselves, but it seems to me that a lot of design-bloggers are missing the point. I recently visited a blog, for example, that was part of a designer's business web site. Using a blog as part of your marketing strategy as a designer is a great idea. But this particular designer, who was a freelancer and no doubt depended on finding constant clients in order to make a steady income, blogged mostly about design inspiration and interviews. It seemed to me that this particular designer was blogging to attract other designers instead of blogging to attract clients.
Let me explain further:
If you want to attract clients, blog about:
• Basic design principles such as "Typography Tips for non-designers" by Joe Malleck.
• How to find a good designer -or-
• What to expect when working with a designer.
If you want to attract designers, blog about:
• Inspiration
• Interviews -or-
• Advanced design tutorials
There's a better way
Blogging about design is tricky business. It's hard to find your voice in the design community. The purpose of this article is to point out that there is a better way to blog.
Blog to your target audience.
I know it's hard to read blogs like this one, Smashing Magazine, Webdesigner Depot, or Line25, but keep in mind, these blogs are writing to an audience of designers. It's likely you are writing to an audience of clients, right? So how can you find a good balance between blogging about boring client-related stuff and also making your mark in the design community? Let's have a look:
If you want to attract both designers and clients, blog about:
• Client relationships with designers
• Your design process (showcase work you have done and process behind it)
• Pricing out design projects
• Principles of good project management
Take, for example, some of the articles written by Jacob Cass at his blog, JustCreativeDesign.com. Some of his top articles include ones like "What makes a good logo?", "Why logo design does not cost $5.00", and "How to design a logo". Can't you see both designers and potential clients searching google or bing for these very topics?
Keep your audience in mind
If you do happen to blog a lot about inspiration, interviews, or advanced tutorials, that's fine. As long as it meshes with your blog's goals and the target audience you are trying to reach. My invitation to you today is to take a step back and think about who you are really trying to reach with your blog. Are you trying to make your mark on the design community or are you trying to attract new clients for your design business. Possibly you have an entirely different purpose. Just make sure you cater to that purpose and you'll be successful.
Good luck in all your blogging and designing persuits!