I think it's every blogger's wet dream: Get your posts on the first page of Google, get LOADS of traffic for free, and have all your business problems solved forever because so many people are seeing your work and loving it.
If only, right?
(I know, tell me about it.)
Rather listen than read? You'll enjoy this...
SEO is hard. And working in a marketing career, overlooking an SEO department of 3-4 people who each worked 40-50 hours per week on SEO and still could barely get our company on the first page made me believe it was impossible.
Because thing is… the people on my SEO team were smart. They were so smart and so dedicated they even spent some of their time off reading blog posts about SEO hacks so they could make the CEO happy and land us on the first page.
But even then, they could barely squeak by.
So it's pretty safe to say that by the time I quit that job and got into business for myself, I was an SEO atheist. I didn't believe in it, and I didn't practice it. I got traffic from other, easier-to-control means. (Like guest posting, participating in social conversations, email list mailings, etc.)
But a year and a half ago, on a complete whim, I went into a Panera Bread for a MeetUp I'd seen about business and marketing books. Only three of us showed up, but I got a piece of advice that night that would change my views on SEO forever: I should start a YouTube channel.
YouTube + The Best Keyword Tool Ever (IMHO)
The reasoning behind it wasn't at all SEO related… but simply that I was a writer who wanted to grow my business, and it's the tendency for most writers to just hide behind their computer screens.
Sidenote: It's 2019! Trade some of your worst clients for the best companies in the world with SolidGigs, our premium weekly freelance job list & course library. This is the year you level up your freelancing. Join in January & save 30% with promo code Jan30.
It was a piece of advice purely about helping me stand out… that's it.
I wrote it down, half-thinking I'd never actually follow through—just doing the 'polite' thing and not flippantly writing off someone's trying-to-be-helpful advice in front of them.
But then, in a Skype call that same month, I got introduced to Answer The Public.
To sum it up super briefly: Answer The Public is the best keyword research tool that's ever existed, in my not-so-humble opinion. It cuts the crap and just gives you keywords that are super relevant to what your target audience is actually searching, and the keywords are fairly low competition.
Case in point: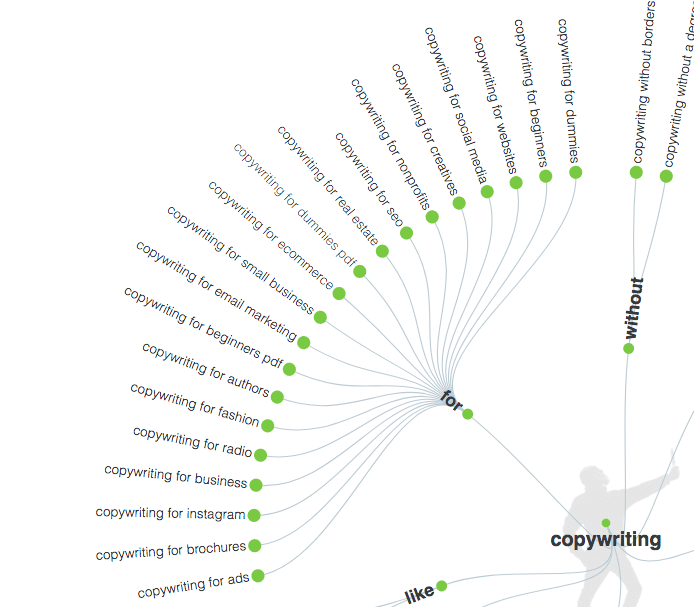 Merging YouTube + Answer the Public + My Blog
To be honest, I didn't have high expectations for this YouTube experiment.
But putting two and two together, I decided if I was going to do the YouTube thing, I was going to try to make the most of it and optimize it for better SEO… since YouTube is a major search engine, after all.
I used Answer the Public to decide what my titles would be, wrote a script, recorded the video, published it on YouTube, and published on my blog with an intro blurb, the video, and the transcript.
The Results of YouTube
So, truth be told: not a single one of my videos has gone "viral" by any means. And in the world of marketing and YouTube statistics, each one would probably be a "failure."
But because of the wording of the video titles themselves, I know without a doubt that the people watching them are 100% directly in my target market.
They're either professionals in that niche, marketers who help that niche, or other copywriters. Because why else would anyone be watching a video with a title like I use?!?
Plus, it's a traffic-generating machine back to my website. I send people to my email list subscription, and the people who come and sign up are already impressed with my copywriting ability.
The Surprise of Getting on Page One
And while the results from the YouTube experiment have been great, realizing that it'd landed me on page one of Google was even more exciting.
A number of my blog posts based on my YouTube videos have done pretty well in getting me traffic, but when I checked my Google Analytics and saw my Copywriting for Artists post was one of my top landing pages for traffic, I knew something was up.
I'd done little to nothing to promote this post, beyond Tweeting it occasionally, which in and of itself is not enough to generate that much traffic.
So, I opened an incognito window, and lo and behold, it was #2 in Google.
Number two on Google! MY post! From an "experiment" I didn't expect that much from!
I've been keeping tabs on it periodically, and it fluctuates between the #2 and the #3 spot. At the time of writing, it was #3: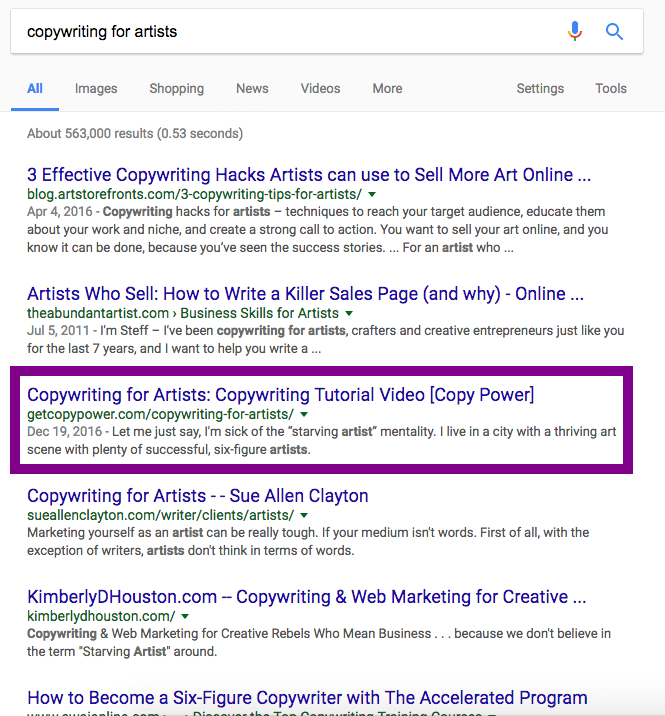 But still, I'm at the top of page one! How cool is that?!?
And from what I've been able to deduce from this post's success, these are the driving factors:
A low-competition, yet information-seeking keyword
Adding a video to the post makes Google happy
Direct keyword match in the title
High keyword repetition throughout the copy
Long word count (I included the transcript below the video)
Time on page (With a video, people spend WAY more time on your page… and they're more interested than when they're just scrolling and bouncing.)
The Disclaimer
As a disclaimer, I have to say, I don't get results like this from every single keyword I try it with.
Some work better than others.
But the fact that it does work and the fact that YouTube videos are now a regular part of my blog means that by following this basic strategy, I automatically generate more free, organic traffic to my website:
Pick low-competition keyword
Write script (basically a blog post)
Record & upload video to YouTube
Include YouTube video in blog post published under title of chosen keyword
It really has been that simple. I wrote a little bit of a more in-depth guide on it in my blog post about using SEO to drive traffic and get clients, and if this post has piqued your interest in any way, I highly suggest you check it out.
This has been an amazing strategy for me over the last year and a half, and I feel like I'd be remiss if I didn't share it with more well-meaning freelancers like yourself.
So tell me in the comments… have you ever used video to improve your rankings? Or do you have any other cool, low-stress strategies to up your rankings? Would love to hear them… let's discuss!