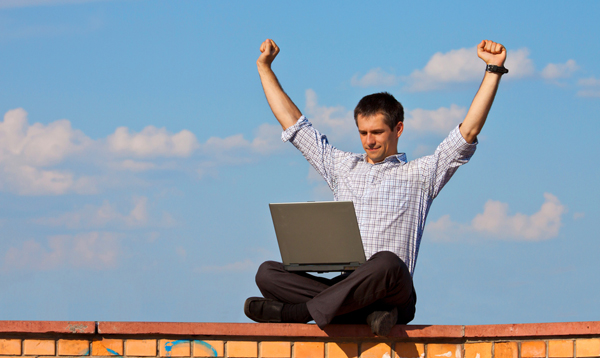 So newbie, you just landed your first big design gig huh? What are you designing? A company web site? a fancy business card? maybe some print marketing material?
Congratulations on landing your first gig! Now, the key is to keep everything under-control and manageable. Getting your first gig can be exciting, but there might also be a lot of things you never thought about. Here's how to keep your first design gig from spiraling out of control:
(PS. I'd love to hear your take on any of these points, so don't forget to leave a comment on this post.)
You'll also enjoy this episode of our new podcast...
Listen to more episodes ▾
Start with a contract
If you've been reading articles here at Millo for long, you'll know how strongly I feel about contracts. If you don't have a solid contractual system set up for your design business, you're in big trouble. Even if legal issues never come up, a contract helps define the scope of the project, establish expectations, and get everyone started on the same page.
The key to keeping your first design gig under control is to have a solid contract in place.
Set milestones
Another key ingredient in successful first-projects is to set milestones. Milestones are little check-in points throughout the project where you can collaborate with your client, give them updates on your work, and make any necessary adjustments in order to finish the project on time and according to specifications.
Need more clients? During the month of August, try our premium weekly gig list, Solidgigs. It's packed with hand-selected clients & gigs every week. Try for just $2 with promo code tryfor2. Learn more here »
Read more about how milestones will help your design process here.
Manage expectations
As a new designer, it's easy to let clients take advantage of you. When clients need something "finished by the end of the week", it's easy to say yes even though you know you won't be able to fulfill their request.
Manage your client's expectations by under-promising and over-delivering. In other words, give yourself a little buffer. Provide more time and resources than you think you need to complete the project. That way, if something comes up, you have extra time and resources. If everything goes according to plan, you get the project done early and you're a hero!
For more about managing expectations, read this.
Be reliable and available
Working for yourself can be difficult because you have to manage your relationships with your clients as well as get design projects done. If you ever want to see this client again after finishing your project together (and believe me, your cashflow sheet would LOVE to see this client again), then be reliable and available.
Come through for your clients. Make them feel like their needs are noticed and valuable to you. Reliable and available newbie designers become seasoned designers with tons of clients.
Don't let the client push you around
At the same time, don't let the client push you around. Be firm when it comes to your company timelines, company policies, and your company needs. Don't let them force you into making promises you can't keep. Never let them shortchange you on payment. And avoid letting them talk you out of payment in exchange for "good experience", "portfolio builders", or "great exposure for your business".
Be flexible and helpful
With that said, a good newbie designer is flexible and helpful. If a client needs to make changes in the scope of the project, be willing to renegotiate contract terms and accommodate their needs. Things change. Deadlines change, needs change, goals change. Be as flexible as possible without letting a client take advantage of you. And don't assume that the client is out to get you. Avoid the "clients are evil" mantra that many designers have adopted. Be as helpful as possible when problems do arise.
Stay calm
Last, but not least, stay calm. Securing your first design gig can be an exciting and scary time. Just stay calm, be honest and open with your client and let them know of any concerns you have. Their people just like you and they'll likely understand.
Most of all, have fun! You're doing what you love and getting paid for it. Could life get any better?
And now, it's your turn
What other tips can you offer to newbie designers who land their first gig? If you are a newbie, what questions or concerns can we curb for you? Don't be shy – leave a comment on this post!