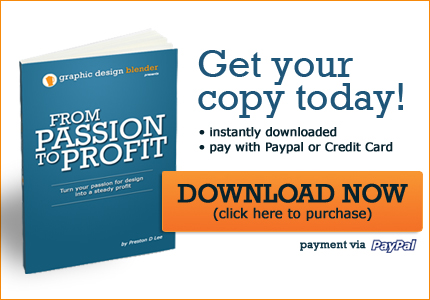 "I NEVER KNEW FINDING DESIGN CLIENTS COULD BE SO EASY, OR SO PROFITABLE. THIS BOOK IS SERIOUSLY LIKE MONEY IN THE BANK!"
–Jared Captinia, Web Designer
Stop struggling to build your design business
Here's how you can quickly and easily build your design business without having to start from scratch and learn the hard way!
Hey fellow designers: how long have you waited to start your own design business? How much longer will you be chained to your cubicle working for someone else?
Suppose you could wake up every morning with new design clients, more money in your bank account, and higher-quality design projects.
Imagine yourself as a successful small business owner–spending time designing and pleasing clients instead of working for someone else, designing things you don't like or care about.
Think it can't happen to you?
Well it can! Join the hundreds of designers who have already started their own business from scratch just by using my ebook as a guide!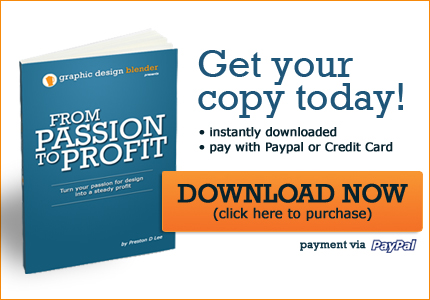 You can start a successful design business if you just have the right blueprint to get you started.
All you need is something to get you started. Something to help you make it through your first week or two as a new business owner.
But getting started is the hardest part…
It could take you years to go to business college and cost you hundreds of dollars to pay for classes and text books or hire personal business consultants.
Even after you learn it all, it could take years to figure out the best way to implement everything you've learned about running a successful design business. It could take you most of a lifetime to figure out what makes some design businesses successful and others a complete failure.
Instead of killing yourself with years of schooling and thousands of dollars down the drain trying to learn how to start your own design business, you can now learn everything you need to know about setting up a successful design business in our new ebook:
FROM PASSION TO PROFIT – MASTERING THE FIRST 11 DAYS OF YOUR DESIGN BUSINESS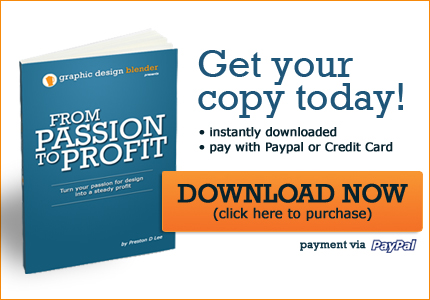 Finally, no more theory, no more vague information about starting a small business. No more cookie-cutter business plans that have nothing to do with designers! We designers have important needs and our businesses are different.
Cookie-cutter small business books just won't cut it for designers like us! Finally, the best advice for starting and running a successful design business is all in one place!
Here's what a few designers who have read it are saying:
"[Preston's] business-building tips have changed the way I think about business." –Carrie Wilcox, Logo Designer

"Every freelance designer … should read this book." –Conner Westinghouse, Freelance Graphic and Web Designer

"I tried making the jump to freelancing like twenty times, but I never could afford to quit my job until I learned how to manage my money like [Preston] teaches in [this] book." –Sam Candoris, recently started his own design business
If you're like me, you're probably wondering if this is worth your money. Well, let me tell you, I have been running my own profitable design business for more than 5 years and I've been blogging about it for more than 3 years.
The best advice and most helpful business tips for designers that I have collected over the last half dozen years are all packed into 11 amazing days of quick and easy reading.
Think about it, if you keep doing the same thing over and over again, you'll always have the same results.
Which of the powerful tips found in this book would be helpful to you?
• Find your first design client and continue building your client pool.
• Manage your design business finances to get the most profit from your business.
• Create binding contracts that help you avoid overworking yourself without getting paid.
• Master the design process to work through projects quickly and get paid even more quickly.
• and more!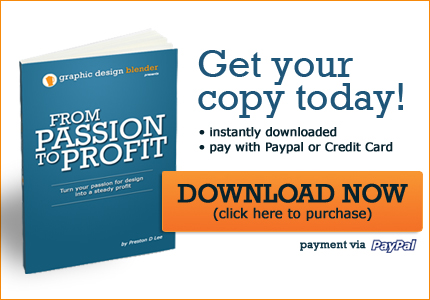 So how much does something like this cost?
I've spoken with business consultants who are angry I'm including all of this valuable information in one book for such a low price.
They charge hundreds, even thousands of dollars to help people through their first week or two of business.
But we designers have to stick together. We can't let money-grubbing businessmen get the best of us.
So my book doesn't cost anywhere near that amount. In fact, right now you can purchase the book, full of all the best design business secrets around, for only $19.98!
Click here to purchase your copy today for only $19.98!
So, what's the catch? Why am I pretty much giving this phenomenal resource away?
Because I know what it's like to start out as a designer. I'm the creative type too. I know it's hard to wrap a creative mind around finances and legal matters.
I had to learn the hard way.
I started from scratch just like you.
But I've learned things along the way.
And I guess this book is my way of giving back. It's my way of helping you avoid the pitfalls that I (and so many other designers) have fallen prey to.
Get your copy of From Passion to Profit now by ordering here.
100% RISK-FREE, I-KNOW-YOU'LL-LOVE-IT GUARANTEE
I guarantee you're going to love this ebook! In fact, here's my better-than-money-back guarantee.
I guarantee that this book will help you through the first 11 days of your design business; it will help you know what steps to take and when so that you can get a successful design business up and running.
And if, after 90 days, you feel like I haven't delivered on this promise, I will give you a full refund. Not only that, but I'll also let you keep the ebook just for the trouble I caused you. Order your book today!
Is that fair or what?
That means you can give this 11-day ebook course a try with no risk while you see if they work for you or not. And it they don't produce great results, I honestly want you to ask for your money back.
Just look at it this way:
$19.98 is just a tiny drop in the bucket compared to the hundreds or thousands of dollars you would normally have to spend to get this kind of training, insight, and premium information.
You'll waste countless hours trying to build your business by joining the crowdsourcing bandwagon instead of just learning how to build a business, find clients, and make money. I know how you feel. You just want to design and make money doing it.
Don't stress so much about your design business. I've got you covered for the first 11 days!
You really can't afford not to invest the less than $20 in your design business and your future now by purchasing this product.
It's super easy and quick. Since it's a digital ebook, you won't even have to wait and there's no cost for shipping!
Just click the "Download Now" link below and order your copy of From Passion to Profit today!
Get ready for the first day of the rest of your life–I'm excited for you!
Preston D Lee
Millo Founder, Freelance Designer