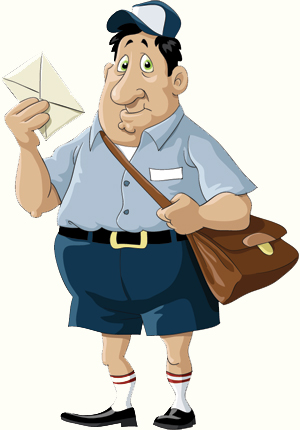 The Millo Mail Bag is a new feature I'm adding to the site here at GraphicDesignBlender.com. Each week I seem to get more and more emails from readers with questions about their design business. I love interacting with others and helping them succeed as designers! I've learned that if one person has a question about something, it's likely other people do as well, so I'm featuring a few of the best questions here at the Millo Mail Bag.
Also, take a minute and offer your advice to those who have written in. Add your tips, counsel, advice, or helpful suggestions in the comments of this post.
Millo Reader Letters
From: Dan
On twitter:@dansweet50
Subject: Registering a business
☘ Bad luck with clients? Trade your worst clients for some of the best companies in the world. Real clients with real budgets are hiring freelancers like you. Click here to learn more.
Hello, I'm looking for some advice on getting my freelance design business off the ground. I'm getting lots of conflicting advice on registering as a Sole Proprietor, an LLC or an S Corp. I've heard all sorts of things about keeping business and personal assets separate, certain tax breaks for corporations, etc. But I've also heard (on the Millo article "17 Tips for Effective Freelance Business Planning" and many times elsewhere) not to incorporate as it's an unnecessary expense. Do you have advice on this topic? I don't plan to employ anyone in the near future, but don't want to screw myself over somehow by not registering appropriately.
Thanks!
Dan
Dan,
You'll also enjoy this episode of our new podcast...

This is a common problem amongst freelance designers. Thanks for writing in with your question. Here's the advice I would give (but you may want to seek professional legal advice too.) It's a lot easier to move up the ladder than to move down. In other words, it's a lot easier to go from being a Sole-proprietor to an LLC and then a corporation. Coming back down the ladder can be a difficult process. I would say, until you are ready to hire other people and really build a solid business out of your freelance design work, I would steer clear of incorporating. For me the question would really be between Sole Proprietor and LLC. As you know, the biggest difference is just asset ownership. Sole Propietorship is easier to set up, but LLC can offer you more protection if anything goes terribly wrong with taxes, a project takes a turn for the worse and you end up in court, etc. It's your call, but I would probably start with Sole Proprietorship and work my way up the ladder as my company progressed.
Thanks for writing in. Let me know if I can help you in any other way.
Thanks,
Preston D Lee
From: Chris
Subject: Do designers deserve down payments
Hi,
I've recently been burnt by a client. We had a simple agreement in place, but nothing I think will hold up in court. I completely trusted the client and took no down payment (which now I am regretting!) and didn't have a real contract in place.
I've decided to cut my losses and put it down too a learning experience. But I really need to get a standard contract and agreement I can use for future jobs. I was wondering if you could point me in the right direction because I really don't know where to start.
Is it something I can put together myself or do you need the help of a layer? Any information you can give me is appreciated.
Thanks!
Chris,
There are a lot of resources out there for contracts. One that I always recommend because it not only gives you the details, but explains how each part of the contract works, is an ebook called "Contracts for designers who hate contracts". I am also working on a template to give to Millo readers so stay tuned at GraphicDesignBlender.com.
I would highly suggest getting some legal advice on the matter too, if you can afford it right now. Anyway, below is the link to the ebook. Good luck in everything, please let me know if I can help you out at all.
LINK: Contracts for designers who hate contracts
Best Regards,
Preston D Lee
From: Maria Etkind
On twitter: @nolatina
Subject: Freelance Web Portfolio Question
Recently I had a problem with a freelance client. I freelance for clients and sometimes for design studios. In this case I had a problem with a design studio because I used a piece I created for them on my personal freelance site. They asked me to take my work down. I did. They just didn't want their clients knowing I did the work.
How should freelance designers handle copyright usage issues? With design studios/personal clients? I didn't know if you had any articles on your site about this.
Thanks,
Maria Etkind
mariaetkind.com
Maria,
Sorry but there aren't any really specific articles about this on the site, but I will try to get something up for you.
As for the answer, I always include the rights and copyright issues in my contract with my clients. Essentially my contract says that I am allowed to use any of my projects for promotional material (my web site, printed marketing materials, etc.) That way, when I use it, if they have a problem, I remind them that they already agreed to it.
You do want to make sure to maintain good relationships with your clients so try to find a good balance. If your studio clients prefer that you don't showcase those particular projects, maybe it's a good idea to find a nice compromise with them.
Anyway, hope that helps a little.
Thanks,
Preston D Lee
Get your question featured on the next Designer Mail Bag!
Nothing's better than free advice for your design business. Submit your questions, concerns, or problems to the Designer Mail Bag using the form below and maybe your letter will be featured in the next round of Millo Mail Bag. Also, don't forget to add your advice and suggestions for those who have written in today!
Write to the Millo Mail Bag:
[contact-form 2 "Mail Bag"]