Finding your unique selling proposition is critical to your success—so why do so many freelancers and solopreneurs forget to focus on this critical element? And why is it so important? In today's video, we cover all of that and more. Enjoy the video below.
---
Subscribe to Millo on Youtube for more videos from Lou
---
Note: The text found in this post is the transcript of the video above.
So in part one of this video we went over some really great examples of USPs of different companies and talked about why finding yours is SO important for getting clients, If you haven't watched that video yet, it's linked below and I highly suggest you head on over, watch it, and come back.
To freshen your memory though, let's quickly review:
So a USP, or unique selling proposition, is that special sauce, that special something about your business that makes you different from everyone else and keeps your clients coming back.
And it helps you get more clients because, when you find that special thing, you can really separate yourself from the competition, because nobody else can offer what you can offer. They may offer the same service, but they can't offer your USP.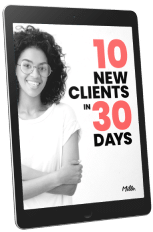 Need more clients?
Get more freelance work with our FREE book: 10 New Clients in 30 Days. Enter your email below and it's all yours.
For instance, there might be 5 coffee shops near you, but one has a special place in your heart, and that's because it has a strong USP that really connects with you. You can achieve the same thing in your business.
Alright so let's jump right in to some tips and exercises you can do right now to find or refine your USP:
1.
One of the first things you can do – and this is one of the most important things you can do in your business in general – is to get to know your target market really well. And when I say really well, I mean learn as much about the people you want to work with as you possibly can. This information will be your best friend in pretty much 100% of the decisions you make in your business.
So find out – who are these people? Where do they hang out? What do they like? What do they not like? What kinds of problems are they facing in their lives? What kinds of needs do they have?
Once you get to know your ideal customer really well, and exactly what their needs are, you can look at that list of needs, compare it with the list of things you can provide, and see where they intersect.
So for example, let's say your customers are new business owners who have had a dream they put off for a very long time and now they're finally taking a leap of faith and really going for it. They come to you because they need a website for their business, but through learning more about them, you find out they have a lot of doubts and fears and anxieties and really need reassurance and support.
And let's say you yourself dreamed for a long time to start your own business or be a freelancer, and when you finally did it, you went through exactly what they're going through and you know exactly the kinds of challenges and fears they're facing.
If you think about it, that's a perfect match. They have a need of being reassured and supported and cared for in that way, and you've been there, so you are able to do it for them.
If you can communicate that in an effective and compelling way — that you were in their exact shoes so you can really be there for them — you will be unstoppable. And let's say they contacted 4 designers, and you're the only one out of the four who addressed those deep fears and doubts and who made them feel understood and cared for, even if your prices are double than everyone else, they are so much more likely to choose you for that reason.
2.
Another route you can take is zeroing in on a really specific niche or topic.
For example, you only work with fitness professionals, or coffee shops, or lawyers.
If you imagine a personal trainer trying to pick between a designer who only works with personal trainers, or a designer who works with any industy, most likely their gut reaction would be to go with someone who really understands their industry and their specific needs.
Another angle on this is maybe you only specialize in Monogram logos and that's where YOUR brilliance is. Or maybe you create really easy to use WordPress sites for bloggers. And so on.
If you do decide to zero in on a niche, I would still integrate that with the idea we just talked about previously of really expressing your market's deep needs, fears, and goals. That, combined with a targeted niche, is a winning combo.
3.
Finally, another really amazing way to get more clarity on your USP is to ask your favorite customers what it is that they really love about working with you. If they had to pick only the top one or two things that made them happy and keeps them coming back, what is it about you and what you do? Why you over everyone else?
And usually they'll hit the nail right on the head for you, and may even define it better than you can.
See, the #1 question you're really trying to answer here is this:
what is it that you can do, that you can provide, that nobody else can? What do you bring to the table that would make clients work with you in a heartbeat if they only knew it?
Alright guys, these are all my tips for you today.
I would really love to hear what your USPs are.
I think it can be so helpful for us all to share with each other in this community and to learn and grow together so I'd really love to see some comments from you with your process in coming up with your USP, your thoughts, challenges, etc.
Have a really awesome day and I will see you soon!
Keep the conversation going...
Over 10,000 of us are having daily conversations over in our free Facebook group and we'd love to see you there. Join us!