Have you ever considered the fact that you might be thinking TOO much when it comes to building your business?
You spend weeks and months (maybe even years) trying to figure out which email software to use, which color to make your call-to-action button, or whether to build your portfolio on WordPress or Squarespace.
You fret over details like how much you should charge your first client, what your site's color scheme should be, and what time of year you should "launch" your next offer or product.
Should you charge by the hour or by the project? Should you require a down payment?
Should you use Creative Market? Or Envato? Or just do your own thing with Paypal? or is it Selz? or Gumroad?
The decisions are endless.
And if you waste all of your time "thinking" about the little details that make up a business, you may miss the bigger picture.
At the end of the day, every moment you spend tweaking font-size on your site is a moment you're not doing the REAL WORK that it takes to run a business. (Unless you're in the business of tweaking font-size on your own site.)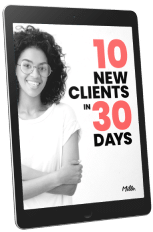 Need more clients?
Get more freelance work with our FREE book: 10 New Clients in 30 Days. Enter your email below and it's all yours.
Every minute you spend listening to a podcast, reading a blog post, or watching a video that may help you grow your business is time taken away from ACTUALLY growing your business.
I fell for this myself recently
I've been working a lot on a huge rebrand of GraphicDesignBlender.com. Not only am I redesigning the web site (details to come soon), but I'm rethinking the entire business model, upping our content focus, and even highly considering a name change for the site and brand.
And GraphicDesignBlender.com has recently suffered because of it.
Traffic is down. Revenue is down. But most disturbingly, I've been less active with Millo readers on social media and been less responsive to email than I would like to be.
It's not the end of the world, but it reminded me of the best blogging advice I ever received.
It came from designer extraordinaire David Airey (who we interviewed at Stoked, by the way) and went something like this (totally paraphrasing here):
Stop worrying so much about how perfect your blog design is and start providing quality content to your readers.
See, the real work of blogging isn't about line-height, padding, or margins. And the real work of your business isn't about wordpress vs. squarespace or anything like that.
So what is the "real work"?
So what's this "real work" I keep referring to?
It's got two parts:
It's what your customers/clients expect from you.

It's what brings in the money.
Like these:
The real work of running a blog? (1)Writing blog posts and (2)monetizing with ads or products.

The real work of freelancing? (1)Designing something amazing and (2)charging your client for it.
Take a minute and think through your business. Are you (1)creating something that people are expecting from you and then (2)turning that creation into money for your business?
If you're spending more time redesigning, tweaking your business plan, or adjusting your facebook marketing, you're not doing the "real work."
It probably feels like real work. But it's not.
It's keeping you from doing the work that will really help you propel your business forward. And it's time to put that all aside and dig in for a little while. See what it's like to design thirty web sites, create 100 logos, write 50 blog posts, or craft a dozen taglines.
In that moment (and in that moment only) do you realize what it means to do the work that fuels your business. And once you've gone through the effort to actually do the work your business requires, you'll find that the rest of it all comes much more easily.
Think about it. … or, you know, don't.
Keep the conversation going...
Over 10,000 of us are having daily conversations over in our free Facebook group and we'd love to see you there. Join us!