After writing this article on scheduling your life around working from home here at Millo not long ago, I was sieged with comments and questions about how the calendar works for me.
Many of you echoed Grace's feelings below:
It's taking that first step to creating a schedule that I find the hardest. I enjoy the flexibility of being a work-from-home person and the thought of scheduling goes against my grain… but having said that I know it is something I should do…

💔 Falling out of love with your clients? Trade some of your worst clients for the best companies in the world with SolidGigs, our premium weekly freelance job list & course library. Love your business again. Learn more »
It is taking the first step that's the hardest. So, to help you, I've broken down the thought process behind my calendar. Let me know how this works for you.
Decide how many hours you want to work
Decide (yes, decide) how many hours you want to be working in a week. In my case, I have 3 days without kiddos at my feet, so I choose to schedule seven working hours each on Monday, Wednesday, and Friday for a total of 21 hours per week. This is why we decide to be self-employed, right?
Create a template calendar on paper, or using your digital calendar of choice (mine is Google Calendars), and block out the work time, also known as black time. The non-work hours are white time.
I was taught to schedule my personal time into my calendar first, then family/non-work time, then work time. It has helped me shift my thinking on prioritizing time. This works especially well for those of us who are self-employed and love to work.
Enter your email. Grow your business.
Submit your email below and join 45,000+ creatives who get our most helpful content via email every week. 100% free. Unsubscribe anytime. Privacy protected.
If you are having trouble figuring out how you spend your time, and how much time you need to block for specific business tasks, try creating a calendar called "Actual" and log the time for a few days or a few weeks. It's an eye-opening practice to see how much time bookwork, email, and social media take up.
For the purposes of this writing, we'll focus on the working hours – the black time. I've blocked the hours between 8:30 a.m. and 3 p.m. as work time.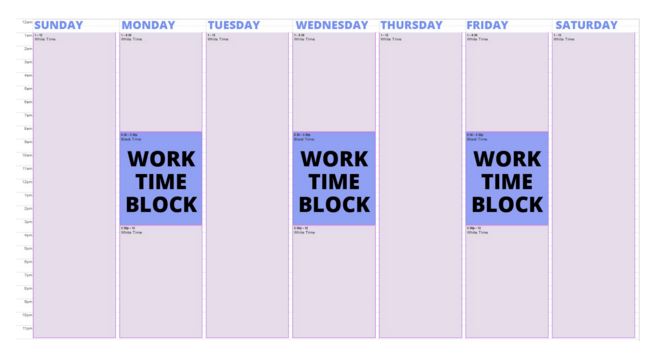 You might take a look at this calendar and notice that I don't dedicate much of my week to working. You're right, I don't. Because my kids are little, I've dedicated lots of time to spend with them. I work a few hours as my white time schedule shifts during the week, but the work blocks shown are the majority of the time I spend on my business every week.
Break down the tasks you do every day
Next, we'll break down the tasks I do every working day.
I spend an hour writing in the morning. Writing can include blog posts, journaling, or a mind dump to clear the cobwebs. This is a practice I'm starting in order to get better at writing and to give my day a consistent structure.
In the calendar example below, internal projects are shown in purple. All personal events are shared with my work calendar, and show up in pink. Production time will be shown in orange.
Oh yes – lunch! I have to schedule in lunch so I remember to eat on time. Sometimes I get sucked into a project (or down the internet rabbit hole) and lose track of time. My schedule reminds me to eat on time. This keeps me from getting crabby, which everyone appreciates.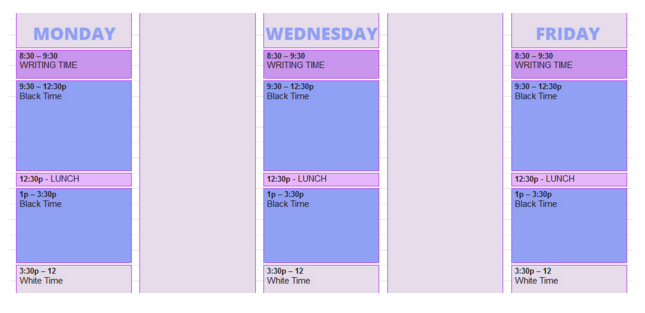 Add the tasks that you do every week
Now that the everyday tasks are added, I add in the tasks I do every week at a specific time. These include those important things that have to happen – weekly meetings, blog posts, errands, book work – at a specific time or day of the week.
I need a bit of time every week to look at the upcoming schedule, so I block time for that on Mondays. I do bookwork on a bi-weekly schedule, and work on my husband's bookwork on the off week.
When email comes in, I delegate it for a specific time on my calendar. Invoices go into a folder labeled "Internal, Active, Bookwork Day." I read the email, file receipts and invoices and record payments during bookwork time on Mondays. Bookwork is the number one thing that needs to get done on Mondays to keep my business running.
Monday errands consists of running invoices for my husband's business to exchange for a paycheck, bringing said check to the bank 5 miles away. This has to be done every Monday morning, so I put it into my work schedule.
I have a mandatory check-in with my 2 subcontractors during the weekly meeting. We review our marketing plan, and also the upcoming projects we're working on. Check-ins reduce the possibility of errors or misunderstanding in the long run. I highly recommend them. The mandatory weekly meeting can be a check-in with yourself if you do not have staff.
I have a call with my coach every Wednesday, so into the calendar it goes.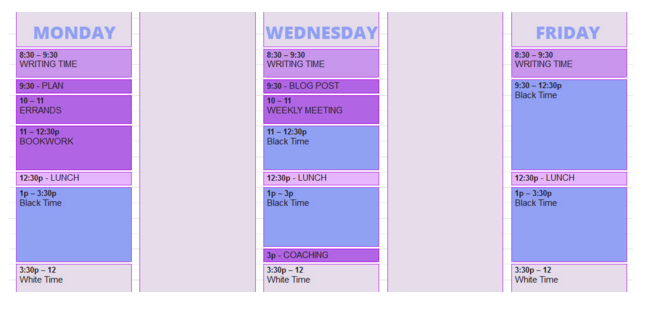 My design work requires 7 hours of production time every week.
Because Mondays are busy, I play catch-up on production work after lunch. I schedule production time before lunch on Wednesdays and Fridays.
Production Time – what does that mean, anyway?
Production time is creative time, editing time, drawing time for projects that are actually in production. Production time is spent on new t-shirt designs. It's time spent on creating proposals, calling or researching costs. It's posting on social media for pay.
It's the part of the business that results in money coming in. What it's not: social media scrolling, reading email blasts, sending messages to subcontractors regarding projects they're working on.
My scheduling calendar (ahgrafix.youcanbook.me) is linked to my Google Calendar. I block time that clients can make their own appointments into my calendar. If I have no appointments booked, that becomes production time.
What do I do when I need more production time?
I work before the kids get up in the morning, when they are playing outside or otherwise self-entertained, or after they are asleep for the night. I also have occasional moments when my husband is home and I can shut myself in the office and leave him in charge. But mostly, I guard my family and personal time because it's valuable to me.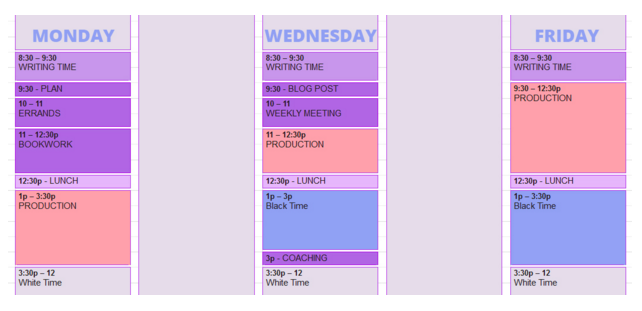 The rest of the time is internal work: marketing, business education, etc. Business ed: course I'm taking, tools, productivity
I've learned that my mind tends to wander after lunch, so I schedule those hours for busy work, social media check-ins, and follow-up emails and calls when I can. Friday afternoon includes flex time to wrap things up and take the weekend off. No working on Saturday unless it's an emergency.
So as to stay on top of ever-changing technology, I block 1 hour of business education time in every week. I might learn about a software tool, a mindset technique, or a project management software I've been meaning to look into.
Marketing gets forgotten when you're busy, so schedule at the very least an hour per week to review marketing efforts.
Email that pertains to Business Education or Business Marketing (that I want to read) goes into the "Internal, Active" folder, and the email subject goes into my calendar on Wednesdays. Yes, that means most of the email that I get goes into that giant circular file called the trash.
Larger marketing projects are broken down into smaller 1 hour tasks and scheduled.
For example, when working on a website makeover:
Day 1 block = review contact page, rewrite copy in Google Doc.
Day 2 block = review core product/service, rewrite copy in Google Doc.
Day 3 block = find images for contact and core service/product page. (do not edit, just compile in folder)
Day 4 block = new website template search.
Day 5 block = start new working website (not replacing current site)
etc.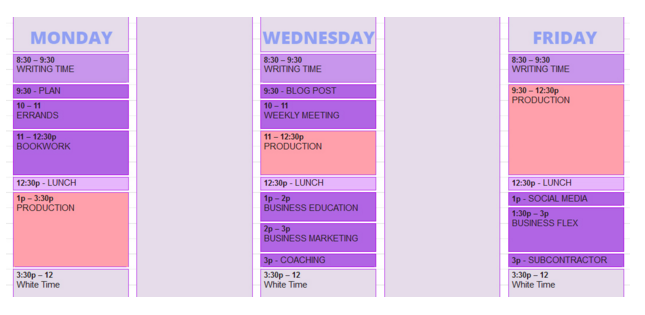 Templates v. Actual
The image above is what my TEMPLATE calendar looks like. I then overlay what will actually be working on on top of the template. My final calendar, with all of the personal meetings, appointments, and others looks really complicated and crazy. But if you break it down, you can see how every piece works into the final calendar.
By looking at my calendar it looks like I don't spend any time on email or social media. But I do – during breaks between projects when the entire time block isn't used.
The thing to remember is time is the only resource that cannot be bought or created. You have only 24 hours in a day, and how you decide to use them is up to you. I oftentimes think, "if only I didn't need to sleep…"
The beauty of using a Google calendar is that you can turn different calendars on and off to see what's happening on a specific day or how often a project occurs in a month. I can see my Google calendar on my desktop, my tablet and my phone. Calendars are easily shared from person to person, and between different apps.
If building a whole calendar sounds overwhelming, try with a simple first step. Perhaps schedule some personal time that's not related to work.
It was really hard for me to structure my creative time for fear that it would stifle me, but I'm really glad I got over that limiting belief. I feel more free to work when I know I have time scheduled for other things as well.
And now, my calendar says the kids need to get to bed.
Still have questions? Comment below and I'll check in to help you out.
Keep the conversation going...
Over 5,000 of us are having daily conversations over in our free Facebook group and we'd love to see you there. Join us!