---
If you think the first steps to starting your side-business include building a website, printing business cards, or getting a shiny new logo, we've got news for you—you're dead wrong.
We explain why in our most recent episode of our podcast, Sidegig.
Here's a hint: really successful side-hustles start with an extremely clear vision of what you want your business and your life to look like down the road.
And while there will be lots of short-term changes that will happen along the way, keeping your eye on the horizon of long-term vision can be a complete game changer.
That is, as long as your long-term vision doesn't keep you from taking action today.
We dig into all of this and more in today's episode—it's a great one you'll definitely want to catch.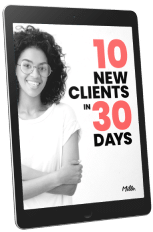 Need more clients?
Get more freelance work with our FREE book: 10 New Clients in 30 Days. Enter your email below and it's all yours.
---
Season 2 of Sidegig is sponsored by FindSideGigs.com: a free lead generation service for freelancers and those looking to earn some extra income. To take your sidegig to the next level with FindSideGigs, visit millo.co/findsidegigs and subscribe to their free weekly gig lists to get started!
---
For future updates subscribe to the newsletter or subscribe to the podcast on iTunes.
You can also listen to all previous episodes here.
Additional links to resources mentioned in this episode:
Keep the conversation going...
Over 10,000 of us are having daily conversations over in our free Facebook group and we'd love to see you there. Join us!