Hey – so first off, this ISN'T about the cool "IFTTT" service, if that's what you were thinking 😉 But, this approach DOES have something in common with it:
The phrase, "If this, then that."
In this blog post, I'm going to expand on this really cool approach to getting new clients that we've used for years in our agency and in our new "PSD to HTML" company since we opened in 2014.
It lets us convert more of the leads that come our way into clients, and even turns about 50% or more of "no"s into "yes"s.
Sounds good? Cool. Let's dive in.
First, the problem you & tons of other agencies & freelancers are probably facing:
I know from experience that this is the process a good deal of freelancers (and even agencies) take to client-getting.
Step 1: Someone emails in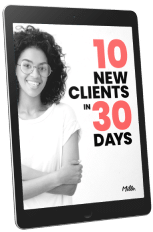 Need more clients?
Get more freelance work with our FREE book: 10 New Clients in 30 Days. Enter your email below and it's all yours.
Step 2: There's maybe a really simple email exchange
Step 3: Client says "yes," "no," or disappears.
If they get a yes – awesome, let's go.
If they get a no – oh well, better luck next time.
If they get a Houdini who disappears – oh well, better luck next time.
How do I know?
A while ago I reached out to a couple dozen or so freelancers & agencies, and that's what happened to me. 
I did it as an experiment to see how you guys and gals are handling onboarding so I could help plug some holes.
Unfortunately… I found way more holes than not!
But it's okay! I think most of us just don't have this info so clearly laid out. So in this blog post, I want to help you develop a super air-tight onboarding process so you get a lot more "yes"s.
Cool?
The "If this then that" approach
Already, in the example above, there's an "if this then that" approach at play.
If: Yes, Then: Start.
If: No, Then: Get over it.
If: Disappear, Then: Get over it.
The problem is, this doesn't work very well.
Why?
Because about 50% (or MORE) of "no"s are people who just don't understand your value, otherwise they'd say "yes."
So, we want to learn WHY they're saying no.
Let's say our new system looks like this:
If: No, Then: Ask Why.
Then we might send an email like this:
Hey, NAME!

No problem, I totally understand and appreciate you considering me 🙂

Just curious for my own growth and understanding – would you mind telling me why you decided to go with someone else?

I'd really appreciate your feedback.
They might give you an answer that leads to a dead-end. Then you have:
If: Dead-end answer, Then: Let it go.
BUT! They might tell you something that shows you that you failed to communicate something important about yourself.
For example: They might object to price.
Then you need a killer follow up that explains why you're worth more, and why they will actually save more money and make more money in the long run by choosing you.
Or maybe they'll object to the ETA (then you can explain the importance of taking the time to really get it right), or your design aesthetic (in which case you can offer to show them a more diverse array of portfolio pieces), or something else.
Basically, you need an answer for any objection.
BUT – communicate it in a really low-pressure, friendly way.
I like to add a phrase like this at the end of emails that respond to objections:
Again – no pressure. I just wouldn't feel right if I didn't give you all the information you need to make a good decision.
You can (and should!) map out a whole arsenal of "if this then that" scenarios. For example:
Someone says "yes" but doesn't pay your invoice.
Someone disappears after their first inquiry email. (How many follow ups will you send before letting it go? How many days apart will you space them out?)
Someone doesn't get you feedback right away. (What will you do after 2 days? 5? Etc.?)
Someone objects to price. (Why are you worth it?)
Someone objects to aesthetic. (Can you first find out what their exact aesthetic is then show them other portfolio pieces they may have not seen? Or can you educate them on the difference between appealing to them and appealing to their market?)
Someone objects to ETA. (Can you explain why it's so important to take your time and make sure everything is perfect?)
Someone objects to you not being local. (Can you provide references and case studies of remote clients who had super successful projects?)
Most of the time, people say "no" because we failed to communicate what they needed to hear. 
So they go to the next person, and the next, until someone says it on purpose (because they have a great "if this then that" approach) or on accident.
One more important note:
When countering objections – it's important to not come off as pushy. 
I like to include a phrase like this at the start of the email:
Thanks so much for expressing that. I can totally understand where you're coming from.

With that said, I also know that…
And that, in a nutshell, is how you can close more deals WITHOUT even getting more leads!
You just act smarter with the leads that are already coming your way.
Till next time, David
Keep the conversation going...
Over 10,000 of us are having daily conversations over in our free Facebook group and we'd love to see you there. Join us!