Table of Contents
This post may contain affiliate links. See our affiliate disclosure for more.
Mailchimp has come to be one of the most popular email marketing platforms out there, but have you ever wondered about Mailchimp alternatives?
Its large selection of customizable templates, integrations, and segmentation features have turned it into a no-brainer for big and small companies.
However, Mailchimp's software isn't for everyone. Whether it's the cost, its user-friendliness, or the lack of additional features, businesses have looked for some great Mailchimp alternatives.
If you take a look around the market, you'll find numerous Mailchimp alternatives to get started with email marketing.
But how do you choose the best email marketing service to suit your needs? Also, how will you be sure that your alternative is indeed better than Mailchimp?
In this article, we'll give you a helping hand by taking a look at some of the best options you can get.
Let's dive right into it!
8 Best Mailchimp Alternatives to Consider
To choose the best alternative, you need to see what each of them can offer.
Listed below, you'll find 8 of the best alternatives to get your email marketing started like a pro.
Another one of the popular Mailchimp alternatives is Brevo, a platform that's among the best free email marketing services you can use in 2020.
Brevo is an email marketing platform that apart from email marketing allows you to run SMS marketing campaigns.
This can come in handy, especially since the majority of consumers own a smartphone device.
In addition, Brevo gives you access to automation and CRM tools to upload unlimited contacts.
Another advantage of this alternative is its segmentation feature that allows you to divide your subscribers and manage them more effectively.
Real-time reporting is another plus for choosing Brevo.
The sophisticated drag-n-drop editor will also allow you to create beautiful email campaigns in a matter of seconds.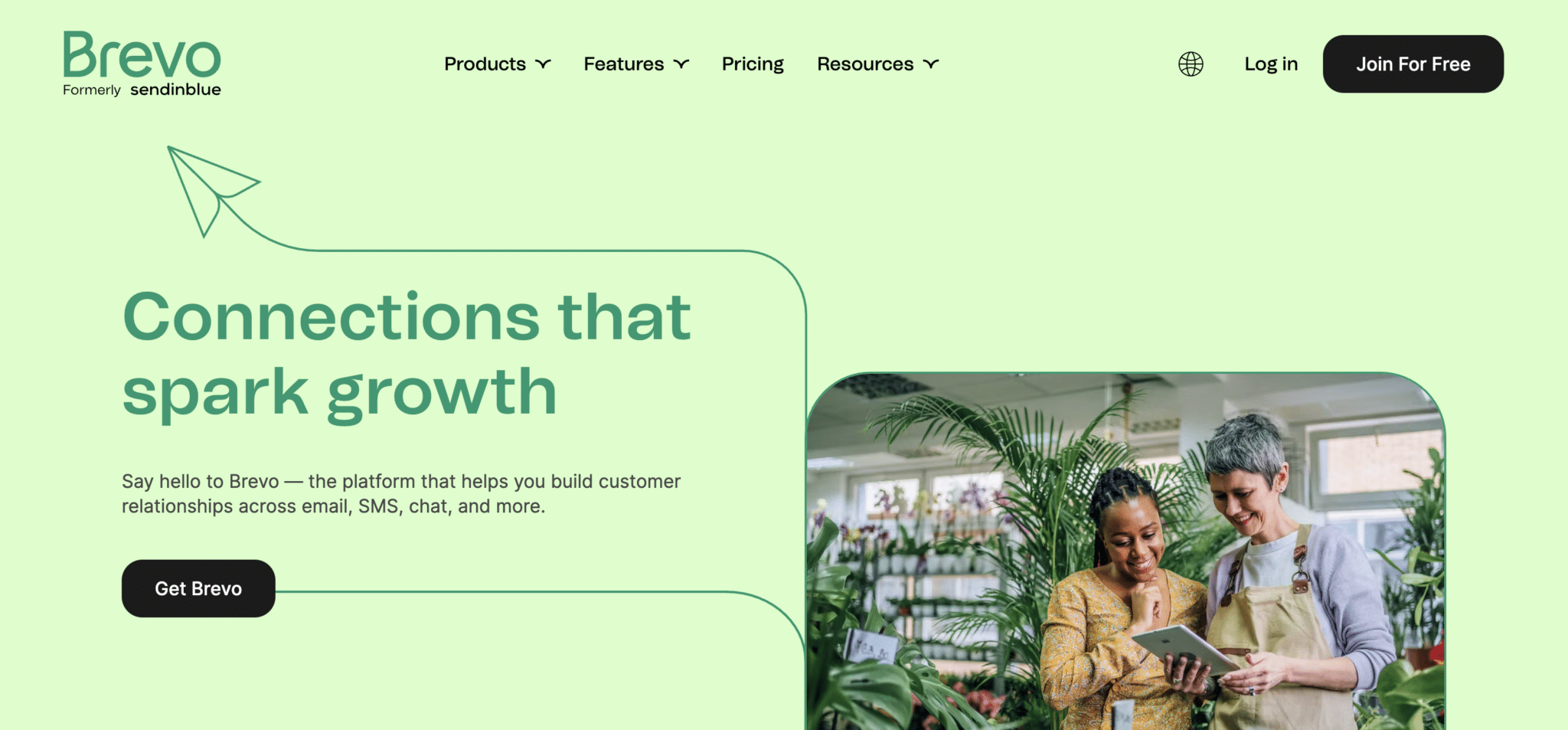 All in all, Brevo is a great alternative to Mailchimp that combines email, SMS, chat, and CRM to power up your business.
Customers can also benefit from the platform's active customer support and the variety of plugins it offers.
Top features
Brevo has numerous features to help you succeed:
Transactional email and SMS: create and send emails and SMS triggered after customers take action on your website.
Customizable signup forms: design and personalize your forms to boost your signup rate.
Page tracking: track visitors' behavior on your website and then send them the right message.
About Pricing
Brevo has a free plan for 300 emails/day.
Paid plans start with the Lite plan at about $25/month for up to 20,000 emails/month including the free features and no daily sending limit.
For the price of $65 you can get the Essential and Premium plans are priced custom to your needs and get access to more tools.
ConvertKit is among the Mailchimp alternatives you should try.
You can use the tool to get the most out of marketing automation by creating and scheduling your campaigns.
More specifically, ConvertKit will allow you to design and manage your drip campaigns through its smart editor and user-friendly interface.
When you sign up, ConvertKit also asks you a few questions to determine your needs and offer you further assistance.
The platform's huge knowledge base and tutorial are perfect for beginners.
You can instantly create subscription forms to expand your mailing list and create dedicated landing pages to boost lead generation.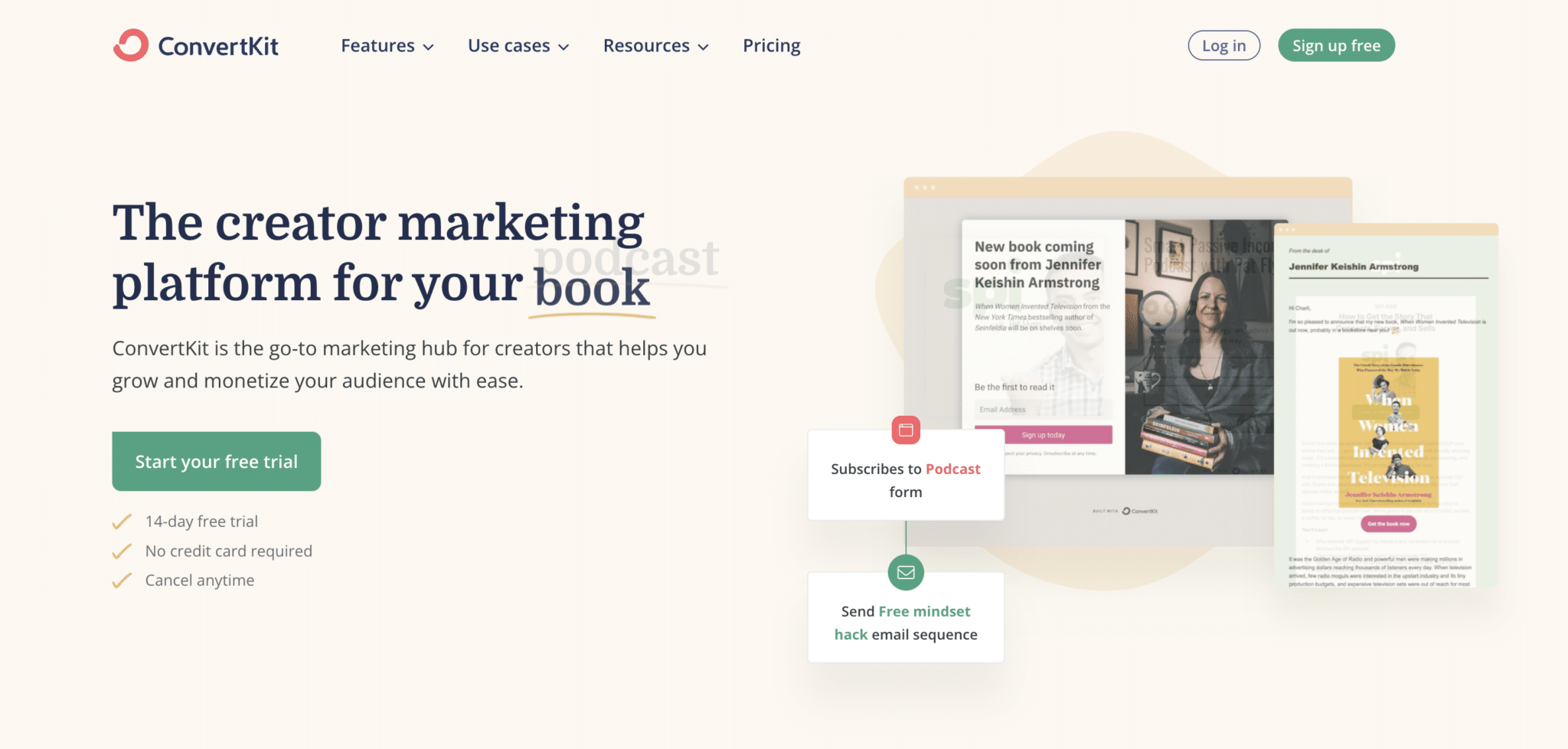 If you are a seasoned email marketer who knows how to code, the tool also lets you add HTML boxes to customize parts of your marketing campaigns.
While you can create forms and landing pages with the free plan, email sending and automation are available only in the paid plans. You can review all the differences between Mailchimp and Convertkit here.
Top features
ConvertKit will help you unleash your inner creator with:
Customizable CTAs and signup forms: create efficient CTAs and forms to make your audience click and convert.
Mobile responsive designs: create campaigns that won't be affected by screen size and capture mobile-first users.
Premium Landing page templates: choose from a variety of landing page templates, customize them, and excite your audience.
About Pricing
There is an available free plan for up to 300 subscribers that gives you access to landing pages, forms, and subscriber tagging.
Paid plans start at $25/month for up to 1,000 subscribers and it'll give you reporting tools, automated email sequences, and integrations.
You can also try their 14-day free trial to see how ConvertKit works for you.
Fifth in our list of Mailchimp alternatives is AWeber.
A leading platform for small business, AWeber is a seasoned email marketing tool that allows you to create responsive email campaigns.
The smart designer will help you automate the creation process and come up with branded emails for your business.
Furthermore, the free template library has a huge number of pre-built templates to save time and get you inspired.
Reporting is also a major asset for the platform, with pre-built reports to provide you with valuable insights into campaign performance.
To make reporting easier, the platform has an app called AWeber Stats that lets you monitor everything on the go and stay updated about your subscribers and emails.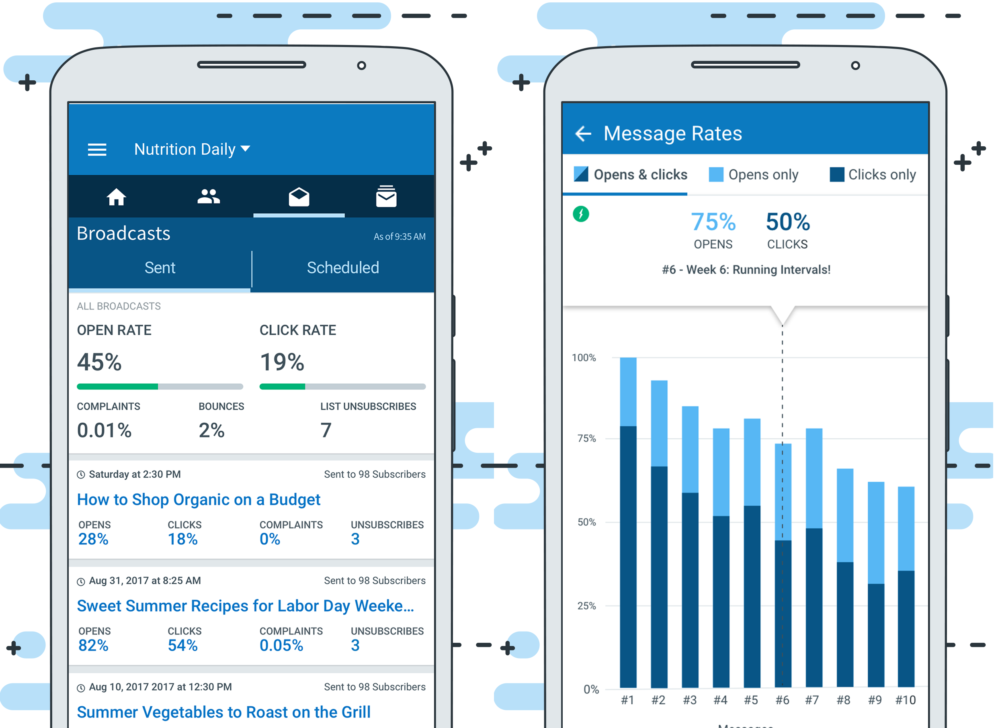 Apart from that, you can use the software to design responsive landing pages without having any technical expertise.
Overall, AWeber is a great alternative offering a selection of native integrations with your favorite apps to help you streamline your work.
Some of the most notable include Shopify, PayPal, and Salesforce.
Top features
AWeber has advanced tools to help you boost your email marketing strategy and achieve your goals.
Among others you'll get:
Web Push Notifications: Engage your audience instantly with these one-time messages and bring them back to your website.
Landing Pages: A powerful landing page builder let's you set up an online presence and provides a space to engage with your customers and collect their contact information.
Ecommerce: Start collecting payments directly from your landing page, AWeber provides an all-in-one ecommerce solution.
About Pricing
Get started with AWeber for free. The free plan offers access to nearly all of AWeber's marketing tools for up to 500 subscribers and up to 3k emails sent a month.
Paid plans start at $12.5/month for 500 subscribers, $22.50/month for 2,500, and $44.42/month for up to 5,000. If you have a large list they offer an unlimited plan for $899/month
Moosend is a newer email marketing automation platform. However, what it lacks in age, it makes up for in sophistication and ease-to-use.
You can use the software to create a new email through its user-friendly drag-n-drop campaign editor.
What distinguishes Moosend as one of the great Mailchimp alternatives is its responsive newsletter templates and state-of-the-art automation options.
Whether you have an eCommerce business or a SaaS company, you can use Moosend to automate your campaigns and deliver the right message at the right time.
Choose and create a cart abandonment email in no time and then test how it shows on various devices.
What's more, taking into account the needs of modern digital marketing the platform has recently released additional features.
Apart from managing your mailing lists, you can also design subscription forms to expand it.
With its advanced landing page builder, you can create new landing pages for your business and boost your lead generation.
The combination of sophisticated tools, active support, video tutorials, and affordable prices is what makes Moosend a great alternative to Mailchimp.
Top Features
Moosend has a variety of features to supercharge your email marketing strategy.
When you choose it, you get access to:
Powerful email marketing automation: take advantage of pre-built workflows to automate tedious tasks and deliver the right message at the right time.
List segmentation and personalization: use list segmentation to divide your subscribers into groups with similar interests and then target them with personalized campaigns.
Powerful real-time analytics: the comprehensive and informative reports will help you monitor your campaign efficiency. Track your open and bounce rate, get insights into subscriber engagement, and use the data to improve your email marketing efforts.
About Pricing
When it comes to pricing, Moosend has a 30-day free trial and pricing plans specific to the number of subscribers.
The paid plans start with the Pro plan at $24/month for up to 2000 subscribers but you can also take advantage of Moosend's credit system to pay-as-you-go per email.
For larger companies, Moosend offers a custom Enterprise plan that includes every feature available.
GetResponse is among the top Mailchimp alternatives with affordable options and a variety of features to get you started.
One of the tool's strengths is its customization abilities that will allow you to create effective campaigns.
Not only that, but the software is easy to master, so you won't spend too much time learning the ropes.
In addition, GetResponse will give you all the tools to send triggered campaigns to engage your new subscribers.
With powerful autoresponders and landing pages, you can also use this alternative to increase your website traffic.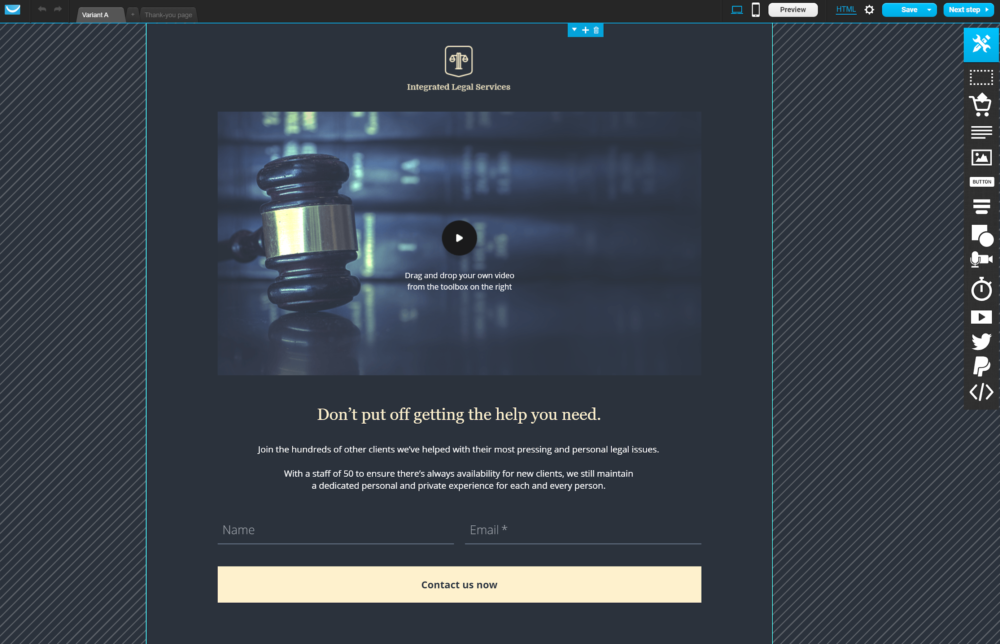 Moreover, you can leverage the platform's analytics to monitor performance and run various A/B tests to get maximum results.
Overall, what makes the software a great alternative is the number of features you get at a lower price, including a variety of integrations.
Top features
GetResponse has a variety of new features to cover the needs of every marketer.
When you choose the tool you get access to:
A/B Testing and Tracking: create variations of your marketing campaigns and then distribute them to different mailing lists.
Web forms: design web forms to capture your visitors' contact information. You can choose from a large number of template categories to suit your business needs.
Lead-nurturing CRM: manage interactions between your business and your customers by creating visual representations of sales processes.
About Pricing
GetResponse offers a free plan for up to 500 contacts, so if your email list is small, this is a great option to test out.
When it comes to the paid plans, you can get the Basic plan starting at $15.58/month for 1,000 subscribers but with limited features.
The Plus and Professional plans start at $48.38 and $97.58 per month respectively, offering extra features for 1,000 subscribers.
Constant Contact has earned a place in the best Mailchimp alternatives list due to its smart features.
The tool is popular for providing event invitations management and having an easy-to-use editor.
Among others, Constant Contact will give you access to numerous email templates to save time. Then, you can use the editor to customize it as you like.
Moreover, the platform is known for its detailed reporting tool and constant support.
Constant Contact will help you boost your eCommerce strategy with email and marketing automation solutions.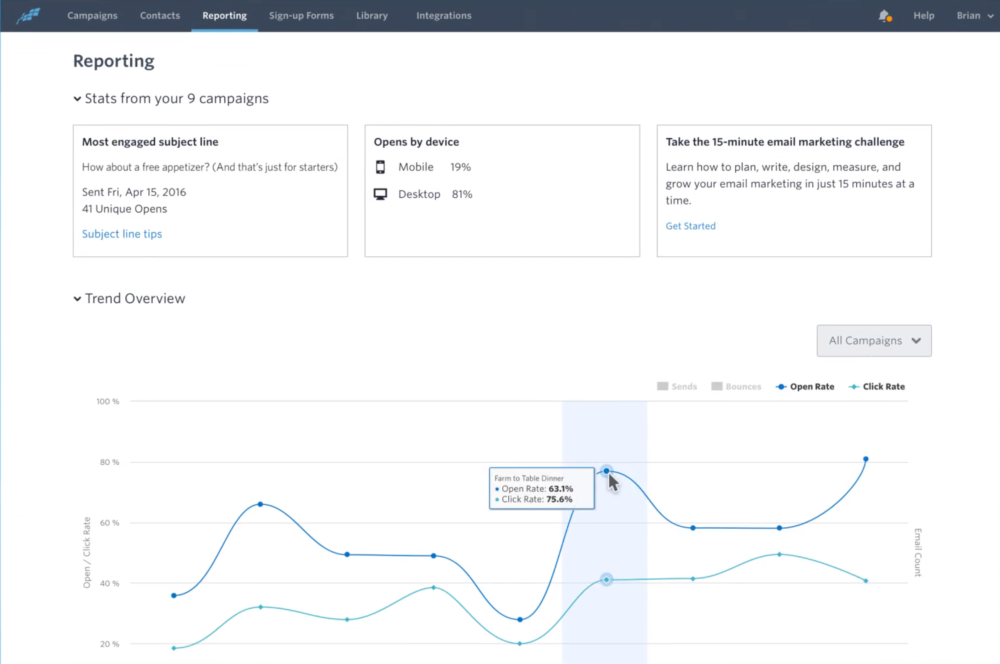 Easily create engaging campaigns, send them when your subscribers take action, and even leverage automation to target your non-openers.
Among others, Constant Contact will let you build popup forms, landing pages, and segment your audience for better lead generation and engagement.
Top features
Constant Contact has a number of features to boost your sales and grow your business:
List building: build your mailing list and expand it with a variety of tools that are compatible with your website and social media platforms.
Social posting and monitoring: engage with your social media audience, respond to comments, and monitor the performance of your campaigns.
Branded and industry templates: choose the best template for your business and industry and customize to match your brand.
About Pricing
Constant Contact doesn't have a free plan but it has a 60-day trial on all paid plans.
The software offers three paid options; Lite ($12/mo), Standard ($35/mo), and Premium ($80/mo)
MailerLite is another platform you should consider when you look for great Mailchimp alternatives.
The software is famous for providing customers with exceptional support and great user experiences.
Getting the hang of the campaign editor is easy as it's designed with the user in mind.
Also, you can use it to create mobile-friendly campaigns and leverage the built-in photo editing tool to optimize them on the spot.
MailerLite offers you extra features like a landing page builder to help you meet your sales KPIs.
In addition, you can engage your audience through personalization, segmentation, and automation to deliver better content to your audience.
Another plus is the software's all-in-one character that allows you to grow your audience with embedded forms.
In general, MailerLite always strives to keep its software up-to-date, keeping everything simple and responsive.
Top features
To boost your email marketing strategy, MailerLite has a variety of features:
Campaign optimization: run A/B split tests to determine which elements work best for your audience.
Embedded email surveys: set up surveys, embed them in your emails, and collect valuable feedback from your subscribers.
Interest groups (tagging): target specific audiences through custom labels based on your subscribers' behaviors and interests.
About pricing
While MailerLite has a free plan, the features you get are limited. Nevertheless, it has a 14-day trial of the premium features.
Paid plans start at $9/month offering unlimited emails for up to 1000 subscribers.
Last but not least in our Mailchimp alternatives list is Benchmark Email.
The platform is suitable for any business that wants to increase sales through easy-to-use features.
Building and personalizing your campaigns has become easier with the advanced campaign editor.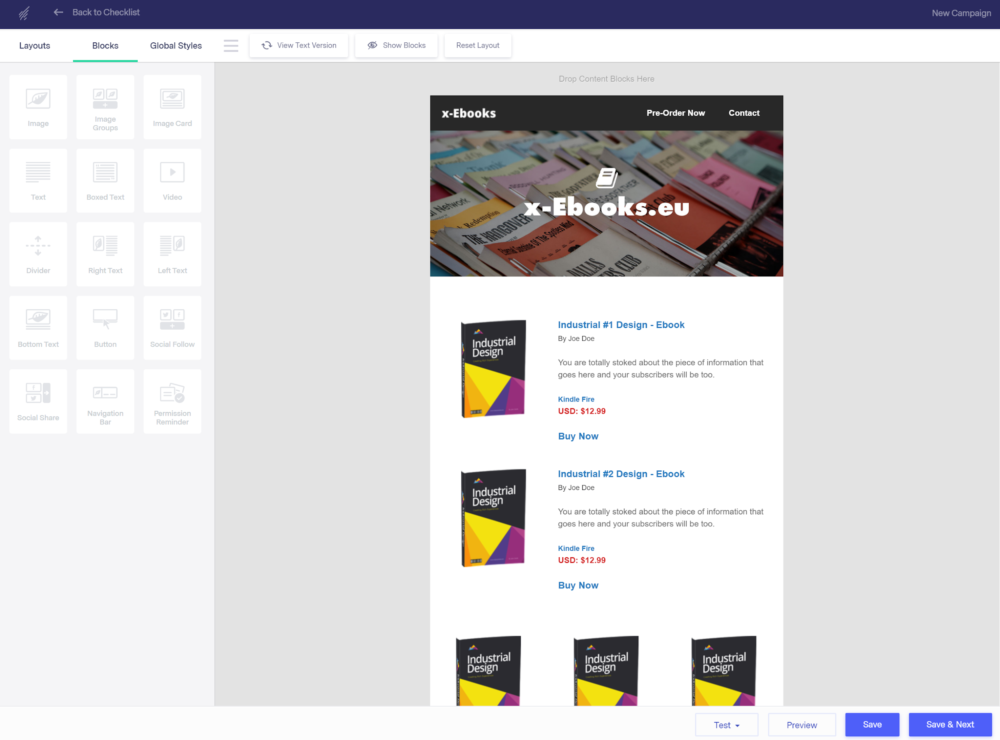 At the same time, Benchmark Email offers additional tools to boost your email marketing efforts.
Using the platform will help you send thousands of personalized emails through high-volume sending.
Furthermore, you can manage your email deliverability to ensure that these emails will always land in your subscribers' inbox.
Overall, Benchmark Email is a great alternative to manage your mailing lists, import and keep subscriber data, segment your audience, and manage the delivery status of your email campaigns.
Top features
Benchmark Email will equip you with the essential features to get started with email marketing:
Behavior-based emails: target your audience with email campaigns triggered after specific behaviors and actions.
Mobile optimization: make sure that your campaigns look perfect on every device through emulated inboxes.
Multi-user account: give access to your entire marketing team under one account without paying extra.
About pricing
You can use Benchmark Email's free plan to send 3500 emails/month for unlimited subscribers.
The Pro plan starting at $13/month is billed annually and grants you access to automation, enterprise features, and premium support.
Takeaway
Mailchimp has long been one of the most popular email marketing tools in the market. However, even though Mailchimp has powerful features, it isn't a tool that will fit every marketer's needs perfectly.
Choosing the right tools will help you meet your goals faster and grow your business into a profitable machine.
So, exploring your options and looking at the best Mailchimp alternatives will help you find something that suits you and your business.
Keep the conversation going...
Over 10,000 of us are having daily conversations over in our free Facebook group and we'd love to see you there. Join us!