When I was pregnant, I shook off any suggestion that I wouldn't be able to carry on in my career exactly as I always had.
The notion that my creativity and productivity would be sapped by 'mommy brain' or that my professional development would stall because it would no longer be a priority, was (and still is) utterly sexist in my view. After all, nobody asks fathers how they will continue to be successful in their careers after having children.
However, after becoming a mother, things did change.
No, I didn't develop mommy brain, and I didn't stop prioritizing my work (quite the opposite actually).
What I did have to do was acknowledge that my life had changed significantly, and that I would need to make some changes in order to maintain the career trajectory I want.
Here's how I do it (and how you can, too):
Take time to develop technical and creative skills
Truthfully, this is something that I have always done.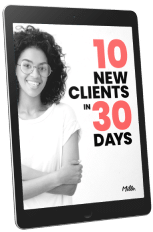 Need more clients?
Get more freelance work with our FREE book: 10 New Clients in 30 Days. Enter your email below and it's all yours.
I haven't allowed becoming a mother interfere with my professional development.
Any web designer knows that there are always new technologies, new techniques, and new trends that they need to master in order to remain marketable. This is why I make learning new things a priority.
Of course, I believe that learning the latest software or understanding how to use certain tools is only part of the equation. I also dedicate time to drawing, painting, going to art museums, and reading books and magazines on subjects ranging from architecture to Claymation.
I'm able to do this because for me, this isn't optional.
I don't work on learning new things and creating art, 'if I have time.' I commit to do these things every week (my minimum is 12 hours per week), and I make it happen.
[Tweet "Make learning and creating new things a priority each week. #freelancerandmom"]
Some weeks, getting in 12 hours of personal education time is easy. Other weeks, it's a real struggle, but I still make it happen.
Sometimes, this means that we read one chapter at bedtime instead of two.
Sometimes it means that dinner is turkey sandwiches and fruit, and that our hour per day screen time rule gets broken.
Do I feel guilty? Not even a little bit.
Set up a full home office
Before I became a mother, the majority of my work was done in the studio space I rented outside of my home. I rarely used my home office for any design work.
Once my son was born, things slowly shifted. I wanted to spend less time away from home. So, I slowly started purchasing the equipment and furniture I needed to create an in-home studio.
Today, my home office is my only office. I save commute time, and it works well for me because it helps me to remain flexible.
For example, when my son was sick recently, I was able to take care of him, and still work and meet deadlines. I couldn't have done that if my workspace wasn't in my home.
Read more here about how to make your home office a sanctuary (and never rent office space again!).
Get organized
I've discovered that the more organized I am, the more time I have for honing my creative skills.
Before I became a mother, I had a tendency to accumulate piles of paperwork on my desk, and I spent a lot of time searching for things both in my office and on my computer.
That stopped working for me after my son was born.
I tried several different methods of getting organized:
I burned through a dozen or so apps, that didn't quite work for me.
I read books on organization.
Finally, I settled on a combination of Evernote, Pinterest, and a giant whiteboard calendar. Find what keeps you organized and rock it!
Need help? Check out these posts:
Stay active in the design community
This probably reflects the biggest change in my career since becoming a mother.
To some extent, I used to be a 9-to-5 designer.
Yes, I was always taking a class or working my way through some tutorial to learn some piece of technology, and I put in more than my share of working projects after hours to meet deadlines.
What I didn't do, in my off hours, was associate much with other designers. I certainly didn't go online seeking out designer blogs or the opportunity to engage in shop talk with other designers.
I think I spent so many sequential hours per day focused on my job impacted that when I was done at the end of the day, I was done.
Now, I feel a greater need to put myself out there and connect with other designers.
[Tweet "Connect with other designers. #parentingandfreelancing"]
(This is a bit of a two-edged sword.)
On one hand, reaching out to other designers has been amazing on both a personal and professional level.
I've learned amazing things,
become with friends with some great people, and
On the other hand, I cannot deny that one of the reasons that drove me to become more active in the online design community was my belief that I needed to prove my relevance as a designer after becoming a parent.
To be honest, I'm not 100% comfortable with the messaging behind that need.
However, at the end of the day, I've gained a lot from this and would recommend it to any designer.
Incorporate art into parenting time
Sometimes, my son and I work on art projects together.
We create. We collaborate. We argue. It's amazing.
Then, sometimes he takes the lead and I act as his assistant and do what he wants in order to help him. He also frequently 'works' next to me while I'm working on projects for clients.
This helps us both in so many ways.
Most importantly, we get to spend time together. My son also gets to see what I know how to do and how happy I am doing it.
This creates a dynamic in our household where my work and my interests don't take away from the time I spend with my family.  Instead, they are the things that that improve and drive my relationships with the people that I love.
Ultimately
…it's all about setting priorities and refusing to buy into certain myths about work and motherhood. My passion for design and my ambition didn't waiver after becoming a mother. In fact, they became much stronger.
[Tweet "My passion for design and my ambition became much stronger after becoming a parent. How about yours?"]
I've just needed to make adjustments to make my life and career work in slightly different ways.
Are you a parent and freelancer? How did your career change after kids? What adjustments did you make in your life? Leave me a note in the comments!
Keep the conversation going...
Over 10,000 of us are having daily conversations over in our free Facebook group and we'd love to see you there. Join us!