Lisa Glanz started her career cutting out soccer players in Photoshop for a magazine company.
Today 90% of her income comes from selling on design marketplaces. We sat down to chat with Lisa about how online sales allowed her to make a decent living following her passion.
Design marketplaces allow illustrators, designers, and creatives of all kinds to sell their artwork to a large audience.
Which is how designer Lisa Glanz maintains a decent living. She creates digital illustrations and sells them to clients, completely eliminating the need to hunt for client work.
💔 Falling out of love with your clients? Trade some of your worst clients for the best companies in the world with SolidGigs, our premium weekly freelance job list & course library. Love your business again. Learn more »
Lisa lives and works in Cape Town, South Africa. Like many of us, she started in school studying graphic design and advertising.
From there, she started at a magazine company where she says she "spent most of my days etching out soccer players in Photoshop."
After a few more transitions she settled into freelance design, but couldn't shake the feeling that she wanted to get into illustration full-time.
A side project expands to a career
Lisa started selling digital projects as a side project.
"I really wanted to illustrate more, and I thought creating digital products would be a nice way to make a little money on the side doing what I love," she explains.
After the success of her first digital project Lisa decided to continue creating packages. The next thing she knew, selling online became her main source of income.
Enter your email. Grow your business.
Submit your email below and join 45,000+ creatives who get our most helpful content via email every week. 100% free. Unsubscribe anytime. Privacy protected.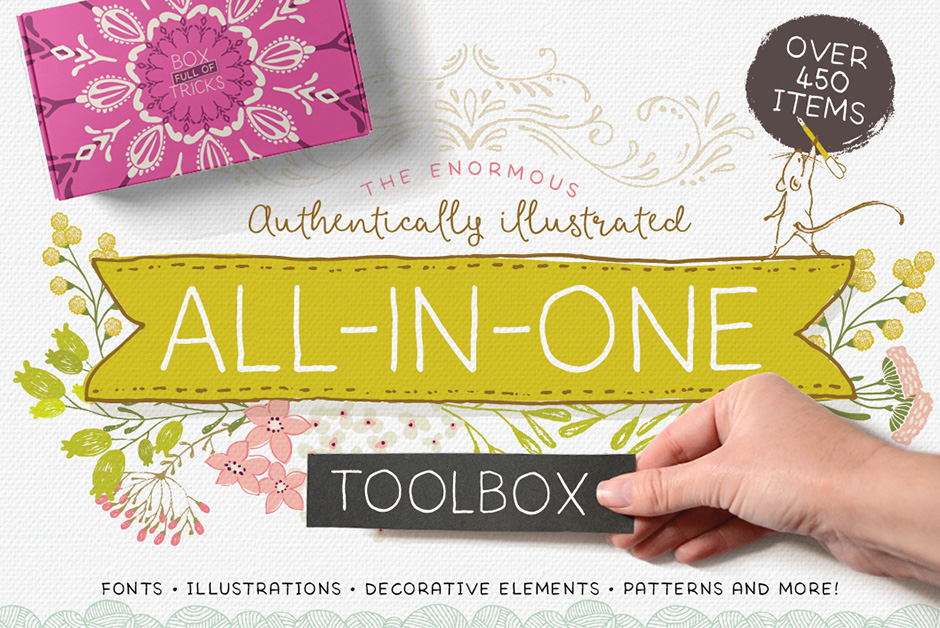 "Initially it was just a step that I forced myself to take so that I would take my art more seriously. Because if you take that first step it picks up momentum, and I knew that," says Lisa.
Today, about 90% of Lisa's income is from selling on Design Cuts and other marketplaces.
Help with exposure
Though she's not sure of the exact numbers, Lisa credits Design Cuts with exposing her work to a broader audience.
In addition to her fonts, patterns and objects, Lisa's work was featured in some Design Cuts bundles as well. She also created a hand-drawn script font with Design Cuts called Salt & Pepper.
"Many customers mention they found my work through Design Cuts. The company does a great job at promoting the artists and designers," says Lisa.
This promotion makes it easier for artists like Lisa to focus more on creation, though she does also promote through her website, Behance, Instagram and Pinterest.
Lisa's creative process
Since Lisa envisioned selling illustrations online from the beginning, there was no transition from print to digital.
But she still begins her process on paper, though sometimes she uses an iPad to draw directly on her Mac.
All watercolor work is scanned and cleaned up in Photoshop, while vectors are done completely in Illustrator.
Lisa's packages for Design Cuts include fonts, design elements, and bundles with multiple types of resources.
Though each package is different, they have a similar process:
Visualize the end product
Illustrate
Scan and vectorize or clean up
Create final images
Create preview images (at the same time as the finals)
Make a cover
Prepare files for customers
Conclusion
Many artists like Lisa make a good living selling their products completely on digital marketplaces like Design Cuts.
Even though it's considered passive income, artists like Lisa will tell you a lot goes into each product. But with marketplaces available to help you with promotion and marketing, you'll be on your way to increasing your income in no time.
Do you create digital products? We'd love to hear about your process in the comments!
Keep the conversation going...
Over 5,000 of us are having daily conversations over in our free Facebook group and we'd love to see you there. Join us!