When we start out as freelancers, getting paid $300 to do something feels like a big deal. And it is, for a while… until you realize that you've got to do a ton of little $300 gigs just to pay your bills.
So we seek out better projects and higher-paying clients until it's a bit easier to earn a decent income.
But nothing feels quite as good as landing that first $10,000+ client contract.
The one that will pay your bills for months all by itself… and that doesn't even take half of your work time to complete. It's a game-changer. And you realize that you'd actually kind of like to only have $10,000+ clients. (And who could blame you?)
When you have clients that pay five figures and above, your income is more predictable and secure. You don't have to do as much marketing, and you don't have to juggle as many projects at once.
But in landing some $10,000+ contracts for myself, the biggest lesson I've learned is this…
If you want $10K+ clients, you've got to treat them like $10K+ clients, and at the same time treat yourself like you're the kind of professional worth that money.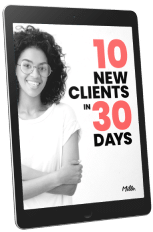 Need more clients?
Get more freelance work with our FREE book: 10 New Clients in 30 Days. Enter your email below and it's all yours.
Here's how I do it:
1. Don't book the free call right away. Reply with clarifying questions.
When potential clients reach out to me, their messages almost always ask if they can book a call, and/or involve a request for a quote on the work to be done.
Staying professional, I DO NOT answer this question from the get-go. Instead, I respond that I'd love to have a call or give a quote, but first I need to ask a few clarifying questions.
I ask questions about business goals, current problems, budget, and timelines.
Honestly, the questions you ask are less important than the fact that you do ask them and you don't answer their request immediately. This is a subtle move, but it puts you in the driver's seat to steer the conversation.
2. Ask data-sensitive questions on the call
Once I get their reply with answers to my questions, I send over some available time slots to book a call with me.
On the call, I make sure I'm the first one to start asking questions, and I have a list of questions ready to ask them.I use this time to clarify their goals, ask them about web traffic, profitability models, how much money they're making, and how much they want to make.
Yes, I go there and I ask the hard questions. The "not my business" questions about sensitive data and profits.
But by making that information my business, I can make sure any of my services I suggest will pay off for them financially sooner rather than later.
Plus, most freelancers will be afraid to ask these questions. The fact that you're brave enough to ask them shows how serious you are about bottom-line metrics, and makes you a #1 choice for the client, even if you are more expensive.
3. Send a profit-focused proposal
In the proposal, you will definitely mention your services and how you'd like to work with them.
But instead of making this the focus of the proposal, make it about their business goals and their profitability. Since you gathered information about their business data and profitability on the call, crunch the numbers for them. Show them how much higher those numbers could be with your services in a month or two.
Compare their profitability after hiring you with the cost of hiring you to show that hiring you (and paying you A LOT of money) is a smart choice.
For example, if your services will cost them $12,000, show them how quickly they'll make $24,000 after hiring you.
By focusing on their profit and speaking so openly about it, you eliminate the buyer's worry in their minds about whether you're really worth the investment.
Since I've started doing this, I get compliments from almost every single client about how professional my proposal is… and most of them end up hiring me.
4. Add in some high-value bonuses
If you're quoting someone a $15,000 project, you're probably doing enough work that it'd be relatively easy to add in some of your smaller services as a bonus.
For example, if I'm already writing a ton of website pages for someone, I'll throw in writing the Contact page, a $300 value, for free. Or I might add something else… like a free one-one-hour consulting call with me that usually costs $250.
As long as these bonuses add the kind of value your customer is looking for and you assign a dollar value to them, your prospects will want them and will feel like you're looking out for their best interest. (Plus, who doesn't love free stuff?)
Closing tip: give yourself time to write
The most important part of this process is to give yourself time to write these proposals.
This process does take a bit more time than just shooting over an email with a few-sentence proposal, so you want to give yourself enough time to do it well.
Try it for yourself for a few months, and see if your clients don't willingly go for some of your more expensive options.
Keep the conversation going...
Over 10,000 of us are having daily conversations over in our free Facebook group and we'd love to see you there. Join us!