Table of Contents
This post may contain affiliate links. See our affiliate disclosure for more.
Remote writing jobs have seriously never been easier to find. Whether you're a long-time freelance writer looking for more regular clients, or you're just getting started and looking for freelance writing jobs for beginners, remote writing jobs can be a great way to supplement your income and have fun doing it.
The quickest way to get remote writing jobs is to search through the highest quality freelance writing jobs sites you can, picking out clients you would enjoy writing for and pitching your services.
But, just like the remote writing jobs themselves, not all writing jobs sites are created equal. Some can be a real dead-end.
The last thing you want to do is waste dozens of hours every week (hours you could spend writing) searching through the wrong online writing job listings only to be discouraged or frustrated.
So below, I've compiled a list of the very best remote writing jobs sites I know of personally.
I've personally used many of these sites to find multiple remote writing jobs and supplement my income significantly—making thousands of dollars in my spare time as a writer.
General remote writing jobs
While many writers specialize in a certain kind of writing (copywriters or technical writers, for example), there are many writers who are simply searching for any remote writing jobs opportunity they can find.
The freelance writing sites in this section are for general writers who feel comfortable adjusting to many different styles and requirements.
First on the list is a unique service for anyone looking for freelance remote writing jobs. The team at SolidGigs manually filters through thousands of job listings every week and delivers the top 2% of freelance jobs to their members—all for one low monthly fee.
Instead of taking a percentage of your income—like many remote writing jobs sites do—SolidGigs puts more money in your pocket as a writer by only charging a base monthly membership fee.
In addition, they've got some great resources to help you learn how to pitch your writing services to companies with remote writing jobs. Best of all, you can try it out for just $2 your first month.
Next is one of the most robust freelance job boards on the entire Internet, Flexjobs.
Aside from literally dozens of other categories, Flexjobs provides a wonderful daily feed of quality writing jobs for writers of all kinds.
Their well-oiled search functionality lets you filter by keyword, location (remote), time commitment, industry, and just about anything else you can imagine.
As far as freelance job boards go, Flexjobs is among the very best.
Lastly in the category of sites with general writing jobs is Contena. While you do have to create an account to join Contena, it may well be worth it since they have one of the most frequently updated writing job lists I've ever encountered.
They also tend to have primarily high-paying writing jobs, many of which are remote.
My next suggestion is a site built by former freelancers called Remote.co. Not only do they have lots of remote and freelance jobs in all kinds of creative categories, they've got a well-thought-out primary category page exclusively for remote writing jobs.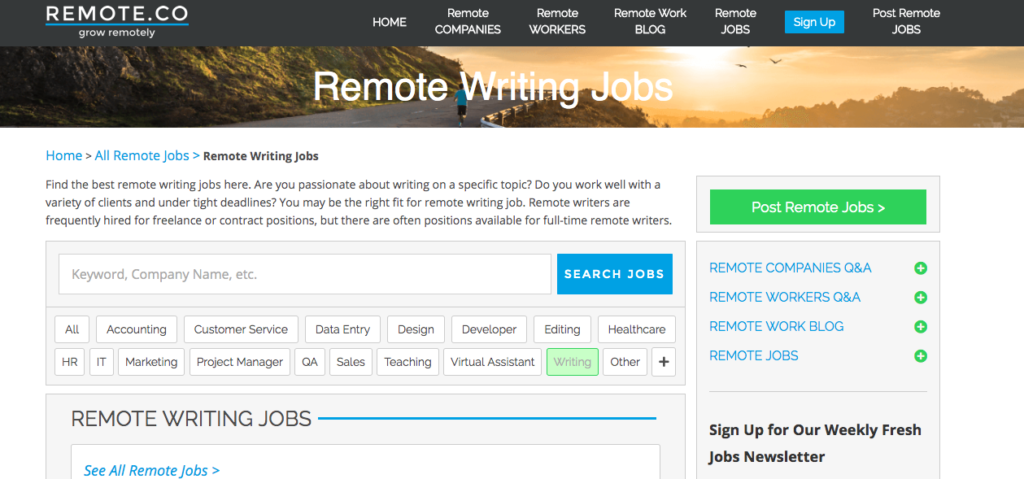 Their list is updated multiple times a week and it's completely free to use—which ends up being a huge plus.
My next recommendation for finding writing jobs is to bookmark and use All Freelance Writing. Their No-BS attitude and openness about what it takes to be a successful freelance writer is refreshing and needed in a world where anyone thinks they can write.
On the site, you can search and filter online writing jobs by industry, style, and pay-rate; a huge advantage over other similar sites.
A unique option among other remote writing jobs sites is PubLoft. If you dislike all the work that comes with running your own freelance business and would rather just write from sun-up to sun-down, then Publoft is for you.
Publoft finds clients and manage their needs. All you need to do is write.
Freedome With Writing offers a steady stream of higher-paying remote writing jobs for up-and-coming publications in addition to well-known sites, magazines, and companies.
They've also got some cool case studies on the site to show you that the remote writing jobs they're offering really do work.
Ever since 1997, FreelanceWriting.com has delivered daily and real-time online writing jobs from companies around the world.
Their extremely in-depth list and regular updates make it a fantastic way to find more writing jobs than you could ever need.
The long-standing and very popular "Morning Coffee Newsletter" delivers a weekly email to their subscribers in which you'll find 8 of the best new writing jobs for freelancers that week.
They've got exclusive writing jobs as well as high-quality remote writing jobs from job boards around the web.
Another site that delivers daily remote writing jobs is Freelance Writing Gigs. They post new writing jobs for bloggers and writers on their job board on a daily basis.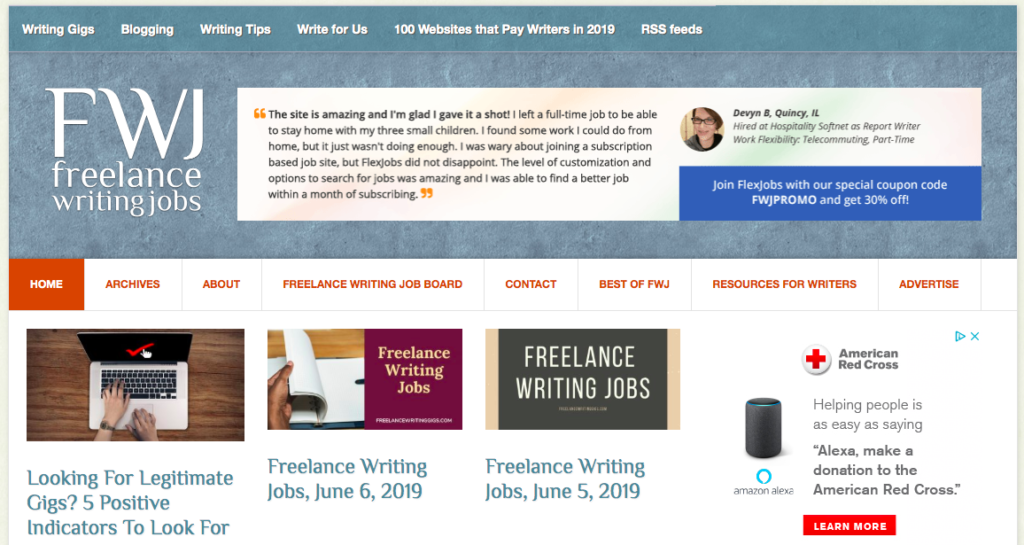 They also have a lot of great resources for writers including tips for finding writing jobs, how to apply for the jobs you want and more.
Remote writing jobs for bloggers
If your dream is to become a professional blogger, in the meantime, writing for other blogs will not only help you learn more about the world of blogging giving you a front-seat to what it takes to learn how to start a blog and make money.
Below are a list of job boards for aspiring bloggers as well as established bloggers looking for a little extra income or exposure.
One place I've personally found success is through the free Problogger Job Board. The list is updated daily with blogging opportunities in all kinds of industries.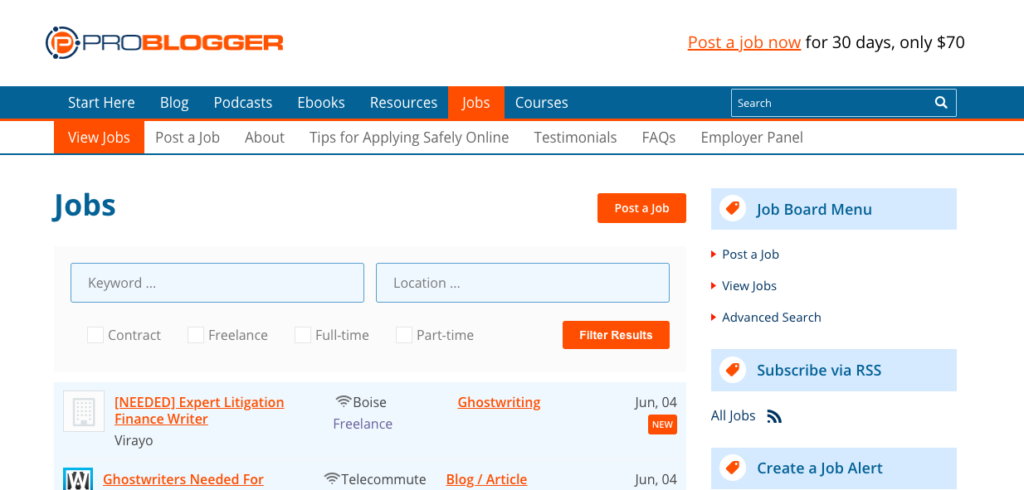 As you work closely with other bloggers you meet through this job board, you'll start to understand the inner-workings of professional blogging, not to mention you'll get to work on some pretty great projects in the meantime.
Marketing/copywriting remote writing jobs
Next up is a short list of the best sites for finding remote writing jobs if you're a copywriting or excel generally at marketing-focused writing.
If you feel your writing can be persuasive and you'd enjoy working remotely as a write with a marketing team, these writing jobs sites are for you:
The goal of Media Bistro is to connect you with hiring managers who are constantly looking for new writers all over the world.
If you use their filtering option, you can search just for "work from home" writing jobs that are "contract" or "freelance."
While We Work Remotely primarily offers developer jobs and jobs in the tech startup scene, there's also a small subsection of copywriting jobs.
The good news is: most tech companies love working with remote freelancers and many companies talk amongst themselves. If you can land quality online writing jobs with just a couple companies, you might find yourself being recommended for other similar jobs.
While I have to admit, it's not always the most frequently updated source of remote writing jobs I've ever come across, Working Nomads is definitely a good option to bookmark and come back to every couple of weeks.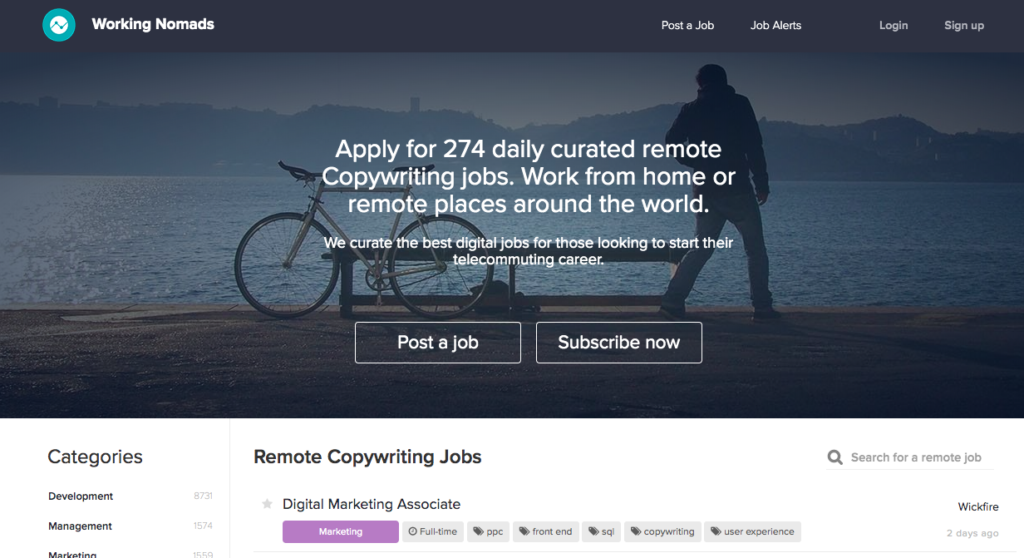 The curate lists of the most interesting remote writing job offers and help connect professionals who want to work remotely with innovative companies offering independent positions.
Technical remote writing jobs
If writing opinion pieces or fantasy novels is not your proverbial cup of tea, maybe you're more cut out for something a bit more intellectual. You may want to try your hand at technical writing.
Technical writers offer direction, tutorials instruction, or how-to articles on a wide variety of subjects and companies around the world offer remote writing jobs for professional writers who know how to explain processes well using written words.
Sites on this list are for writers who love explaining things in detail and seeing others succeed when following their written instructions.
Perhaps the most well-known freelancing site on the Internet, Upwork connects freelancers with clients from just about any industry you can imagine.
Businesses who post remote writing jobs on Upwork then select from a pool of freelancers to complete the project.
There are also quite a few other sites like Upwork that offer a communication and management platform between the freelancer and the client.
Another great site for finding high-quality remote writing jobs is Constant Content. You have to apply to be accepted as one of their freelancers, but once you're in it's very straightforward.
You create a profile, apply for projects, and start building a portfolio allowing you to connect with brands and grow a steady income from your writing.
Journalism remote writing jobs
If marketing writing or technical writing are not your cup of tea, perhaps you'd rather focus on journalism as you search for remote writing jobs.
Journalism can be an extremely exciting field due to its fast-paced nature and ever-changing landscape. And being a journalist doesn't necessarily mean being stuffed behind a desk at a major newspaper anymore.
Millions of freelance journalists the world over find remote writing jobs to keep themselves gainfully employed and working on their own terms. Below are a few sites that can help in your job search:
First on the list of journalism writing jobs is a site called Journalism Jobs. Their freelance writing listings are top-notch.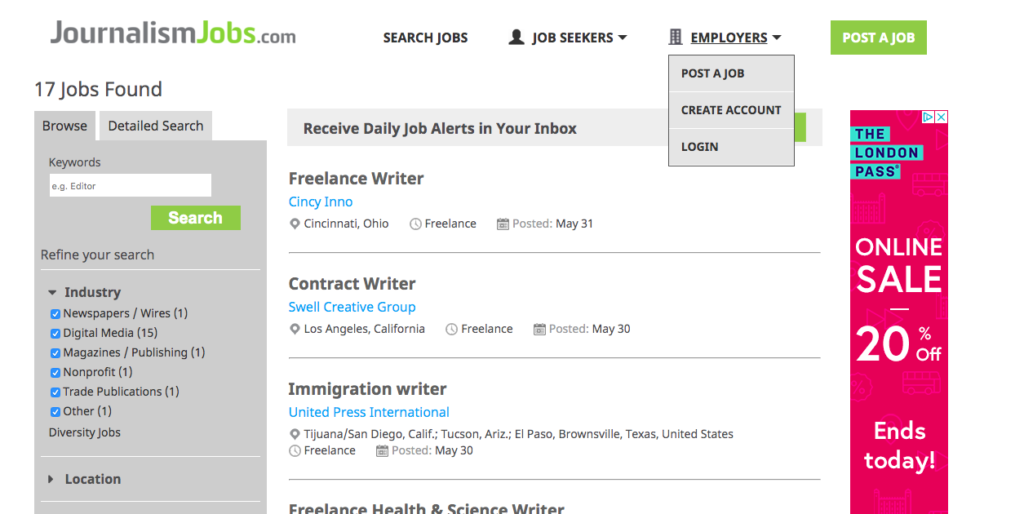 The site was founded by a former writer at The Washington Post and their job boards have featured remote writing jobs from ESPN, Time Magazine, Slate.com, National Geographic Magazine, USA Today, and hundreds more.
Over the last few decades, The Poynter Institute has become one of the world's most influential schools for journalists.
Because they work closely with up-and-coming journalists in addition to large media companies, their freelance writing job board is particularly worth a try. You can visit it here.
Rounding out the list of job sites for journalists is The Society of Professional Journalists.
Their job board posts a wide variety of journalism jobs ranging from entry-level to senior journalists. You can also create a profile so companies looking to hire journalists can review your credentials and experience.
Creating your own strategy to find remote writing jobs
Now that you've got our full list of the best sites for remote writing jobs, here's a reminder:
These sites are not a handout.
You will not be able to casually visit them, apply to a job here or there, and find grand measures of success as a freelance writer.
If you're serious about finding a large number of jobs—enough to support you and your family full-time eventually—then it is going to take a lot of work and a strategy.
Here's what we recommend to get started:
Search through our list above and bookmark the sites that most speak to you.
Check back on a routine basis since, as the adage goes, the early bird gets the worm.
Consider joining a site like SolidGigs that can help you perfect your client outreach and close rate.
Don't give up. Finding remote writing jobs can be difficult—particularly in the beginning—but you'll eventually find some momentum if you keep moving ahead with a strategy and rhythm.
Working remotely can bring you untold amounts of freedom and happiness. Now go out there and get to work!
Keep the conversation going...
Over 10,000 of us are having daily conversations over in our free Facebook group and we'd love to see you there. Join us!