When you think about what web design is, what comes to mind?
A WordPress theme, 5 or so pages of content, a few plugins, giving the client what they want and getting paid a few grand for your hard work?
For most, including clients, that's what it is.
But to me?
☘ Bad luck with clients? Trade your worst clients for some of the best companies in the world. Real clients with real budgets are hiring freelancers like you. Click here to learn more.
You're building a business.
Agencies get that.
Which is why they can charge the big bucks.
You'll also enjoy this episode of our new podcast...

But sadly, a lot of designers haven't yet figured it out… yet.
It's not their fault, but it's why they're caught on this hamster wheel of price rejection, getting compared to every other WordPress web designer on the planet, and struggling to differentiate what makes them so good.
It's not because you're not any better than Sally, the fully-booked digital designer from down the road — in fact, I bet you are.  
It's not because you can't be as good, if not better, than the agency that charges $1000 for a discovery meeting and $20k plus for a basic website with a nice simple design.
It's simply because (perhaps) you haven't learned how to speak the language that gets clients excited.
Like I mean, that kind of excitement when the first time the tooth fairy came and you thought all your Christmas' had come at once, excited.
That language?
ROI.
Return on investment.
Also known as simply…
SUCCESS.
The way I see it, and I've had plenty of practice with Web123 over the years, is that clients only really want two things when they come to you asking for a new website design.
(Most clients anyway, I'm not counting not-for-profits for example.)
To make money.
Or reduce costs.
Think about it…
What is the most common pain for 99% of small business owners today, including me?
Finding new customers.
Clients may tell you that they just want a new website because their old one is a few years old now and looking a bit tired, but it's your job as a designer to read between the lines and uncover what's really keeping them up at night.
And to do that?
You need to get good at business!
(And, know this secret formula that big agencies charge big bucks for!)
We developed this formula years ago through trial and error and have used it in over 1,000 website projects since and counting. It's become the foundation for everything we do — so much so that we're now building an entire SaaS platform around it with Foxley.
A typical web design needs three things to be successful online these days:
Traffic
Conversions
Nurturing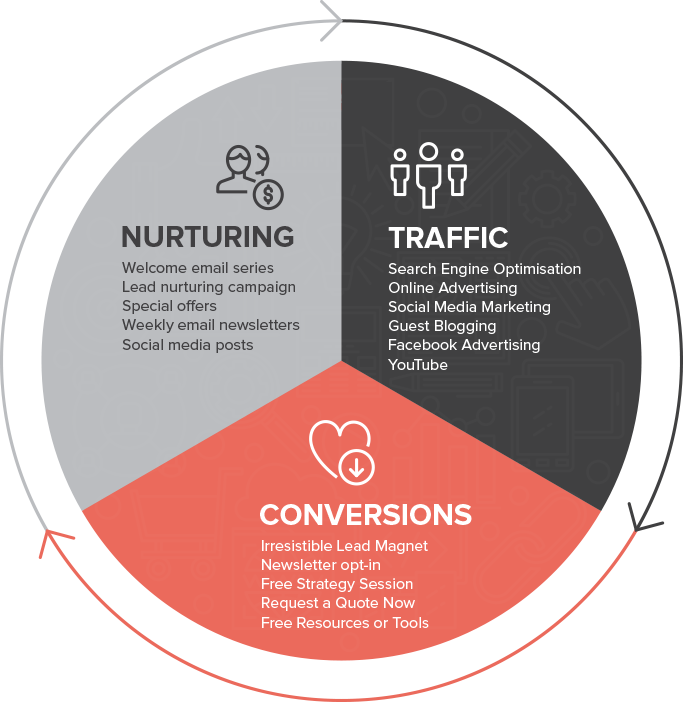 You can't really have one without the other either — they all need to work in tandem to be effective. There's no point sending traffic to a site that doesn't convert. There's no point having lead magnets plastered everywhere if the site get's no traffic. And there'll be no customers that pop out of the funnel eager to buy if you don't have a nurturing campaign in place.
But when you get all three nailed?
Your clients will be generating new customers on autopilot and you'll most likely never have to worry about finding new clients yourself again.
Oh, and you can probably double your rates. Just a minor detail. 😉
Now wouldn't that be nice?!
Next time, I'll walk you through the line of questioning we use to uncover HOW to get your clients an ROI. It's pretty neat stuff.
Until then, sound off in the comments. What formula or process do you use when talking to clients about web design? I'd love to hear. 🙂