Some of the best logos in existence are captivating because they convey two meanings at once, accomplish the task from a unique angle, or are somehow otherwise "creative". The best way to tell a creative logo from a less successful one is if you find yourself, as a designer, thinking, "Man, I wish I would have come up with that idea."
In our zeal to design a unique and highly creative logo, however, many times we create unintended meanings, cause misconceptions, or complicate an idea more than we need to. This generally occurs when we do any combination of the following:
1. Overcomplicate our logo design
2. Create vague, ambiguous logos, or
3. Try to combine two ideas that simply don't mesh.
Overcomplicating the design
A good logo should be scalable, simple, and quickly recognizable. In other words, there is a huge difference between an effective logo and an impressive illustration. An illustration, while impressive, is full of detail, color, and value shifts which, if used as a logo, makes it incredibly inflexible. Your logos must be flexible. They will be used on web sites, printed material, copied on copy machines and fax machines, they will be sewn into clothing, printed on t-shirts, and more. Your logo much be simple enough to withstand these changes.
💔 Falling out of love with your clients? Trade some of your worst clients for the best companies in the world with SolidGigs, our premium weekly freelance job list & course library. Love your business again. Learn more »
Let's consider an example. Below are two target-inspired logos. You will obviously recognize one of them. So which is more successful as a logo and why? Let's examine them a little closer.
The image above, while professionally executed, would never stand the flexibility test because it is simply too complicated. The gradients, the gloss, the bevels and 3d effects, these would never transfer well on a copy machine or when being embroidered on a shirt. While it looks nice, it is more of an illustration than a logo.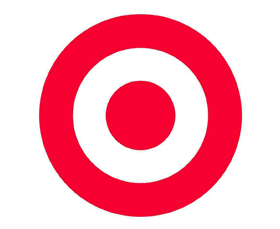 The popular target logo seen above, however, is a perfect example of simplicity in logo design. This logo works as effectively in black and white, in small-scale or large scale, when embroidered or screen printed, and when copied or faxed. There is never any ambiguity when it comes to the Target logo. It withstands the flexibility test by remaining simple and uncomplicated.
Creating a vague, ambiguous logo
I was recently working with a few new designers on a logo project. They brought some samples to me and asked for my critique and approval. I had no idea what the company did or what was said in the client–designer meetings.
Sadly, even after reviewing the logos, I still had no idea what the company specialized in. The logo had some nice typography and a swoosh–you know what I mean. I had to ask them, "what exactly does this company do?" After they explained it to me, I simply recommended that they try to capture the essence of the company in the design.
Keep this in mind as we examine the following logos:
The logo above is very nicely executed. I'm unsure, however, what the logo is trying to sell me. What does "clearspring" actually do? Is it green cell phone service or healthier water? Actually you might be surprised to find out that this logo was designed for an organic food company. Sadly, the logo says little about food itself. It has a great reference to organic, but little to food.
On the contrary, take a look at this logo. It is also based on simple typography but the type and color used here clearly denote food. In addition, the red pepper made from the "t" give the viewer a better idea of what this product or company is all about.
See the difference?
Trying to combine two ideas that don't mesh
Another common fallacy in logo design is trying to combine ideas that really don't go well together. Usually this results in confusing the viewer and causing them to miss the message the designer was originally trying to send.
Enter your email. Grow your business.
Submit your email below and join 45,000+ creatives who get our most helpful content via email every week. 100% free. Unsubscribe anytime. Privacy protected.
Let's take the fedEx logo for example. Do you think the designers of this logo would have had so much fun with the negative space if the spacing between the letters "E" and "x" would have somehow formed a puppy or an ice cream cone? Of course not. The negative space creates an arrow, which works perfectly with the positioning of Federal Express: overnight shipping. An arrow symbolizes rapidness and directness. The designers didn't overcomplicate the design by mixing ideas that don't go well together. They used one consistent idea and ran with it.
What this means for you and me
So what do we take away from all of this? If you want to make your logo effective, keep it simple. Logos that are simple and not complicated, avoid being vague, and only mix ideas that belong together are the ones that efectively send the right message to the audience.
What other tips can you add to help our logos more clearly send their intended message?
Keep the conversation going...
Over 5,000 of us are having daily conversations over in our free Facebook group and we'd love to see you there. Join us!