It was close to midnight when I called my girlfriend.
"Sorry honey, I'm not gonna make it home tonight—I have a lot of work… Hey, don't worry about me, my jacket can be a comfy blanket in a pinch… We'll do something fun this weekend… Yes, I promise."
Thank goodness there was a couch in the office. It was 4am and there was not another soul in the office. I took a 2-hour nap and got straight back to work.
That was me during the winter of 2014. Back then I had a new job. I was a Creative Director by day and an overloaded freelance designer by night.
You see, two months before, when I was laid off, instead of just looking for another job, I looked for my own clients as well. "Anything to keep the wolf from the door," I told myself. As it turns out, looking for clients pays off. Go figure.
So there I was two months later—stuck with too many clients and a demanding full-time job at the same time.
Not the worst problem to have after just being laid off, right?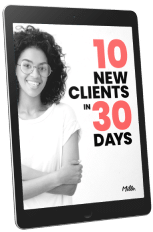 Need more clients?
Get more freelance work with our FREE book: 10 New Clients in 30 Days. Enter your email below and it's all yours.
The problem is, more clients started lining up and I couldn't keep up. "I'm sorry, I can't do it. I can refer you to someone who can, it's just that I don't have time for that."
It's such a sad phrase, isn't it? How many times have I said that? "I can't do it, there's no time."
Making the mental switch
After a couple of weeks of sleep deprivation, it was no surprise that I was getting stressed to no end.
Stress leads to burnout, which then leads to depression. My lack of time management was starting to affect my job and the quality of my work. I'm ashamed to admit that even my personal relationships were deteriorating.
And that's when my mental switch finally clicked and I realized my mistake: I was trying to do everything on my own.
In that moment, I started applying what I had learned from my Creative Director gig. I started hiring people to help me with my clients and started delegating as many of my tasks as I could.
Sometimes we are overwhelmed at the idea of starting our own project. We believe that we either have to quit our jobs to achieve it or get used to the idea that we'll have two full-time jobs.
In reality, it's so much easier to simply have a job by day and give instructions by night so that others can help you.
[Tweet "At first, keep your day job & delegate your side-business so others can help you. #business"]
Soon after I started working this way, I had enough free time to approach more and better clients. And in a month I had such a great client base, that I could no longer keep up with both them and my job.
I was doing so well, that I could finally become my own boss without feeling like I was risking all that much. That's when I made the jump. I now work full-time in my own business.
Since then, I still have made a lot of mistakes in my business, but delegating something has never been one of them.
Whenever I delegate, things go better. I can work on each project with a team hand-picked specifically for the assignment, so:
I get to hire many talented people who are looking for a job.
The work gets done faster.
My clients get better results for their own customers.
This helps our clients grow and we grow right along with them.
As you can see, it's an everybody-wins situation.
"Don't" vs "can't" mentality
There's some research floating around the web (I've seen it in Forbes & Lifehacker) about the power of saying "I don't" as opposed to "I can't".
This research focused on how to better avoid temptation, like an unhealthy treat. Apparently when you say "I don't eat cake" instead of "I can't eat cake", you are far more likely to succeed with your diet.
What if we applied this to the way we work?
Well, that's what I did. Whenever I felt overwhelmed I told myself: "It's not that I can't design for many clients at once, it's just that I don't do that anymore". I'm a Creative Director now, I direct.
This mentality has helped me stay on top of my business every day.
Learn more about each of these topics with further reading from Millo:
What should freelance designers delegate anyway?
Not everyone agrees with my choice, but the first thing I delegated was design itself.
I think that most of us feel uneasy about letting others into our creative process. Since we are designers, we want to design everything.
We design our websites, portfolios, business cards — even our own custom-made invoices. And of course, we design what our clients ask us to design.
I always thought I needed to be involved in every step of the process to ensure great quality work. But what makes a great designer great can't be measured by how fast you are in Photoshop. It's actually all about your creative vision. Your greatest abilities are solving communication issues and bringing positive outcomes for your clients.
[Tweet "What makes a designer great can't be measured in Photoshop but in their creative vision. #design"]
Design happens in the mind, not in the hands.
Besides design, almost anything in your freelance business can be done by someone else. Some of the most popular choices are:
Project management
Marketing
Copywriting
Web development
Bookkeeping
It all boils down to this: You should only do things that you're passionate about and good at. If you do that, they will bring the most value to your business.
It helps to ask: "What's the one thing only I can do for my business?". Try to focus on that one task and find people to help you with everything else.
When in doubt, experiment
Everyone is different.
Some people like to be involved in the whole creative process.
Others like me are happy just instructing, directing and adding finishing touches when necessary.
So sit down and think about all the things you do in your business, the things you love, and the ones you could give up. Try delegating them for a week or for a month and see what happens.
There was a time I just wanted to focus on directing my team and having all sales and marketing efforts done for me. Most of my clients are somewhat tech-savvy, though.
They need to talk to someone who understands my business from head to toe. I could train people to do that. I could find or set up a system that does it for me.
But in the meantime, I know that I need to keep contacting my prospects directly. That's how I bring the most value to them and my business.
So now, consider it for yourself: What's the one thing only you can do best for your business? What are you currently doing that you should be delegating?
Share with me in the comments and let's discuss it.
Keep the conversation going...
Over 10,000 of us are having daily conversations over in our free Facebook group and we'd love to see you there. Join us!