According to Brandwatch, there are 2.3 billion social media users worldwide.
Social media is a valuable opportunity to reach a large untapped audience. If people like what they see on your social media profiles, they'll likely check out your website too.
A problem that a lot of busy freelancers have with social media marketing is the fact that it's a huge time suck.  As you probably already know, freelancers have a lot of different things that they have to manage including:
Money
Clients
Deadlines
Marketing
Networking
And lots more…
If you're overwhelmed with all the work that you have to do, here's some good news that you'll appreciate.
You don't have to pay attention to social media all the time to build a loyal following. You always have the option of using a social media management tool.
What are social media management tools?
These tools have a straightforward dashboard interface. You're in control of every aspect of your social media profiles including:
The time
The day
And the content
When you sign up for the first time, you give the tool access to your social media profiles. If you trust the application with your personal info, you'll have access to:
Social media analytics
An interface where you can schedule posts in advance
Popular social media tools include Buffer, Hootsuite, and SproutSocial.
Why should you use a social media tool?
The point of these tools is to take the guesswork out of social media marketing. When you use a social media management tool, you get to know the answers to the following questions:
💔 Falling out of love with your clients? Trade some of your worst clients for the best companies in the world with SolidGigs, our premium weekly freelance job list & course library. Love your business again. Learn more »
What's popular?
What links are people clicking on?
What are the most popular times for users to log in to their accounts?
75% of social media users buy stuff because they saw it on social media. Social media management tools help you post content on your customer's schedule.
What's the best possible social media management tool for you?
The truth is, there's no such thing as a social media management tool that's best for everyone.  The good news is that narrowing down your choices is a lot less challenging than it seems.
For instance, there are primarily two types of social media management tools to choose from:
Tools that focus on a specific social media platform
Tools that focus on several social media platforms
You can narrow down your choices by:
Finding out what tools focus on what social media platforms
Making a selection based on the social media accounts that you use on a daily basis.
All social media management tools are available for free. It's important to keep in mind that free accounts only allow you to pre-schedule a limited amount of posts.
Not to mention, users have access to a limited amount of special features. But what are these special features? A lot depends on your tool of choice.
For example…
Twittimer users have access to a limited amount of link shortening tools unless you're willing to pay for the Pro plan:
Yet, here's what happens when I copied and pasted a link into my Buffer queue:
Buffer offers an automated, instant link-shortening interface. It's also 100% free.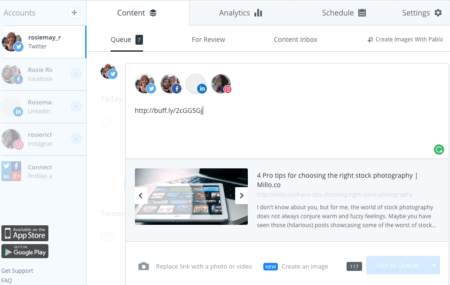 Did a social media tool ask you to pay for a special feature? You should always check if it's available for free elsewhere before you whip out your credit card.
Don't forget about engagement
Social media management tools don't replace the benefits of logging into your account.
Do you want all the following to be in the exact same place?
Your social media analytics stats
Your social media scheduling tool
Your social media feeds
You might like both Hootsuite and TweetDeck. Both tools are great for hyper-organized, visual people. You can keep things organized in a visual interface, and label everything.
If you want to engage with your followers, you need:
To reply to users who are engaging with your content
To keep up to date on trending and world events
Direct engagement is an aspect of social media that tools can't duplicate. This is exactly why you need to login to your social media accounts ever so often.
Direct engagement will save you from the embarrassment of content that's posted at inappropriate times. 
Social media management tools know when users are logging into their accounts. Yet, it's still an application so it's not perfect.
You don't want to look like you're trying to profit off tragedy and other sensitive topics.
Always attach an image…
Content with relevant images gets 94% more views than content without relevant images. If you're not already doing so, always attach images to all your social media posts.
If you're not sure what images to use here are two types of photos you can use:
Your own pictures.
No matter what pictures you choose, don't forget to edit your images. Are you a creative entrepreneur on a shoestring budget?
There are plenty of free, online photo editing and graphic design tools to choose from.  Here are a few image editing sites that I've had great experiences with:
All these sites have a wide variety of free, social media, image editing and graphic design tools.
Last but not least…
Don't be afraid to recycle content. You don't always have to post something new.
If you manage to find a new spin on old content, then you'll increase the shelf life of your content. You'll also attract further attention to your work.
There are two ways you can do this:
Re-tweet feedback on your work
Experiment with new wording in your posts. This is a great way to appeal to people's needs in the here and now!
If your content no longer has the new car smell, but people are still:
Discovering
Clicking on
Reading your content online
Readers will likely share your content with their social media networks.  Start off by paying attention to social media users that tweeted about your content. Tweets can be a valuable form of social proof.
A great example of this is when a fellow entrepreneur shared one of my blog posts with their social media network:
He fit the bill of my ideal client.  That's exactly why it was a perfect social proof opportunity.  When I saw his tweet for the first time, I added it to my Buffer queue.
Ever since my web traffic and social media followers have gone up at a steady rate. All it took was one tweet, from someone in my field.
Another creative way to recycle content is to change up the wording of your social media content. This is a great way to keep people interested.
For example…
Here's a tweet from the Problogger twitter page. The point of the tweet is to promote their latest blog post:
And here's a duplicate version: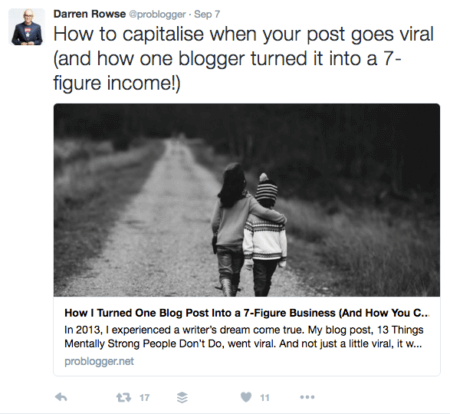 So what's the difference between the two tweets? Version two went live after the blog post had been online for a while.
The second tweet also got more attention than the first. But why is the case? Well…it focuses on a major benefit of clicking on the link, and actually reading ProBlogger's latest blog post.
No matter what, don't duplicate your social media posts while sounding aggressive and pushy.
All that will do is scare away your followers, and also your potential leads. You, of course, don't want that to happen!
What about you? Do you use social media management tools? What has your experience been like with these tools? Feel free to share your perspective in the comment section below.