No more onion-breathed, micro-power manager Bob; it's time to invest in yourself and put your talents and energy to better use. Today is the day you quit your job and start your own own business.
Doesn't that feel good?
If you've found yourself fed up with a Bob – and honestly, who hasn't? – You might have even uttered a, "Yes!" as you read the above and given a little fist pump.
Now, before you cash out your 401k and pack your cubicle into a bank box, you need to know the realities of self-employment.
QuickBooks Self-Employed surveyed 500 self-employed individuals between the ages of 18-54+, and some universal truths regarding self-employment were revealed.
Ugly self-employed truth No. 1: Learn to live with financial insecurity
There's a chance that you'll be successful right out of the gate, but there's an even greater chance you're going to struggle.
[Tweet "Financial insecurity is a common worry among those who are self-employed."]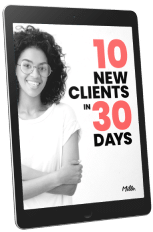 Need more clients?
Get more freelance work with our FREE book: 10 New Clients in 30 Days. Enter your email below and it's all yours.
The survey uncovered that 1 out of 2 surveyed people aged 45-54 worry about money. In addition, concerns about the future are the second biggest issue that keeps them up at night.
However, concern about the future is a universal worry that often keeps 29% of all surveyed self-employed individuals up at night.
So, at least you can take some comfort in knowing you're aren't alone when you're awake at 2 A.M. staring at the ceiling.
Ugly self-employed truth No. 2: Pray for really understanding friends
Unless you're good at compartmentalizing, you'll probably find yourself working all day everyday.
And if you do find the wherewithal to head out to dinner with friends, chances are you're going to be wondering what opportunities you might be missing while you're off doing something so frivolous, like eating.
Image source: The Realities of Self-Employment
Among all surveyed self-employed individuals 22% admitted to missing a friend's birthday due to work.
Within different age groups, it was more common for self-employed people aged 25-34 and 35-44 to miss a friend's birthday.
Unfortunately, missing a social event every week is all too common for self-employed people. More than a quarter of 45-54 year olds surveyed stated they miss a social outing at least once a week.
Image source: The Realities of Self-Employment
Ugly self-employed truth No. 3: Say goodbye to the weekend and sick days
You know at your old job when you woke up in the morning and your head was stuffy and your body was achy? Wasn't it great to have the option to call in and take a sick day?
You didn't have to worry about missing any pay and could take the time your body needed to recover.
Well, per the survey, many entrepreneurs work when they're sick. Nearly 70% of those surveyed said they rarely, almost never or never, take time off when they're sick.
Image source: The Realities of Self-Employment
Additionally, nearly 60% said they often, sometimes or occasionally, work while on vacation.
Even taking two days every week for a few minutes to yourself or to attend to family obligations is a challenge – more than 61% of all surveyed state they work every or every other weekend.
Ugly self-employed truth No. 4: It doesn't get better as you get older
The self-employed individuals that QuickBooks spoke with actually indicated that younger individuals appear to have more time.
Among 18-24 year olds, more than 61% stated they take a vacation at least once a year and they are the age group least likely to miss a friend's birthday (20%).
Compare this to 31% of 45-54+ year olds who take an annual vacation and nearly 43% who have missed a friend's birthday due to work.
Some people might simply scoff and say, "Millennials!", but the truth is, the older you get, the higher the stakes.
At this point, more of your own money has probably been invested in your business, and your target retirement age is growing ever closer.
These factors alone could account for the disparity between younger and older self-employed behaviors.
Despite these ugly truths to being self-employed, many founders would tell you it's worth it. You will find financial freedom and the type of flexibility you've been seeking.
And you'll be able to say you did it all on your own.
Keep the conversation going...
Over 10,000 of us are having daily conversations over in our free Facebook group and we'd love to see you there. Join us!