Not long ago, I taught a class online about how I generated almost 400 new prospective website clients in under a week.
The response to the class was overwhelming. We had about 900 registrations, 300 people attend live, and over 1,000 comments in the jam-packed power hour we were broadcasting.
When I caught my breath afterwards, I went through all the comments and there were a TON of questions about how I learned to do marketing. I also got several Facebook messages asking me a similar thing….
What did I do exactly?
What process did I follow?
What books did I read?
What courses did I buy?
What sites did I visit?
What blogs did I subscribe to?
Who taught me all this stuff?
So I thought why not write a blog about it to help everyone suffer a little less when it comes to smashing together design and marketing?!
Now what I will preface this blog with is this piece of tough love:
There is no magic bullet you can apply to arrive at success without the bumps, bruises and hard knocks along the way.
No magic formula. No business blueprint. No secret code.
Just a truckload of hard work and the sum of lots of little things done consistently over time.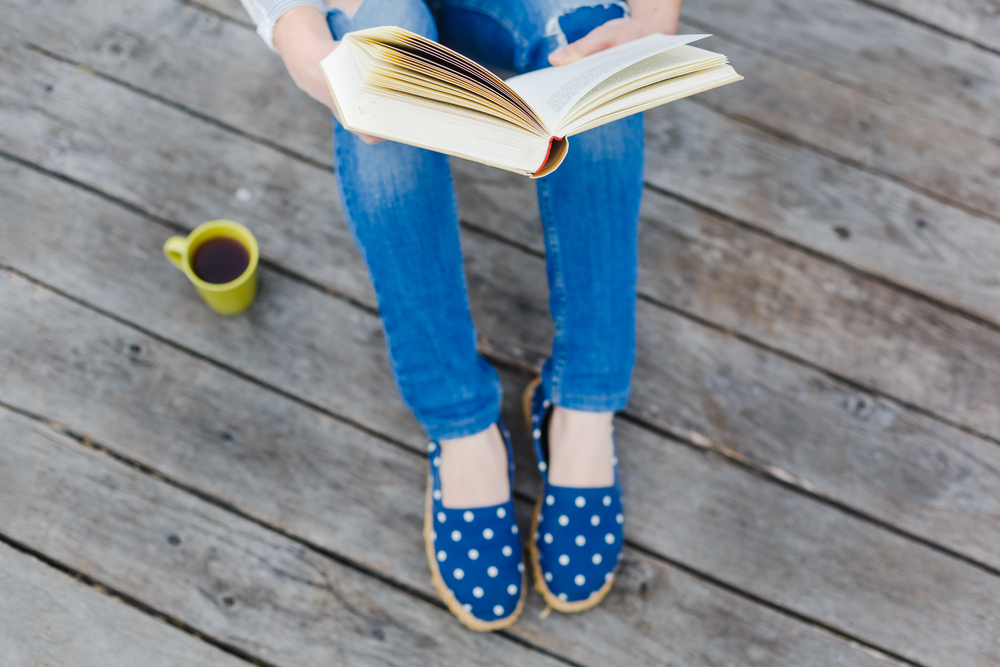 Pretty unglamorous, I know.
So I wanted to share with you how I went about throwing myself into marketing and strategy, giving it my ALL to become extremely successful in my web design business, Web123, and what changed for me when I decided to educate rather than sell.
I still remember that day maybe five or more years ago…
I was lying on the couch with a hangover, it was a Saturday morning and I was confused.
Confused about business.
Confused about websites.
Confused about clients.
My purpose.
My why.
My value.
My direction.
I was confused about life.
I remember thinking…
"What am I doing with my life?"
"What am I here to do?"
"Is this as good as it gets?"
"Is this really what I signed up for?"
Business was hard.
Psst: Have you heard about Hectic? It's our new favorite tool for freelancing smarter, not harder. Client management, project management, invoices, proposals, and lots more. Hectic's got it all. Click here to see what we mean.
I was constantly on this feast or famine treadmill, chasing hard for sales to feed the beast and put food on the tables of the 12 or so staff I had employed at the time — then hustling even harder to deliver the work on time — and juggling everything was wearing me down. I was constantly working long hours all week then going out on Friday nights to blow off steam from the roller-coaster I'd just been on.
And after searching for hours for answers in my very foggy head, in a strange defining moment, a lightbulb went off telling me I needed to change paths.
I wanted to be different.
(I've always wanted to be different come to think of it!!)
But somehow I was felt like I was quoting the way everyone else was quoting and doing websites the way everyone else was and I wanted to BE more.
I was sick of competing on price and losing jobs to my competitors when clients just took all my ideas and got it done cheaper with someone else.
I was sick of putting in 100 hours on a project and getting paid a few dollars after all was said and done.
So I put a stake in the ground that day and said "No More!"
I remember jumping up off the couch and rushing to my computer to start searching. I was going to learn every damn thing I could about marketing, conversion optimisation, copywriting, SEO, PPC, content, website strategy, business… you name it.
I was going ALL in!
I didn't know how or what that meant at the time, nor did I brace for the sacrifices I would later make along the way, but I was committed and nothing was getting in my way.
Not even boozy nights out with my friends, family shindigs away, or the latest rock concert of my favourite band. Okay, I did make an exception for Robbie but hey, what girl wouldn't?
I bunkered down and told myself I was going to give it my all for 12 months and see where it took me.
I'd always read business books and had coaches but I really wanted to push myself.
I got curious.
I decided to tackle one topic at a time, starting with web design strategy. The first book I read was Web Design for ROI by Lance Loveday and Sandra Niehaus. The second book was Content Rules by Ann Handley & C.C. Chapman and I was hooked.
Next up was SEO. Then marketing. More web strategy. Email marketing. Copywriting. Business. Conversion optimization. E-commerce.
And off I went.
Here's a screenshot of the first 12 digital books I bought:
I also have a fair few hard copy books I've collected over the years at events, bookstores, airports and as gifts.
I was reading about a book a week.
My Friday nights out turned into Friday nights in…. reading.
My weeknights watching my favourite shows were… reading.
My Saturday nights doing dinner and wine were… reading.
Then, throughout the week, I'd test all my new learnings on my own stuff and client projects. I went from party-girl to total business geek. I mean, I still had a life but it was different.
And I was loving it!
I was like a sponge. I was addicted. I was thirsty for more and couldn't stop. So I kept on reading.
When I didn't feel like reading, I would hunt and peck online to find courses, blogs, communities, forums — whatever I could get my hands on to learn more.
Some of the courses and programs I invested in were:
MarketingProfs University

– I had an annual Pro membership for a few years. Additional 

Marketing Profs Courses I invested in were 

'Websites That Work'

,

'Search Marketing School'

and

'Marketing Writing Bootcamp'.
Facebook Influencing Marketing

 course by Amy Porterfield.

Facebook Ads

by Amy Porterfield.

Social Marketing Tribe

by Lewis Howes.

Get 10,000 Fans

by Brian Moran.

Distilled University

for SEO.

Social Tube Traffic System

by Digital Marketer.

Mixergy

for all round business insights.

Replace Myself

by John Jonas for hiring VA's in Philippines.

Extreme Achievement Formula

by Robin Sharma.

Power of Pinning

by Melanie Duncan.

Amazing Biz & Life Academy

by Leonie Dawson.

SEOMoz

Pro Membership for SEO obviously.

Facebook Ad Queen

by Victoria Gibson.

QuickSprout Traffic System

by Neil Patel.

Wordtracker Pro Membership.
PPC Courses

by Sandi Krakowski.

Creating Fame

and

Social Media courses

by Laura Roeder from LKR Social Media.
In more recent years I've invested in:
Blogs That Convert

by Derek Halpern.

Zero to Launch

by Ramit Sethi (one of my all time favourites!).

B-School

by Marie Forleo.

Playing Big

by Tara Mohr.

Six Appeal Process

&

Brandgasm

by Ash Ambirge.

Web Video University

by Dave Kaminski.

The Member's Club

by Carrie Green.

Copyhackers Guides

and

Email Marketing Course

by Joanna Weibe.

Committed Impulse

by Josh Pais for being comfortable in front of the camera.

Digital Marketer

–

The Machine

,

DM Lab

,

Digital Marketer HQ

which contains all walks of pure gold certifications like Content Marketing, Customer Value Acquisition, Email Marketing, Search Marketing, Social & Community Manager training etc (if you're not sure where to start, I'd recommend DM Lab for about $38 per month).

Six Figure Funnels

by Jane Copeland.

Create Awesome Online Courses

by David Siteman Garland.
Plus a ton of other courses (too long to list) on sites like Udemy, Lynda and Treehouse which I still regularly plug into, and actually make it mandatory for my Web123 team to learn from on a regular basis too. Everyone has study time on the job and has to do at least one new course each quarter so they can pass that knowledge onto our clients and play their own A-game.
I'm also a big believer in having a coach and have invested a small fortune over the years into personal business coaches, mindset coaches, life coaches, health and fitness coaches, UX coaches, mentors and group coaching programs to keep stepping it up a level.
As a guess, I'd estimate I've spent over $300k on my education — and I didn't go to University.
[Tweet "Continually raise your own bar to better your business. "]
If you don't raise your own bar every year, you can't always be guaranteed you'll be in business in 5 years.
To be a great designer, we need to become great marketers, strategists and business experts.
Which brings me to the point of this post…
About 6 months after throwing myself into learning, I realized that my entire business had been flung onto an entirely different trajectory. Things had changed.
I was approaching web design differently, from a strategy and results focus, instead of just design. I was asking clients tough questions about their business objectives and desired outcomes. I was creating strategies that were paying off big dividends for clients.
Soon people really started talking. My referrals went through the roof (about 74% of new business to be exact).
I remember adding an extra $500 onto each new website project because I had so much business coming in and I was adding so much value from all my new knowledge. Before too long I was quoting $15-20k for web projects instead of $5k. And if a client wanted me personally to work on a project, my rate was $200 per hour.
Then it hit me. My confidence was through the roof.
I could take one look at a business, and after an hour or so chat with the owner, basically whip up an entire strategy in my head, give a verbal quote of what it would cost to implement it, and have clients basically saying 'yes' on the spot.
I mean I obviously did a lot of work once they said to make sure I got the strategy right, but I almost felt like I had this new superpower. How the tide had turned.
I started my own email newsletter and sent out weekly emails to share what I was learning about. I started writing my own eBooks and courses. I didn't know it at the time but I was actually positioning myself as a bit of an authority. I was building a following of loyal advocates.
And I was having a blast!
The coolest thing I realised is that I didn't really have to sell.
I was 'educating' — not selling.
The Client Vs Designer dynamics changed. It felt more like a partnership but I was becoming somewhat of a leader. And people wanted to follow. Clients were literally lining up at the door and business was booming.
All from 6-12 months of going ALL in. Not half in. Not three quarters in. ALL IN.
But it wasn't without sacrifices.
I exchanged partying with friends for reading (and copped a lot of flack too!)
My friends started to change.
I missed out on family events.
I got rid of Pay TV and gave up the idiot box altogether.
I chose to read books instead of watching movies on plane trips.
I got up an hour earlier every day and rejigged my weekends to fit it all in.
And I made my life purpose and why my priority instead of letting my business run me and my life pass me by.
Call me nuts but I think to be successful you have to be a little crazy.
So that's my journey to now.
It was messy. It was hard. It was unplanned. It was rough. It was chaotic.
But?
[Tweet "You never fail until you stop trying. #neverquit #entrepreneurship"]
You never fail until you stop trying.
You can't put a price on plain old perseverance. So keep trying, keep learning, and keep stepping up.
Like I said, there is no magic bullet. (Until Foxley is released anyway which is very soon.)
What works for me may not appeal to you, but hopefully this blog has helped give you a small insight into what it's been like since I made the deliberate decision to move away from just 'designing' and onto center stage talking 'strategy'.
Follow your intuition, make it fun, and do what feels right for you.
What's your favourite course or book? I'd love to know. Sound off in the comments and let's get the ultimate list going!
Keep the conversation going...
Over 10,000 of us are having daily conversations over in our free Facebook group and we'd love to see you there. Join us!