If you've been putting off starting your own design business for a long time now, you're not alone.
A few months ago, designers across the world joined together to enroll in From Passion to Profit, a premium email course we offered as a one-time offer here at Millo.
Because the course was such a success and so helpful for so many designers, today, I am excited to announce the brand new From Passion to Profit ebook!
From Passion to Profit is a downloadable e-book designed to help you revitalize your design businesss by giving you 11 days packed with top-notch business tips that will all help to turn your passion for design into the money-making machine you've always dreamed of.
💔 Falling out of love with your clients? Trade some of your worst clients for the best companies in the world with SolidGigs, our premium weekly freelance job list & course library. Love your business again. Learn more »
Each of the 11 days contains:
A Lesson – The best advice and tips – some of which I've never even shared here on the blog – on starting and building a design business.
Application Exercises – 30-60 minute exercises that, if you work hard to accomplish, will transform your design business from hobby to career.
This two-pronged approach is designed so that you not only learn how to build a killer design business but you also act on what you learn to start building your business right away!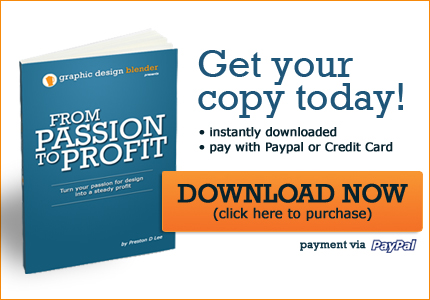 The 11-day course contains the following lessons and exercises to help you build a successful design business:
Lesson 1: Making the mental commitment
Lesson 2: Naming your design business and other important details
Lesson 3: Making your first piece of profit
Lesson 4: Finding clients to fuel your business
Lesson 5: Project management tips to boost productivity
Lesson 6: Setting and reaching goals
Lesson 7: Finance secrets your accountant doesn't want you to know
Lesson 8: Staying current on your design skills
Lesson 9: Finding steady profit through passive income
Lesson 10: Dealing with growth and hiring people
Lesson 11: Continuing successfully for the rest of your career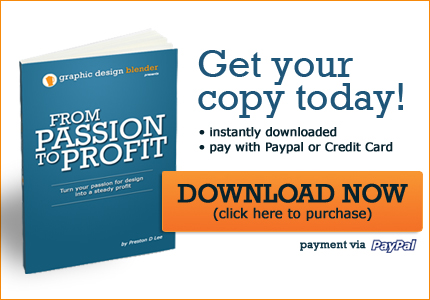 By the end of the 11 days, you will:
Understand what it takes to run a successful design business
Have a great business name and marketing strategy
Know how to make the most of your finances – and make a lot of money from your design business.
Be well on your way to starting and running a successful design business
I hope this great new addition to GraphicDesignBlender.com can be a wonderful resource for you as you grow your design business!
👋 Heads up... The #1 tool our giant community of freelancers recommends, Freshbooks, is on sale for 60% OFF right now. It'll save you tons of time and headache. Learn more or try it for FREE.
Keep the conversation going...
Over 5,000 of us are having daily conversations over in our free Facebook group and we'd love to see you there. Join us!