OK, you're ready to roll.
You've got your business name, your home office is set up, you've got your policies and contracts sorted out and you're ready to dive into operating our own administrative services business.
Fantastic!
Wait…what did you say you do?
You're going to run an administrative services business – what does that involve?
You have extensive administrative experience, with some bookkeeping knowledge and a bit of marketing skill thrown in for good measure.
What does that make you? A Virtual Assistant?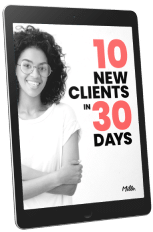 Need more clients?
Get more freelance work with our FREE book: 10 New Clients in 30 Days. Enter your email below and it's all yours.
Possibly.
But then there are the newer titles being used: Administrative Consultant and Online Business Manager.
What do those mean, and who does what? Let's take a closer look.
Virtual Assistant (VA)
This is the virtual version of a secretary or office manager – someone who is essentially a jack of all trades, and master of them, too! Anything that would normally occur in an office and be handled by the Administrative Assistant, Office Manager, Secretary or Executive Assistant is handled via the internet by the Virtual Assistant.
I like to call the Virtual Assistant the "cat herder" – because their skills are varied and they juggle many tasks in a single day, and enjoy doing it!
The VA thrives on a busy schedule with a variety of tasks.
Tasks and skills offered by the Virtual Assistant include, but are not limited to:
General administrative assistance, such as document preparation, transcription and communication duties (via telephone & email).
Social media marketing & management
Event planning & travel arrangements
Email marketing
Calendar management & meeting arrangements
Minor graphic design using online services
Customer service
The one problem with the title of Virtual Assistant is that clients often see the VA as an underling, employee or even as their personal assistant, utilizing their services for personal matters as well as business needs.
[Tweet "As a Virtual Assistant, you should always have a clear and concise contract."]
It is vitally important that the VA have a strong contract and policies in place that explain the VA-Client relationship completely, in very clear terms.
If the VA chooses to also double as a Personal Assistant (PA), they need to have clear expectations outlined in the contract to avoid being called upon to perform duties they are not prepared for.
Most VAs are independent contractors, not employees – and as such, they should be treated as a colleague, not an underling. It's up to the VA to establish this relationship with their clients from the outset.
There are, of course, ways to narrow the scope of your services as a VA, by adding a descriptive term to your title, such as "Virtual Marketing Assistant" or "Virtual Sales Assistant", which makes it clear to potential clients that you specialize in a certain area of expertise, rather than general administrative support.
Administrative Consultant (AC)
The Administrative Consultant is more skilled in specific areas and makes those areas the focus of their business. The focus could be on marketing and networking, sales or business development.
The AC usually holds a degree in the field they've chosen to specialize in, or has a long history of experience in the field, and does not provide varied administrative support in the manner that a VA does.
They focus on specific duties, such as sales and marketing campaigns, human resources, accounting or bookkeeping.
The AC commands a higher hourly rate than the Virtual Assistant due to their education and/or extensive experience, and can prove their experience through testimonials and references from clients.
Services offered by the Administrative Consultant may include:
Human Resources Administration & Support
Marketing services – traditional, digital, email or social media
Sales support
Business development
Accounting and/or bookkeeping
[Tweet "Use an appropriate title to distinguish who you are and what you offer."]
It's important to note that these services may be offered as a package, such as marketing and sales support, but the AC is not a secretary or receptionist and will not provide the more varied services that a Virtual Assistant does – they specialize in a specific field and this is the cornerstone of their business.
Online Business Manager (OBM)
The Online Business Manager is a highly-skilled, educated professional who provides the support needed for a business owner to advance their business, thus freeing the owner to handle sales, presentations to potential clients, travel and networking.
The day-to-day management of the business falls to the OBM.
Services an OBM can provide to their clients may include:
Project management
Team management and oversight
Operations
Closing sales initiated by the owner
Marketing
The OBM is a hybrid role, often combining features of both the Virtual Assistant and the Administrative Consultant in that the OBM can choose to provide a varied platform of services or specialize in a focused area, such as project management.
Having explained the titles of Virtual Assistant, Administrative Consultant and Online Business Manager, it should be noted that a VA can become an AC, who can then decide to become an OBM!
OK?
I'm just kidding – but the virtual administration field allows for a wide interpretation of titles, as I'm sure you've already experienced.
It's vital that virtual professionals distinguish themselves by using an appropriate title and clearly defining their services.
Here's to your success!
Now, how would you classify yourself? Are you a VA, AC, OBM or something in-between? Let's figure it out in the comments!
Keep the conversation going...
Over 10,000 of us are having daily conversations over in our free Facebook group and we'd love to see you there. Join us!