It's been a couple of weeks since we changed our brand name from GraphicDesignBlender.com to Millo.
Personally, our team has loved the change. I mean, can you imagine all the time we save every day by typing "millo" instead of "GraphicDesignBlender"?
But aside from just being quicker to type, there are a few things we're really loving about the new brand (and we hope you are too.)
As with any rebranding, there have been quite a few questions from many of you who have been following this site for so long.
The 6 most common questions you asked us about rebranding to Millo.
Today, I'd like to answer the 6 most common questions we received from you in the Millo Mastermind Group and comments on our announcement post when making the switch.
Feel free to post more questions in the comments. I promise I'll respond to every single one.
In no particular order…
Question 1: Which font did you use on the new Millo logo?
It's a modified version of "Another Shabby" font.
Here's what it looks like just typed out vs. designed with the modifications:

Also, just for fun, here are a few more options we played with before finally landing on the version we're sporting now.
I think we made the right choice.
Even though designing the logo was not the hardest part of the rebrand, there definitely was some pressure associated with it since the Millo audience is packed full of so many talented designers and illustrators.
I'm happy with the final outcome. We hope you are too.
Question 2: How did you decide on "Millo"?
Oh boy, where do I even start on this one?
Psst: Have you heard about Hectic? It's our new favorite tool for freelancing smarter, not harder. Client management, project management, invoices, proposals, and lots more. Hectic's got it all. Click here to see what we mean.
First of all, I have been itching to update our brand for a long time. We're not talking weeks or months. We're talking years.
In fact, about a year and a half ago, I called in to one of my favorite podcasts by the guys at Fizzle (episode 31) and asked them about the whole idea and the process around it.
They were kind enough to motivate me to do it.
But I soon learned that motivation was just part of the question.
Next came the dreadful task of actually picking a name.
If you've never done it, it's really really hard. I mean, terribly, awfully difficult.
So bad that at some point, I had named it, hated it, started over, quit again, gave up, considered quitting altogether, and every emotion in between. It was a long couple of years.
Every time my toddlers said something interesting, I jotted it down. Everytime I read a word that could work, heard a concept that could be a URL, or read a random Dr. Suess book, I would get ideas.
My brain was always on. The task was a 24/7 job. It was impossible to escape.
I counted: I have 85+ domain names that I considered. All available, but none of them perfect.
You can ask April (Millo's trusty, so very helpful and loyal Content Manager): I "decided" on at least 2 other brand names before I landed on Millo.
In fact, I was ready to pull the trigger on a few of them, but never felt fully lit up about them–which was the problem I was having with "Graphic Design Blender."
On top of it all, I was paranoid that I was going to choose another name like "Graphic Design Blender" that would become outdated in 3-5 years depending on how our content and audience transforms.
I was afraid. I admit it.
I was afraid I would continue to build something that was only 60% of what I dreamed it could be–all because of a weak brand name.
To be honest, I don't remember exactly where the word "Millo" came from.
I wish it had some amazing story (if I were a band, I would make a reason up for press appearances) but it doesn't.
I guess I like that a little bit. Because it means that you, me, and the whole Millo team can define exactly what Millo is moving forward. It's up to us. That excites me.
And I never felt that way about "Graphic Design Blender" as a name/brand.
Question 3: How did you have the courage to make the switch?
Just like any major decision, it was less about having the courage and more about not being able to live with the alternative.
For those of you who have started a business or even quit your day job, you can probably recall the feeling.
It's that moment when you can't see yourself not running a business.
You can't picture yourself happy at your desk for one more day.
That's how I felt about Millo. I couldn't picture myself building Millo for another 5 years and being happy about it. I had to make a change. And now, I wake up every day excited about a million ideas I've got floating around for the future of Millo and the Millo audience.
PS: we need a name for the Millo audience. Something catchy. If you've got an idea, leave it in the comments. 🙂
Question 4: Why Millo exactly?
That's a great question. And one I can't answer 100%.
The thing about creativity is it's not an exact science.
You know what I mean: imagine if someone asked you "why that shade of blue exactly?"
You don't know. You just know that it feels right.
I'm not sure why I went with Millo in the end. It just felt right creatively. From the comments I've received from all of you, I think I was right.
Question 5: How do you pronounce it?
Is it "mee-loh" or "my-low" or what?
To clear it all up, it's pronounced "millow"–it rhymes with pillow.
If you're still not sure, you can hear me pronounce it in this video.
Question 6: Is that your office or a stock photo?
Most people were referring to the image below when asking this question: "is that your new office?"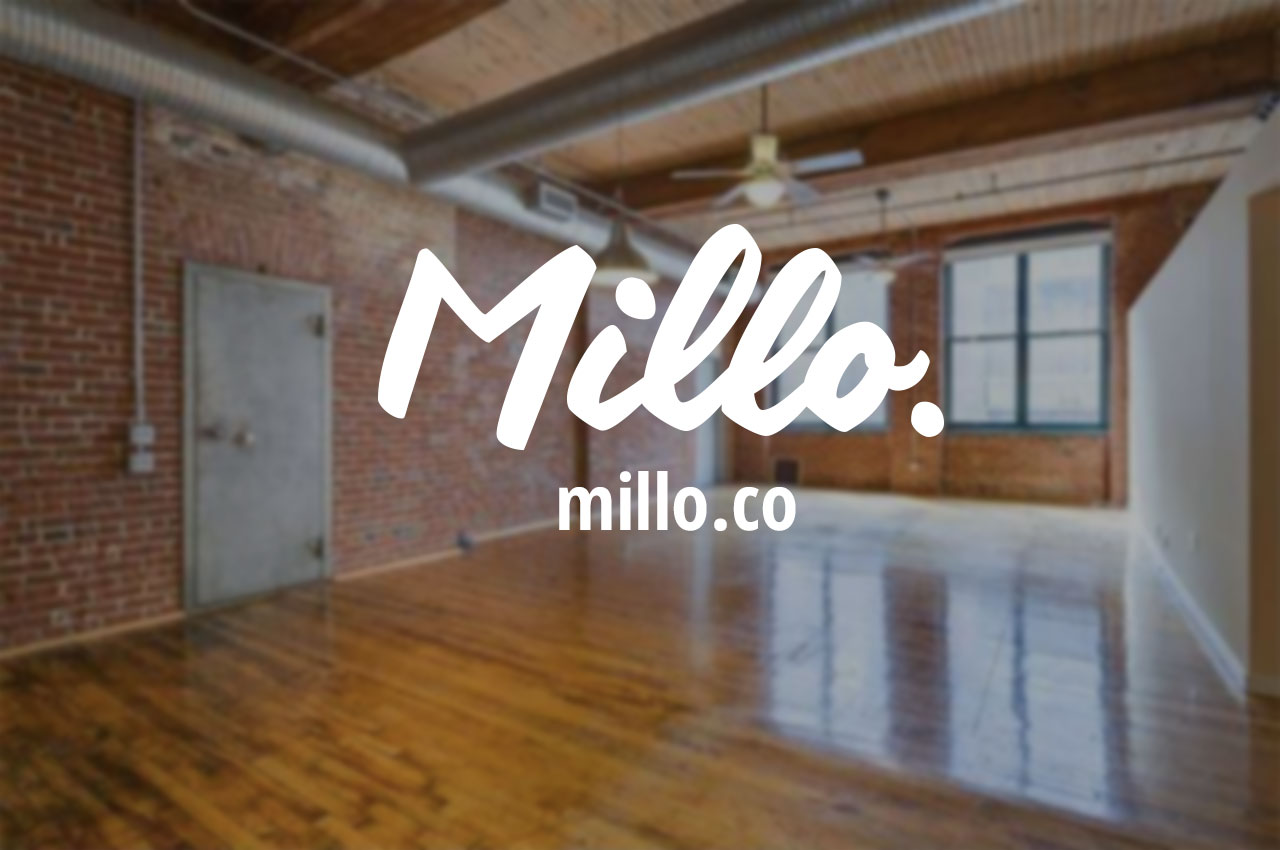 Sadly, no it's not.
Not yet, anyway. 🙂 One day, I hope Millo becomes a big enough resource that we need a cool space and a few employees.
For now, we're a really tight remote team. (Shout out to the Millo team. I would die without you guys.)
A few other questions you had:
Q: What's the new domain?
A: Millo.co
Q: Are you creating entirely new social channels for Millo?
A: Nope. No need to. You'll notice our twitter handle, linkedin page, and facebook page URL have already changed.
Q: Will we have to re subscribe to the newsletters etc?
A: Nope. We also updated everything. You may have noticed the new Millo email template. (If you're not subscribed, click here to join us.)
Q: Seems like a made up word for the sake of making up a word.
A: It is, sort of. Definitely made up. But not just for the sake of making up a word. We want to build a brand that we can define. Therefore we chose a word that had very little pre-existing connotation.
Q: It would be great if you could share your strategy on how to make a brand change and give examples of brands who have done so and the thinking put into it!
A: A great idea. I have it on the list, but it may take a while. 🙂
Q: How close does the Millo logo look like Melitta?
A: Hmm. You're right. It does resemble it a bit. As a non-coffee-drinker who's never been to Europe, I'll have to chalk this one up to sheer coincidence. 🙂

Any other questions?
I hope I was able to answer some of your biggest questions around our rebrand.
I'm personally very excited to have you along for the ride as we all make Millo what it will be in the coming years.
Thanks for all your support. We couldn't do any of this without you!
PS: Here's the video we posted on the day we rebranded. Maybe it'll answer a few more questions around "why" we made the choices we did.
Huge changes at Millo today. For starters, you'll get redirected to https://millo.co. Here are a few more details:

Posted by GraphicDesignBlender on Wednesday, May 13, 2015
Keep the conversation going...
Over 10,000 of us are having daily conversations over in our free Facebook group and we'd love to see you there. Join us!