Sites like Fivver or similar freelance marketplaces can be such a hot-button topic in the freelancing world.
But, if we're being honest, it seems like Fiverr has come a long way since its early days as a $5-for-everything marketplace. And now, real freelancers are making real money with the platform (like Shahzad, who made $33,000 experimenting on Fiverr.)
So whether you're looking for higher-paying Fiverr alternatives, or you're hunting down more sites like Fiverr where freelancers compete on price, today's post is for you.
In this article (and vide0), we will cover 11 legitimate sites like Fiverr for you to find more freelance work, and weigh out the pros and cons for each.
With the vast number of freelance job sites to gain work from, we are confident that these 11 Fiverr alternatives are some of the best choices on the internet today.
So polish your resumé, get your best portfolio put together, and get busy applying!
Here's our list of the best sites like Fiverr for freelancers who need more clients right now: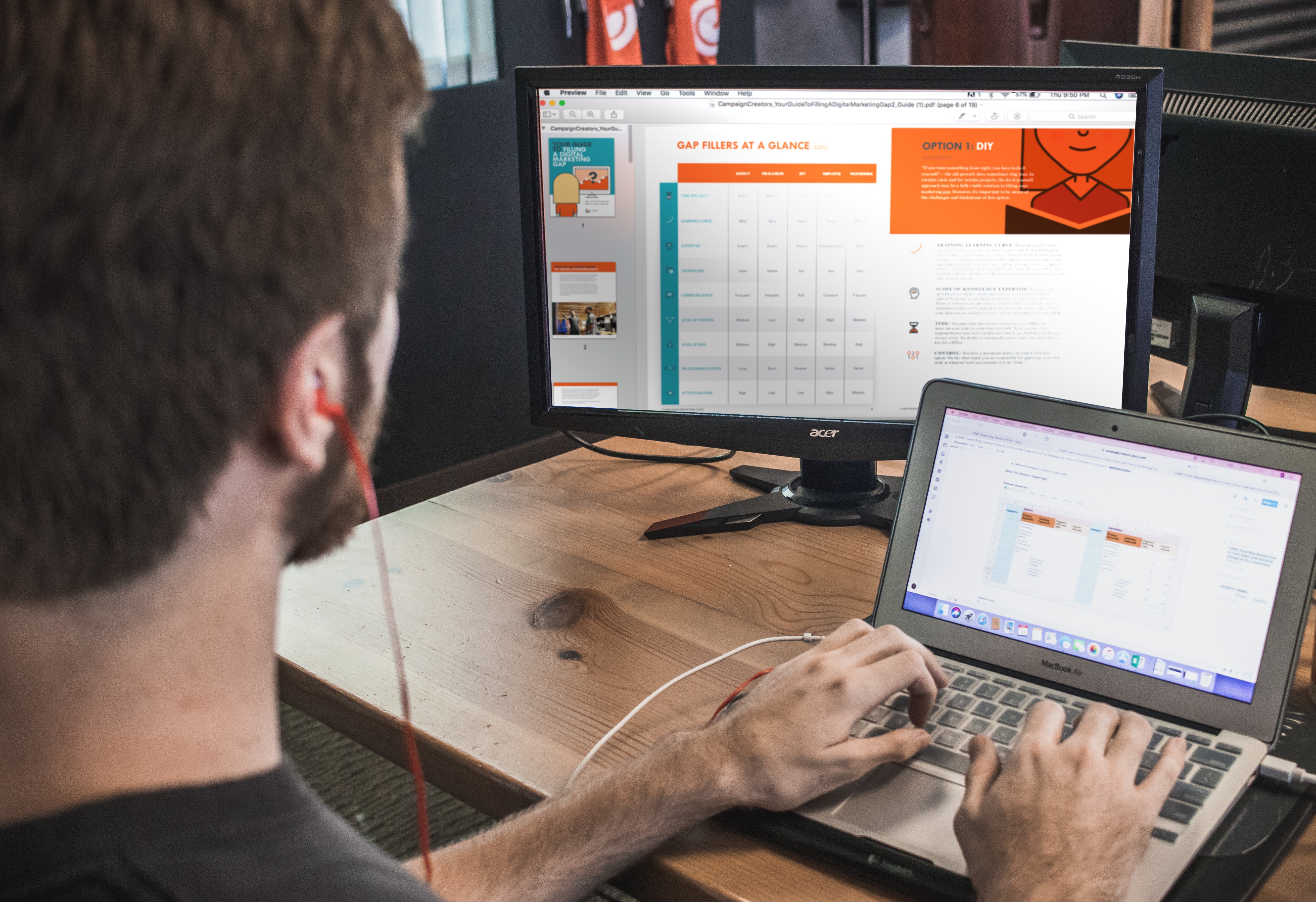 FlexJobs makes it easy to find a freelancing gig that you need. They offer tons of reliable job opportunities, the real gigs that can assure you that your skills are worth it.
With FlexJobs, you don't have to worry about endless ads, broken links, repeated postings, or scams. FlexJobs can set you free from those problems. They will make your gig search experience safer than other Fiverr alternatives.
Pros
FlexJobs is the best site for finding great, hand-screened, professional, and trusted part-time jobs. There are 5,460 companies using FlexJob services with 29,275 jobs available for gig seekers.
Since they are hand-screened, you have a huge opportunity to find the best-quality jobs with easier steps.
There are about 50 gig categories available for you, from freelance to full-time, local to global, anything you need, and you can find what fits your career field.
Cons
Quality comes at a good price. Different from other sites like Fiverr that provide free services, FlexJobs is not free.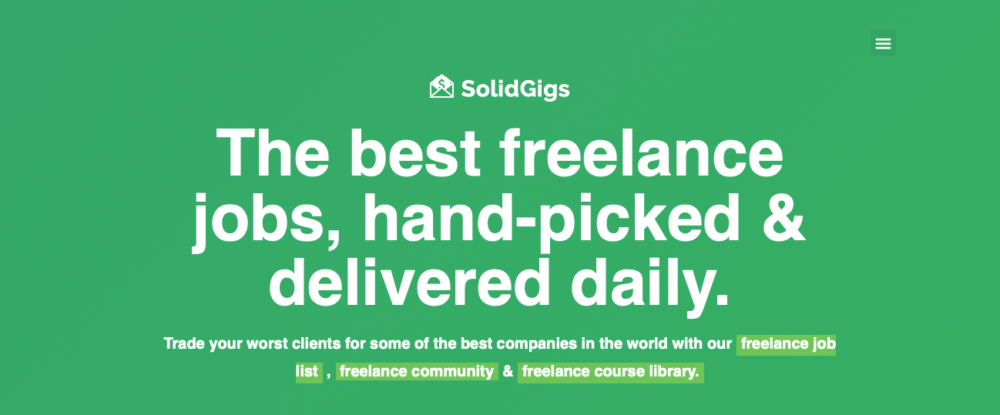 If you value your time more than anything, SolidGigs might be a good choice. SolidGigs will give you daily alerts of the very best 1% of jobs available on the site. These jobs are hand-picked by the SolidGigs team and fellow freelancers.
SolidGigs also has over 127 courses, videos, lessons, tools, templates, and other resources to help you improve your skills and uplevel your freelance career. More info in our full SolidGigs review.
Pros
Daily job alerts will save a lot of your time. You don't have to spend hours of your day just to search for a suitable job listing.
Aside from the job listings, SolidGigs also helps you improve your skills with various kinds of learning materials.
Cons
In order to join SolidGigs, you will need to pay a subscription fee of about 19 USD/month.
1840 & Company is another freelance marketplace that's great for finding a wide range of freelance jobs. The platform works with growing brands and companies looking to scale their workforce with freelance talent to fulfill open positions in back-office, finance, marketing, technology, and customer operations.
What's great about this marketplace is their highly managed approach. Each freelancer is assigned a dedicated account manager that hand selects them for whatever positions they are best suited for and works to get them hired at their desired rate.
Pros
All clients who sign up with 1840 & Company are pre-vetted and serious about hiring
An extremely managed approach with dedicated account managers
They work with you to match you with appropriate jobs that match your skill levels at your desired rate
You can find the right amount of work that fits your schedule
They work with global brands and have a need for freelancers in almost any country
The platform is free to join and has no monthly fees or subscriptions
Cons:
The application process is rigorous, and you will need to undergo several interviews and skill tests
Not ideal for beginners with no freelance experience.
Similar to Fiverr, Upwork is one of the largest marketplaces for freelancers online. If you're searching to hire, you just need to tell them what type of project you have in mind and the Upwork team will help match you up with the suggested expert. You can browse their profiles and work then select the exact expert that you are interested in.
In Upwork, you can also get your own virtual workspace for teamwork, and all payments are securely handled by the Upwork team to prevent potential scams.
Pros
This freelancing platform has a wide range of gigs. You can find hundreds of job categories from social media management to web design and more.
Upwork has an extensive reach that allows you to access a large pool of clients.
You can also get a full-time contract if your client is satisfied with your job.
Cons
The processing cost is more profitable for the Upwork team. Upwork takes about 10% of freelancer earnings.
Sometimes it is hard to get work since you have to build your own network by getting a large amount of positive reviews.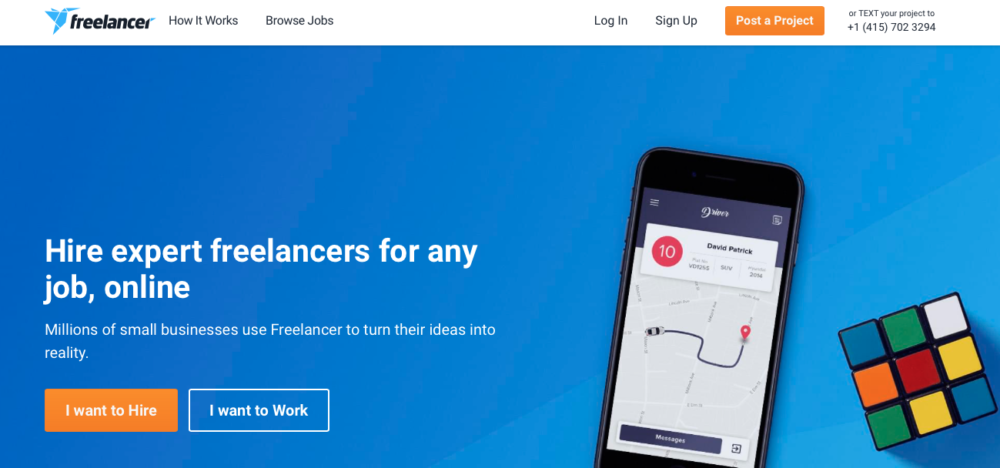 Our fourth on the list of sites like Fiverr is Freelancer. This platform has over 29 million users and counting. You can find thousands of job categories such as copywriting, translation, web development, graphic design, and more. They guarantee that you will find the right job that suits your interest.
Pros
Job availability is almost unlimited, meaning that there are a lot of opportunities for you to take.
For freelancers, you can set your working time to create flexibility.
Freelancer.com also has a downloadable application to track your working time. You can take a screenshot of your valid working hours as proof to your employer.
Cons
Employers usually opt for more experienced freelancers and it's hard to secure a job for beginners.
While freelancers have control of when they can work, some projects may need more time to be completed than the set time in the project description.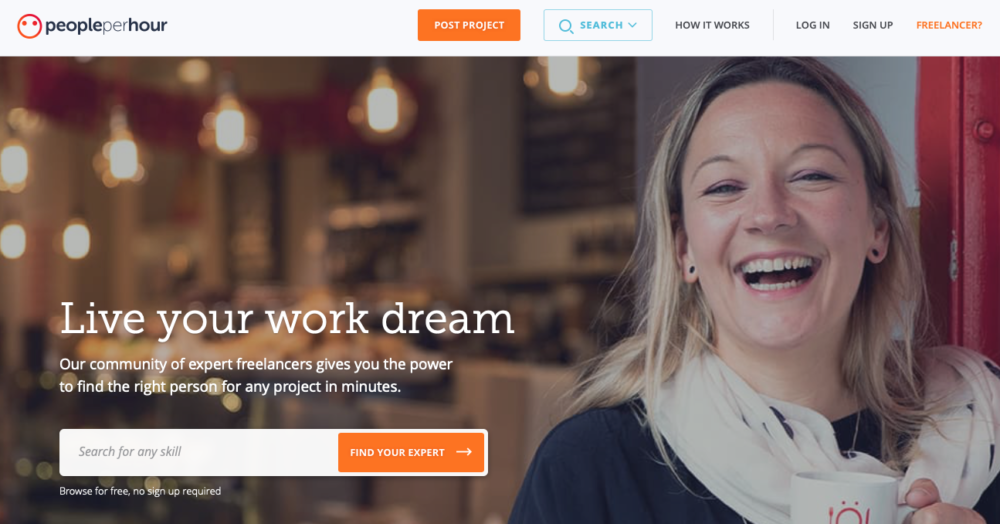 PeoplePerHour offers the best quality of products. This freelancing platform is worth a shot because all freelancers have to pass a quality check first. Indeed, the more qualified you are, the more money you can make.
PeoplePerHour helps you find jobs mostly in the area of design, content creation, and promotion. This platform is specially designed for employers who want to pay their freelancer partner hourly.
Pros
PeoplePerHour's easy dashboard allows you to oversee the entire hiring process. So, it is transparent for both sides.
While other freelance marketplaces are not budget-friendly, this platform is different. Employers and freelancers can reduce their operating costs significantly.
Cons
Apart from its pros, sometimes, the user interface can be a bit clunky. It won't be comfortable to use the platform to communicate for both sides.
Crackerjack is an online freelancing marketplace platform that connects local businesses and freelancers with whoever needs them. You can easily find service professionals and creators from across many
industries, ranging from mobile devices to cleaning your home, writing your CV to DJing an event. Whatever services you need, Crackerjack has it all.
Pros
Commission-based.
Crackerjack allows only verified pros/service providers on its platform.
Users can leave a review only if the service was provided by local businesses and freelancers through the Crackerjack platform.
You get free leads based on your preferences.
Freelancers can enjoy work control tools (such as sending quotes and invoices right through the platform).
Crackerjack service marketplace has the lowest fees in the market providing the best value.
Con:
Crackerjack is only available in the United States. You must be a U.S resident to use the platform.

Guru is a user-friendly platform that can help you find the best gig based on your needs. Searching jobs from Guru doesn't cost money—it's totally free. So no wonder why it has become one of the best Fiverr alternatives today, especially in the U.S.
Pros
This platform is useful for small companies when one person can do the entire task. It will actually prevent any hassle leading to a faster closing rate for the project.
The messaging service is available in a browser, on Windows, and also Android, so freelancers can communicate with their clients easily.
Cons
Guru is less useful for larger companies since it would be difficult to maintain.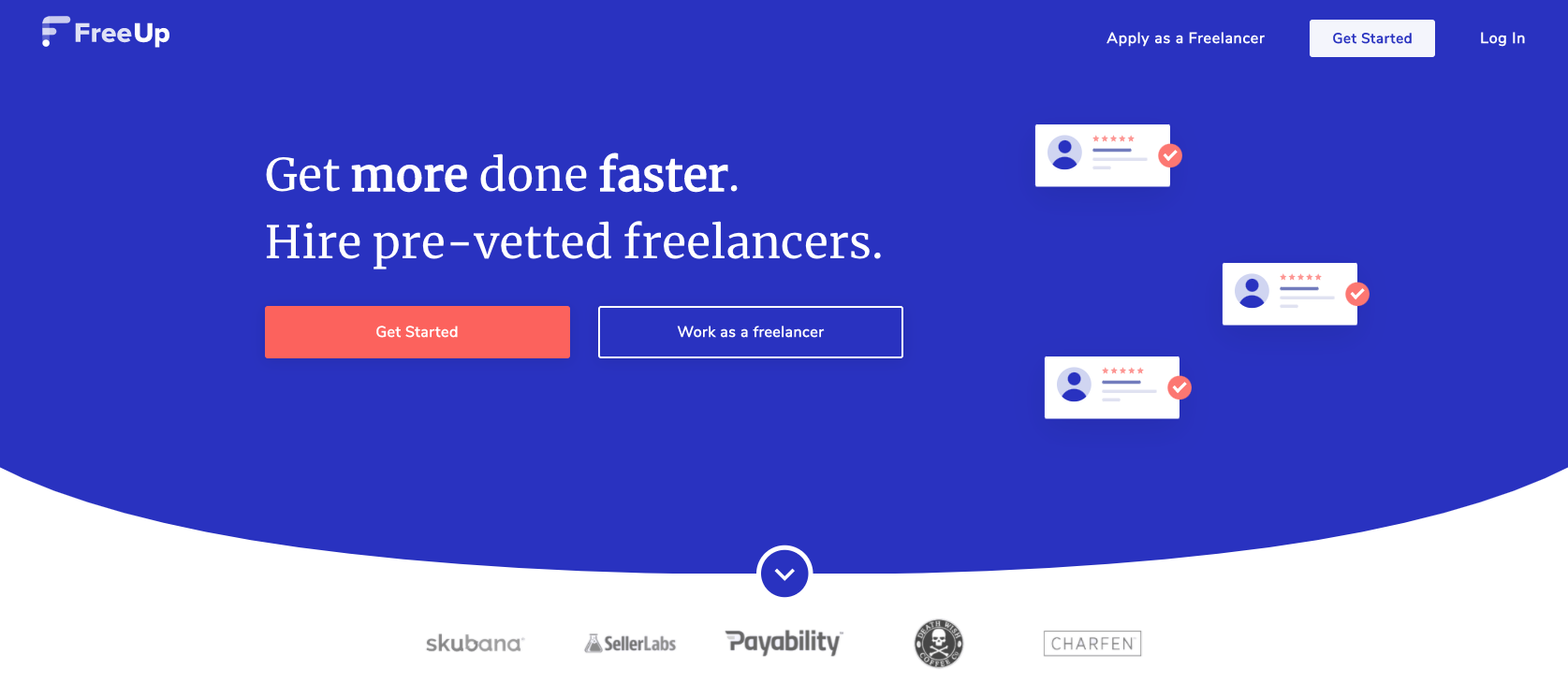 FreeUp is a top-notch site like Fiverr for finding work. They pre-vet all freelancers so that agencies and businesses don't have to worry about the credibility of the individual.
From advertising, web design, graphic design, e-commerce and amazon specialists, they cover several work fields for freelancers of all kinds.
Pros
Free to apply and sign up!
You get automatically paid every week
Excellent reviews
Cons
Appears to cater more towards agencies looking to hire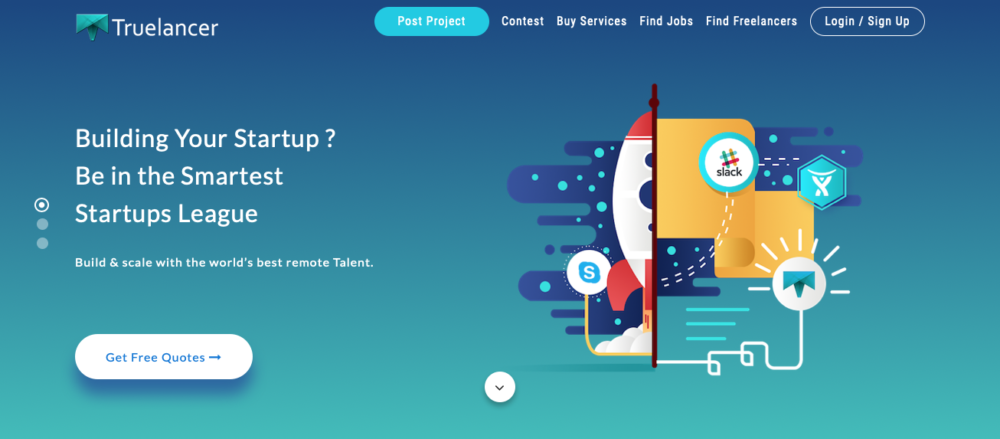 Truelancer is a place where you can find hundreds of freelancing jobs in various categories including programming/IT, multimedia and design, content and translation, admin, finance, accounting, digital marketing, SEO, and many more.
Truelancer allows you to access those job opportunities to find a suitable job that matches your skills and specialization.
Pros
Since Truelancer is one of the biggest platforms to find gigs, you certainly can explore a wide range of freelance jobs and filter them by the city to find the nearest to you.
Cons
As a freelancer, you have to pay a service fee of 8 to 10% of all your works (depending on the membership plan).
In case your work is refunded by the client after 30 days from the dating project, the Truelancer team will charge you about 5% of your total project value.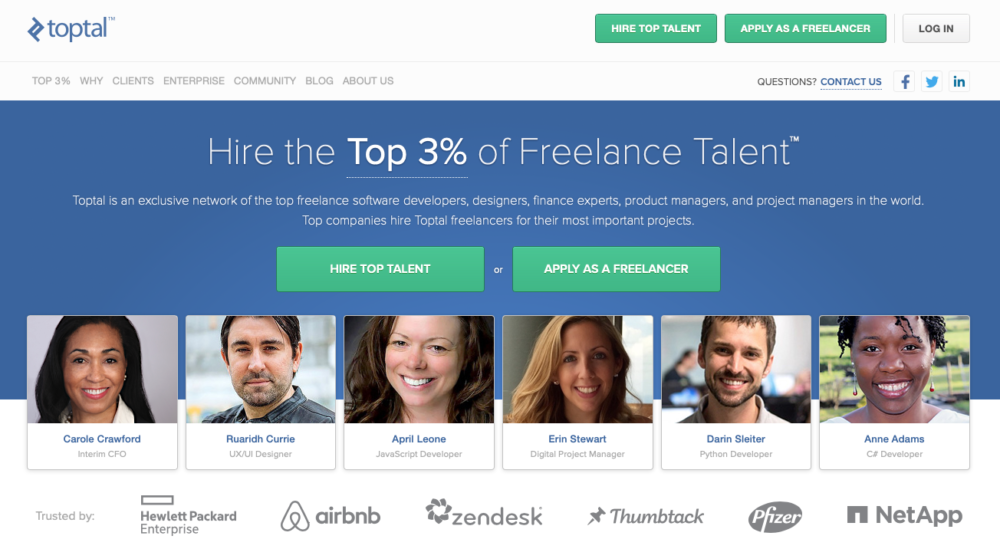 So, what makes Toptal special compared to other sites like Fiverr? In Toptal, only 3% of freelancers who sign up to this platform can get the project. Meaning that if you are the chosen one, and really good with it, there is a huge chance for you to get high-paying customers.
Some of the best companies and startups are using Toptal because of its accurate freelancer screening process. And for this reason, you can get a chance to work with the best companies in the world.
Pros
Toptal has an accurate screening process. With this system, Toptal eliminates 97% of your rivals if you make it to the exclusive 3%. You can explore the promising network of high commission gigs.
Cons
Yes, you can eliminate most of the job seeker competitors, but on the other hand, the strict screening process will also limit your chances to get hired especially if you are just starting out.
BONUS: Market yourself through your own website
After reading all the sites like Fiverr, you might still not find the site that truly suits your needs. So what can you do? Well, you can always create your own website and promote yourself.
By creating your own site, you won't be bound by any policy. All the income will be received directly by you, and you don't have to share it with any other party.
But remember, creating your own website means that you are responsible for your own advertising.
With creating your own website, you'll also need your own hosting, and domain — both requiring yearly payments to keep it online. However, if you're not familiar with creating websites, then this route may not be right for you.
Those top sites like Fiverr hopefully can give you plenty of ideas of where to go when you want to find a perfect gig that fits your needs and lifestyle.
It is important for you to consider every single element before you decide to sign onto a particular job. Make sure that the job won't interfere with your life balance and you don't undervalue yourself.
Keep the conversation going...
Over 10,000 of us are having daily conversations over in our free Facebook group and we'd love to see you there. Join us!