Table of Contents
This post may contain affiliate links. See our affiliate disclosure for more.
Upwork vs. Freelancer? It's one of the most common questions freelancers in the gig economy are asking.
That's because the gig economy is booming right now, with freelancers and companies both benefiting from an explosion in remote collaboration. Two of the biggest job platforms in the freelancing market, without question, are Upwork and Freelancer.
Both sites have made a name for themselves with their quality services and ease of use. They are both popular freelancing platforms that help businesses and freelancers connect and collaborate.
This guide will look at the "Upwork vs Freelancer" debate and see how the two platforms work and how they differ from each other. We will also discuss which platform is the best for your needs as a serious freelancer. With that in mind, let's jump into this guide.
Short on Time? Here's the Quick Answer:
Based on all of our research and the feedback from our freelancer mastermind of 10,000 freelancers (join us free), if you're serious about being successful long-term as a freelancer, we recommend you invest more time with Upwork. Freelancer.com isn't necessarily a bad option, but Upwork outshines it in a few critical areas, which we review in detail below.
Upwork is one of the most well-known online marketplaces for freelancers. The site hosts freelancers and businesses from over 180 countries. From tech to SaaS eCommerce and web development to marketing, the site offers a wide variety of contracts.
Getting jobs on the Upwork platform is straightforward. You just sign up, submit your Upwork proposal, and, assuming you win the contract, start working.
The platform is popular for its convenient features like payment protection and easy search options. It also helps freelancers easily find work. When it comes to communication, Upwork allows you to chat and video call with clients from within the platform.
Upwork helps freelancers tackle the two major problems; finding work and getting paid.
As a business, Upwork gives you access to a huge number of professional freelancers that provide a range of skill sets. Importantly, you can assess the quality of work before you hire.
Upwork has three tiers of memberships, starting with a free plan. The free plan is the Freelancer Basic. For more benefits like seeing competitive bids, you can choose the paid Freelancer Plus plan. They also have a plan for agencies looking to find work on the platform, it's something to consider if you're planning to start an online business.
This section will look at how the site works and the pros and cons of finding work on Upwork.
1. Hiring Process
The Upwork platform has an intuitive user interface that makes finding jobs easy. You filter the jobs based on your preferences through the search bar. You can then monitor job opportunities through your job feed.
When you find a suitable job opportunity, you can send a proposal to the client. The proposal should be customized to the job and include a cover letter, work samples, and other information relevant to the job.
The person posting the job may ask you to do a test to further your application. One of the benefits of Upwork is that all tests are paid. Once you have completed the test, assuming you are asked to do so, the client may schedule an interview.
At the end of the interview process, the client will make an offer. The terms will typically include the payment schedule, the length of the project, and other deliverables.
There are two main ways of getting paid on Upwork: the hourly contract model and the fixed price contract system. No matter which option you choose, Upwork ensures that you get paid.
The site also has an in-built system for tracking productivity and project progress. These features ensure transparency for both the businesses and freelancers, and you might not even need to use a separate project management tool.
2. Fees
Upwork has three tiers for fees: 20% for the first $500 you earn, 10% between $500 and $10,000, and 5% for billings that exceed $10,000.
As you can see, Upwork incentivizes you to commit to their platform with the fee structure. The more you earn through the platform, the lower your fees.
3. Pros
The Upwork platform has more than 5 million businesses across 12 categories, giving freelancers a wide range of jobs. Companies that hire through Upwork range from global multinationals like GE, Airbnb, and Coty, through to small businesses.
Upwork provides you with an opportunity to work with some of the biggest names in your industry.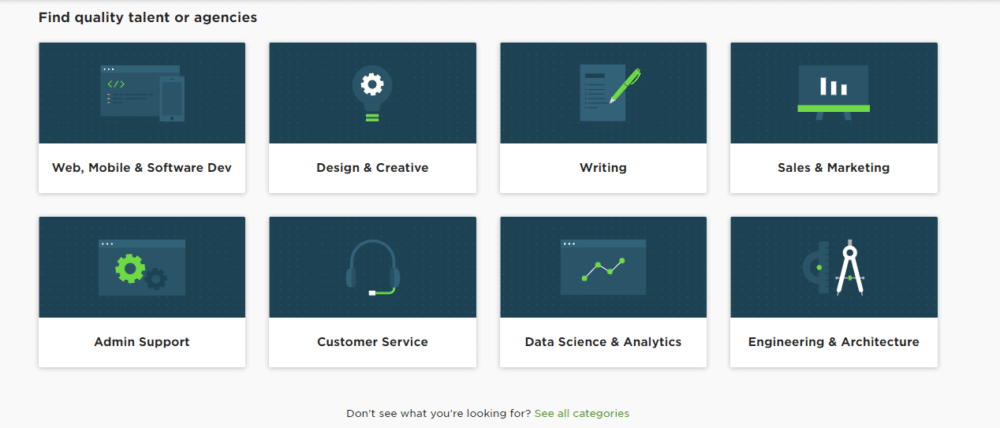 Upwork has a neat verification feature that ensures that only legitimate businesses with a proven history of good projects can post jobs. Doing this helps maintain the quality of the job listings for freelancers.
Upwork also offers skill certifications that can help you get noticed. The site also has a unique badge system that rewards top-rated freelancers. It allows them to view jobs that are not yet public.
With its convenient features, Upwork has emerged as a great platform for freelancers to develop their careers.
4. Cons
Upwork charges a service fee for every project. The fee is a percentage of the total project payment. It's a bit like paying a tax to the platform, before you pay tax to the government.
With freelancers from over 180 countries competing on the platform, it can be challenging to stand out. The global competition may mean that you have to build your profile before pitching for big projects.
Upwork says that about 8000 jobs are posted every day. However, these job opportunities are not evenly distributed among the categories. There are fewer job postings in some industries, and more competition for work in other sectors.
Upwork also has a system where you need to "pay" to submit proposals. That payment is in addition to the fees. It uses "connects", a kind of currency on the platform. A Connect costs 15 cents.
You may have to pay anywhere between 1, and 6 Connect's to submit a proposal.
If you take the paid membership plan, called Freelancer Plus, you get 70 Connect's a month as a part of the bundle. The plan is priced at $14.99 per month.
Upwork's payment protection plans and wide range of job opportunities have helped it become one of the biggest freelancing platforms globally. It tackles two of the biggest problems for freelancers: finding clients and getting paid.
In the next section, we will look at the features of Freelancer that make it popular among both freelancers and clients.
Freelancer platform has over 51 million registered users and offers jobs in more than 13 categories. A distinctive feature of the site is that it's a global marketplace. You can apply for jobs in different languages.
The site has become a go-to platform for freelancers looking for work.
Freelancer has an exhaustive resource section that provides insights for budding freelancers to hone their skills. With blogs, how-tos, and community experts, the site is a one-stop solution for anyone who wants to develop their career.
This section will look at how the site works and some of the pros and cons of finding projects on Freelancer.
1. Hiring process
When comparing Upwork vs Freelancer, the hiring process is similar. After an employer posts a job, you can submit a bid to apply for the project. The person posting the job then sifts through the bids to shortlist suitable candidates.
After the shortlist, the employer can compare the proposals and chat with freelancers. Once they have a winner, a contract is drawn up, and the work begins.
A distinctive feature of the site is that businesses can post both jobs and contests.
Freelancer also offers recruitment services for employers to find the best talent. Under this, the platform acts as a link between the clients and the freelancers. Employers can also hire a freelancer by browsing through the marketplace without posting a job or a contest.
2. Fees
Freelancer has a different fee structure for projects and contests on its platform. For fixed projects, it charges an introductory fee of 10% or a minimum fee of $5. If you are paid more than the original bid, then it also levies a project fee. If you have an hourly project, the fee is levied on each payment you receive from the employer. The fee for hourly projects is charged at 10%.
For contests, submission is free of charge. The fee applies only when the freelancer receives the contest prize. The fee for contests is 10% or $5, whichever is higher.
Freelancer has a third tier of fees for members of its Preferred Freelancer Program, which is a paid membership. The fee is charged at 15% when you accept a project. The charge is made when you receive the payment and is not an upfront fee.
3. Pros
Freelancer offers a Milestones Payment program that ensures that both freelancers and clients have control over project payments. It helps promote transparency and solves any disputes. The feature is a great way to instill confidence in the system. It eliminates running after clients for payments and gives the businesses assurance of quality.
The site also offers jobs based on languages like Spanish, French, and German for some of its categories. The global marketplace offers more opportunities for freelancers from around the world.
With companies like Amazon, Facebook, IBM, and Deloitte, the platform offers you the chance to work with some of the world's biggest companies.
Freelancer also hosts a wide range of resources both for clients and freelancers. These include how-to guides on hiring the best talent, recent trends, and ideas.
Its "Showcase" features the best on the site, giving you instant visibility. The feature is particularly useful as clients can search the site for potential fits without posting a job.
4. Cons
The paid membership bundle at Freelancer goes up to $199.95 monthly, which is expensive. The fee supports features like its recruiter program and payment milestones. You also need to pay $5 for every skill test you take on the site.
Freelancer can be difficult to navigate. You may have to spend some time trying to find the right kind of job. The sub-categories can make finding a job a challenging task.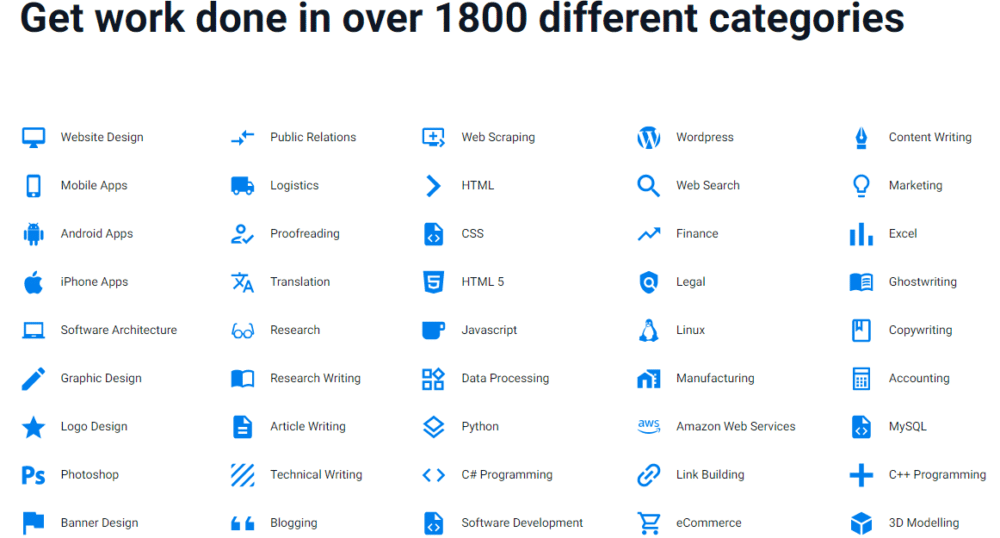 Freelancer also has significant competition globally, with millions vying for the same jobs. Since clients can scroll through the freelancers on the site, people with a free plan may not get the visibility they need to win contracts.
The platforms enable you to tap into the growing freelancing market by giving you access to the best talent and clients worldwide. According to a study, about 42% of the workforce in the United States will do some freelancing work by the end of 2021. Sites like Upwork and Freelancer are poised to help you be a part of this thriving culture.
Now that we know what each site offers, we will dive into the Upwork vs Freelancer debate to see which site will best suit you.
Upwork vs Freelancer: Which is better?
Both sites have their merits and are widely successful in connecting freelancers with clients. When deciding between Upwork vs Freelancer, the best site depends on the nature and length of your project.
The two platforms also have a significant fee for their services. The Upwork fee starts high but drops as the project value rises. If you are looking for larger projects or long-term work, Upwork is the platform for you.
While both platforms offer easy search options, the many categories and subcategories of Freelancer can be confusing to navigate. The site has over 1800 sub-categories that can be challenging when you are looking for jobs regularly. Upwork has the upper hand with its smooth search feature that allows you to monitor jobs in your industry.
Upwork also has a helpful desktop app that tracks your progress at random times during 10-minute intervals. It not only helps clients know that the project is moving smoothly but also serves as proof in case of disputes.
At the end of the week, the client reviews the log to finalize the payment. For clients that are dealing with multiple freelancers, this feature can help them track productivity.
Upwork also has a screening process that allows them to maintain the quality of the talent on their site. Freelancer may be a safer bet for those looking for entry-level roles with low hourly rates. It will help you build your expertise and profile.
The fee at Freelancer is more suited for lower-paying jobs. The fees for Upwork are lower the larger the contract. Though, only a very few freelancers will benefit from the 5% fee structure.
Both sites provide features and upgrades that can help companies get the best value for money for the clients. Hiring people from Freelancer is typically cheaper due to the intense competition and bidding process. If you are looking to contain costs, Freelancer is the site for you.
When it comes to Upwork vs Freelancer, both platforms have intense competition as freelancers worldwide try to land jobs by the industry's biggest names. They have created a name for themselves as industry leaders and offer a wide variety of services to clients and freelancers. But if we had to pick, Upwork would be a better fit for serious freelancers.
Bottomline
Upwork and Freelancer are excellent platforms for freelancers and help them reach out to a vast network of clients. Whether you are starting or are established, they have something for everyone. With easy steps to set up your profile and find work, they help you build your skills and expertise.
While Upwork offers a wide range of topics, it also has a fee and charges freelancers to submit a proposal. Its payment protection and desktops apps help create a transparent system for both the clients and the freelancers. With its vetting process, it also offers better talent.
Freelancer, with their extensive categories, can be challenging in finding a job. However, it offers job opportunities in different languages. It also offers extensive resources both for recruiters and freelancers on how to hire and navigate the industry.
Ensure that you go through the terms and conditions and choose the platform that is best suited for your needs. The right choice in the Upwork vs Freelancer debate will depend on your professional standing and the kind of projects that you want to undertake. But if you're serious about freelancing, we suggest you start with Upwork.
Keep the conversation going...
Over 10,000 of us are having daily conversations over in our free Facebook group and we'd love to see you there. Join us!