Does this scenario sound familiar? You're up at night, face lit in the glow of your computer screen, searching for the best client gifts that someone will actually love.
You know you should be getting back to the thousand other tasks on your to-do list, but you care about your client relationships, and you also know that focusing on them can bring in referral business.
A lot of us have been there before. So we've put together a list of great resources that make choosing a client gifts, and working it into your process, super easy.
First, we'll share the top sites for finding the best client gifts and then we'll dive into some tips on how to choose the right one & create a process to make it easy.
Here are 10 client gifts to really "wow" your clients:
Greetabl allows you to customize every aspect of your client gifts to really make them personal! You choose the box print that the gift is packaged in and the gift itself. Then, you can write your own message and attach photos to the inside of the box.
Need more freelance jobs?
Enter your work email below and we'll send you 10 fresh freelance job leads from the last 48 hours along with some of our best content to help you get the jobs you deserve.
You can scale a Greetabl up or down based on your gift choice and whether you choose to add a gift card, so options range from around $20-$100.
Send clients a gift basket, flowers, a bottle of wine and much more with Gift Tree. Many come with the option to add initials for a personal touch!
Most options run between $30-$100.
Send a gourmet gift basket to your clients through Hickory Farms. You can also browse the website by different areas of the state (like Napa Valley or LA) and pick a themed gift from this region – a great touch for clients who are fans of locally sourced goods.
Gift prices range from $16-$200+ depending on the size and selection.
For health conscious or vegan / vegetarian clients, try a gourmet fruit basket from The Fruit Company! Remember, before sending food as a client gift, make sure people aren't allergic.
Most fruit baskets range from $30-$200 before optional personalization or branding.
Uncommon Goods sells a wide variety of unique client gifts for all types of occasions. If you know your client wouldn't prefer a food related gift, and has a more eclectic vibe – this is a good place to start browsing!
There's a huge selection to account for here, so gift prices range from $20-$100 or more.
A reusable water bottle from Corkcicle can be a very useful gift, especially for clients who are conscious of sustainability. Not to mention that these keep beverages hot/cold for up to 12 hours.
You can customize your order and add your company's logo, or add recipients' initials to the lids of water bottles or canteens. Most options range from $25 to $50 before customization.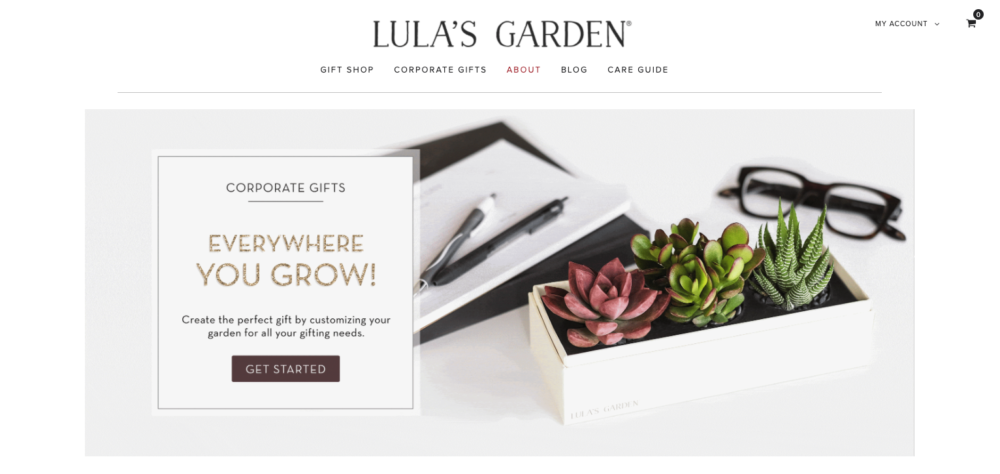 Send single or groups of small succulent gardens that come pre-packaged in a planter as client gifts with Lula's Garden. Unlike traditional flowers, succulents are low maintenance and have the potential to live much longer!
The smaller options here also makes this a good desk gift for clients. Garden sizes vary in price from $25 – $80 before any additional customization.
With Loop & Tie, you choose a selection of gift options, and then send an email to all of your recipients letting them know that they can choose whichever gift they like best! This is a great option for sending holiday gifts to your whole client list.
There are tons of options to create your gift collection with, and they can run anywhere from $25 to $500.
Mark & Graham has a wide client gifts selection, from wine cups to leather briefcases, you're likely to find something useful for your clients here.
Most of their selection includes higher end items that run between $50-$200+, so this would make a great starting place to browse for your best client gifts.
Knack gift boxes are filled with multiple food and drink items. Most boxes are themed; "barbeque, bar, ice cream, etc." but you also have the option to create your own and personalize it to your client.
Boxes run between $30 – $200 depending on how many items are included.
Tips for choosing the right client gifts
Don't break "the rules" when giving client gifts
If your client is an individual (like a photographer would be, for example) you likely won't have to worry about rules or guidelines around gift-giving. However, if your client is an organization or company, (like a marketing consultant) make sure they don't have rules against receiving gifts from partners and vendors.
If you do have some clients with a no gifts policy, don't panic. We recommend sending a handwritten thank you note as an alternative client gift! It's simple and meaningful, but still low key enough to fly under the radar.
Make client gifts personal
Even if you're sending gifts to multiple clients at once, or always send them on a certain occasion (holidays, after a project wraps, etc.) make sure they never feel mass-produced. Personal touches in client gifts can be as simple as including their name and something about them or their individual project in the note that accompanies a gift.
However, it's best to try and really get to know your clients so you know what kind of gifts they'd like! Ask them questions or try to spark a quick non-work related conversation every once in a while.
Getting to know your clients is going to benefit you in more ways than just easier client gift selection.
It also helps with your general connection with clients and your level of likability. And according to the Huffington Post, "Likability is one of the most if not the most important aspect of your success in today's professional world."
So make sure you're always making an effort to connect on a personal level with your clients – and give great gifts, of course!
Create a process for sending client gifts
The best advice we can leave you with is to create a process around sending client gifts.
Start by determining when you'd like to send most of your client gifts. This could be centered around holidays, or client journey-specific steps like a thank you up front for booking, a referral request, or on the anniversary of a big project.
Then, determine a few of your favorite go-to gift varieties that you can use to make selecting and sending as effortless as possible. (Make that part super easy for yourself and choose from the list above!)
Keep the conversation going...
Over 5,000 of us are having daily conversations over in our free Facebook group and we'd love to see you there. Join us!