Table of Contents
This post may contain affiliate links. See our affiliate disclosure for more.
If you're having trouble deciding on FreshBooks vs QuickBooks, this in-depth guide is for you. We'll explore the pricing, features, and other factors you'll want to consider when debating between FreshBooks and QuickBooks: two of the best invoicing and bookkeeping tools around.
Both are fantastic accounting tools—with built in freelancer invoicing features, time tracking tools, and other helpful resources and taking the time to compare these two side-by-side will be time well-spent.
Comparison Summary + Fast Answers
If you're in a hurry and need a quick answer, here's what we recommend:
If you freelance or provide a service and have aspirations to grow, go with FreshBooks.
If you don't plan to hire or grow, use QuickBooks Self-Employed.
If you're a growing company and need lots of advanced features, go with QuickBooks.
For a deeper dive we've broken our review down into a few critical categories with which we'll compare FreshBooks vs QuickBooks side-by side. Here's what you can expect:
How We Compared Each Software
There are a few critical pieces of information you'll need when comparing. Below are the categories we've identified as critical to knowing before you choose.
Pricing — Money isn't everything when making a decision. But it's certainly a critical factor.
Basic Features — We'll answer the question: which tool can do more of the tasks you need done on a regular basis?
Premium Features — We'll also identify which premium or exclusive features stand out in either accounting tool
Flexibility — We'll evaluate which software allows for more flexibility—an important element if your business is still growing and changing.
Connectivity — We'll explore which tool better connects to other apps you use on a daily basis to run your business.
Financial Support — We'll investigate which tool provides more financial support in terms of accounting methods and best practices.
Technical Support – We'll identify which support plan will be best equipped to help you solve problems when they arise.
The Human Element — We've also asked our community of freelancers and small business owners to share their experiences using FreshBooks or QuickBooks, and we'll be sure to include that info too.
What you should personally consider
While the elements of our comparison research will give you an objective look, it's important to ensure you're picking your accounting software based on your own individual circumstances.
For example, if you're a freelancer looking for a simple accounting tool with room to grow, then you should probably go with FreshBooks.
However, if you have no interest in growing beyond yourself OR you're a bigger well-established company, then QuickBooks is probably the better choice for you.
FreshBooks vs QuickBooks Pricing & Plans
The first element we'll explore in depth is pricing. While money isn't always the absolute top factor when choosing an account tool or other software, it should be at the top of your list.
Both FreshBooks and QuickBooks offer monthly plans that seem pretty affordable for any small business.
Overview
Here's a quick overview of FreshBooks pricing vs QuickBooks Online pricing at a glance. For more detail, read below this chart:
FreshBooks Pricing
FreshBooks' pricing options are very simple. They start at just $15/mo for freelancers and self-employed professionals and go to $50+ a month for larger companies with growing teams.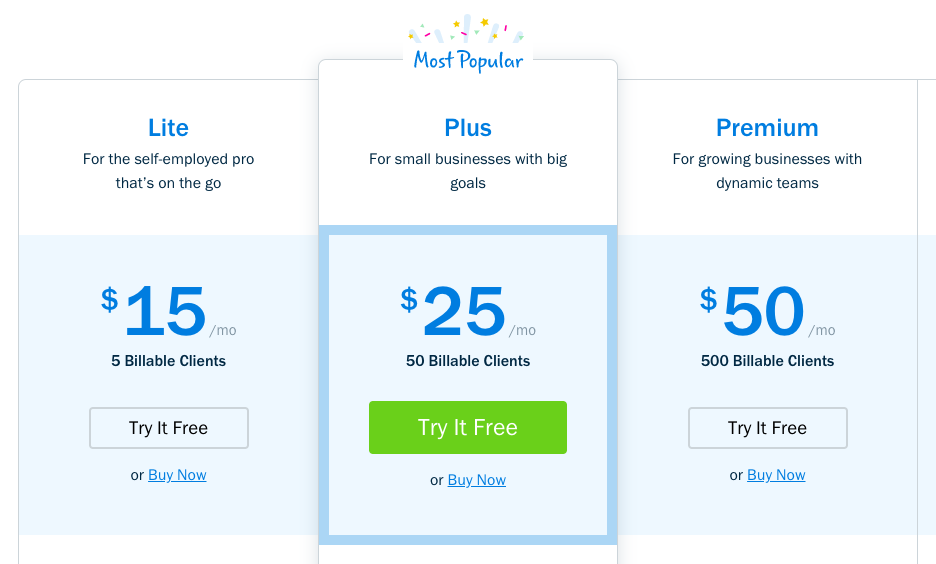 If you average out the cost of each of their plans and divide by the number of plans available, you'll see that on average you can expect to pay around $30/mo.
In all cases, you pay FreshBooks on a monthly basis to use their service.
The "Plus" plan marked "most popular" is $25/month and is labeled as the right choice "For small businesses with big goals."
You don't need a credit card to try FreshBooks. Just choose the plan that's best for you and you can try it completely free for 30 days.
As a bonus (QuickBooks Online doesn't offer this) you can sign up for a full year and save a bunch more. You can also make this upgrade at any time during your stay as a customer. You could end up paying as little as $13.50/mo for their "Lite" plan if it works for you.
» Learn more about FreshBooks' pricing here
QuickBooks Pricing
QuickBooks' pricing options are also very straightforward, albeit a bit more expensive than FreshBooks.
At first glance, they seemed to compete nicely on price—that is until you realize you're signing up for 50% off which only applies to the first 3 months of your account.
After the 3 month promotional offer is over, you'll end up paying far more for QuickBooks then you will for FreshBooks. But remember: we'll compare features later. It's possible QuickBooks has some extra features you'll want or need later on.
If you average out the QuickBooks prices, you'll land at about $58/mo.
QuickBooks also marks their "Plus" plan as their most popular option, and will cost you $70/mo (after the promo) to stay on as a customer.
And if you choose the 30-day trial, you don't need to enter your credit card until you've tried QuickBooks for yourself.
» Learn more about QuickBooks' pricing here
FreshBooks Plans
Now that we've got pricing out of the way, let's talk about what each FreshBooks plan actually offers you as a customer.
FreshBooks Lite Plan
If you're just starting out as a freelancer or a side-hustler, you may want to try out their "Lite" plan.
The "Lite" plan has a lot of great features built in including lots of unlimited features like Unlimited Invoices, Unlimited Time Tracking, or Unlimited Estimates.
Where you'll find the "Lite" plan to live up to its name is when it comes to number of billable clients. It's only 5.
So unless you're billing all 5 of your clients an enormous rate every month, this may not be quite enough for you.
If you're not sure or only have a couple clients, start with "Lite" since you can always upgrade to the next level if you need to.
>FreshBooks Plus Plan
Moving up the ladder to the "Plus" plan—which FreshBooks says is their most popular plan—you get some features that I personally really love (covered more in the feature set section below) such as automatic invoice reminders, scheduled late fees, and the option to set clients on freelance retainer.
If you're starting to feel established as a freelancer or small business, chances are you should try the "Plus" plan. It'll most likely be the best fit.
FreshBooks Premium Plan
However, if your company is growing quickly and you need to invest in a more robust solution, you may want to take a look at FreshBooks' "Premium" plan which is for growing businesses with larger teams.
This top-tier option will allow you to add team members and bill up to 500 clients every month. Of course, if you're completely killing it and billing more than 500 clients a month, you can get a concierge solution with their "Select" plan.
Of course, regardless of what plan you start with, you can always upgrade or downgrade as you wish to fit the needs of your company.
» Learn more about each of FreshBooks' plans here
QuickBooks Plans
Like FreshBooks, QuickBooks has a number of plans tailored to fit the needs of your company now—with the ability to adjust later as needed.
QuickBooks Self-Employed Plan
For starters, their cheapest plan—labeled for Freelancers—is called QuickBooks Self-Employed and starts at just $10/mo (with 30-day free trial).
Because it's QuickBooks' most basic plan, it has a very limited feature set (nowhere near FreshBooks' entry-level option) and the kicker? It doesn't upgrade to any other QuickBooks plan in the future.
We'll try not to be offended that the plan labeled specifically for freelancers doesn't provide any room for growth. Thanks, QuickBooks. Hm.
If you plan to ever grow beyond just yourself, you'll want to take a look at QuickBooks' "Small Business" plans.
QuickBooks Simple Start Plan
Their "Simple Start" plan (the cheapest real option) is $20/mo (after any promotions) and it's the bare bones of what you might need in your business: expense tracking, invoicing, accepting payments, and stuff like that. Essential, but basic.
One notable perk that QuickBooks has over FreshBooks in this instance is the ability to add 1099 contractors at this point.
Since your first hire will likely be a fellow contractor, this is a really great feature they've included in their beginner plan.
QuickBooks Essentials Plan
From there you can move up the ladder to the "Essentials" plan, adding features like time-tracking and multi-user capability.
But the truth is, you don't really get a lot more for your money with the "Essentials" plan and you have to move one or two more tiers up to really see a big change in features.
QuickBooks Plus Plan
Marked as QuickBooks' most popular plan, the "Plus" plan adds quite a few more things that you can't do in any of the previous QuickBooks plans.
For starters, you can run more advanced reports and you can more closely track the profitability of each project in your pipeline (instead of the business as a whole)—a much-needed option for service businesses. With "Plus" you can also add up to 5 teammates which may come in handy.
QuickBooks Advanced Plan
If all of that still isn't enough, you can upgrade to the most premium option QuickBooks offers: their Advanced Plan.
With "Advanced" you'll get all the features of the other plans plus a lot of highly customizable reports and abilities for managing a sizable business. You can also set user permissions (which can come in handy when your team is growing) and you'll get extra special customer service help with their "Priority Circle" customer care.
With QuickBooks, you can upgrade or downgrade anytime as long as you don't start with the Quickbooks Self-Employed.
» Learn more about each of QuickBooks' plans here
The Winner of 'Pricing & Plans'?
After careful review, we have to say the winner of the plans battle is:
FreshBooks — Click here to try it free for 30 days
Why FreshBooks wins this battle
While both competitors had some great plans to offer at reasonable prices, FreshBooks not only offers a lower price average but seems to pack in just as many critical features into their starter plan…and then some.
QuickBooks' short-sightedness in not letting freelancers upgrade from QuickBooks Self-employed to any other of their plans was also the nail in the coffin on this battle. Still a good option, but FreshBooks pulled a clear win out on this one in our opinion.
Basic Feature Comparison
The next big question when deciding is: what basic features will I get as a new customer?
To answer that, we'll look at each of their entry-level plans and compare their feature sets to see exactly what you can expect as a bare minimum from each service.
Overview
Below is a quick glance when it comes to basic features.
| | Freshbooks Lite | Quickbooks SE |
| --- | --- | --- |
| Send Invoices | Yes | Yes |
| Track Expenses | Yes | Yes |
| Accept Cards | Yes | Yes |
| Accept ACH | Yes | Yes |
| Track Time | Yes | No |
| Send Estimates | Yes | No |
| Get Help w/ Taxes | Yes | Yes |
| Integrate w/ Apps | Yes | Yes |
| Add Team | Yes | No |
| Track Receipts | Yes | Yes |
| Track Mileage | No | Yes |
It's important to note that the two plans compared above are both the entry-level plans offered by both FreshBooks and QuickBooks but they are not the same price.
FreshBooks' start plan (Lite) is $15/mo while QuickBooks' plan (Self-Employed) is only $10. So it's only natural it might be missing a few features. That being said, you'd have to upgrade by two tiers to get some of the same features in QuickBooks that you do in FreshBooks (more on that later).
Invoicing
Invoicing is perhaps one of the most common and basic needs of your freelance business. Without invoices, it's going to be a lot harder to get paid.
This means, in our opinion, even the most basic plans should include a decent invoicing capability. And it appears they both do.
Invoicing with FreshBooks
With FreshBooks you can send unlimited invoices (to your group of 5 clients on the most basic plan) and customize them to fit your company's brand.
FreshBooks will also store and organize your invoices so you never wonder which ones have been sent, paid, or are overdue.
Learn more about FreshBooks Invoicing
Invoicing with QuickBooks
Using QuickBooks, you can send invoices and then track the status of your invoices and send reminders to clients who "forget" to pay.
With QuickBooks, you can also create partial invoices for milestones or partial payments, which is a nice feature.
Learn more about QuickBooks Invoicing
Tracking Expenses
Of course, one of the most basic capabilities an account software should do is help you keep track of the money coming in and out of your business.
Both FreshBooks and QuickBooks allow you to track basic expenses in their entry-level plans.
Tracking Expenses with FreshBooks
FreshBooks' expense tracking features are extremely slick. Perhaps the coolest feature is the ability to connect your bank directly to FreshBooks so that each time an expense is made from your account, you see it (and can categorize it) in FreshBooks.
Learn more about Tracking Expenses with FreshBooks
Tracking Expenses with QuickBooks
With QuickBooks you can also import data from your bank (or PayPal) and the QuickBooks software will automatically use the names and amounts to make an educated guess on what the expense should be categorized under for tax purposes. Pretty cool.
Learn more about Tracking Expenses with QuickBooks
Accepting Payments
Sending invoices and tracking expenses is fine and good, but if you don't actually bring money into your business, then what's the point of all of this?
That's why any accounting software worth its salt ought to provide a quality way of accepting payments from clients once you've sent them an invoice.
Accepting Payments with FreshBooks
With FreshBooks, your clients can pay their invoices directly through the invoice itself. No more sending the invoice with a PayPal link where they can make a deposit or waiting for a check in the mail.
Learn more about accepting payments with FreshBooks »
Accepting Payments with QuickBooks
QuickBooks also lets you accept Credit Card and ACH payments directly from your invoice. Their free (with certain plans) credit card reader also means you can accept payments from your clients in person.
Learn more about accepting payments with QuickBooks »
Time-Tracking
For many small businesses who charge by the hour for the work they provide their clients, a simple-yet-effective time-tracking app is a must.
And while you could choose a time-tracking app that lives outside your accounting software, both softwares offer time-tracking capabilities in their basic plans.
Time-tracking with FreshBooks
Even if you don't charge by the hour, there are lots of good reasons to track the amount of time you or your team are spending on each project.
And with the FreshBooks time-tracking tool, you can do just that. It'll sort time by project or by category, giving you a great picture of where you're spending your precious time each day.
Learn more about time-tracking with FreshBooks
Time-tracking with QuickBooks
Unfortunately, this is where we start to see a small divide between on FreshBooks vs QuickBooks in terms of what QuickBooks offers in their starter plan (Self Employed) and what FreshBooks offers in theirs (Lite).
QuickBooks doesn't introduce time-tracking until their "Essentials" plan which is $40—a whopping $25/mo more than FreshBooks' most basic option.
For that kind of money, you could get a different time-tracker (I like this one), but it wouldn't integrate with your accounting software. Bummer.
Sending Estimates with FreshBooks vs QuickBooks
There will most likely be moments in your business when you aren't quite ready to send an invoice (maybe the client hasn't finalized their decision) but you need to keep the project moving forward.
This is where estimates come in. Sending an estimate makes it easy for your customer or client to get a clear picture of what they're getting into and how much it will cost them. It also helps you get a picture of what to expect in terms of revenue if this client ends up hiring you.
Sending estimates with FreshBooks
With FreshBooks' most basic plan, you can send unlimited estimates to potential new clients.
FreshBooks will also keep notes and track important events related to your estimate—including the client's approval details—which means you don't have to dig through your email to find all of this important info.
Once an estimate is accepted, you can convert that estimate into an invoice, which is a really cool feature to streamline your process and get you paid a bit faster.
Learn more about sending estimates with FreshBooks
Sending estimates with QuickBooks
Sadly, QuickBooks' most basic plan (Self Employed) does not offer any sort of estimating tool for sending proposals or estimates of any kind—which, honestly, feels strange for a plan recommended for freelancers.
In order to send estimates, you'll need to upgrade to QuickBooks' "Simple Start" plan which will run you $20/mo—giving FreshBooks a leg up in this FreshBooks vs QuickBooks comparison.
To see what we mean, compare QuickBooks plans here.
Getting Tax Help
Tracking expenses and sending invoices is great, but when it comes time for taxes, all of the paperwork (from receipts in a shoebox to digital invoices) can feel overwhelming if you don't know what you're doing.
That's why we were happy to see that FreshBooks' vs QuickBooks' most basic plans are pretty equal when offering at least some sort of tax help. Each company takes a unique approach to tax help on their entry-level plans, so let's dig in to see what each one offers.
Getting tax help from FreshBooks
In addition to having a large library of tax apps that will integrate with Freshbooks in order to give you a more complete picture of your tax obligation each year, you can also run tax-specific reports at tax time which you can then give to your accountant or input in your accounting software.
Getting tax help from QuickBooks
Because QuickBooks is a product of Intuit—which specializes in tax software—it far surpasses FreshBooks in this regard.
Not only will it also run reports like FreshBooks does, QuickBooks' most basic plan will let you estimate your quarterly tax obligation (before it's due) and you can organize income & expenses for instant tax filing when the time comes.
If you plan to do taxes yourself (instead of hiring an accountant or using a service like Bench), you may want to go with the QuickBooks plan.
Learn more about how Quickbooks can help you with taxes
Integrating with Third-Party Apps
As a freelancer or small business service provider you probably wear a zillion hats. And bookkeeping, accounting, finances, etc. are just one of the many things that keep your business moving forward.
That's why it's important that your accounting software can communicate where needed with other tools you use on a daily basis to get your work done.
Third Party App Integration with FreshBooks
Because FreshBooks is highly focused on service companies, they have a lot of great apps in their integration library to help move your business forward.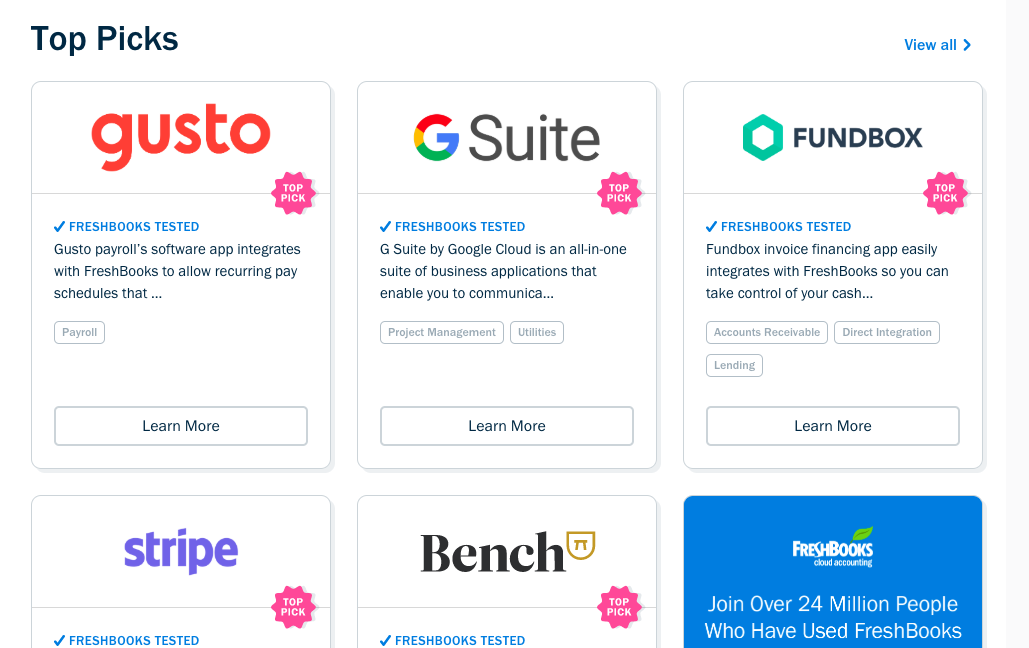 And the range is pretty broad; from organization tools like G Suite to communication tools like Slack to payroll software like Gusto.
See FresBbooks' App Integration Library
Third Party App Integration with QuickBooks
Similarly, QuickBooks has a robust library of third-party apps to help you run your business more smoothly.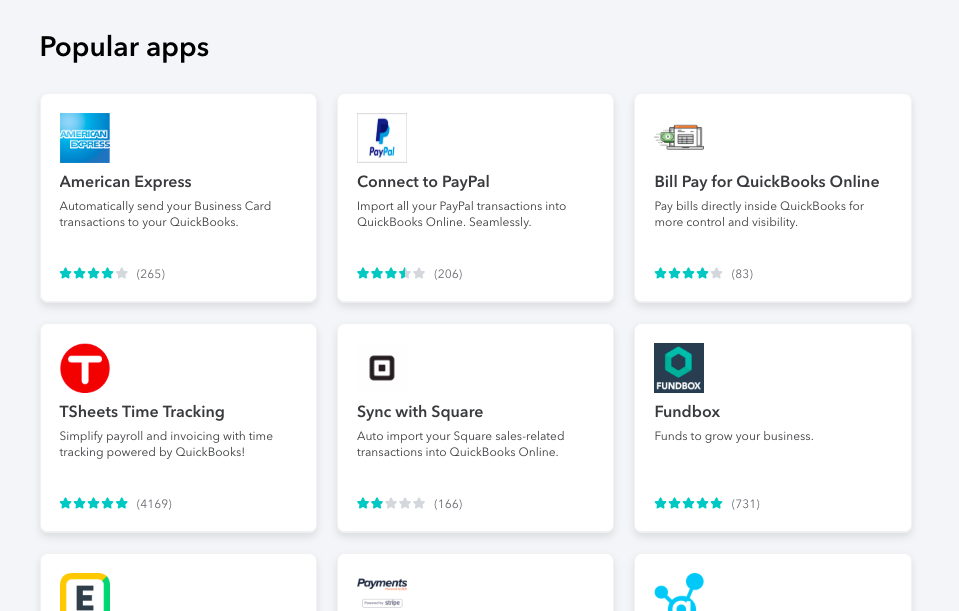 QuickBooks focuses on larger (or aspiring to be larger) companies by integrating with fund-raising software like Fundera, human resource apps like HRweb, or inventory management apps like Webgility.
If you're ramping up to build a bigger business, this app library may be more your fit.
See QuickBooks' App Integration Library
Adding Teammates
While you may be a single-person business, freelancer, or sole proprietor now, there may come a day when you want to scale your business to something a bit bigger.
In that moment, you may want to share financial data and reports with members of your team so the financial tracking burden doesn't fall completely on your shoulders.
Teammates who may need access to your accounting software include an accountant, a partner, a bookkeeper, or even just a trusted employee or assistant.
This is one element where comparing FreshBooks vs QuickBooks really took us by surprise. So far, FreshBooks has been tailored more for teams of one. And QuickBooks has been built more for teams and growing companies.
But team-adding abilities seem backward. Here's why:
Adding teammates with FreshBooks
With FreshBooks Lite, you can add new team members to your account for $10/mo per teammate.
It's a bit of a steep price considering the entire plan is only $15/mo but you may find it worth it to offload some of the burden of invoicing, tracking payments, sending proposals, etc.
Adding teammates with QuickBooks
Neither of QuickBooks' most basic plan (Self-Employed) or the next level up (Simple Start) allow you to add team members.
To add teammates using QuickBooks, you have to upgrade two levels to their $40/mo Essentials plan. While QuickBooks limits teammates to a max of 3 at this level, the math actually makes a bit more sense if you know you want to add your team immediately.
Here's how it breaks out when you compare them:
| Freshbooks Lite | Quickbooks Essentials |
| --- | --- |
| Starting price: $15/mo | Starting price: $40/mo |
| 3 Teammates: $10 each (total: $30/mo) | 3 Teammates: included in plan |
| Total: $45/mo | Total: $40/mo |
Take note: this math only makes sense if you already have 3 teammates who you'll want to give access to immediately.
Unfortunately, though, FreshBooks $10/mo/member cost never goes away while QuickBooks allows you to add up to 25 team members with their most expensive ($75) plan.
The short of it: if you have a large team and you care a lot about sharing access with them, go with QuickBooks.
Tracking Receipts
Depending on the kind of business you're in, you might have a lot of receipts you have to keep track of.
If you're primarily a digital-service-based business, this may not be the case since you don't often buy physical goods that need to be tracked.
But if you provide a physical service to your customers, it's likely you're frequently buying a new part, a new tool, or something else from a local store.
If that's the case, you'll want a good (easy) way to track your expenses.
With both FreshBooks and QuickBooks, you can take photos of your receipts with your smartphone and assign them to specific expenses pulled in from your bank account. It keeps everything organized nicely for later use.
Tracking Mileage
Commuting to a co-working pace, driving to a client meeting, or joining your customer on-site to provide your service—all of these, and more, are mileage expenses which can be deducted from your tax obligation. That means, you'll want to track your mileage closely.
Tracking Mileage with FreshBooks
Unfortunately, none of Freshbooks' plans offer mileage tracking built-in to the app itself. While it does have lots of third-party integration options for connecting your mileage app to Freshbooks, having it right in the app itself would be nice.
Tracking Mileage with QuickBooks
Here, QuickBooks outshines FreshBooks. Built directly in the app itself and available even in QuickBooks' most basic plans, you'll find a simple, mostly automated mileage tracker.
With QuickBooks Self-Employed (or really any plan), you'll have the ability to automatically track miles with your smartphone (no more keeping a notebook in your car). From there, you can separate business trips from personal trips and even add mileage manually if you didn't have your phone with you.
Learn more about QuickBooks' mileage tracking features
The Winner of 'Basic Features'
The winner of this battle was not easy to choose. In fact, we almost called it a tie.
But then we remembered one critical element that we had overlooked in this review: If you go with QuickBooks' most basic plan, you're stuck with it. You can't upgrade. It seems ridiculous, but it's true.
So even though QuickBooks Online has some nice added features and makes more sense if you're already an established team, we had to keep in mind that this battle was about basic features.
If you're just starting out—and just comparing the most basic of plans—then the better choice is:
FreshBooks' Lite Plan — Click here to try it free for 30 days
Why FreshBooks wins this battle
The primary thing to keep in mind here is that we're comparing basic features.
Meaning, if you're comparing FreshBooks vs QuickBooks as a fairly new freelancer or solopreneur, this is the right option for you.
FreshBooks Lite has all the right features for you to get started on the right foot and, perhaps more importantly, gives you the option to upgrade later on as your business grows.
If your business has already grown, you'll find the next section on FreshBooks vs QuickBooks premium features helpful.
Premium Features
If your goal is to grow (it's ok to stay small) and you do things right, you'll eventually find yourself with a business that's bigger than just yourself.
That's great news. And it can also add a bit of strain to organizing your finances, tracking paperwork like proposals or invoices, and maintaining proper team-wide communication at your company.
So for this next section we'll focus on the features you might need as your become more advanced in your small business.
We'll ask questions like: which would be better for a small agency? Or for a remote team of 5+ people? Are there enough features on both platforms to allow for the right kind of growth at the right price? Etc.
We've taken a few of our favorite premium features from each platform and compared how each one measures up on each count.
Overview
Below is a quick glance at more advanced premium features.
| | Freshbooks | Quickbooks |
| --- | --- | --- |
| Client Retainers | Yes | Yes |
| Scheduled Late Fees | Yes | No |
| Recurring Invoices | Yes | Yes |
| Track Project Profitability | No | Yes |
| Inventory Management | No | Yes |
| Manage Sub-contractors | Yes | Yes |
| Manage & Pay Bills | No | Yes |
As with the "Basic Features" section above, we aren't necessarily comparing apples to apples here. Meaning, we're not comparing solely the most popular plans, for example.
Instead, we're taking a more macro-level view and simply asking: of the premium features that exist (features not included in the most basic plan) which of them are worth noting and how does the competition measure up?
It would not be wise to make your final decision based on this section alone.
Client Retainers
If you're on your way to becoming a bit more advanced than a one-person business with a handful of new clients each month, you've probably considered client retainers as an option.
Client retainers are essentially an agreed-upon amount of work (and therefore revenue) your client is willing to pay you for each month. As you complete work for that client, they may up to the cap of the retainer (or more if they require more work).
Client retainers can be a good way to plan more long-term relationships and revenue with your clients.
Setting client retainers with FreshBooks
When using FreshBooks, you can set client retainers as easily as you create an invoice (which is pretty simple). You just have to put in the client name, the retainer amount, and a few other details and you're set.
Plus, one feature we really like is the "excess hours rate" feature. This means if your client needs you to work above the agreed-upon number of ours, they'll automatically be billed extra for the extra work. Brilliant.
Learn more about FreshBooks' retainer options here
Setting client retainers with QuickBooks
While not quite as simple with QuickBooks as with FreshBooks, you can also set retainer clients with this Intuit tool. Well, kindof.
You actually have to create a new invoice and then go in to customize that invoice. Once you're on the customization screen, you can edit the invoice to be part of a retainer setup, but it's definitely less user-friendly than FreshBooks.
Learn more about QuickBooks' retainer method here
Applying Late Fees
One rather effective way to motivate your clients to pay their invoices on time is to add a late fee to the invoice if not paid by its due date.
Adding a late fee is important yes, but it's all the more powerful if your accounting software can run it automatically—sparing you the responsibility of remembering dozens of invoice details and potentially saving you from an awkward conversation.
Setting Late Fees with FreshBooks
Freshbooks has always been a huge advocate of freelancers—helping them get paid on-time and fairly. And their late fee option aligns perfectly with their stance.
With FreshBooks, you can automatically set a late fee to auto-generate and send to a client who doesn't pay their invoice. In fact, it'll just tack the late fee right on to the existing invoice so when your client finally does get around to paying, they'll have to pay that extra 5%, 10% or whatever you've set it at.
Learn more about FreshBooks' late fee feature here
Setting Late Fees with QuickBooks
QuickBooks, while they do offer this option, has a much more manual approach (they claim its for your safety—you wouldn't want to send a late fee to someone who hasn't even seen their invoice, right?).
Within QuickBooks, you can apply late fees to invoices that haven't been paid, but you have to go into your invoices screen manually and select the invoices that are late.
Needless to say, we think this could be a bit more automated.
Learn more about using late fees with QuickBooks
Recurring Invoices
Perhaps the all-time best way to make your service-based business more reliable, predictable, and stable is to convert one-time clients into recurring clients.
It can be easier said than done and requires a lot of trust between you and your client.
But if done properly, you can set yourself up for nice steady growth. And sending recurring (auto-paying) invoices is a definite must if that's the direction your business goes.
Using recurring invoices with FreshBooks
FreshBooks offers the option to convert any current invoice to a recurring invoice pretty easily.
Just set the invoice type to "recurring" and then select how often you'd like it to repeat (weekly, monthly, etc.). FreshBooks will then generate and send a new invoice every time the cycle is completed.
Learn more about setting recurring invoices with FreshBooks
Recurring invoices in QuickBooks
QuickBooks also offers a recurring invoice option within their basic invoice settings. Sometimes they call these "Scheduled" invoices, but it's the same idea. Just tell QuickBooks to send an invoice for $200 every Tuesday morning and they'll do it.
As an added bonus, QuickBooks can also CC you on any invoice that gets sent so there's not just some crazed accounting bot out there sending recurring invoices long after you mean to.
See more details about QuickBooks' recurring invoice feature
Tracking Project Profitability
If you think keeping track of the status of multiple projects at once can be overwhelming, try also keeping track of the total number of hours worked on a project and the profitability of each project.
It can be a lot to handle—even for a mid-sized, growing company (perhaps especially as you're growing).
But if you want to stay profitable and continue to grow, you have to know where each of your projects stands.
Are you spending too many hours on it? Have your clients paid their invoices? Are you billing enough for the work you put in? Is the project financially underwater?
That's where a project-by-project financial view comes in handy.
FreshBooks' take on project profitability
Unfortunately (maybe because FreshBooks is built primarily for freelancers with few employees) there's not a really great way to see profitability by project when using FreshBooks.
You can, of course (as you can with QuickBooks) see a breakdown of expenses and revenues by category (for example, web design), but that's hardly the same.
Project profitability reports with QuickBooks
QuickBooks, on the other hand, has a far more reliable solution for tracking the profitability of each individual project you work on.
On your QuickBooks dashboard, you can get a complete financial view of all of your projects all in one place. You can also easily track labor costs, costs of goods, and other expenses all related solely to that project.
Learn more about QuickBooks' project profitability features
Inventory Management
While not every small business has to track inventory in order to get their daily work done, for those that need to, it's a critically important task. After all, if you run out of inventory, you run out of cash flow.
Tracking inventory using FreshBooks
Probably because it was built primarily to service creative folks (designers, writers, etc.), FreshBooks doesn't have a built-in inventory tracking mechanism. If you want to track inventory alongside your finances with FreshBooks, you'll have to try using one of their inventory add-ons.
Tracking inventory using QuickBooks
QuickBooks, on the other hand, includes basic inventory tracking capability on their most popular plan and higher.
Not only can you track your inventory levels and get alerts when inventory is running low, but you can also see costs of goods, manage vendors (if you have them) and export all this important data to Excel when needed.
Learn more about tracking inventory with QuickBooks
Managing sub-contractors
If you plan to continue growing your small business, you will probably work with contractors. Maybe you've already worked with them in the past. Or you might even have contractors on full-time or part-time staff indefinitely.
Either way, your team of contractors might have important information that you'll need as you manage your finances like: hours worked on a project; cost of assets to complete a project; etc.
For that, it's helpful if your accounting and client management software can include your contractors seamlessly.
Working with contractors in FreshBooks
When you hire a contractor and add them to your FreshBooks account, they're given their own private FreshBooks user account. They'll be able to see the projects you invite them to and add billable hours towards those projects. They can also process an invoice to you for the work they complete.
Working with contractors in QuickBooks
In QuickBooks, you can store critical financial data about the contractors you work with and, come tax time, you can use QuickBooks to send them their 1099 forms (if applicable) although an extra fee may apply to that situation.
Managing and paying bills
Wouldn't running a small business be amazing if all you ever had to do was collect payments?
But as the saying goes, sometimes you have to spend money to make money and you're going to inevitably have bills you'll need to pay each month.
A good accounting software will take that into consideration and help you pay your bills on time and from the right accounts.
Paying bills with FreshBooks
Regrettably, FreshBooks doesn't offer a way to automatically pay your business' bills every month. After searching high and low on my dashboard and all over Google, I just couldn't find anything even close to what I was looking for.
Admittedly, freelancers and solopreneurs may not have as many bills as, say, a brick-and-mortar store.
But certainly they do have bills to pay and it would be nice to do it all from the same place.
Paying bills with QuickBooks
QuickBooks, on the other hand, integrates with your bank to auto-pay important bills that keep your business moving forward.
It's important to note that they use an integration with Bill to provide this service which allows you to pay and track a variety of vendors, contractors, and bills.
You can also sync your payments and create checks from anywhere—which can come in handy when your landlord still will not take a credit card.
Learn more about QuickBooks' bill pay features
The Winner of 'Premium Features'
That wraps up the premium features battle and we think it's pretty clear we can feel confident in saying the winner is:
QuickBooks — Click here to try it free for 30 days
Why QuickBooks wins this battle
While both competitors had some nice premium features (and again, it will depend entirely on your own specific business), QuickBooks snuck ahead in this category because it seems to be built more for mid-sized businesses.
While FreshBooks is great for freelancers, or teams of 1-3 people, if you're already a more sizeable company you may want to go with QuickBooks. Additionally, if you need inventory management or have lots of vendors to pay, QuickBooks will be a better option for you right now.
Flexibility
Unless you've been in business for decades and you've got all your processes nailed down and you're confident your business will never have to change or adapt (Ha. Good luck!) you're going to need to be flexible.
And that means that your accounting software and invoicing app needs to be extremely flexible too.
In this section, we'll investigate which is more flexible: FreshBooks or QuickBooks.
Growth flexibility
Perhaps the most important question to ask is: will this accounting software continue to support me and my business as I grow (scale)?
To answer this question, let's review again the available plans from FreshBooks vs QuickBooks.

FreshBooks has basically 3 plans: Lite, Plus, and Premium. They also have a Select plan if your business outgrows the Premium plan (over 500 billable clients). Each new plan provides a higher max-client number and new features.
QuickBooks has 5 plans: Self-Employed, Simple Start, Essentials, Plus, and Advanced. They don't price by the number of clients, but add more advanced features with each new plan.
So far, they're about even in terms of flexibility to grow.
And that remains true unless you consider QuickBooks Self-employed plan (their most entry-level plan). As strange as it seems, it appears you can't upgrade from Self-employed to any other plan.
So if you're coming into this as a freelancer, a side-hustler, a solopreneur, or a tinkerer you would ideally join QuickBooks Self-Employed.
But then, if your business takes off (or even grows modestly) and you want to add a few new features, you can't upgrade directly.
Kindof a pain.
So for that, we're going to say Freshbooks is the most flexible accounting software when it comes to growing together with you and your business.
Team flexibility
Along with growth comes the need to bring other people into your circle of trust when it comes to your business finances.
Even if you don't choose to hire early on, you may still choose to hire an accountant to help review your books and make sure you're maximizing your tax deductions.
So the question is: which accounting software seems more flexible when it comes to adding team members?
FreshBooks allows you to add team members from the get-go on their Lite plan. The only caveat: each new team member will cost you $10/mo.
QuickBooks doesn't allow you to add team members until you level up to their essentials plan. And while there's no extra charge on that plan for multiple users, you're maxed out at 3.
We should note: both tools offer export options to download spreadsheets of your data and send to an accountant.
It's also important to remember that both FreshBooks and QuickBooks do have options to add and/or manage contractors—which might be your first set of team members anyway.
FreshBooks offers contractors at all levels and QuickBooks offers similar functionality beginning with their Simple Start plan.
So, which is better when it comes to flexibility?
If you take price out of the mix (we already hit on price above), then FreshBooks wins this one too.
While an extra $10/mo per user feels a bit steep in our opinion, it still remains more flexible since technically we could add thousands of users (if money weren't an issue) even on the most basic plan.
Even on QuickBooks' most advanced plan, you can only add a max of 25 users. And while it's likely you won't ever need more than 25 people to have access to your books, you might wish they had access/ability to invoice or track project finances.
Which is more flexible?
In the end, we have to say the more flexible account software for a young, hoping-to-grow business is:
FreshBooks — Click here to try it free for 30 days
Connectivity
As we mentioned earlier, every freelancer and small business owner knows: you have a million things to do.
Accounting, bookkeeping, or invoicing are just part of the mix.
Which means you need a small business accounting solution that can connect to other important tools in your business.
In this section, we'll take a look at FreshBooks' vs QuickBooks' ability to connect to the most important tools your company may need as it grows.
Number of available 3rd party apps
Since no two businesses are exactly alike, we can't pretend to know what apps you'll hope you can connect your accounting software with.
Instead, let's take a more high-level look at the third-party app marketplaces:
While we understand that more isn't always better, it's a decent starting point for an objective look at the connectivity abilities of each software
At the time of writing, FreshBooks has around 80 available app integrations in over 25 categories. They've also added a "FreshBooks Tested" certification which we really love since you don't have time to be messing around with apps that just don't play nicely together.
At the same time QuickBooks boasts over 700 available apps in 15 categories including payment processing, customer management, payroll processing, and QuickBooks Online backups. This makes sense due to QuickBooks' market saturation and history in the marketplace.
It's interesting to point out that FreshBooks and QuickBooks also have integrations for one another. We're not 100% sure why you would need both tools, but the option is there in any case.
Quality of 3rd party apps
Without using all 800+ of the apps available in both of the add-on libraries, it's hard to really judge who has higher quality app integrations.
We will say (and maybe just because there were significantly fewer apps total) I seemed to recognize far more brands and tools in FreshBooks' marketplace than in QuickBooks'.
Which offers more connectivity?
In the end, there's really no contest. If you want an accounting software that can connect to hundreds of other tools you might be using in your business, then the obvious choice is:
QuickBooks — Click here to try it free for 30 days
Financial Support
Just because you have access to an amazing small business accounting software tool like these doesn't necessarily mean you'll know exactly how to manage your business finances like a pro.
Which means, one important consideration when choosing an accounting tool is how much support they can give you in terms of financial knowledge and help.
Getting financial support with FreshBooks
While FreshBooks does have an extensive library of documentation, most of it appears to be centered around using their software or running your small business (proposales, invoices, clients, etc.)
We were unable to find any option for financial support from a live human being such as an accountant or a consultant.
Getting financial support from QuickBooks
QuickBooks, on the other hand, does offer a "Live Bookkeeper" option (click here and then toggle the "Partner with a live bookkeeper" tab).
Customers who want a little more professional financial help can have a certified bookkeeper sets up their books through a video conference. That same bookkeepers then provides monthly reports throughout the year.
It's unclear how much help they give you other than running the reports. And this premium upgrade will cost you a few hundred dollars every month (starting at $410/mo for QuickBooks' most basic plan).
Who offers better financial support?
When you take the hefty price tag out of the question, the answer becomes obvious. If you're terrified to set up your books alone and worried you won't know how to process important reports every month, then you should go with:
QuickBooks — Click here to try it free for 30 days
Technical Support Comparison
Financial support isn't the only kind of help you might need when using a cloud-based tool like FreshBooks or QuickBooks.
Depending on your skill level on the computer, you may find yourself in need of technical support when managing your books and other finance tools (especially in the beginning).
Support availability
There's nothing more frustrating than being stuck on a technical problem with no one to help you for days.
So it's critical to have good technical support on any bookkeeping or accounting software you choose.
Support availability with FreshBooks
If you decide to sign up for FreshBooks, you can expect a team of technical support staff ready to assist you.
And if you're a fan of talking on the phone, you're in luck: they have their support phone number listed directly in the "help" section.
Aside from the phone, they have a support email address with fairly quick response times, but hey: it's still email.
Support availability with QuickBooks
QuickBooks takes a similar approach to customer service, but I have to admit: their contact information is a lot harder to find. I think this comes with the sheer size of the company.
In order to find support, you have to first tell them what software you're using and how, then the general category of problem you're having. Based on your answers you'll be sent to a chat module where (hopefully) someone can help you.
Which support do we recommend?
Admittedly, we've not used the support teams much for either of these products.
But what we do like is the openness and transparency FreshBooks offers with their support.
While they are missing a chat module (comes in really handy if you're in an office and can't get away for a phone call), the fact that their support email and phone number are listed directly at the top of their support documentation page means they seem to put the customer very first.
We like that.
For that reason, if technical support is a critical element for you, we suggest you use:
FreshBooks — Click here to try it free for 30 days
What do real freelancers think about FreshBooks vs QuickBooks?
To wrap up this in-depth side-by-side comparison, we wanted to bring a more human element to this article.
So we asked our growing community of freelancers on facebook what, if any, experience they had comparing these two resources. Here's what they had to say:
Depends on your situation…
Web designer Cindy Rodriguez recommends QuickBooks Self-Employed if you're always planning to file a Schedule C, or FreshBooks if you're a freelancer.
"I've used both and prefer QuickBooks Self-Employed in some ways (ACH payments are processed for free, mileage is automatically calculated and it's only $10 a month I believe.)
You can use it as long as you can file a Schedule C which is probably a lot of freelancers. QuickBooks Online is a bit different and I'd recommend FreshBooks over it for freelancers."
If you have a lot of clients…
Freelancer Amber Richart has a lot of billable clients. Which is making her consider a switch:
"I haven't used QuickBooks but I have been considering going there and here is why – the cost – I'm a freelancer who is above the 50 client mark – but no where near a big business with team members – and because of that i have to pay the premium price $50 US.
I do love FreshBooks though and I use it mostly because of the time-tracking feature."
Considering a switch…
Graphic designer Jeffrey Brown has considered moving to FreshBooks—primarily because QuickBooks has gotten so expensive.
I did the trial of FreshBooks and have been using QuickBooks for over 10 years now. I see benefits to each, honestly. Haven't made the switch to FreshBooks because of the history with QuickBooks, I guess. QuickBooks is expensive, for what I use it for, I suppose. I am considering the switch, though.
Tell us what you think:
Now it's your turn. Join in the conversation(s) here:
Click this link to add your opinion to the conversation
Deciding which is better for you:
In the end, only you know your business situation well enough to choose.
The truth is, you probably can't really go wrong with either of them. Both have their strengths and both have their weaknesses. If neither seem like a fit, there are plenty of QuickBooks alternatives out there too.
But that can be a pretty disappointing answer if you're really having some decision paralysis here. So… here's our overall recommendation:
Our overall recommendation:
If you just can't decide or they both seem like a good option, we recommend you start with FreshBooks.
Why? Their team seems to really care about freelancers and small business owners. They have amazing ratings, all the best cloud-based features, and only a few drawbacks. QuickBooks out-sizes them in the market, but FreshBooks provides a superior experience and will most likely have the most improvements in the coming years.
And remember, you can click here to try FreshBooks free for 30 days.
More questions people ask about FreshBooks vs QuickBooks:
Below, we've collected quite a few questions and attempted to give our best answer to help you choose.
Does FreshBooks integrate with QuickBooks?
Yes. As mentioned in our app integration section above, both have integrations for the other. We're unsure why you'd need to connect them, but their must be a reason.
What is the difference between QuickBooks and QuickBooks Self-Employed?
As mentioned in our plans and pricing section above, the biggest limitation with QuickBooks Self-Employed is that you aren't able to upgrade to another QuickBooks plan if you outgrow it. So if you plan to grow, go with QuickBooks' Simple Start plan or FreshBooks' Lite plan.
What is the easiest accounting software for small business?
For ease of use, we recommend FreshBooks. The onboarding is beautiful and they walk you through everything so that your business can be up-and-running the same day you sign up.
What is the best accounting software for self-employed?
If you're self-employed and never plan to hire or grow, you can safely go with either and be fine. But if you'd like software that can grow with you, you should definitely go with FreshBooks.
Is QuickBooks hard to learn?
When compared with FreshBooks, QuickBooks is a little harder to learn. This is probably due to the fact that it's been around longer and software tends to get a bit clunkier with age. In fairness, though, the modern online-only versions of QuickBooks are pretty slick.
Is there a free version of QuickBooks?
No. We've never heard of a free version of QuickBooks. You can definitely try QuickBooks free for 30 days by clicking here though. If you can't afford to pay for a service like FreshBooks or QuickBooks, there are lots of free accounting software options out there.
Does FreshBooks do payroll?
No. FreshBooks does not currently handle payroll. But they do seem to have a very good relationship with Gusto, a leading payroll software which integrates pretty seamlessly with FreshBooks.
Does FreshBooks track mileage?
No. FreshBooks does not currently have a native mileage tracking feature. But they do connect well with Everlance, a leading mileage tracking service for freelancers. If you want an accounting software with mileage tracking built right in, you'll need to try QuickBooks.
Is QuickBooks Self Employed Free?
No. There is not a free version of QuickBooks available anywhere. QuickBooks Self-Employed is the cheapest option available from QuickBooks but, as we mentioned in this article, it has significant limitations.
What did we leave out?
After looking through all of this information, what did we leave out? Do you still have questions? If so, just contact us or chat with us in the Freelancer Mastermind on Facebook.
We sincerely hope this evaluation has helped and wish you the best of luck.
Keep the conversation going...
Over 10,000 of us are having daily conversations over in our free Facebook group and we'd love to see you there. Join us!