This post may contain affiliate links. See our affiliate disclosure for more.
Finding the best accounting software for freelancers is an important decision.
If you're not paying attention to your finances, you won't be in business for long. And without good accounting software, it'll be hard to watch your finances.
So building a financially viable freelance business—one that survives for a long time—relies on finding the best accounting software for freelancers.
After researching dozens of accounting software for freelancers, we've narrowed down this list to eight with explanations as to why.
We'll outline some of the best features of each accounting software on the list below in order to help you decide which is the best accounting software for your freelance business.
First on the list is Bonsai—an all-in-one business solution for freelancers. While Bonsai does a lot more than accounting for freelancers (you can read our full Bonsai Review here) their accounting features are top-notch.
Bonsai is built specifically for freelancers (as opposed to competitors like Quickbooks or Freshbooks who target businesses of all kinds and sizes) which makes it an especially powerful freelance accounting app.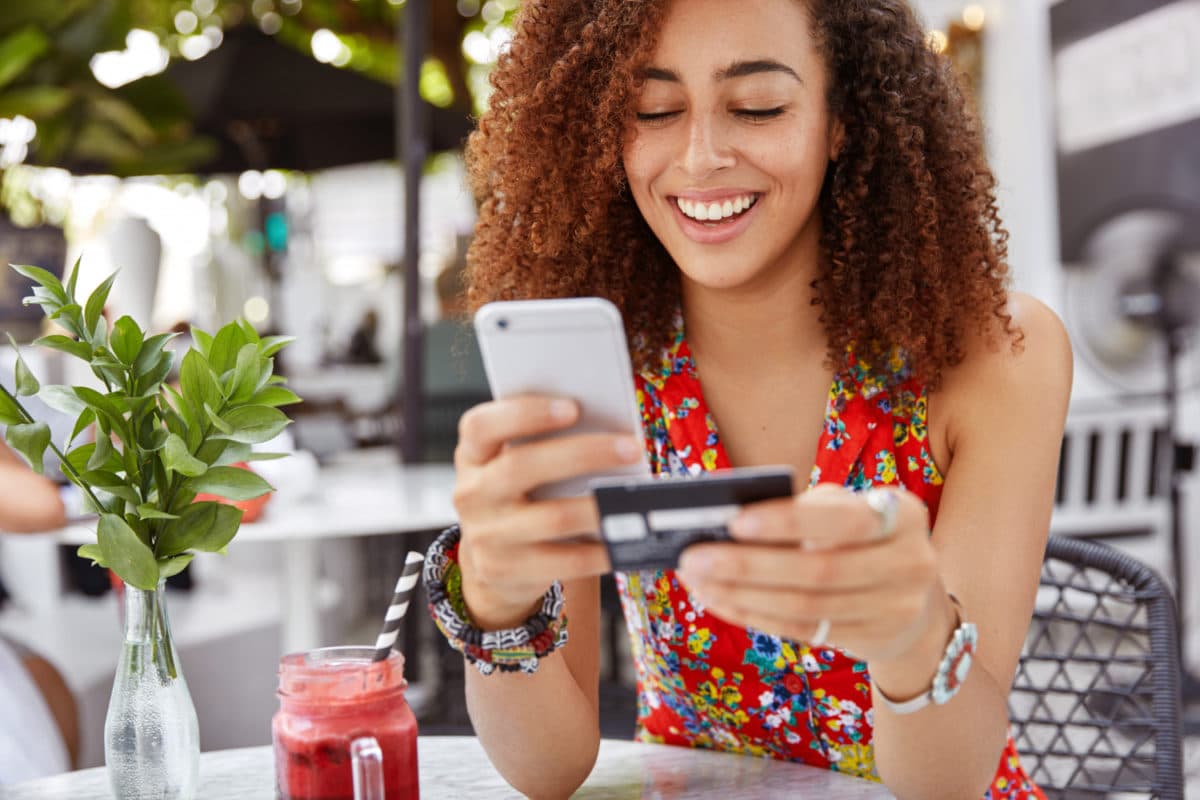 Bonsai Accounting Features
Here's are some winning features you can expect from Bonsai, one of the best accounting software for freelancers:
Important accounting reports
If you don't know your numbers, you can't improve your business. So Bonsai provides freelancers with important accounting reports like Profit & Loss Statements or Balance Sheets.
Customized expense categories
In order to generate accounting reports that actually help you as a freelancer, Bonsai lets you customize your own expense categories. Along with the typical categories (marketing & advertising, office expenses, etc.), you can also add custom categories like the cost of goods sold or client gifts.
Best of all, Bonsai lets you hand off your accounting work to a professional by allowing you to give access to your own accountant. With Bonsai's accounting software, you can do quite a bit yourself. But if you're nervous or simply don't have the time, adding your accountant is a great option.
Bonsai Pricing & Other Details
It's clear Bonsai has some great features, making it one of the best accounting software for freelancers. Now, let's take a look at some of the pricing and other important program details.
Does Bonsai come with a free trial?
Yes. Bonsai for freelancers comes with a 14-day, risk-free trial where you can test out all their accounting features for freelancers.
How much does Bonsai cost?
After the 14-day free trial, Bonsai starts as low as $19/mo USD for freelancers.
Click here to try Bonsai free for 14 days
Let's talk about Hectic.
It's called "The Freelancer OS" because from the Essentials plan and above, Hectic was designed to fulfill all of your needs as a freelance business owner.
Of course, the accounting part of it wasn't left behind. Hectic makes it easy to stay on top of every financial detail so that you can pay taxes, bill expenses, calculate profits, and more—no sweat.

Hectic Accounting Features
Ultra organized expenses
Never forget who owes you what for what again. In Hectic, you can categorize expenses, attach receipts, and assign costs back to specific clients.
Click-to-invoice reimbursements
Getting reimbursed has never been simpler. See what any client owes you at a glance, and attach expenses to invoices in just a few clicks.
Put your finances on autopilot with Plaid
Just attach your business credit card or checking account with Hectic's Plaid integration and let your expenses auto populate.
Seamless third-party compatibility
Need to finish off your finances elsewhere? Not a problem. Hectic plays nicely with all of the tools accountants love, like Zero, Quickbooks, and more.
Is Hectic free?
Hectic supports three tiers, including Pro and Teams, however, everything you need to run your freelance business is including on the Essentials plan, free forever, and without any limits.
Click here to get started with Hectic for FREE
Next up on our list of best accounting software for freelancers is Freshbooks. While Freshbooks has grown to service companies of all sizes, it has a long history of working with freelancers.
Their founder, Mike McDerment, started Freshbooks to solve his own invoicing and accounting issues as a web design freelancer. The simple-yet-powerful features make Freshbooks one of the very best accounting software for freelancers on the market today.
Freshbooks Accounting Features
Here are just a few stand-out features you can expect from Freshbooks' accounting service if you sign up as a freelancer.
Double-entry accounting
Freshbooks uses double-entry accounting practices which means everything is accounted for on both the credit and debit side of your financial records. This reduces chances for error come tax time and helps you be assured your records are accurate.
Planning & forecasting
Freshbooks helps you forecast your financial future which means you can easily decide if you can afford to hire subcontractors or employees, invest in marketing, or add a little extra to company profits down the road.
Pre-payment and overpayment tracking
If you've ever needed to refund a client or tried to send them a discount, you know that can disrupt your financial records. Freshbooks has a "Credits" feature that lets you track overpayments, client credits, or prepayments and then apply their amounts to future invoices.
Freshbooks Pricing & Other Details
Now that you've seen a few unique things Freshbooks can do for you as a freelancer, let's take a look at their pricing.
Does Freshbooks come with a free trial?
Yes. Freelancers can sign up to try Freshbooks complete free. You don't even have to put in a credit card to sign up. Freshbooks' free trial lasts 30 days.
How much does Freshbooks cost?
Once you've used the 30-day free trial, Freshbooks costs anywhere from $6/mo USD to $20/mo USD if you pay annually and depending on which accounting features you want to activate.
Click here to try Freshbooks free for 30 days
Freely empowers beginning or early-stage freelancers to prepare for tax season in less time than ever before, and with a focus on maximizing deductions.
Unlike other accounting software, Freely has been designed with tax time in mind. It is probably the best option if you want to focus on your passion and on business growth without having to stress about taxes.
Here are some of the core features that Freely employs to help make your freelance accounting a breeze:
Freely Accounting Features
Untangle business and personal expenses
When just starting out, you might be using your personal bank account for your business income and expenses. Don't worry, Freely can help you keep your finances organized! It securely links to your bank accounts and credit cards and untangles your transactions into work or life so you can effortlessly track your profits and spending with clarity and accuracy.
Find tax deductions most people miss
Knowing what is deductible and what is not can be a headache. Freely automatically scans your purchases and finds the expenses you can write off. No accounting or tax knowledge needed! It even categorizes them according to the IRS Form 1040 Schedule C deductions so you can easily deduct them in your taxes.
By the way, Freely can go back up to 13 months–it can certainly come in handy if you haven't tracked any expenses for this year.
Automated, pre-filled tax reports
This is probably our favorite feature. When you sign up to Freely, they'll ask you how you plan to file taxes. Depending on your filing method, they will either provide you the exact tax reports your CPA or accountant needs (Profit & Loss Statement, etc.), or a set of personalized step-by-step instructions for entering the right numbers into your tax filing software of choice, along with your pre-filled Schedule C.
For Turbotax users, Freely even offers a Google Chrome plugin for automatically transferring your data, in-browser.
Freelancers can rest easy knowing that Freely will help calculate your taxes and remind you when they're due.
Freely Pricing & Other Details
Needless to say, Freely saves U.S. freelancers time and money by automating bookkeeping with a unique focus on optimizing for tax season, both at filing time and all year round.
Does Freely come with a free trial?
Yes. When you sign up to try Freely, you'll get a 14-day free trial.
How much does Freely cost?
Freely has one simple price: $15/mo USD. On top of uncovering an average of $1,137 per year in extra tax deductions for freelancers, Freely will automatically deduct itself from your taxes as an eligible accounting expense!
One of the best accounting software for freelancers is, without a doubt, the classic Quickbooks.
While lots of Quickbooks alternatives have popped up over the years, this accounting app holds its ground as one of the best options for businesses of any size.
Quickbooks Self-Employed is particularly good accounting software for freelancers.
Quickbooks Accounting Features
While a few other accounting apps on this list also include features like proposals, Quickbooks focuses more strongly on the most important accounting features you'll need as a freelancer. Here are a few that matter:
Manage multiple bank/online accounts
If you've got multiple bank accounts you need to manage all from one spot, Quickboks is a great option for you. You can connect virtually any bank account or online account including all major banks, many smaller entities (like credit unions) and even your PayPal account.
Track mileage & receipts easily
If you find yourself driving to client meetings or purchasing physical goods for client projects or for the office, Quickbooks' mobile apps will be a big help, allowing you to snap a receipt or track mileage which can be deducted from your taxes later.
Assistance with quarterly taxes
As a freelancer, you know you have to submit taxes (at least in the U.S.) every quarter. Sometimes, quarterly tax payments can get a bit confusing or overwhelming. Quickbooks helps you estimate your payment and remember to pay it on time.
Quickbooks Pricing & Other Details
Of all the accounting apps for freelancers we've covered so far, Quickbooks seems to have the most complicated pricing. It's still affordable, but figuring out which plan suits you best can be a bit complicated.
You may want to review the various options in our comparison of Freshbooks vs Quickbooks.
Does Quickbooks come with a free trial?
Yes. Quickbooks has a 30-day free trial. However, if you choose not to go with a free trial, you can also sign up for Quickbooks at 50% off for the first 3 months. Either is a good option for freelancers.
How much does Quickbooks cost?
If you choose not to go with the free trial, Quickbooks is 50% off the first 3 months which means their lowest plan is $12.50/mo USD for the first 90 days. After that, it jumps to $25/mo USD for their most basic plan.
It's a bit on the expensive side, but it's one of the best accounting software for freelancers who are serious about managing their finances.
Click here to try Quickbooks free for 30 days (or save 50% on your first 3 months)
There's one accounting app for freelancers that's not as well-known as brands like Quickbooks or Freshbooks, but it's a real powerhouse and easily one of the best accounting software for freelancers on the market. It's called Harpoon.
Harpoon has a powerfully unique approach to freelance accounting. They automatically track your work and build out a financial forecast so you can quickly and easily see how much you'll generate over the next months. Their reports centre around your own financial goals and help you improve over time.
Harpoon Accounting Features
Harpoon is such a unique and powerful accounting app for freelancers and small businesses. There's a lot to be amazed by. Here are just a few of the best features you can leverage to grow your freelance revenue:
Financial Goal Tracking
Probably the best thing about Harpoon is its focus on your financial goals. Their reports are built around goals you've set for your business and are engineered to help you hit your financial goals ahead of schedule.
Real-Time Revenue Forecasting
Instead of just tracking what you've done in the past (like many accounting apps) Harpoon also helps you focus on the future of your business by building reports to outline where your freelancing is headed financially.
Responsible Project & Expense Budgeting
One obvious element of successful freelancing is to spend less than you make through your work. Overspending on projects can lead quickly to a financial mess. Harpoon helps you predict how much you'll make and how much you can spend on a project-by-project basis and also helps you keep your overall spending under control.
Harpoon Pricing & Other Details
It's clear to see after glancing at some stand-out features why Harpoon is at the top of this list of best accounting software for freelancers. Let's break down what you can expect to pay for Harpoon.
Does Harpoon come with a free trial?
Yes. Harpoon App comes with a 14-day free trial so you can add your financial goals and test out the unique features of this accounting app.
How much does Harpoon cost?
After the 14-day free trial, Harpoon's freelancer-tier package starts at $19/mo USD which is pretty affordable for all the great financial forecasting it does for you.
Click here to try Harpoon free for 14 days
Some people are naturally gifted accountants. For everyone else, there's Found. Found is all-in-one business banking that makes managing your freelance finances easy.
Built for the self-employed, Found is a great option for your business. It handles your banking, taxes, bookkeeping, payments, and invoicing—it's a suite of accounting tools, all in one app. Your Found debit MasterCard automatically tracks your expenses, so you can easily categorize and deduct them on your taxes.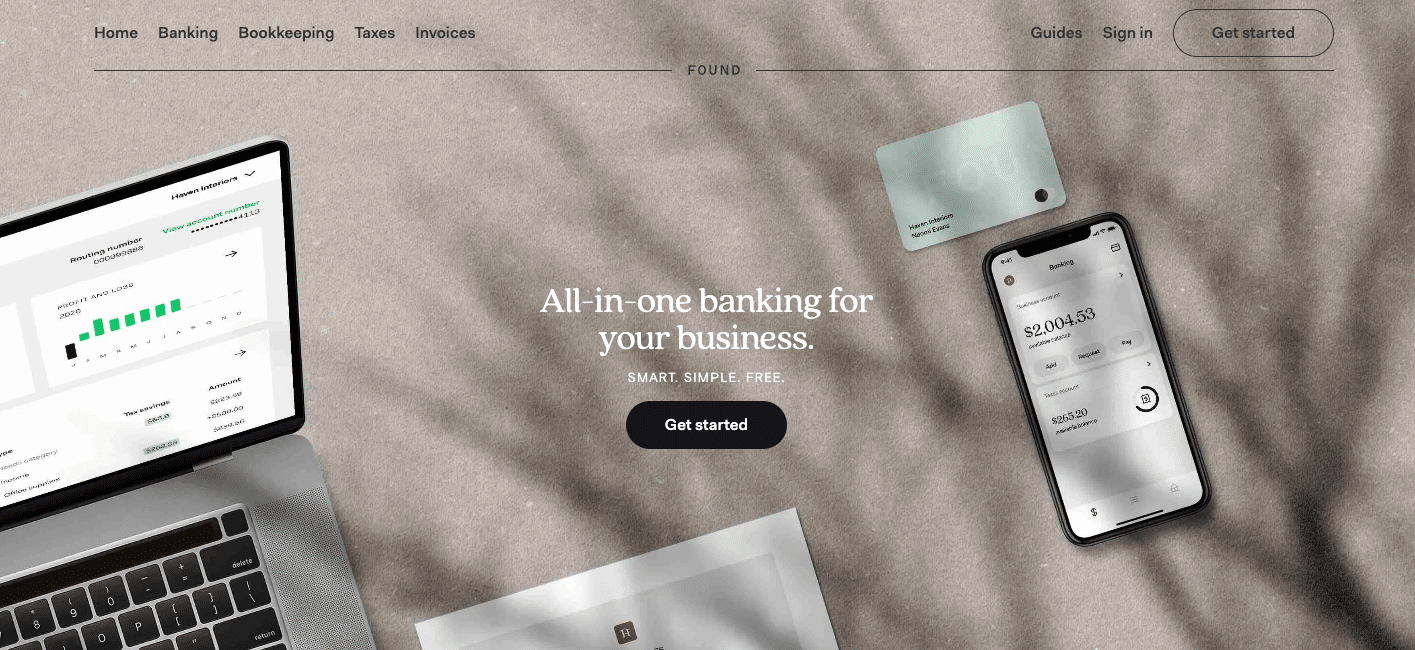 Invoice clients for free, receive payments to your account, and see your tax estimate in real time so you'll always know what you owe. Auto-save for taxes, complete your Schedule C form, and even pay taxes right from the app.
Keep your books in order and yourself sane with Found's simple, easy accounting tools.
What are Found's main features?
With a free Found business bank account, you can:
Use your Found debit MasterCard to track your business expenses
Easily categorize purchases to make deductions a breeze
Track your invoices, payments, expenses, real-time tax estimate, and more—all in one place, all for free
Save receipts in the app
Easily generate income, expense, and profit and loss reports
Send and track unlimited free invoices
Create an account in minutes and find out why thousands of businesses rely on Found. Love what you do. Let Found do the rest.
* Disclaimer: Found is a financial technology company, not a bank. Banking services are provided by Piermont Bank, Member FDIC. *
Next up on our list of best accounting software for freelancers is a fantastic option called Fiverr Workspace. If you haven't heard of Fiverr Workspace, you're missing out. It's owned by Fiverr—one of the largest freelance marketplaces in the world.
Needless to say, they know a thing or two about what it takes to succeed as a freelancer. That's what makes Fiverr Workspace one of the best accounting software for freelancers (among many other features too).
Fiverr Workspace Accounting Features
Fiverr Workspace comes with tons of stand-out features and definitely doesn't disappoint when it comes to their accounting app for freelancers. Here are a few great things to expect:
Simple, clean reporting
With Fiverr Workspace, you can see how your freelance accounting is progressing over time with their easy-to-ready data charts. If you don't like most accounting reports because they're too complex, this is a great option for you.
Easy access to important documents
When tax time rolls around, you'll want quick and easy access to the most important accounting reports for your freelance business. Fiverr Workspace makes it clear which reports are most helpful and what you'll need them for. Plus, you can easily export any report to send to your accountant.
Reminder and alerts to keep your profits up
Finally, Fiverr Workspace utilizes a series of reminders and alerts to help you know when it's time to send an invoice, when your invoices are paid, when client subscriptions are charged and more.
Fiverr Workspace Pricing & Other Details
As you can see, Fiverr Workspace has a lot to offer—not only as an accounting app but also as a full freelancing suite. Let's take a look at what you can expect to pay for when using Fiverr Workspace.
Does Fiverr Workspace come with a free trial?
Sort of. Fiverr Workspace has a free plan which you can use for as long as you want without paying anything. However, under the free plan, you're limited to one client and there are other account limitations. There's also a 30-day money-back guarantee on their paid plan, so it's basically free if you don't like it.
How much does Fiverr Workspace Pro cost?
The full version of Fiverr Workspace is called "Fiver Workspace Pro" and it costs $18/mo USD. Considering you get a lot more than accounting features, that's a price worth considering.
Click here to try Fiverr Workspace completely free.
Lili is a banking app designed specifically for freelancers. It has features that freelancers will love, such as no restrictions on minimum monthly balance and no monthly service fees. Think Lili might be too niche? It comes with great perks like mobile check deposits, a mobile banking app, and a VISA debit card for easy purchasing. Asides from that, you can easily manage your freelance business expenses on the fly, and set up a "Tax Bucket" — a set percentage of your income you choose to set aside for taxes.
Now, you see what we mean when it's made for freelancers? 
Lili Accounting Features
No account fees. No minimum balance
Lili charges no monthly service charge and no minimum balance requirement. They also don't charge you when you make withdrawals at the ATM.
Comes with a Visa debit card
Lili's checking account comes with its signature Visa business debit card. It's Visa, so it's accepted everywhere and it protects you from unauthorized use of your card.
The perfect fit for your digital pro tool kit
If you use Lili to deposit your earnings from online platforms and payment apps – you get your money up to 2 days earlier.
Allows you to freeze your card
Lost your card? Lili allows you to freeze and unfreeze your card from the comfort of your couch or wherever you are.
Lili Pricing & Other Details
As you can see, Lili has a lot to offer—not only as an accounting app but also as a full freelancing suite. Let's take a look at what you can expect to pay for when using Lili.
How much does Lili Pro cost?
In addition to the fee-free Lili Standard account, Lili users have the option to upgrade to a Lili Pro account, which has a monthly fee of $4.99. Lili Pro includes a Premium Visa Business debit card with cashback rewards, fee-free overdraft, automatic savings (with 1% APY), among other features.
It's also great for sending invoices via the Lili Pro plan and helps you create, manage and organize your invoices from the Lili app. Click here to sign up for Lili.
How to choose the best accounting software for freelancers
After reviewing this list of best accounting software for freelancers, you might find yourself overwhelmed still at facing this important decision.
If you're not sure, even after reading the details above, here are a few more things you can do to find the best accounting software for your freelance business:
Ask your accountant
If you've got an accountant who already helps with your finances, they may already use some accounting software and doubling up would be more detrimental than helpful.
Ask a financially literate friend
If you've got it whittled down to just a few options and you're not sure how to proceed, consider asking someone who knows more about accounting than you do. Most of us have a friend or two who either work professionally with money or at least geek out over finances.
Ask a fellow freelancer
Finally, you can ask a fellow freelancer which accounting software they use to run their freelance business. If you don't know any fellow freelancers, you can tap into our mastermind (currently over 10,000 members) for FREE and ask there.
Whichever you decide on, finding quality accounting software is better than none at all. So, just dive in, give it your best shot. You most likely can't go wrong with any of the options on this list.
Keep the conversation going...
Over 10,000 of us are having daily conversations over in our free Facebook group and we'd love to see you there. Join us!