Table of Contents
This post may contain affiliate links. See our affiliate disclosure for more.
The $1.3 trillion gig economy is scaling at a CAGR of 5%. Freelancers are spoilt for choices when it comes to accounting software. Two of the top options to choose between are ZipBooks and Wave Apps. So which one is best suited for your needs? We put the two platforms head-to-head in our ZipBooks vs Wave evaluation.
Let's start by briefly evaluating the essential elements of good accounting software for freelancers. We will then do a head-to-head and granular comparison between ZipBooks and Wave based on features, pricing, and overall pros and cons.
We will wrap up by analyzing the differences between the two platforms, thereby enabling you to evaluate which bookkeeping software is best for your needs.
ZipBooks vs Wave Essential Elements of Accounting Software
Not all freelancers have a finance and accounting background, yet functions like billing, payments, and tracking expenses are an integral part of a freelancer's life. Hence, they need intuitive and easy-to-use freelance accounting software to tackle their day-to-day accounting needs. For a start, both ZipBooks and Wave are viable free-to-use alternatives to QuickBooks.
Before we get into evaluating ZipBooks vs Wave, let's look at both platforms on two basic elements, ease of use and access to core functions.
1. Easy to use
Both ZipBooks and Wave have an intuitive and user-friendly interface that doesn't require lengthy video tutorials to master. ZipBooks displays its financial performance dashboard on sign-in. You can create and complete all core tasks from this dashboard.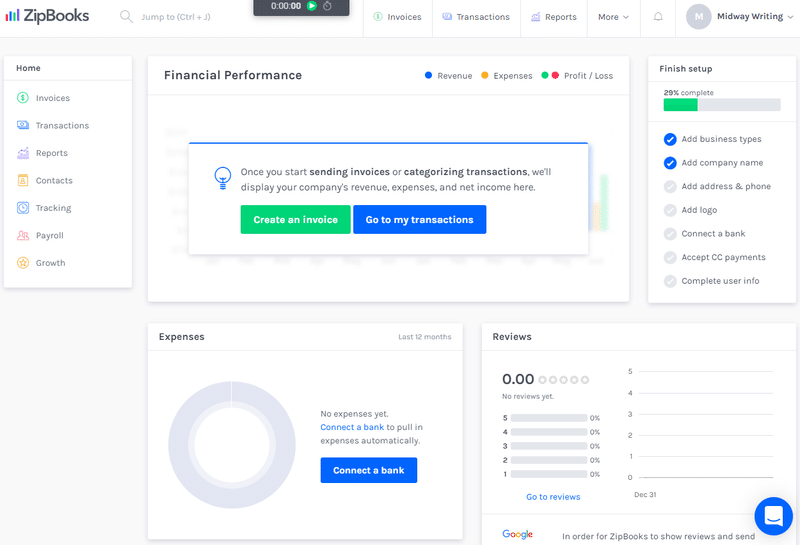 Wave works across the four most popular browsers; Chrome, Firefox, Safari, and Edge. They also have a mobile app for iOS and Android. Like ZipBooks, the home dashboard of Wave gives you direct access to the core features.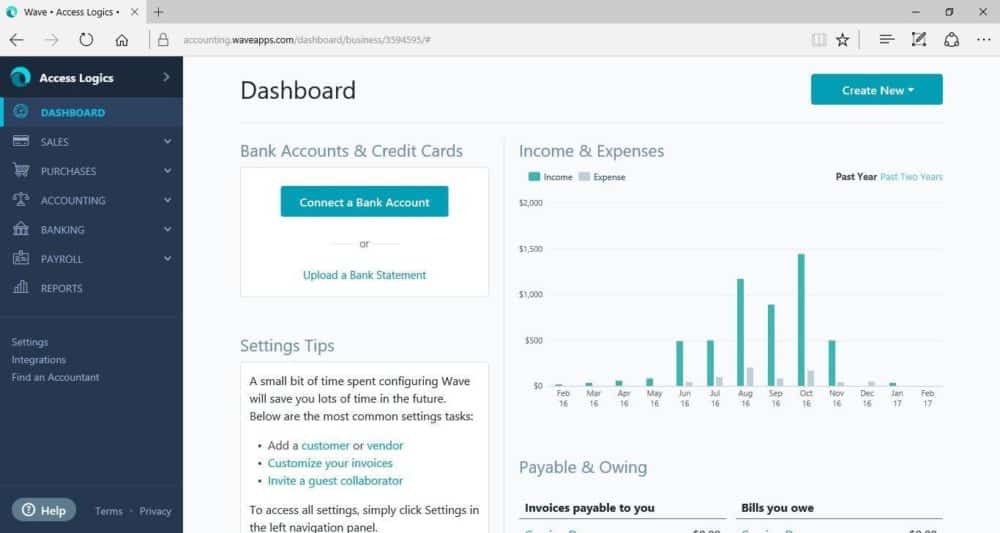 The wave dashboard gives you an overview of business performance and functions like the cash flow graph and expenses. The information is presented in a bar graph. The data provides you with an overview of your financial inflow and outflow. Both software score high on ease of use and are beginner-friendly.
2. Core functions
Both ZipBooks and Wave make it easy for you to do things like invoicing, tracking payments, and logging deductible expenses. ZipBooks and Wave both offer chat support on their free plan, although the free chat support on Wave is limited to 60 days. Both ZipBooks and Wave offer an extensive and searchable FAQ section on their websites.
Let's now deep dive and evaluate each platform in granular detail.
ZipBooks is an accounting software popular with independent freelancers, sole proprietors, and small businesses. ZipBooks accounting software offers a free plan and a two-tiered paid plan. So if you're currently starting your online business and you want to scale down the line, the paid plans from ZipBooks will facilitate the scaling seamlessly.
A nifty feature of ZipBooks is its machine learning-driven, "intelligence" capability. This intelligence gives you actionable insights to retain customers, cutting your payment cycle and helping you unearth money-saving avenues.
Actionable insights from intelligence-driven functions like Business Health Score and Invoice Quality Score help optimize your business performance.
With the recent integration of payroll functionality, ZipBooks work well for small to mid-sized companies. However, a lack of an inventory management feature makes ZipBooks more suited to service-centric businesses rather than retailers.
1. Features
The Starter plan is the ZipBooks free-to-use plan. It offers a good selection of accounting and bookkeeping features and enables you to connect to a single bank account while tracking unlimited customer and vendor details.
The ZipBooks starter plan allows you to track up to 1099 in real-time, besides tracking receipts and managing sales and expenses.
ZipBooks paid plan, the Smarter plan, gives you access to additional features like the ability to connect to multiple bank accounts, auto-billing, and the ability to craft automated payment reminders. It's great and you can use it in coordination with other software to track things like shift planning.
Accounting:
ZipBooks is a good business accounting software. You can do double-entry accounting, and you can link the software to your bank account, eliminating the need for multiple entries.
A chart of accounts is a default feature and will serve the needs of small to medium-sized businesses. The chart of accounts allows you to add additional accounts based on your needs.
Intelligence:
At the heart of ZipBooks intelligence is a customized algorithm that draws on millions of data points. The algorithm enables ZipBooks to offer actionable insights as part of its core functionality.
Business Health Score gives you a birds-eye-view of the hygiene and success of your business. Invoice Quality Score enables you to create professional invoices that communicate accurately and ensure timely payments.
Auto categorization is another intelligence-driven feature that remembers how you categorize each transaction and implements the process automatically. This saves you the time and effort of categorizing each entry manually.
Billing:
Raising an invoice with ZipBooks is easy, and you can customize your invoices with your logo, color accent, and the preferred mode of payment.
You can add a customized note on each invoice and create an invoice template for future use. The invoice quality score helps to present billing information clearly.
Expenses:
Tracking and managing expenses are an integral part of running a business, and ZipBooks has got you covered on this front. The software tracks billable expenses by order and client and adds them to your final invoice.
Receipts of billable purchases are generated from your phone. ZipBooks allows you to split your purchases between different clients for greater billing accuracy.
2. Pricing
ZipBooks is a scalable business accounting software with three paid plans.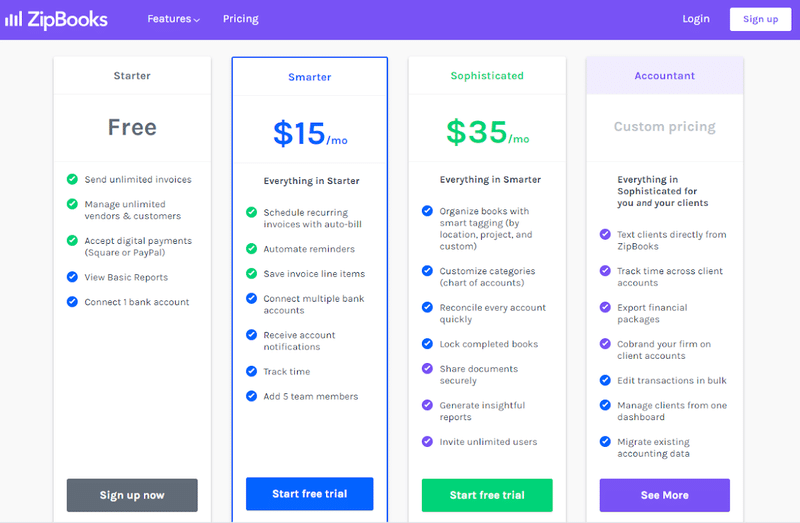 The Starter Plan is free and valid for a single user. The Smarter Plan supports up to five users and offers additional benefits like connectivity to multiple bank accounts and a time tracker function.
The Sophisticated Plan offers access to an unlimited number of users and includes all the functionalities of Starter and Smarter plans. The accountant plan is ideal for freelancers handling bookkeeping and accounting functions for multiple clients.
3. Pros
There's a lot to like about ZipBooks, and it's tough to narrow it down to 2-3 pros.
Easy to use and no learning curve. You can log in and get started right away.
The flexibility of billing and invoicing. Easy to set-up, and great for branding.
The intelligence-driven functions like Business Health Score
We would be doing an injustice to Zipbooks if we didn't mention the excellent customer support across all plans.
4. Cons
Disclaimer Alert: We're splitting hairs when we talk about the cons of ZipBooks, but here it goes.
Time tracker is only available on the paid versions.
The software is U.S.A.-centric, and you won't be able to link your bank account if you are using it outside of America.
Limited report generation with the free version.
As we said, we're splitting hairs here.
Let's now move on to evaluating Wave in granular detail.
If you are a freelancer working as a sole-proprietor, say a freelancer, then Wave Accounting may be the ideal business accounting software for you.
As they put it, "Wave Accounting is the better way to make, move, and manage your money." Wave Accounting, also known as Wave Apps, is ideal for micro-businesses and independent freelancers. With Wave Accounting, all the accounting features are free to use. You only pay if you link your payments through Wave Accounting, or if you opt for their payroll plan.
The benefit of signing up for Wave Payment is a faster payment cycle as your clients can pay you directly from your invoice.
Wave Accounting enables you to handle diverse tasks like scheduling recurring payments for a client on a retainer, employee payroll, and creating performance reports.
1. Features
For a free-to-use accounting software, Wave Accounting is rich with features. The list of available features is extensive and includes sales, purchasing, accounting, banking, and reporting.
Wave Accounting allows bank connectivity, while Wave's accounting reconciliation keeps your accounts updated. If you sell a few items, Wave Accountings inventory tracking feature is a welcome bonus.
Accounting:
By connecting your bank account to Wave Accounting, you can import and reconcile your banking transactions with your book entries. In case you are not comfortable linking your bank or credit card information, you can manually upload your bank statements.
Wave Accounting provides a detailed tutorial for its reconciliation feature. By clicking on your chart of accounts, you can add a new account, or change the name of an existing account.
Invoicing:
Wave Accounting enables you to generate invoices and customize them for your logo and brand color accents. You can use the invoicing feature to auto-generate invoices for repeat customers.
Your billing and payment information automatically syncs with the Wave Accounting software. You can manage accounts receivables, customer information, and track payments from a single dashboard.
With Wave Accounting you can generate invoices on the go from your iOS or Android device, and you will get notified every time your invoice is opened, gets due, or is paid. With such a feature rich invoicing module it is no surprise that Wave Accounting ranks in the top 17 invoicing software for freelancers.
Payments:
Wave Accounting offers a paid plan called Wave Payments that enables you to route your payments directly from your invoices. Wave charges 2.9% + $0.30 per Visa and Mastercard transaction and 3.4% + $0.30 per Amex transaction. The normal processing time is two to seven working days.
Payroll:
Wave Payroll is a paid feature that enables you to add your employee's details like salary, benefits, tax details, and pay structure. You can sync your timesheets or enter the hourly timings manually, and Wave Apps will calculate the wages payable.
The payroll function automatically deducts taxes payable from each employee's wages, and wages are credited directly to the employee's account.
Receipts:
Wave Accounting allows you to do away with managing paper receipts. Download Wave's mobile scanning app, and you can scan and upload all your receipts directly into Wave. The receipts sync automatically with Wave to update you on expenses in real-time.
You can scan your receipts even when Wave is offline. Wave will automatically sync with your mobile device next time it's online and upload your receipts. For receipts in your mailbox, email the receipt to [email protected], and they will be uploaded into the system.
2. Pricing
All accounting features in Wave Apps are free-to-use. However, features like Wave Payment and Wave Payroll are paid features.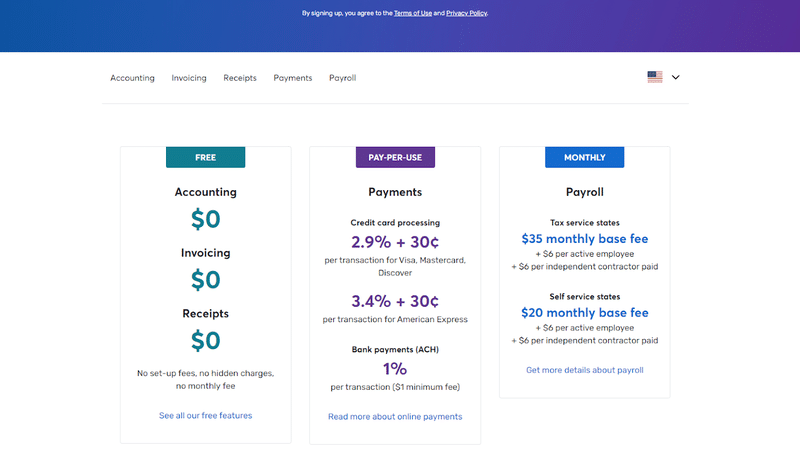 Wave Payment lets your clients pay directly on your invoices, and Wave Accounting accepts payment on all major credit cards. Wave Payroll fees vary from $35 for supported states and $20 for unsupported states. There is an additional charge of $4 per employee per month for using Wave Payroll.
3. Pros
Perhaps the biggest pro for Wave Accounting is that all accounting features are free. However, beyond this, some awesome benefits include:
Lightweight: The mobile app is easy to use, and the software is not memory intensive like some other applications.
Financials: Wave Accounting allows you to sync all your payment modes including, credit cards, PayPal, and your bank details.
Automated Reports: Wave Accounting automatically generates monthly reports like balance sheets and sales tax reports that keep you abreast with your financials.
Wave Accounting has recently tied up with OnDeck and now offers short-term funding for your startup. The funding is normally processed within 24 hours.
4. Cons
The biggest issue we have with Wave Accounting is its lack of scalability. While it works well for independent freelancers and micro-businesses, if you are looking to scale your business you may need to transition to different software.
Lack of Credit Note Feature: Wave Accounting does not have the functionality to generate credit notes. You will have to generate the credit notes manually and then enter them into the system.
Missing some essential features: Time tracking and audit history are features that would help in taking this software to the next level.
While Wave Accounting does have its limitations, it's still a great software for its target segment.
ZipBooks vs Wave: What's the best choice for you?
Now that we have looked at both accounting software in some detail, let's get down to answering the question, "Which software is best for me?"
ZipBooks vs Wave: Target Audience
The target audience for the two software is slightly different. While both ZipBooks and Wave Accounting work well for independent freelancers and small businesses, ZipBooks is a better solution for scaling and mid-sized businesses. However, if scalability is not on your horizon, then both packages will work for you.
ZipBooks vs Wave: Functionality
ZipBooks wins this round on the back of its unique intelligence-driven features like auto-characterization and business health score. The option of features like time tracking and a granular financial dashboard is missing from Wave. The one area where Wave scores over ZipBooks for its mobile application.
It wouldn't be wrong to say that Wave is a good solution for beginners and intermediate level users, while ZipBooks has a richer bouquet of advanced features.
ZipBooks vs Wave: Pricing
ZipBooks wins this one by a nose. While both platforms offer excellent free-to-use plans, ZipBooks offers better features. The paid plans on ZipBooks give access to a wider bandwidth of features that are essential to a growing business. Wave is limited on this front.
Both software options are robust solutions for the accounting needs of freelancers and small companies. Which of them is best for you depends on your needs. The advantage is that both ZipBooks and Wave offer free plans, why not download both and see which one works best for your needs?
Conclusion
Both ZipBooks and Wave Accounting are good solutions for the accounting and bookkeeping needs of sole proprietary and micro businesses.
Wave Accounting is a free-to-use software and gives you access to all basic accounting functions and is best suited for independent freelancers and micro-business owners.
ZipBooks offers a slightly better range of functions on its free plan, and it's affordable and tiered paid plans work best for companies on the growth path.
Keep the conversation going...
Over 10,000 of us are having daily conversations over in our free Facebook group and we'd love to see you there. Join us!