Table of Contents
This post may contain affiliate links. See our affiliate disclosure for more.
Here at Millo, we've been partnering closely for over two years with one of the best freelancing tools we've ever seen: Hectic.
It's far-and-away one of our favorite all-in-one freelancer business platforms and they've been serving the freelancer community since 2019. Recently, the team at Hectic announced their complete rebranding from Hectic to Moxie. So if you're wondering what happened to Hectic, the core features and incredible team are still here serving freelancers—just under a new name, website and logo.
Why did Hectic Rebrand to Moxie?
The decision to rebrand stems from Moxie's growth and the need to better align its name with its mission. Initially, Hectic adopted a reverse branding strategy, aiming to emphasize the platform's ability to alleviate the chaotic work schedules of freelancers. However, after years of user feedback and countless interactions, the reverse branding strategy proved to be more confusing than engaging.
Moxie co-founder and CEO Geoff Mina reflected on the shift, stating, "I have personally chatted… with thousands of our users since 2019, and eventually, after so many interactions, I had to admit our reverse branding strategy had backfired. The majority of people simply didn't get it. The name and brand sparked confusion, not excitement."
In early 2023, Geoff spearheaded the decision to change the company's name. "Moxie" — a word that epitomized the qualities of determination, nerve, grit, and force of character repeatedly surfaced in his mind. Thus, Moxie was born—a name that resonates with the tenacity required for freelancers to thrive in their careers.
"I don't believe there is a single word that better describes what it takes to thrive as a freelancer," Geoff explained. "Combine our fancy new logo, domain, and brand name with our stupid-good tools, amazing customer support, and educational materials, and we are well on our way to helping more of you build the business that bankrolls the lifestyle you really want."
Moxie's innovative suite of tools empowers freelancers to manage and grow their businesses with confidence. From time tracking and scheduling to a client portal that streamlines project updates and accounting features for seamless invoicing, Moxie serves as the go-to platform for all freelancing needs.
About Moxie:
Formerly known as Hectic, Moxie emerged in 2023 with a renewed vision. As a leading freelancing platform, Moxie is dedicated to empowering freelancers to effectively manage and expand their businesses.
With its comprehensive suite of features, including time tracking, scheduling, client portals, and accounting capabilities, Moxie goes beyond invoicing to provide freelancers with a holistic business management solution.
Founded by a group of freelancers, Moxie understands the challenges freelancers face and is committed to delivering an exceptional user experience.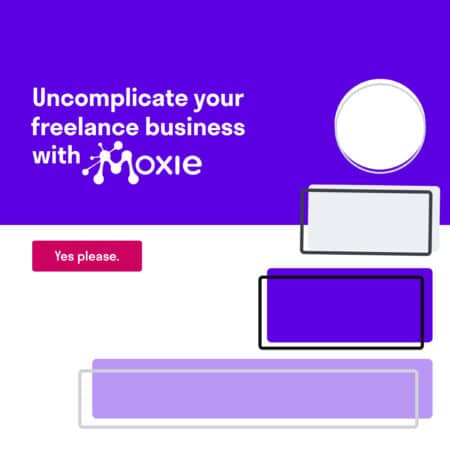 Keep the conversation going...
Over 10,000 of us are having daily conversations over in our free Facebook group and we'd love to see you there. Join us!