Table of Contents
This post may contain affiliate links. See our affiliate disclosure for more.
More people are saying goodbye to full-time gigs and hello to life as a freelancer. In fact, about 59 million Americans freelanced in 2020, up over 2 million compared to 2019.
The perks are well documented, especially in the era of Covid-19 and beyond: work from the comfort (and safety) of your own home, determine your own schedule, and elastic waistbands to name just a few. However, anyone who has ever freelanced knows that isn't the whole story…
While freelancing does offer flexibility, it also comes with lots of hidden costs. There's health and life insurance — nice full-time perks you'll be losing out on — as well as other fees and taxes to consider.
To drive our point across, below is a quick snapshot of the pros and cons you can expect from living a freelance lifestyle.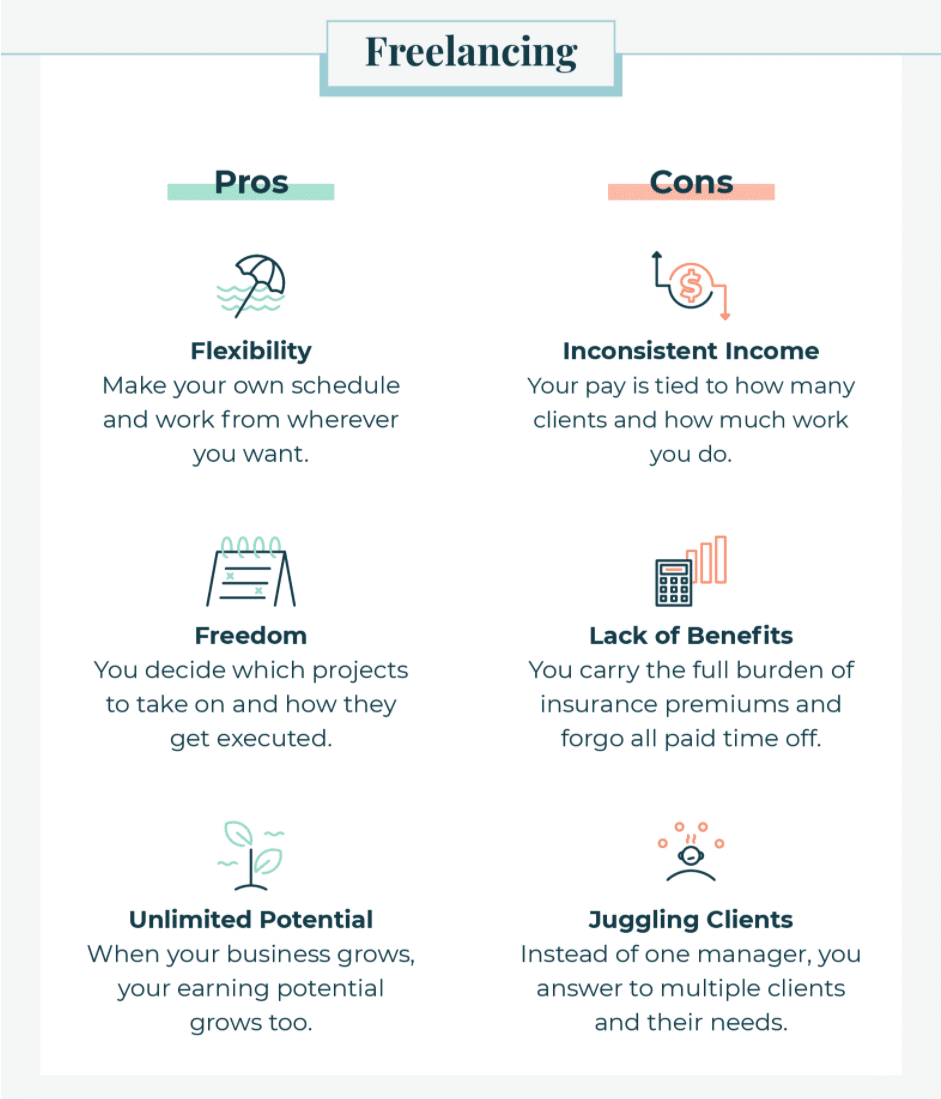 All things considered, It's important to acknowledge the costs and challenges, consider whether it's worth it for you, and if so, come up with a plan to deal with the financial facts of the freelance lifestyle. Here are 4 hidden costs of the freelance lifestyle no one tells you about.
Insurance
Without an employer-sponsored plan, you'll need to cover your own health and life insurance. This is not a cost you want to skip out on. A medical bill could set you back quite a bit. And if you passed away without life insurance, your loved ones may be left to deal with debts or daily expenses without you.
Tip: Shop around for practical insurance options, or join a family member's plan if possible. A term life insurance policy could also be a smart idea. A company like Bestow makes it fast and easy to apply for affordable coverage. Plans start under $1/day (super freelancer friendly), so there's really no reason not to get a free, instant quote.
Fees and Registration
Depending on where you live and your industry or service, there may be business registrations, licenses, or certifications required. Whether it's at a local tax office or a labor office, there are probably processing fees too.
A professional website is another fee to keep in mind. Most domains and/or web hosting platforms cost money, and the price can vary depending on the vendor and the complexity of your site.
Tip: Do your research to determine all of the fees and registration costs you'll have to incur to move forward with your business as a solopreneur. Keep detailed track of these expenses and budget for unexpected costs. This will help you be prepared when these costs rear their heads again, as well as during tax season.
Taxes
Speaking of taxes, you'll have to account for those, too. With no payroll department to withhold (and pay) your income tax, that responsibility falls on you. In some cases, you may also need to pay a self-employment tax.
Tip: It's a good idea to set aside 25%-30% of your paychecks and to file quarterly with the IRS. That number may sting to read, but over-saving and being treated to a remainder is much more pleasant than getting a tax bill that's higher than your bank account balance.
Inconsistent Income
Since your pay as a freelancer is tied to how many clients you have and how much work you have lined up, you may find it difficult to pin down reliable income numbers. Between that and scheduling payments, be prepared for fluctuating income.
Tip: Scale back and go from there. We've all got things we forget we're still paying for — a streaming service here, a deluxe fancy coffee there. Really drill down and create a practical budget based on things you actually need. Then, you can grow from there! Especially as more work comes in. Either way, the takeaway is budget, budget, budget!
It may seem daunting, but don't forget that there are plenty of costs associated with full-time jobs that you may not have to worry about anymore. Commuting costs (like public transit, gas, parking, etc) can take a big bite out of your income.
Likewise, buying and maintaining a professional wardrobe is a sneaky cost many people don't stop to think about (or add up). There will always be trade-offs, but hopefully you're freelancing because you get to do what you love and be your own boss.
And hopefully these tips can help you be more financially prepared for the road ahead flying solo.
Onwards and upwards!
Keep the conversation going...
Over 10,000 of us are having daily conversations over in our free Facebook group and we'd love to see you there. Join us!