Table of Contents
This post may contain affiliate links. See our affiliate disclosure for more.
As a freelancer, there's nothing scarier than coming across that dreaded "please send your portfolio" line, right?
Especially when you're just starting out.
What could you show your potential customers if all you've got is enthusiasm?
It's totally understandable to feel like it will take years to build up a portfolio of work you can be proud of.
So what exactly do you do in such a tricky situation where you can't get more clients without a portfolio to share, and you can't work on building a portfolio without any clients?
First, I suggest you relax. And then read ahead as I run you through how to rock your freelancing portfolio.
---
This article is brought to you by our partners at Placeit.

Placeit helps creative freelancers with thousands of hand-crafted templates, mockups, logos, videos & designs to brand and grow their business. Sign up now to access their entire library of more than 18,000 smart image and video templates.
---
What should I include in my portfolio?
Think about who your client is, you might have to re-arrange or even change a little your portfolio every time you send it. That one thing you know they want to see in your work should be exactly what you put first on your portfolio.
Are you a florist? Is your ideal client a bride? Wedding flowers should be the very first thing they see!
Explain your work
Shouldn't that be, 'show your work'?
Well, portfolios are about giving examples of your work. But that doesn't mean you include a link or put up a screenshot of your work – that kills the point of having a portfolio.
Make sure you take the time to explain the work you did on a project – talk about the challenges you faced, how you overcame them, the type of team you worked with, etc. Give your potential clients a better idea of your work style and your way of thinking, so they can understand you better and hopefully make it easier for them to hire you.
Your portfolio should have a thread that ties everything together. If you're a designer specialized in illustration, maybe start from there. If you're a photographer, include some of your best shots all across. Make sure your portfolio tells a story from beginning to end that highlights your main skill.
But how about the actual contents that go in your portfolio? You should include your brand, your most recent work (with images and text), basically anything that can exemplify what you do best. So, as a beginner freelancer, you might not have so much experience under your belt. Don't worry! Creating things specifically for your portfolio is also a good idea, go ahead and make some inspirational images in which you can show off your skills!
Why is it important to have a sharp portfolio right from the start?  
Every single customer, company or brand, will want to take a look at what you can do before they even consider hiring you. Your online presence is everything you've got to impress someone before they even met you.
Think hard about what you are putting out there!
Mockups are the best news
This is our best advice to freelancers who don't have clients to build a portfolio. Simply imagine your dream clients and create a few pieces of work around that.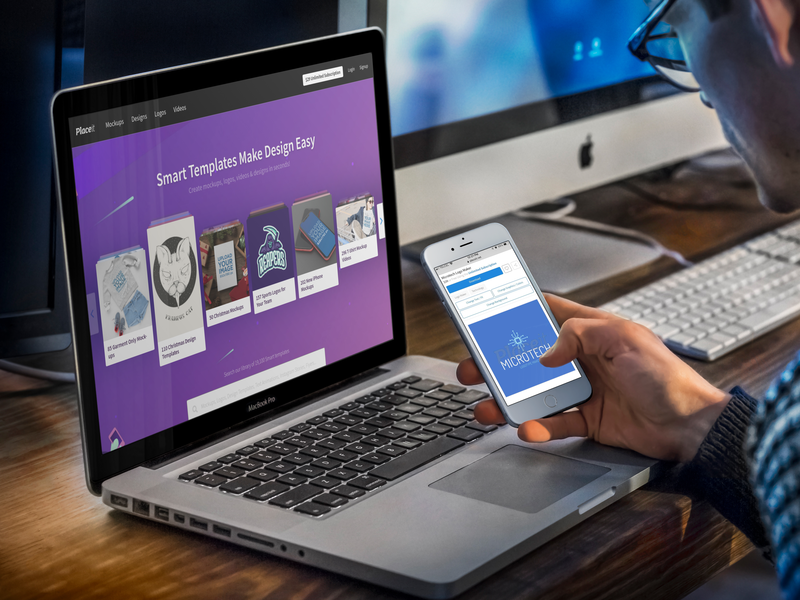 Using mockups and license-free images to build your portfolio there is no need for you to take pictures, hire a photographer or print anything. You can display your brand basically on everything with the help of a high-quality mockup generator.
License-free images can be useful as backgrounds, for social media images, landing pages, blog covers, anything you need to prettify your images on a fixed budget.
Here's the thing about good graphics (and logos)
When using a professional logo and images, your business gets an instant upgrade and potential customers will begin to take you more seriously. Your logo is the most important piece of presentation you have even as a freelancer, it says that you take your work seriously just like a regular office job.
As I said before, your online presence is everything when trying to entice clients.
Final thoughts
When you create your portfolio, you will be judged even on the color you decide to use in your logo and banners!
So make sure you use the best tools and resources available on the internet. For starters, you can design a professional freelancing logo and add some really cool images to spice up your first portfolio.
Your freelance portfolio is definitely crucial to you landing more clients, there's no doubt. But, that's not something set in stone. A lot also depends on how you present yourself, your initial emails, negotiation skills, hobbies, past experience, your rates, and your availability.
As you can see, there are a lot of factors at play. But if you've got your freelance portfolio set, you'll be stressing much less about the other factors – and hopefully a step closer to landing your dream clients!
Keep the conversation going...
Over 10,000 of us are having daily conversations over in our free Facebook group and we'd love to see you there. Join us!