Table of Contents
This post may contain affiliate links. See our affiliate disclosure for more.
For many people, no matter their age or situation, being able to earn passively is the ultimate fantasy. Using passive income apps is one of the best ways to make some extra cash for yourself or to invest in your own business. There are even people who opt in to invest in the stock market. Stock market is a very volatile market and you need to have the proper knowledge to know how to invest properly, however, if ever you push through on investing in the stock market you should have the right knowledge of how to buy stocks, what stocks to buy, and even the fundamentals of investing in stocks.
Do you imagine earning money even when you're asleep or on holiday? Not only does passive income boost your 9-to-5 earnings, it can also help you worry less about your finances. Some people even survived being laid off from their day jobs with their earnings from passive income apps.
Whether you use your desktop, laptop, or smartphone, you can easily use passive income apps. The upfront cost is small to non-existent. Most of the time, all you need to do is to download an app, spend a few minutes on it each day, and watch the cash trickle into your bank account.
14 Passive income apps to check out
Passive income is a kind of side hustle that doesn't require much effort. The app does a lot of the work for you using different features, allowing you to concentrate on other things while earning a bit of money on the side.
We've checked out a few passive income apps that pay you to shop, invest, browse the internet, provide your feedback, play games, watch videos, pay your bills, and rent out your things in exchange for small amounts of cash or points. When you let your earnings accumulate, you'll end up with a pretty substantial amount.
Let's explore these apps in more detail.
Google Opinion Rewards is an app developed by Google that is focused on rewards. It was initially released as a mobile survey app created by Google for Android and iOS. The app enables users to respond to surveys and to win rewards.
The Google Opinion Rewards app lets you answer surveys in exchange for Play credit for Android users and PayPal money for iOS users. What's cool about this passive income app is that you're sent surveys based on your location and the places you visit, the apps you're using, videos you're watching, or the questions you ask Google Assistant.
Since the app asks you about the things you do daily, you can make a little extra money by sharing your opinions about these things with Google.
It's easy to get started with Google Opinion Rewards. You just need to download the app on your smartphone then answer simple questions about yourself.
The app will then send you a survey once or twice a week. When a short and appropriate survey is ready for you, you'll receive a notification on your phone. One click is all it takes to start earning money by sharing your opinions.
Survey Junkie is a forum for online surveys that pays users for their thoughts on different topics. Each completed survey is worth a certain number of points that may be exchanged for money or gift cards. Survey Junkie has over 10 million members, and anyone who wants to earn extra money can take their available surveys.
Marketers and retailers use market research panels such as Survey Junkie to reach out to potential customers and discover their needs and preferences. In return, these marketers pay survey subjects for their valuable input.
Survey Monkey offers short, easy surveys from many well-known brands. A typical survey takes just a few minutes to finish. You can use it while you're waiting in line at the bank, on the commute home from work, or when you have nothing else to do.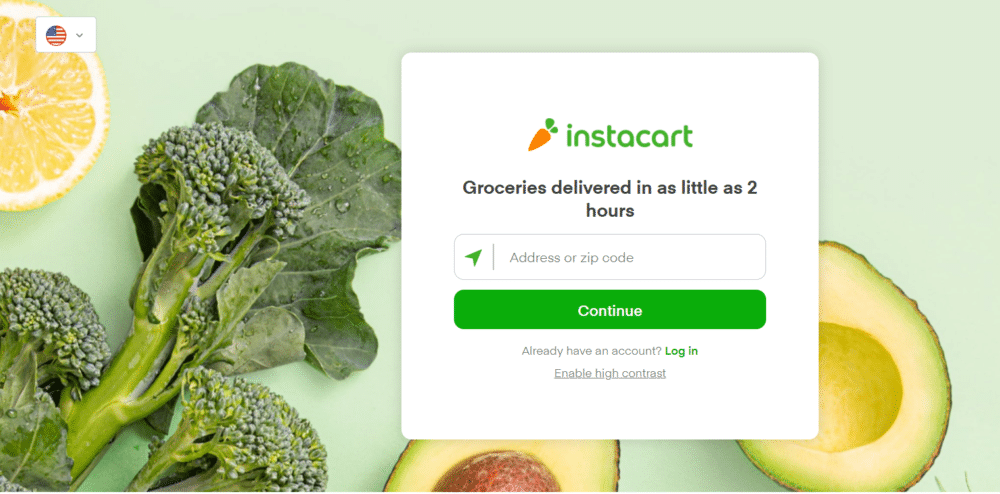 Instacart is a well-known fast and reliable grocery delivery app.
More and more people these days want to buy their groceries online and have them delivered to their homes. Instacart lets them do so quickly and easily.
When you sign up for Instacart, you can make extra income in your spare time. It operates similarly to Uber Eats, but for grocery items. You can deliver groceries to customers in your area while you're out running your own errands.
In other words, Instacart pays you to help people with their grocery shopping and delivery. You can set your availability time each day and set aside that time for earning extra money quickly.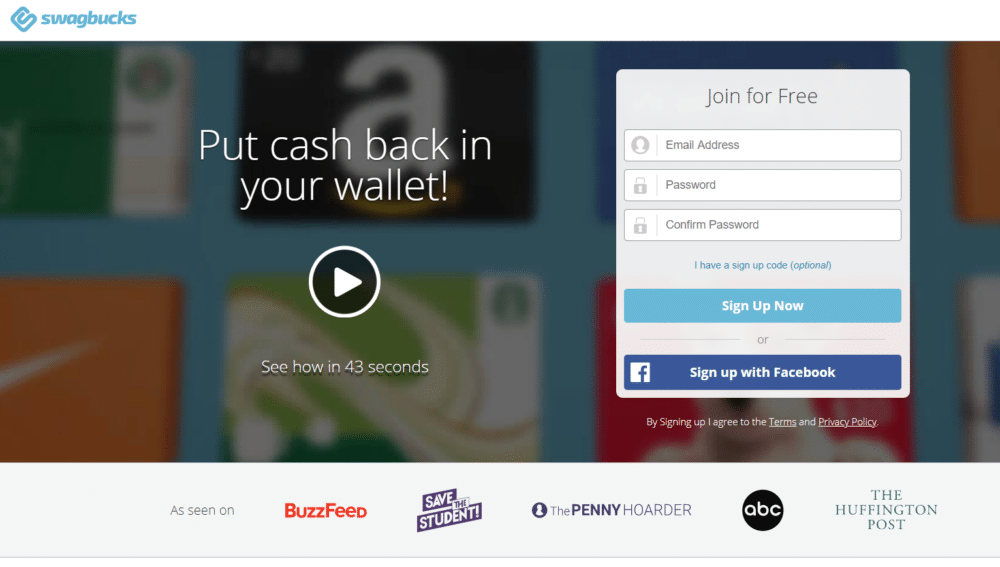 Swagbucks is one of the most popular mobile apps available for generating passive income. You can enter this rewards site free of charge, and it takes only a few minutes to set up your account.
It pays you to answer short surveys, watch fun videos, play games, search the internet, shop online, and more from your phone. In addition, you can also win rewards and gift cards for stores such as Amazon, Target, and Walmart.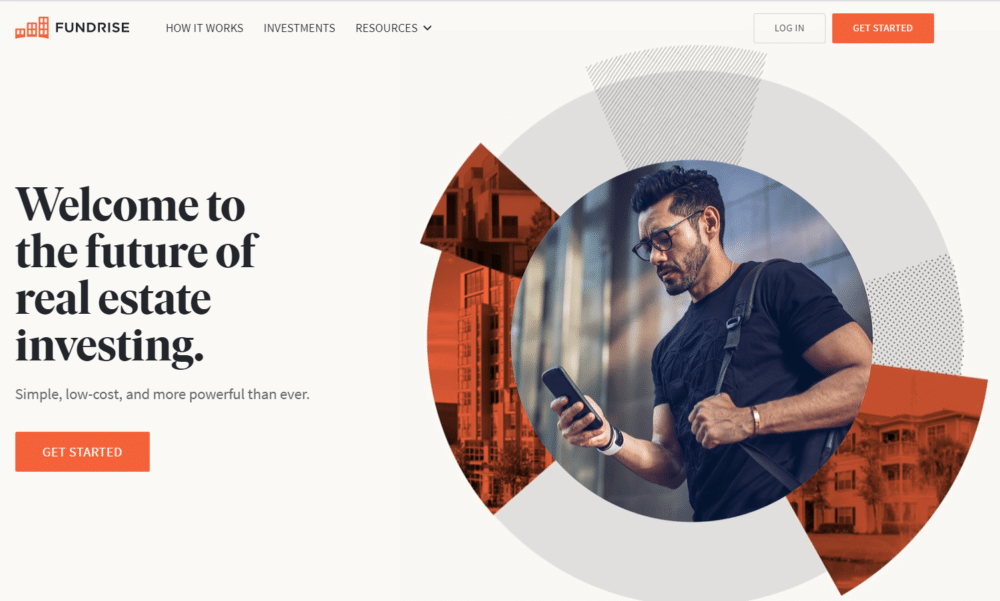 Fundrise is an online business that allows small investors to buy private commercial and residential properties by pooling their assets into a shared investment platform.
The key products of Fundrise are real estate investment trusts, or REITs, which typically invest in real estate that generates profits, either through the purchase and management of buildings or through the holding of mortgages.
Fundrise also provides eFunds, in which the pooled money of investors is used to acquire property and build housing, then sell it to home buyers.
The real estate market is thriving even in the middle of a pandemic, and property sales/rentals is one of the best ways of generating passive income.
You can invest in either of the real estate investment trusts that Fundrise offers for as little as $500. The first investment product is the eREIT, which generates revenues quite quickly, and the other is the eFund, which sets you up for longer-term success. If you're new to real estate investments, Fundrise is a great way to start your passive income journey.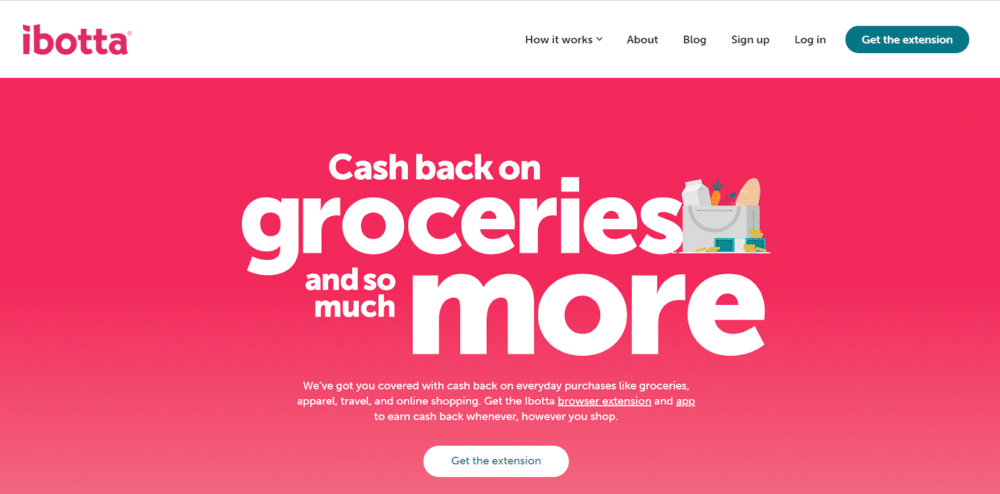 Ibotta is more than just a cash back app. It also allows you to make passive income in various ways.
The most popular choice among Ibotta users is connecting their store's loyalty programs to the app. Doing this will allow you to redeem deals automatically. You can link up to more than 100 stores to the app, including well-known supermarket chains. You can also upload receipts to the app to receive cashbacks or to pay for in-store orders.
Signing up for Ibotta is free, and once your account size hits $20, they pay it out via PayPal or Venmo. You can choose between cash payouts or store gift cards. You can also earn extra cash when you invite new users to join Ibotta. Currently, you will make $10 with every person you refer. When your referral signs up for Ibotta, you get paid. Easy as pie!
Nielsen is a giant in the market research industry. They operate in 25 countries, where they team up with some of the largest businesses who depend on their market data to make crucial corporate decisions.
The Nielsen Mobile Panel functions like other passive income applications, gathering data on how you use the background's internet and cell networks. When you install it on your mobile or desktop device, it monitors your internet use, the sites you visit, and the type of content you consume. In return, you get rewarded.
Users will receive up to $50/year, and if you install it on three devices – phone, tablet, and computer – you get up to $150 per year. You'll also get automatic sweepstakes entries where you can win up to $1,000 every month. It also rewards you with points that can be exchanged for gift cards to retailers such as Amazon, Starbucks, and Target.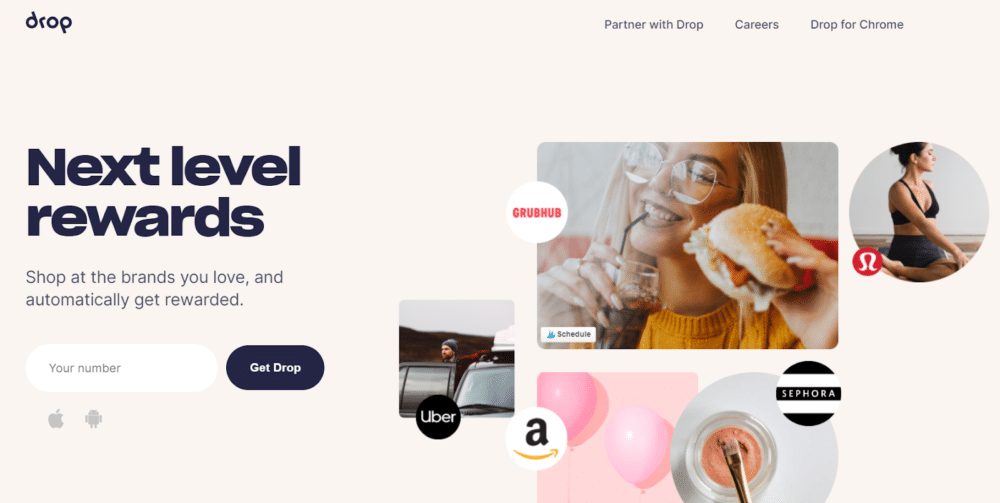 Drop is a free-to-join app that lets you receive cash rewards from your favorite places and stores for shopping. You can benefit from any purchase you make with the app, starting from your early morning coffee up to your late-night food order.
Unlike other rewards programs, Drop doesn't offer a points system. Instead, you collect cash as you make purchases. You can then cash out with a bank transfer using PayPal or directly to your self-employed bank account. You can also connect your credit cards so that you'll win cash every time you make a qualified purchase.
Aside from cashing out, you can redeem your earnings in exchange for gift cards starting at $5. Drop also pays you $5 for every friend that you refer.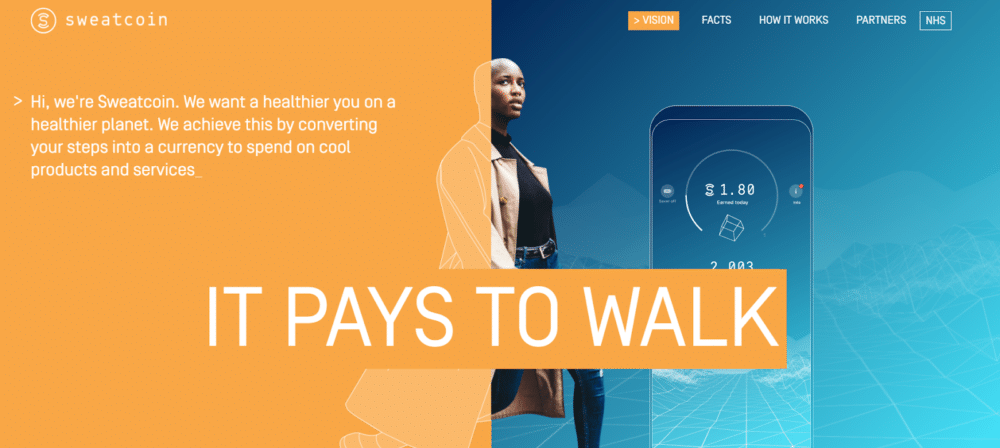 The health benefits and feeling of accomplishment are enough reward for working out. However, Sweatcoin gives you even more reasons for exercising. It actually pays you for going out and being active.
The app allows you to turn your steps into points. It tracks the number of steps you take throughout the day. For every 1,200 steps you take, you earn approximately 1 Sweatcoin. That number of steps might not seem like much, but an average person actually takes 7,500 steps daily. As you walk more, you earn more Sweatcoins.
Once you get enough Sweatcoins, you can redeem them for ebooks from Audible, a free subscription to the Calm app, and even money in your Twine savings account. While previous versions of Sweatcoin allowed users to withdraw their earnings through PayPal, the app now focuses on partner deals.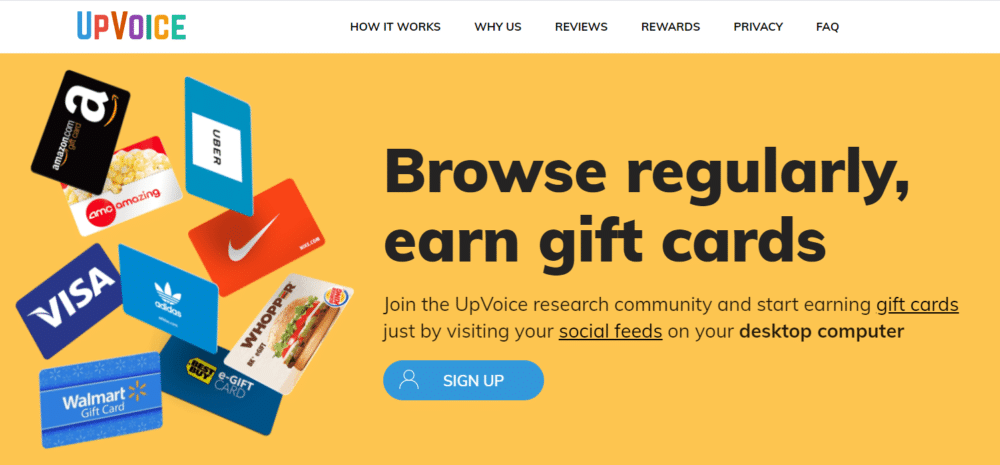 UpVoice helps you make money by using your computer as you normally would. The app is a study panel that allows users to earn cash just for web surfing. UpVoice pays for the collection of business data, such as your social feeds and the advertisements you see.
By being a panel member, you can earn at least $75 worth of gift cards a year. You can also earn up to 70 UpVoice tokens worth $1.12 weekly, which is equivalent to just over $58 for an entire year. A number of popular retailers, such as Amazon, Sephora, Target, and Starbucks, will gladly accept your tokens for gift cards.

Formerly known as Ebates, Rakuten is probably one of the most popular apps that offer users shopping rewards. It gives you an opportunity to interact with a myriad of online businesses that will pay you cash back rewards, mainly when you shop.
First, the rewards collected go to Rakuten, from which they are then distributed to the different users. Even your weekly trip to the supermarket is going to win you some Rakuten rewards.
The app is an excellent source of cashback awards. Visit your favorite store via the app and make your purchase after signing up and installing the app. Earnings will be credited to your account automatically.
You can redeem Rakuten payments through PayPal or by checking in the mail. You can receive a $10 reward in the United States or $5 in Canada when you enter and make your first $25 order.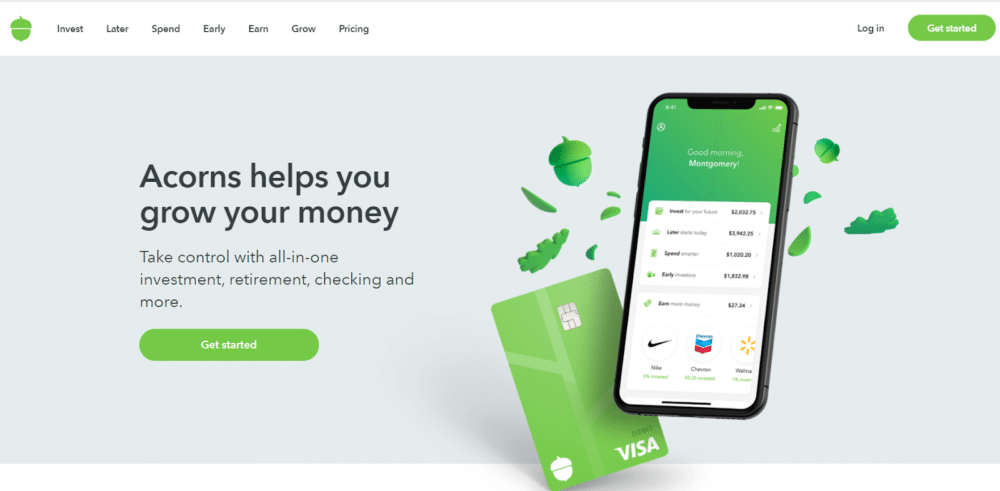 Acorns is a micro-investment application that uses low-cost Exchange-Traded Funds (ETFs) where you can invest minimal amounts.
In order to suit your investment goals and risk tolerance, the app designs your portfolio, and everything is done automatically. There is no minimum account to get started. In addition to investing your money, Acorns also offers more than 350 famous brands with a savings account and opportunities to get cashbacks from purchases.
By investing your spare change, you're not going to get big returns right away. However, it's still a pretty nice way to start investing, even if you feel you don't have a lot of money for it.
When you sign up, Acorns asks you questions about your age, salary, and financial goals so that they can recommend you the best investment portfolio. They have over four million members, many of whom have made tidy sums of money through the years.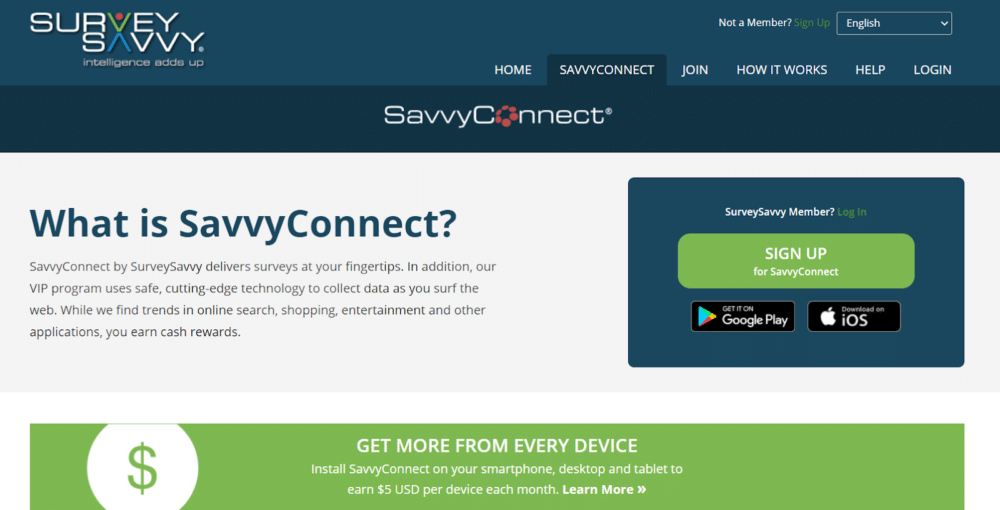 SavvyConnect is another data collection software that analyzes customers' borrowing patterns to assess online shopping trends, entertainment, internet surfing, and more.
This passive income app helps you make money through completing surveys and referring it to your friends. However, you can earn even more when you install the SavvyConnect on your laptop or mobile device.
For laptops, you can download it as a browser plugin, while it is also available for iOS and Android devices. You'll make around $5 monthly for each device, so installing it on multiple devices will maximize your earnings. You may also refer your friends to earn more.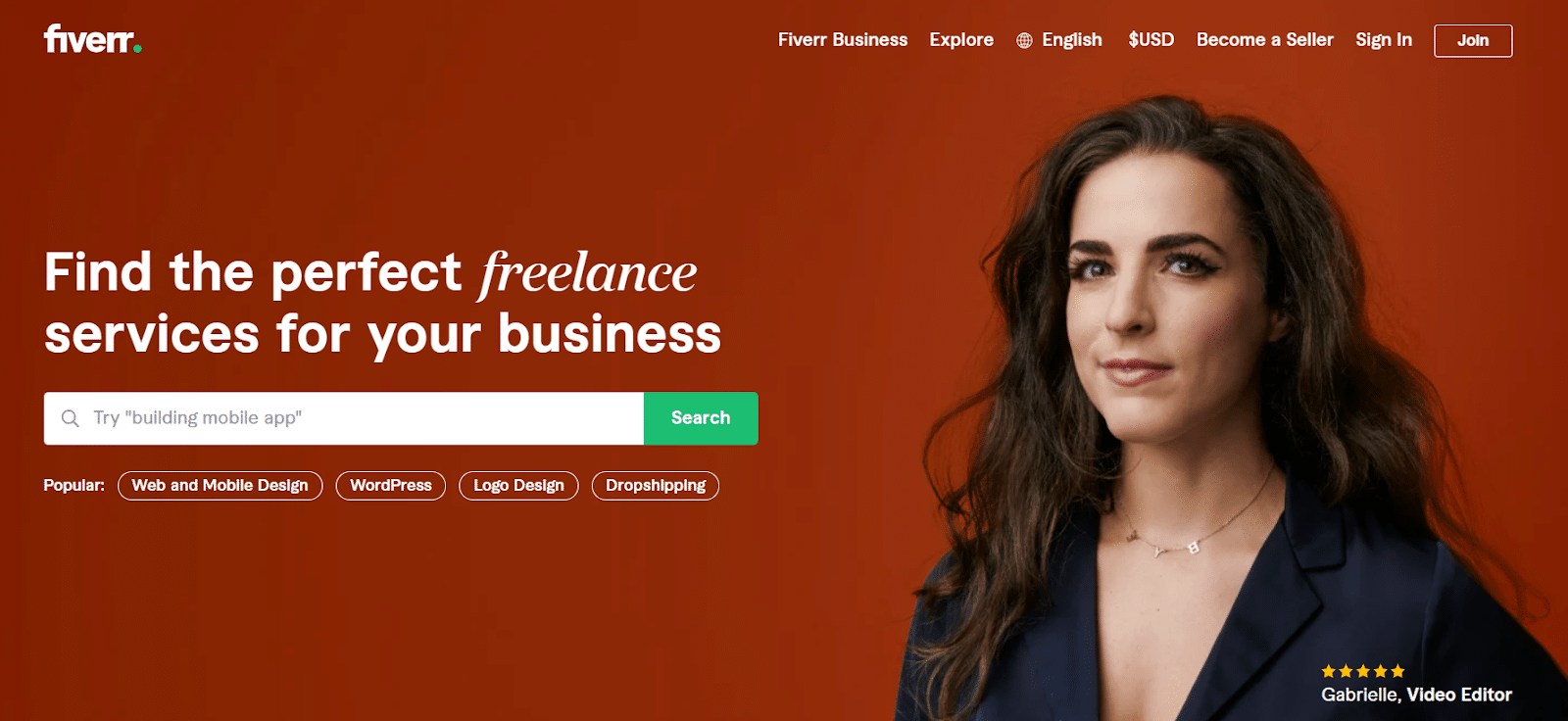 Fiverr is an online freelance services marketplace. The business provides freelancers with a venue where they can provide services to clients worldwide.
There are hundreds of freelancer websites in the market, but Fiverr operates differently. Instead of looking for projects posted by clients and bidding on them, Fiverr allows you to create product or service "gigs". Customers must then come to your gigs to transact with you.
It's a lot like performing with a band, and not surprisingly, Fiverr is the go-to place for creatives such as musicians and artists as well as people who just want to make small amounts of money by doing easy, repetitive tasks.
Aside from giving you a venue for your talent, Fiverr also allows you to offer services to clients at a fixed standard price. When customers find your services, they hire you. Once you complete the job, you get paid.
How to use passive income apps to earn money
There are a few different categories of passive income apps that have been included in this post:
Apps for data collection: get paid for sharing your information with marketing firms.
Cashback apps: instantly gain cashback while shopping at different shops.
Apps for video rewards & lock screen: get paid to watch videos and advertisements.
There are several ways to earn extra cash using your phone, and some of the best passive money-making opportunities available are provided by the apps listed above. Some of them have browser extensions as well, which makes them easier to install and use.
Open your preferred browser, create a new Gmail account specifically for your passive income activities, and add the appropriate extensions to your browser if applicable. The browser will ask for your permission, and all you have to do is approve it.
Wrapping up
"Passive income" is no longer the exclusive territory of those who have large real estate holdings or massive trust funds. Earning passive income has become a lot easier and more convenient now that there are so many apps available.
These apps range from those that collect your internet usage data to others that allow you to answer survey questions. You may also get paid for working out! Almost everything is monetizable now, and these apps will help you make money even when you're walking around the house or watching videos on Facebook.
Sign up and try out a few passive income apps and stick with the ones that work for you.
Keep the conversation going...
Over 10,000 of us are having daily conversations over in our free Facebook group and we'd love to see you there. Join us!