Table of Contents
This post may contain affiliate links. See our affiliate disclosure for more.
According to a study done by Hubstaff in 2020, 58.25% of companies surveyed at the time planned to combine remote and in-office work in the future. Hubstaff also found that just 15.5% of those companies surveyed planned to go back to in-office work full time.
The remote work movement exploded in 2020 when working teams across the globe had to find innovative new ways to collaborate over the web.
Widespread lockdowns and social distancing protocols encouraged working teams to find functional methods of working together and meeting deadlines and goals without speaking face-to-face. As always, technology was there to assist with these objectives.
Today, remote work is infinitely more widespread than it once was. But any remote worker will know that it still presents challenges. Remote staff deal with regular distractions, time management difficulties, and patchy team communications when working from home or on the move.
Equipping yourself and your team with working from home essentials and quality remote work software can minimize these issues and assist you all in remaining engaged, motivated and productive, even in a remote environment.
It's for this reason that we have collated a list of the 13 best remote work software tools of 2023. These tools will streamline your business' operations and give you (and your team) the tools and functions needed to thrive — all while your business grows at the same time.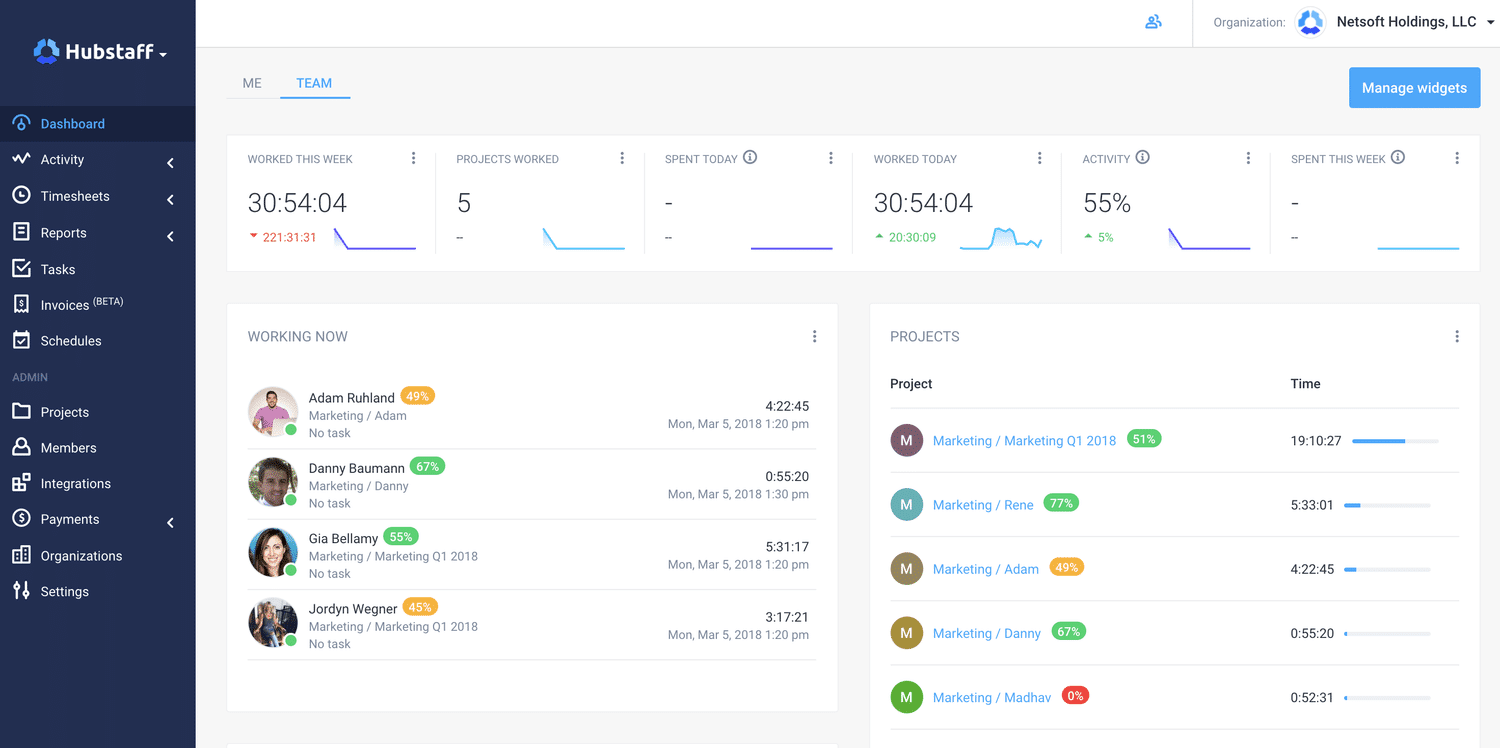 Hubstaff is a complete, all-in-one time remote work software tracker that is ideal for managing field and remote teams. The service offers extensive time tracking software that includes reporting, invoicing, payment tools, and more. There's much more to Hubstaff than simple time tracking, though. With tools like Time, Desk and Field, you also get numerous productivity-enhancing extras to maximize your team's output at every step.
Hubstaff's main features include:
Proof of work features like optional screenshots and app/URL usage with Hubstaff Desk
Keyboard/mouse activity tracking and activity scores for each team member with Hubstaff Desk
Freelance time tracking to assist freelancers in billing accurately and efficiently
GPS and geofencing features from Hubstaff Field that can clock crews in and out automatically when they arrive at or leave a job site
Team scheduling features in Hubstaff Time like attendance reporting and shifts planning
Automated timesheets and expense reporting that save hours and effort every week
Project budgeting and reporting to help you stay profitable
All of these features are available in the 14-day free trial, with the Desk Starter package costing $7/month/user with a minimum of two users required. Premium packages can be purchased at $10 and $20 per user per month as well. If you're running your business solo, you can take advantage of Hubstaff's basic package for free.
Part of what makes Hubstaff great is its ability to integrate with over 30 popular third-party apps and services. These integrations turn the platform into a powerful project management, payroll, and customer support tool as well. You can think of this as a platform that assists you in managing and streamlining every part of your remote business using intelligent automation and customizable workflow tools.
Slack is a popular business messaging app that connects team members to the people and information they need.
The service makes it easy to message and video call colleagues inside or outside your business and to collaborate with them just as you would if you were working from the same office.
Slack users can work in dedicated spaces called 'channels' that channel all the right information and people to ensure maximum productivity and motivation. These channels are fully secure to ensure that suspicious third parties cannot gain access to team-exclusive data and content.
Slack offers a variety of different packages, including a free package, Pro at $6.67/month, Business+ at $12.50/month, and Enterprise Grid, the price of which is tailored to your business's needs. Slack's features and tools include:
Channels, direct messages, and customizable format and style messages
Audio and video sharing
File sharing and conversation sharing
The Slack search feature for easy location of shared data
Task automation with Workflow Builder
Slack data and analytics
The ability to create custom apps to suit the specific needs of your team and business
What makes this service great is its secure collaboration tools, extensive team organization, and communication features, and ability to integrate with 10 other popular workflow services, including Office 365, and Google Drive.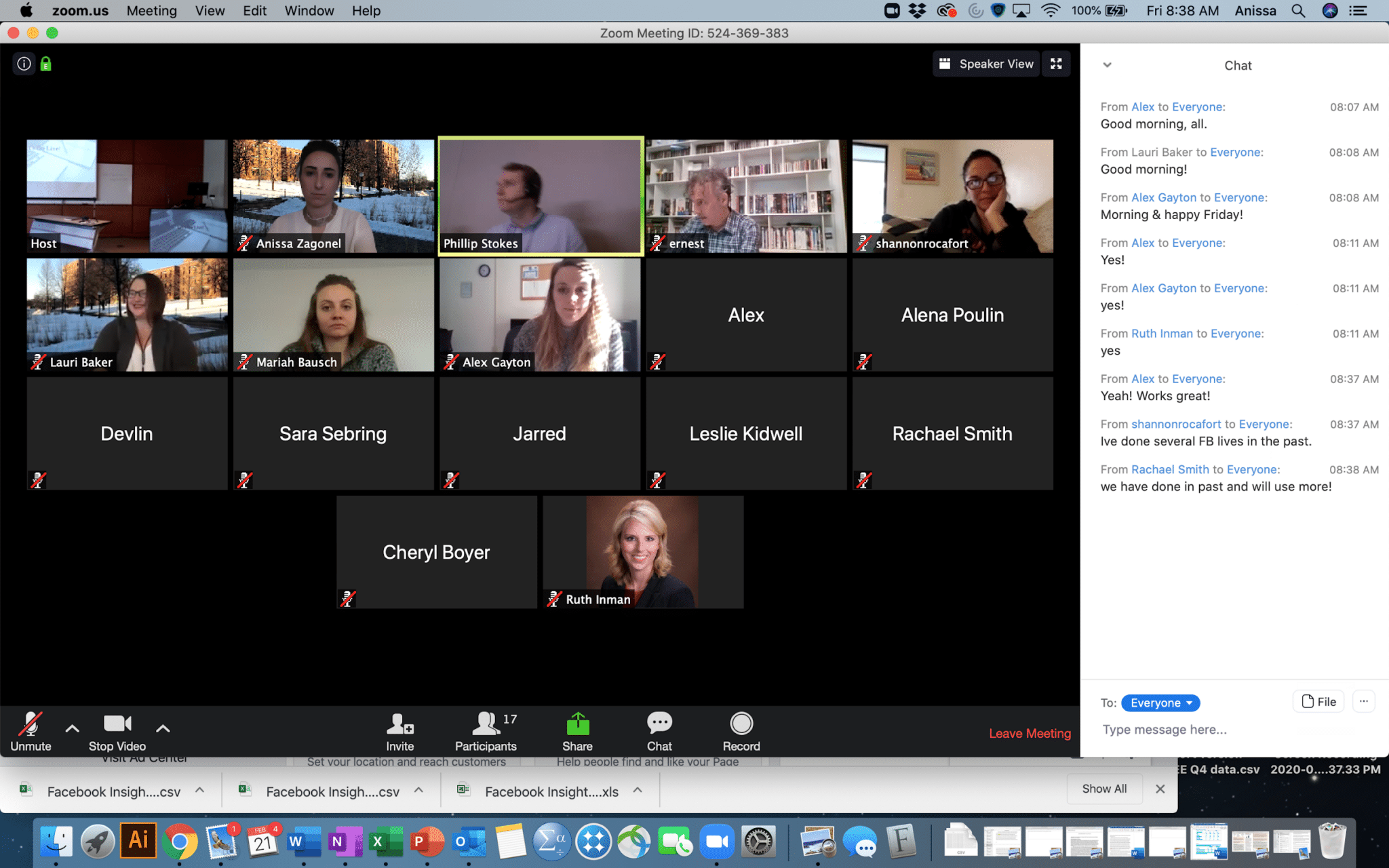 Zoom's extensive range of remote work software virtual communication tools promise to help your team build stronger relationships. It helps to amp up collaboration and create an engaging meeting experience thanks to HD audio and video for up to 1,000 participants.
The platform's virtual services and features include:
Meetings, phone, and instant chat services
Developer platform APIS and SDKs
Zoom App Marketplace and Zoom Rooms
Zoom for Home and OnZoom to enable remote workers to stay in touch, even when they are at home
Zoom offers a basic free plan that hosts up to 100 participants and offers unlimited group meetings for up to 40 minutes. Next is the Pro package at $14.99 /month/license, followed by the Small Business package at $19.99 /month/license and the Enterprise package at $19.99+ /month/license.
Enterprise can host up to 500 participants, boasts unlimited free file storage, and records transcripts that you can refer back to at any time. Zoom also offers convenient, optional add-on plans to provide a complete workflow-improving toolkit for your team.
Monday.com can track even the most complex of projects while enabling managers to track what their teams are up to using visual aids like kanbans, timelines, and charts.
What makes this service stand out is its ability to integrate all of your team's needed tools into one automated workflow while you communicate, prioritize tasks and set due dates in real-time.
Monday's price plans start at the free Individual plan, which offers 2 seats. Basic starts at $8/seat/month, Standard at $10/seat/month, and Pro at $16/seat/month. There is also a customizable Enterprise plan available for larger companies.
Features include:
iOS and Android mobile apps
Convenient work process templates
Unified dashboards for all workflow-related information
Cloud file storage
Chart views and formula columns
Time tracking features
Integrations with other third-party apps like Salesforce, Excel, Dropbox, and Microsoft Teams
Prioritized customer support for the paid plans

ProofHub is an all-in-one project management and team collaboration software that helps remote as well as in-office teams to manage their work efficiently and effectively in one place. It combines everything you need to plan your everyday tasks and projects, collaborates with the remote workforce in real-time, stay organized, and complete projects on time from a central location.
You can use the software to make simple to-do lists or move to kanban boards for more agile workflow management. ProofHub's built-in chat app and a dedicated location for real-time discussions make it super easy for remote teams to connect with each other instantly. ProofHub also brings together notes, time tracking, file management, reporting, and online proofing, in one location to address all of the primary difficulties that remote teams encounter on a daily basis.
What helps ProofHub stand out from the crowd is its flat pricing. ProofHub has two pricing plans. The Essential plan starts from $45/month (billed annually). The Ultimate Control plan starts from $89/month (billed annually) with all the core features.
Features include:
Simple to-do lists, kanban boards, and table view allow for flexible task management
Gantt chart for effective project planning with drag and drop functionality
Automatic time tracker and timesheets to keep track of your team's time
Online proofing tool to streamline your review and approval process
Custom roles to better define tasks and bring in more transparency
Custom reports for better resource management
In-built chat to make remote team communication easier
Integrations with third-party apps like Dropbox, Box, Google Drive, OneDrive, iCal, and Google Calendar
Mural is a virtual space in which your team can solve problems and collaborate in a hands-on, visual way. This online whiteboard has extensive facilitation features, guided methods, and a leading level of expertise that modern organizations can take advantage of to transform the way their teams work together.
The platform's free plan supports 5 murals and unlimited members. Team+ with unlimited murals is billed at $9.99/member/month, Business plans at $17.99/member/month, and Enterprise at a custom price according to your needs. Mural's features include:
Dozens of ready to use templates
Key features like Private Mode, meeting timing, and mapping
Integration with Zoom, Webex, and Microsoft Teams
Project planning features like Agile and Lean-inspired tools
Whiteboard features like images and GIFs, frameworks, drawing, icons, shapes and connectors, and sticky notes and text to foster superior team engagement
File sharing, commenting, chat, and quick talk communication tools
Assembly is designed to capture all of your team's workflows in a single place. It gives you the chance to build and automate personalized workflows and processes that reflect your business's processes, goals, and priorities.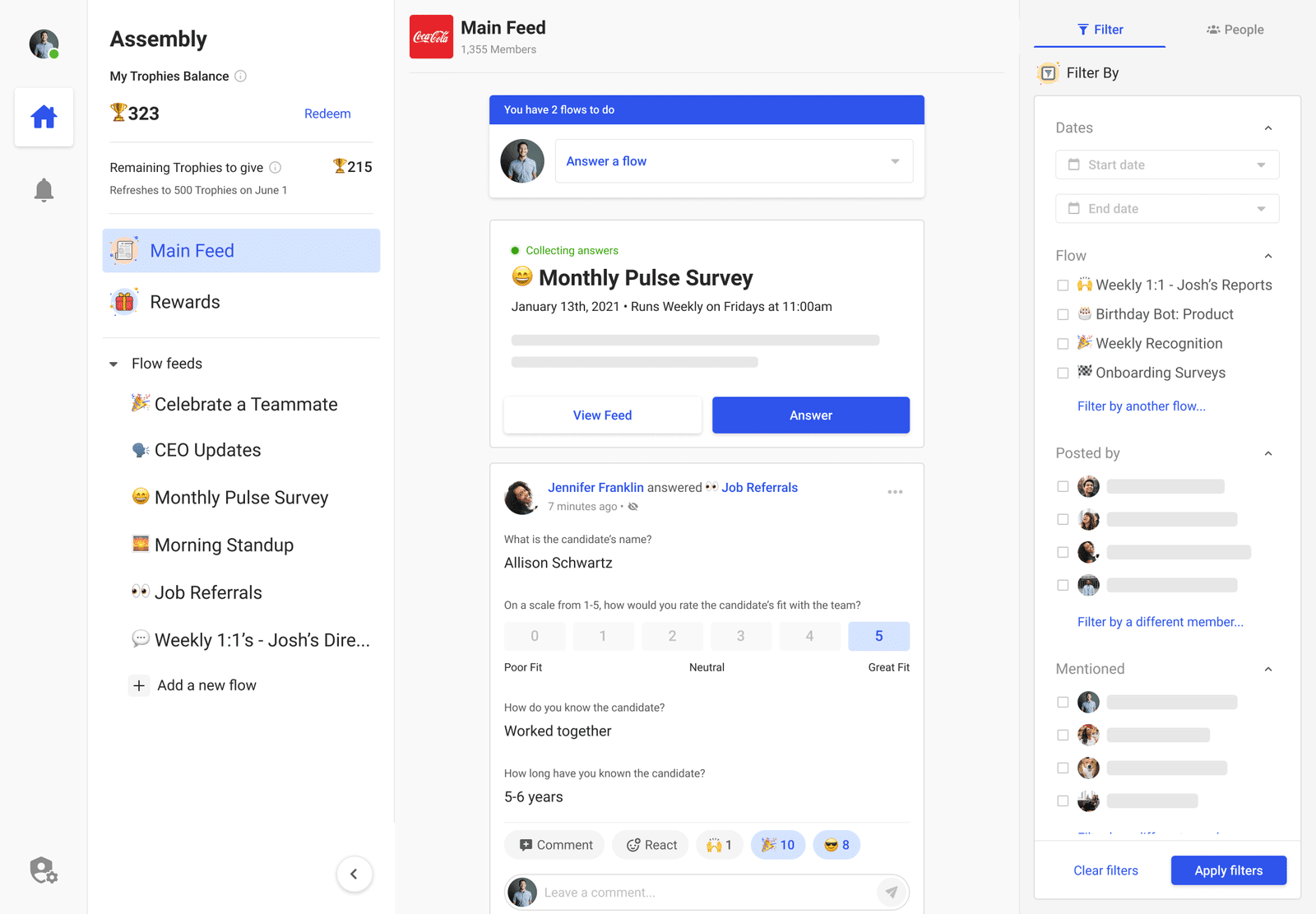 One of this remote work software's biggest claims to fame is its mantra of 'work smarter, not harder'. The platform reduces the amount of time wasted switching between tools and creates a single source of actionable insights that help to achieve business goals.
Assembly's free Starter package can host up to 20 members, while the Lite package can host up to 50 members and is billed at just $2.50/member/month. Standard offers space for unlimited members at $3.50/member/month, and there is also a custom premium package available.
Features include:
40+ templates to simplify routines and work processes
Daily Standup and Team Feed feature to keep track of team members' individual and collective progress
Employee Recognition and automated Satisfaction Survey modules
Newsfeed, Idea Portal, and Knowledge Base for sharing valuable knowledge and relevant data
Integrations with Google G Suite, Office 365, Microsoft Teams, and Slack People
Trello allows your team to collaborate, manage projects, and reach new levels of productivity with its wide range of remote work software tools.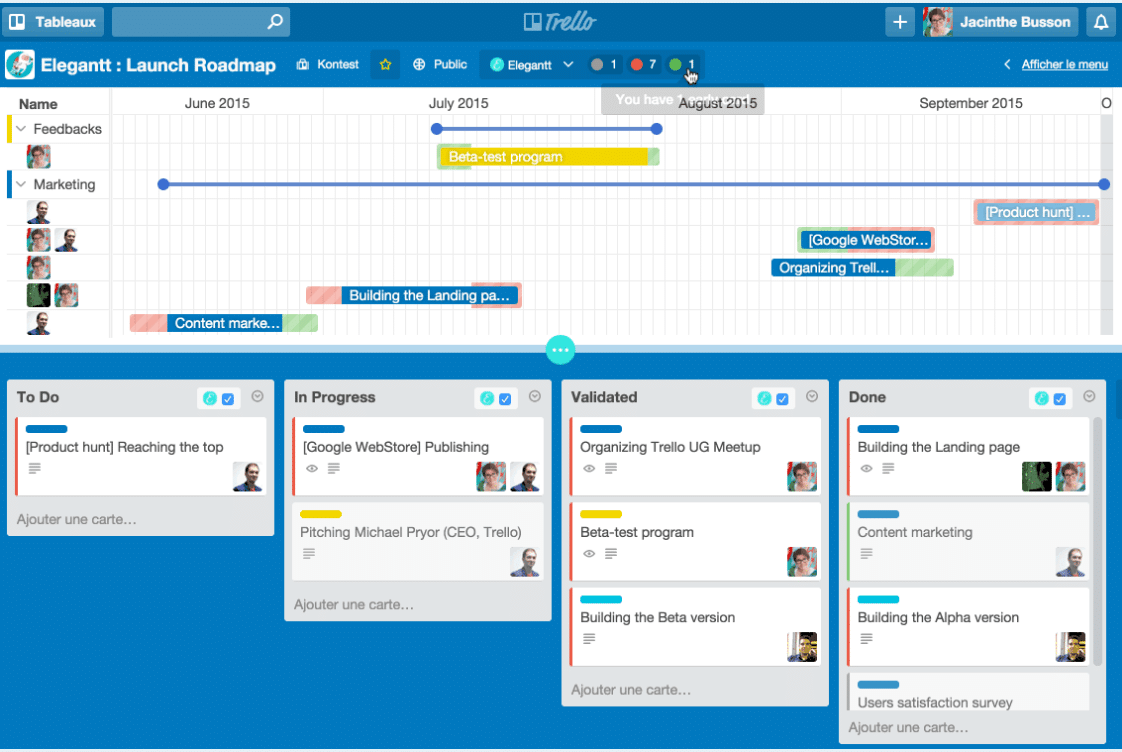 Start off with a Trello board, cards and lists, which you can customize and expand with additional features as your teamwork progresses. Trello enables you to organize and manage tasks in a way that builds team spirit, all from a single interface.
This service offers a number of different packages, including Free, Standard ($5/user/month), Premium ($10/user/month), and Enterprise ($17.50/user/month) packages. Trello's key features include:
Trello cards that are customizable with due dates, checklists, attachments and conversations, and shared with team members online
No-code process automation for streamlined workflows
Integrations with top work tools like Google Drive, Dropbox, Confluence, and Slack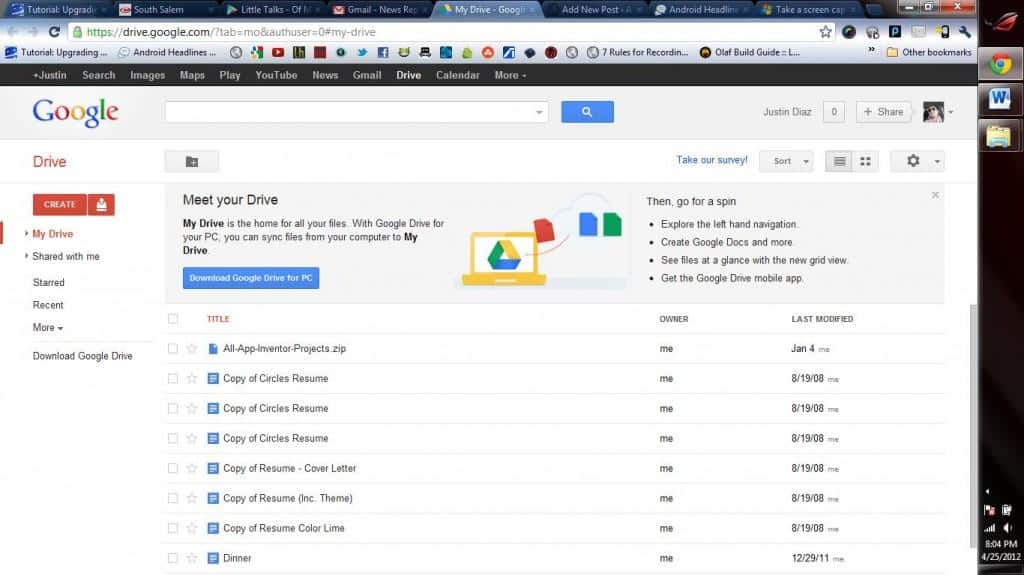 Google Drive is so much more than just a file storage service. It has the power to accelerate workflows across your team using its wide range of productivity tools.
The best part of using Google Drive for your team is that your company data is kept completely secure at all times using Google's first in class web encryption and security systems.
Google offers a free trial of its Google Workspace Essentials, after which the price is set at $8/active user/month. Drive's teamwork features include:
Cloud-native collaboration documents, including Google Docs, Google Sheets and Google Slides
Secure cloud file storage and sharing
Integration with 100+ file types and leading apps like Microsoft Office, Salesforce, and Slack
Powerful tools are driven by Google AI and search technologies
Shared drives and offline access
Data Loss Prevention to keep your data safe from parties outside of your team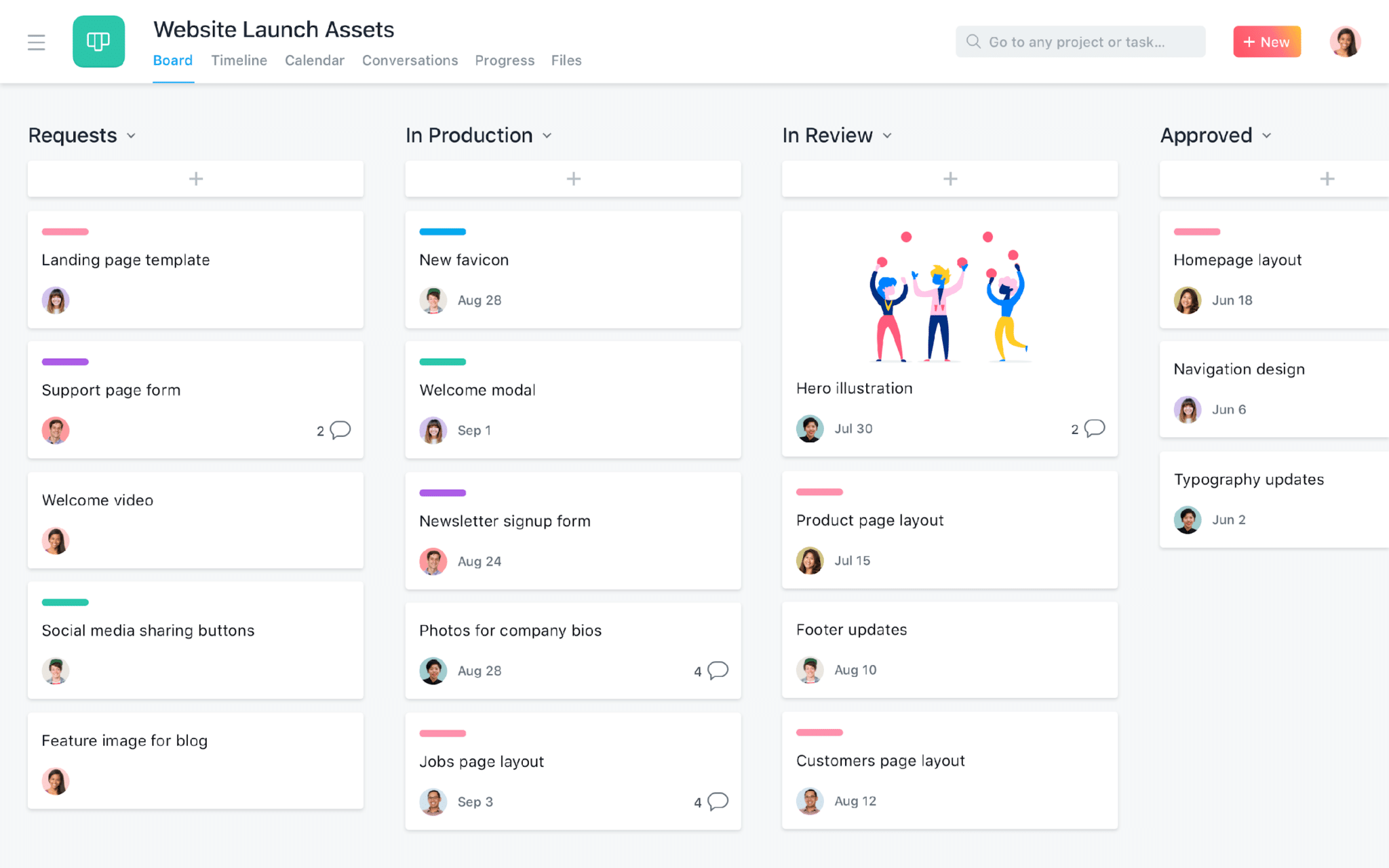 Asana's tools will help you to organize your team, assign tasks, instantly view to-do lists and priorities, and set deadlines. It brings your team's work together in a single shared space. At the same time allowing you to choose a project view that suits your organization's style and goals.
Asana's Basic plan is free, and the Premium plan is billed at $10.99/user/month. The more comprehensive business plan is billed at $24.99/user/month. Contact Asana to learn more about the Enterprise option for large businesses. Features include:
A timeline that allows you to manage connected tasks, adjust overlaps, and view how tasks progress over time
Instant messaging and calendar view
Task templates and custom fields
Reporting across projects and private team and project options
Boards that make it simple for you to view what your team is currently working on and to define each stage of work as needed
A list view that prioritizes and orders tasks for easier workflow management
Loom's remote work software enables you to take quick videos of your screen and cam, which can be shared with other team members to relay essential information. It enables you to personally connect with dozens of people without having to call or message each team member individually to relay a personal message.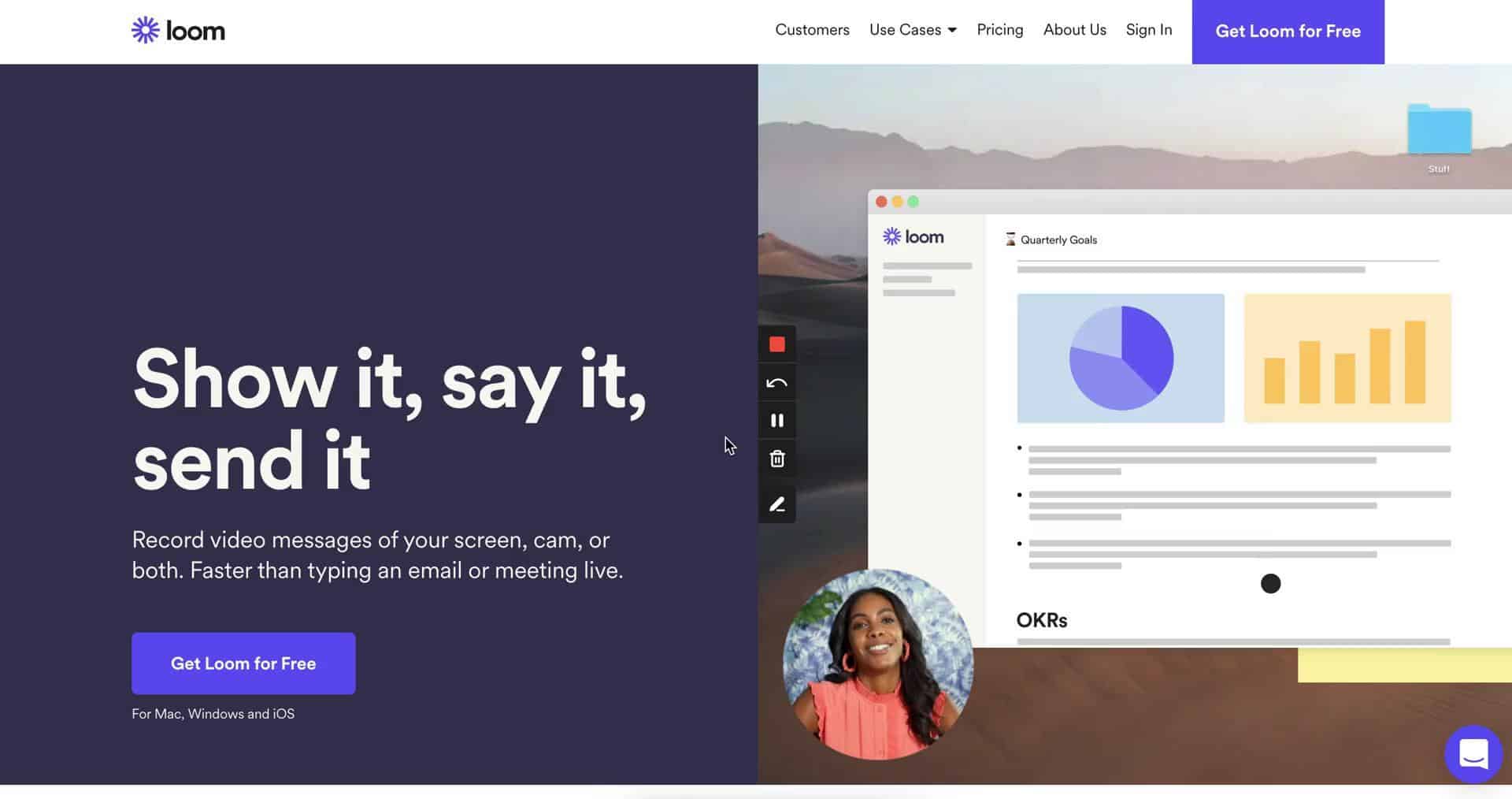 Loom's pricing ranges from the free Starter plan to Business ($8/user/month) and Enterprise (custom billing). Key features include:
Screen recording and floating cam bubble for easy access
Viewer insights and analytics
Custom branding and engagement insights
Transcriptions and closed captions
Team workspace
Instant video editing
Xtensio allows your team to create anything from branded sales sheets and reports, to case studies, pitches, agendas and more.
You can take advantage of hundreds of professionally designed templates or generate your own to create neat and visually impressive branded documents for your clients and customers. Achieving brand consistency has never been simpler.
The service's Free package is suitable for a single user. Paid packages include Personal ($8/month for one user), Business ($10/seat/month), and Agency (custom billing). Xtensio's features include:
Hundreds of custom and editable templates and unlimited documents
Link sharing and PDF exporting
Brand style guides
Custom URLs, admin tools, reports, and statistics
Design management and implementation support
White labelling and profit-sharing
Modules to improve your marketing, product management, operations, sales, reporting, social media marketing, and customer success metrics
Implement and organize efforts across your team and streamline internal communications by generating branded reports and case studies
Save time and money on design with drag-and-drop visual modules
Simplify team collaboration as work syncs across all departments and devices
Are you looking for remote work software that can ensure consistently clear sound during online meetings? Krisp can help.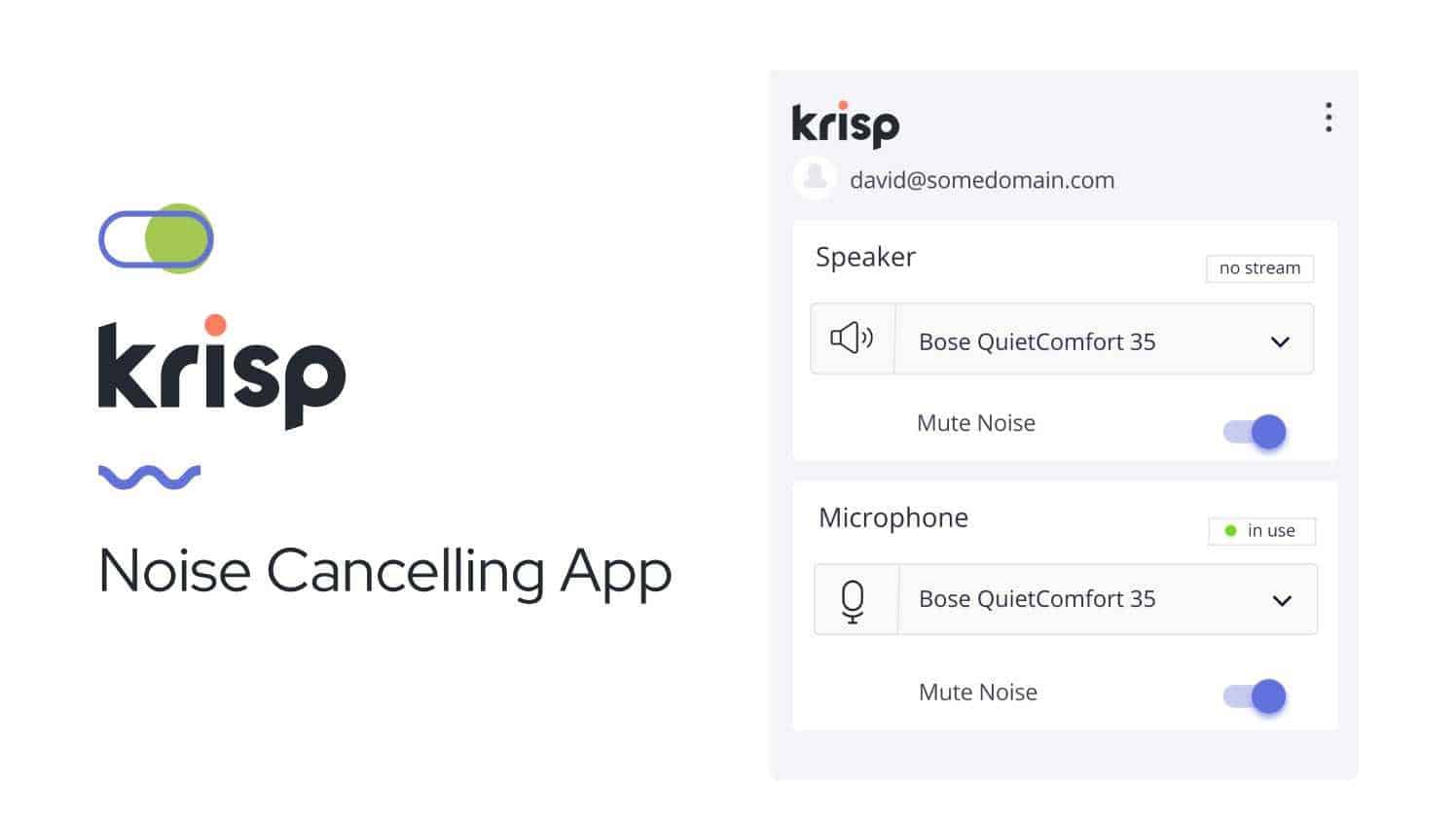 This AI-powered app removes echo and background noise from meetings, leaving only human voices and valuable contributions to virtual meetings and work calls. This is an innovative tool that has a subtle but noticeable effect on the productivity of team meetings and team members' understanding of the information shared therein.
The service has a free Personal plan that offers 240 minutes per week of use to a single user. Teams can take advantage of the Personal Pro ($5/month), Teams ($5/user/month) and Enterprise (custom billing) plans as well. Krisp's core features include:
AI-based noise cancellation that removes unwanted noise from both sides of conference calls
HD voice for excellent voice quality
Room and acoustic echo removal
Integration with 800+ communication apps, including Skype, Discord, Slack, and Google Hangouts
24/7 user support
Floating widgets for easy access to key features and services
Automated audio recording of online meetings
Full support for all headsets, microphones, and speakers
A low power mode for minimal CPU usage.
Zonka Feedback is a comprehensive Employee and Customer Feedback Software with real-time surveys, powerful feedback capabilities and robust, actionable reporting to create world-class employee and customer experiences.
With an easy-to-use Survey Builder, you can create Employee Surveys and measure important metrics like Employee Net Promoter Score (eNPS), Employee Satisfaction or simply do daily check-ins, stand-ups, quizzes and polls. Share surveys on Slack, during meetings in Webex and Zoom, or via Email and Website.
Key features include:
Customized, multilingual and logic-based surveys

Key metrics tracking with NPS Surveys, CES Surveys and CSAT Surveys

Real-time Responses & Alerts

Collaborative Response Inbox

Notes, Tasks, Tagging of Responses

Ability to take action and close the feedback loop

In-depth analytics and reporting including Text Analytics, Trends and more

Location-access and User permissions

Out of the box integrations and APIs to build workflows
The Bottom Line
Even the simplest and most affordable remote work software tools can have a major impact on your remote team's productivity, motivation, and communication. This in turn can promote a positive company culture in which every member of the team can contribute to the progress of your projects and goals in a meaningful way. Even when they are working from home.
Use these leading remote work software tools to track time and manage teamwork outputs, and to design customized workflows that align with your company's mission and goals. You can also use them to track your finances, and improve your data storage and security protocols in 2021 and beyond!
Meta Title: 12 Best Remote Work Software Tools in 2021 | Millo
Description: 
Keep the conversation going...
Over 10,000 of us are having daily conversations over in our free Facebook group and we'd love to see you there. Join us!