Table of Contents
This post may contain affiliate links. See our affiliate disclosure for more.
SolidGigs is a service that emails you hand-picked freelance jobs alerts. For a small monthly fee (currently $21 per month) you will get access to the best 1% of freelance jobs in the world, according to the SolidGigs homepage.
This makes SolidGigs sound like a lot of value for freelancers. However, with so many competitors, from freelancing platforms to job pools and job search groups, you may be asking yourself, is SolidGigs worth my time and money?
In this in-depth SolidGigs review, I'll dive into the good, the bad, and everything else about the platform that claims it'll help you "trade your worst clients for some of the best companies in the world."
I'll also include a few voices and opinions from the freelance community—real freelancers who have used SolidGigs to sign new clients into their freelance business.
By the end of this SolidGigs review, you'll know whether or not SolidGigs is a good fit for your freelance business and if you should sign up for SolidGigs or not.
Short Answer: should you use SolidGigs?
If you don't have time to read my full SolidGigs review below, here's the short answer. Should you use SolidGigs?
YES: if you're a freelancer, particularly one who's very busy and would like extra help finding high-quality clients. Try it for free.
PROBABLY NOT: if you're an agency or if you have a robust client-finding system already in place.
What is SolidGigs?
SolidGigs is a paid service that, based on preferences you set up, sources freelance jobs from the web, and delivers them directly to your inbox.
They are all fresh, high-quality leads and arrive ready for you to apply or send your pitch. It is not a freelance marketplace like Upwork, Freelancer, or Fiverr. They do not facilitate the client relationship, nor do they take a percentage of your client payments.
How does SolidGigs work?
In this intro section of my SolidGigs review, I'll walk you through the sign-up process —it's very simple. You just have to go to solidgigs.com, and enter your email address here:
Or here:
And click on "Get Job Alerts". Once that's done you can subscribe to a free trial by putting in your payment details.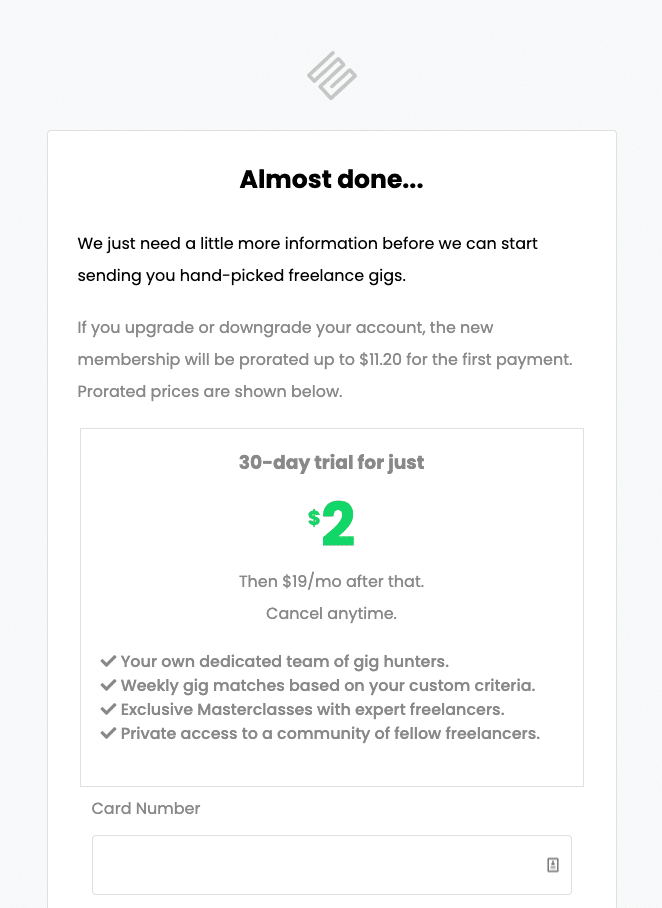 Continue by creating your account/login details.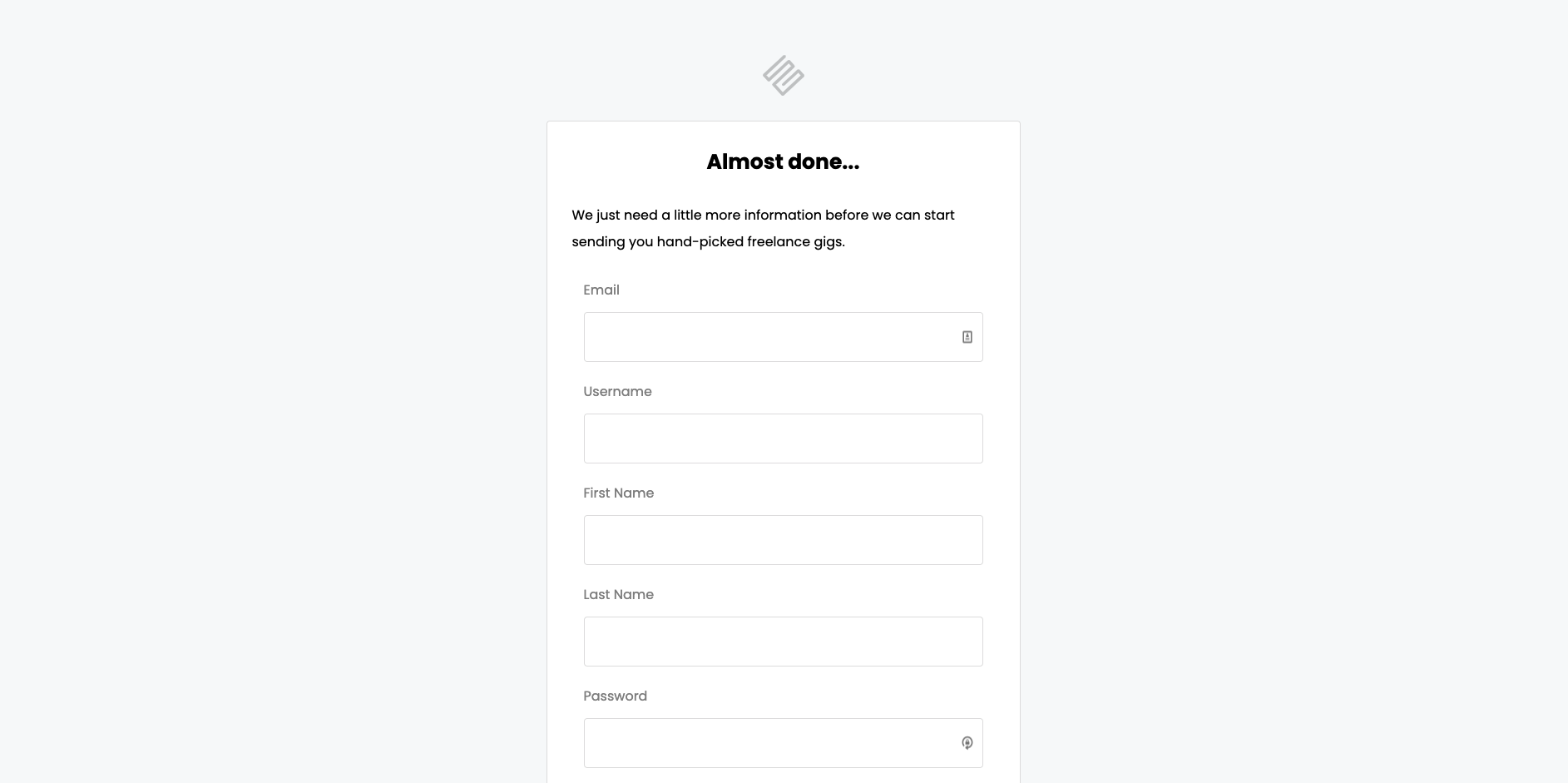 Voilá! You are in.
Finalize by clicking on the yellow arrow beneath "Getting Started" and filling in your job preferences for alerts.
You should expect to fill answers to queries like these:
Boom! You are ready to go!
Your dashboard should look something like this: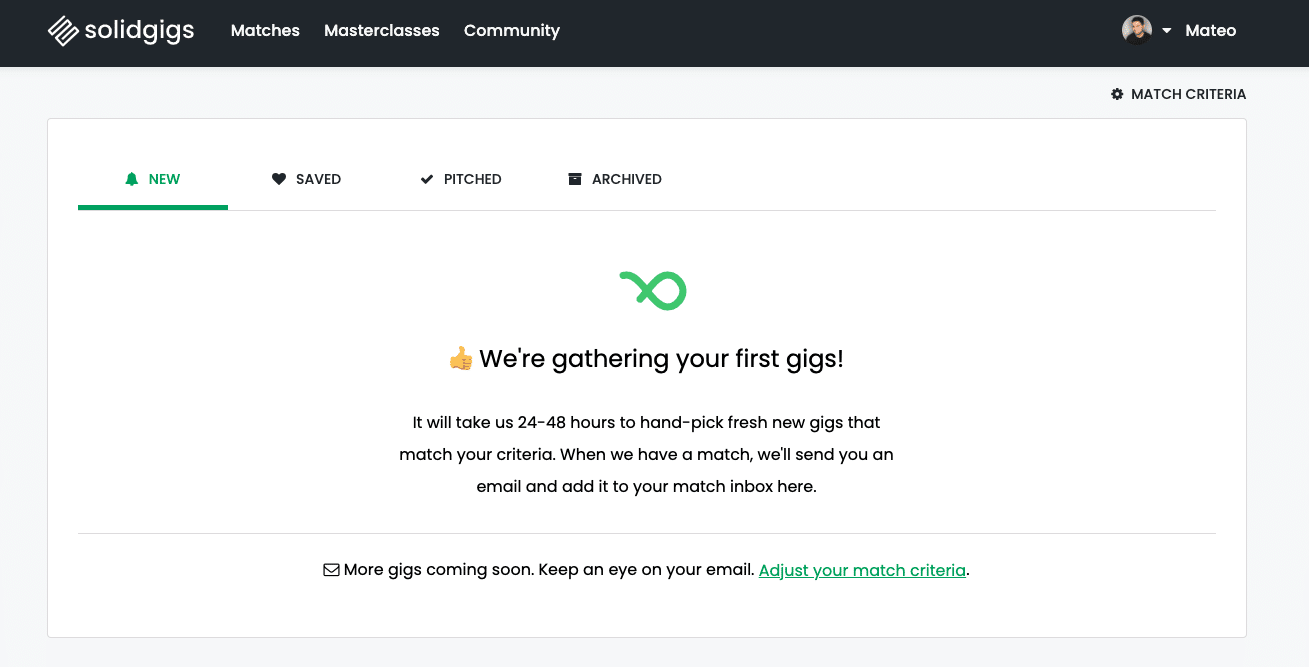 SolidGigs' setup and on-boarding processes were around 5 minutes to complete, something that really impressed me.
Also, I was truly expecting a 24-48 wait time before I was able to get my first alerts, but the first SolidGigs email hit my inbox just a few hours later:
And they didn't stop coming after that!!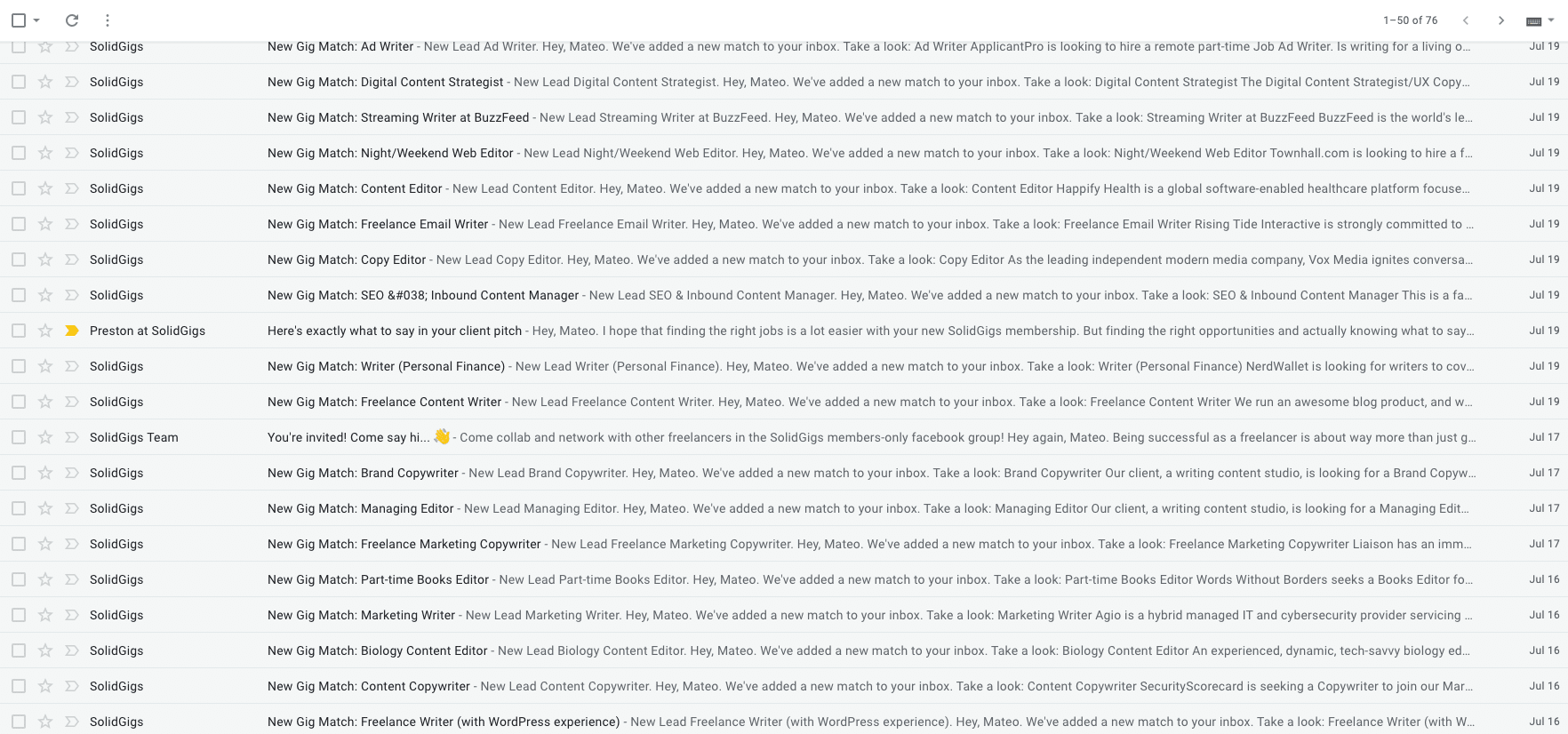 I'm very happy so far with what the service offers, the price, and the quality of the job posts, but hey, let's approach each section in order in the FULL SolidGigs review below.
Who should sign up for SolidGigs?
First, you might be wondering if you should even sign up for SolidGigs. SolidGigs is for anyone looking for remote online freelance work.
From what I've seen it can be helpful if:
You're a freelancer looking to get new clients.
You have a regular job but are looking for a side-hustle working online.
You want to land a full-time job online.
You are a student looking for work experience or alternative internships.
My experience using SolidGigs
Signing up for SolidGigs
The sign-up process was very straightforward. The website loads fast, and the information displayed is simple and clear. The company looks reputable, and the offer is also well-explained.
The trial period pricing and the fact that it's a monthly subscription after the trial is also properly displayed to the user.
I put in my card information, created my account, and set up my preferences in about five minutes. Very impressive.
Using SolidGigs' gig alerts
After I put in my preferences I was told that I would receive my first job alerts within 24-48 hours.
I actually received my first email with alerts from SolidGigs about 6 hours later, a lot faster than I expected.
The process was very easy: I received around 10 email alerts each day with direct links to apply to jobs within my search.
I also got emails with suggestions to improve my pitches and go to other resources available, like free masterclasses, a Facebook community, and more.
I liked the filtering and the quality of job posts, and I also felt confident I could edit my preferences at any time to shift my target if it was needed.
Getting freelance jobs with SolidGigs
Personally speaking, I'm fully booked for more hours as a freelancer, but I decided to review SolidGigs as a test and see how effective it would be for conversion.
I was impressed to see alerts that guide me to job posts like this:
For someone already into freelancing, you must recognize this is a very easy opportunity to close a deal or at least start a good relationship that could lead to future work. Why? Because it's not going to a generic inbox where thousands of applicants send their resumes. It's actually providing you direct contact with a human person that you can talk to and get details from.
I am very confident that I can rely on a tool like SolidGigs to get new clients if I need to because their process facilitates conversion a lot.
With the help of SolidGigs, you get an alert in your inbox, and complete your pitch with a couple of clicks.
SolidGigs Pricing
Pricing is one of SolidGigs' main differentiators and advantages.
A lot of freelancer jobs tools are considered "greedy" by their users because they take a percentage of your earnings on each transaction.
On top of that, most platforms limit the features they offer for free and provide them with paid plans only, only increasing the discontent of many users.
SolidGigs really stands out here because it only charges a fixed monthly fee each month, and that's it.
The fee is also very low. It's $19 per month (at the time of this SolidGigs review) after the trial period, and it your price will never change as long as you keep your account active—even if the price goes up for new customers.
I don't think it would be necessary to write a lot about the ROI aspect of this pricing structure for you to actually see the advantages.
Even if you close a small $100 gig for an article or something like that, the ROI is big.
What if you landed your next full-time role or a high-ticket client? The ROI is incredible!
SolidGigs Review of Pros & Cons
Next, let's review a few pros and cons of the SolidGigs platform to see if you should use it as a freelancer looking for clients. (It's also important to point out that the site you're reading this one (Millo) is managed by the team who built SolidGigs. However, they've hired me as an unaffiliated, unbiased freelancer to try the software out and write up this SolidGigs review based on my own experience. I have done my best to be as honest as possible.)
Pros of using SolidGigs
It's very easy to get started
SolidGigs' offer is very clear, and the website and processes are very straightforward. Signing up and setting up your account for alerts takes around five minutes. Alerts start coming in a few hours later.
Most platforms guide you through very complex application, approval, and profile design processes, which can take from a few days up to a week before you can get started.
High-quality, filtered jobs
You may be driven to think that SolidGigs' technology is just sourcing any jobs from the internet, but from my experience, the filtering was very precise and the jobs that arrived in my email showcased very professional companies and literally, solid opportunities.
Convenient pricing structure
This was one of my favorites. You go to other freelance platforms because they are who get you the jobs. Once you are in, you have to comply with their pricing structure whether you like it or not.
SolidGigs beats the regular offering because they just charge a flat fee per month instead of a percentage of your revenue like most platforms do.
The fee is $19 per month, which in my opinion is very affordable. The SolidGig's team has promised your price will never go up as long as your account remains active and they don't charge any other premium plans or carry other hidden costs.
Facilitates platform-free growth
After freelancing for 6 years, I am of course a fan of platform-free growth. When you work for a platform that controls your earnings, communications, and profile – then your growth gets limited to the reviews and earnings you can get there and showcase on their site.
The type of opportunities that SolidGigs promotes will give you full control of your earnings, how you manage social proof, and the flexibility of iterating your business as you see fit. They give you 100% freedom. This is something very heavy on the score when you compare it to other services.
A platform built and supported by freelancers
Something that I thought was very valuable is that SolidGigs offers you more than just alerts. Some of the emails weren't alerts. They were messages from the founders, in which they offered additional value: how to improve my pitches, how to manage accounting on my business, free masterclasses by top freelancers included with the subscription, a Facebook community, and more. The platform was built by people that understand what freelancers need, and they guide you and support you in the process.
Cons of using SolidGigs
It works for individuals only
If you are an agency trying to find new clients, it would be hard to benefit from SolidGigs because the service and alerts are focused on individual freelancers.
It can be stressful for the fans of inbox zero
I'm a fan of inbox zero myself. I archive or delete every email that hits my inbox and I usually keep it clean. It was hard to keep my preference with the inflow of emails. Probably adding the option of receiving individual leads or just one email with multiple leads once per day or once per week could work for other people. I think I wouldn't really complain about this if I was in massive client-search mode.
More important questions about SolidGigs
Is SolidGigs worth paying for?
From my experience, and writing this SolidGigs review, paying for SolidGigs is a no-brainer if you are looking to get new clients or a new part-time job or internship.
It's affordable, effective, and provides great value.
Every experienced freelancer knows that finding clients is not a luxury. It is a process that takes a lot of time, energy, and sometimes a lot of money.
SolidGigs saves you all of that. It gives you your time back and allows you to focus on other things that move the needle for your business.
If you are searching for clients, it's definitely worth paying for.
And like I mentioned during the pricing section, if you consider the fact that you will get paid for the clients you close and service, then the price tag is ridiculously low compared to the value.
Is SolidGigs legit?
SolidGigs was built by the team at Millo.co, one of the main voices in the freelancing industry. With that reputation backing it up, I don't think it could be more legitimate.
From what I shared in my SolidGigs review here, you can see that the service delivers what it promises, so my suggestion would be to go and start a free trial to see if it would be of benefit to you.
More sites to try like SolidGigs
FlexJobs
FlexJobs is a search site for flexible and remote jobs. It has been around since 2007 and, on top of the job listings, it offers things like coaching, career help, and resume revision.
Fiverr
Fiverr is a popular marketplace for freelancers. They provide a platform that allows professionals to get in touch with clients from all over the world.
Upwork
Upwork is the largest talent marketplace for freelancers and agencies to find more clients. It's very similar to Fiverr in purpose and business model but has innovated in the last couple of years to provide not only a point-of-contact for freelancers and their clients but also a secure way for freelancers to manage clients they get on their own.
What freelancers are saying about SolidGigs
In addition to my own experience, I wanted to include a few comments from other freelancers who have used SolidGigs or even given another SolidGigs review. Here are just a few that might be interesting to you:
"I'm a huge fan of the simplicity with SolidGigs. I can find legit opportunities in a clear concise manner." —Kyle Kroeger, Freelancer Nomads
"As you can probably tell, this will clearly save you a ton of time. If you're looking for freelance work and you've ever found yourself checking even just a couple of sites every day, you'll know the feeling of having to trawl through hundreds, if not thousands, of jobs that just aren't a good fit for you. So all the time you're saving by not having to do that could easily go towards pitching a few extra clients or doing some more training – to help you earn even more going forward!" —Anna Barker, Logical Dollar
"I love the idea of waking up and getting a list of vetted, relevant job postings for my freelance writing services. A few months ago, that was just a dream, but now that I'm subscribed to SolidGigs, that's a reality." —Ivan Kreimer
"What I love about SolidGigs is that, unlike other freelance platforms, they help you focus only on closing deals and winning clients so they do not only deliver you new leads every day, they also give you the tools and resources you need to convert them into paying customers, all for just a fixed fee, no BS, no restricting policies, nothing!" —Ali Rashidy
"The projects on SolidGigs are from more established brands compared to what I have experienced on other online freelancing platforms – the quality is better!" —Chris
Disclaimer: SolidGigs is owned by Millo. We hired a freelance writer to try every aspect of the service. The writer tried the sign-up, payment, and onboarding processes, and then tested the gig alerts for three weeks. This experience gave him the tools to produce an accurate and unbiased SolidGigs review.
Conclusion: Should you use SolidGigs?
As you can tell from my SolidGigs review above, I think you should give SolidGigs a try if you need some nice new client leads to grow your freelance business. If you're even considering it, start a free trial and I think you'll be pleasantly surprised.
Keep the conversation going...
Over 10,000 of us are having daily conversations over in our free Facebook group and we'd love to see you there. Join us!