This post may contain affiliate links. See our affiliate disclosure for more.
A freelance business plan is the ideal way to make quick progress as a freelancer.
Sure, you already feel like you know exactly what you need to do — find more clients, deliver high-quality work within deadlines, send invoices and recover payments. But freelancers who want to grow their business understand the importance of a freelance business plan.
A well thought out and structured freelance business plan helps to craft your strategic and tactical approach, defines tasks and budgets that you can track, and increases your chances of success.
So today, I'll share my 14-point freelance business plan template along with a guide for creating your ideal freelance business plan.
Step-by-Step Freelance Business Plan
Let's dive right in, then we'll cover some of the basics after. My freelance business plan template for you consists of 14 questions.
Take some time off work when you are working on the freelance business plan for the first time, and try not to take calls until it's done. You could review your plan every week and this will only take a few minutes. You could also do a monthly review when you enter your revenue and expense figures of the month, but this should not take too long either.
Let's take a look at the freelance business plan steps below and the guidelines for answering the 14 questions. Download a copy of the template below and follow along as you fill yours in.
1. Company name
We start with the company name – pretty straightforward.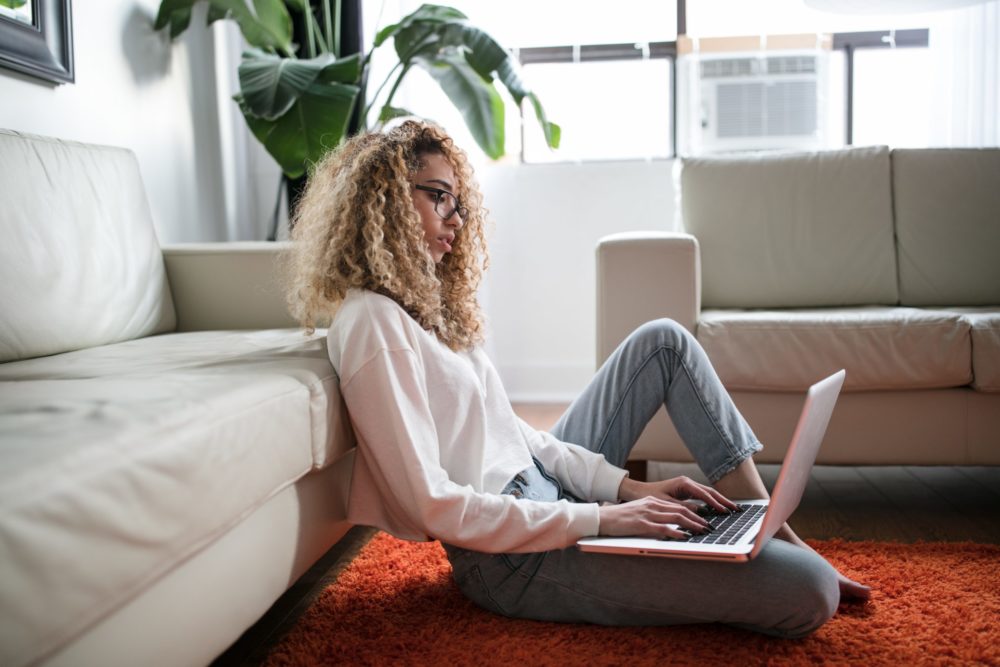 2. Purpose
Question 2 is about your purpose, or why you started your company. It may seem that every business starts with profit as a motive, but when you really think about your own motivation you will find a purpose above profit. Did you start your brand design business because you are passionate about helping entrepreneurs create a distinct identity? Or did you start a video content studio to help more brands get the power of video easily?
3. Target Market
We now come to your target market. If you are in the B2B market then you should define the profile of organizations that you target as well as the specific roles within those organizations who make decisions to purchase from you. If you have done a user persona exercise, you could describe the personas here. If you're not sure about who your target audience is, The Magic of Choosing a Target Audience will be helpful here.
4. Location
The fourth point refers to the geographical areas where you operate.
5. Products/Services
Next we come to a description of your products or services. Do you work on a project basis – with the scope defined by the client? Or do you have any standard products or packages? What is included in your offer? For example, do you offer freelance video creation as a service, and price depending on the scope of each project? Or have you created some standard packages, such as $350 for a 30 second video, with a 200 word script and incorporating 2 rounds of customer reviews?
6. Competitors
The sixth question is about your competitors. You should research before you answer this question because competitors are not always those who provide similar products or services, rather they are those who help users to solve the same problem. This means that your competitors could be from completely different product categories. You will find these insights by speaking to current and potential users.
7. Differentiation
Question 7 is about your differentiation. If you have not articulated this before, then it's an excellent outcome of working on your business plan. As you clearly write your differentiation, you will be able to communicate it much more strongly during sales pitches or in your marketing material.
8. Problems
Now we come to the problems that you solve for your users. What were they doing before they started using your products or services? This knowledge helps you to find more users with similar challenges. What's keeping them up at night? They may not say that it's graphic design or creative needs, and you need to understand how your work helps them. My course is helpful here.
9. Benefits
Question 9 is about the benefits that your product or services deliver. It is extremely useful to articulate this and lends clarity to sales and marketing communications.
10. Marketing
Next we come to Marketing. How does your target audience get to know you? Are you doing anything to reach out to potential customers? You can mention meetups, events, social media, advertising, email campaigns, SEO, or anything else that's working for you, here.
11. Goals
The next question is about your business goals for the next 6 months. I have suggested 3 goals but you can make a longer list if you want. One of your goals could be related to the new business that you want to generate. You may also have the goal of adding a revenue stream. Goals could be related to expansion, for example, launching in new geographies or adding new products. You may have sales or marketing goals such as creating a branding package, or a product to sell online. You may also have operational goals such as implementing a project management tool or better bookkeeping.
12. Milestones
In point 12, list the weekly milestones that you must complete in order to achieve your goals. You should review this every week, and refine as needed.
13. Targets
Question 13 is to define your monthly revenue targets. I have said 3 months, but you can set targets for a longer-term if you want. This is a good time to consider, are you charging enough to reach your goals? If you charge $1,000 for a logo, how many logos do you need to do to meet your revenue goal?
14. Expenses
Question 14 asks you to put down your budget for expenses. This helps you to be more conscious of how you are spending, and when you think about revenue targets and expenses together, you can manage your profitability better. It's all about profitability. If your expenses are higher than your sales, you've got a problem!

What Is a Freelance Business Plan?
Let's back track for a quick minute. A freelance business plan is a document that lists your business objectives, targets, milestones, timelines, and budgets. Think of it as a roadmap that provides direction to your efforts, shows you the landmarks along your route and helps you avoid roadblocks.
Every business needs a business plan but most freelancers never get around to creating one. I have worked with many, many creative freelancers, and I know that some of them are aware of what a business plan is, but believe that only large businesses need it, while others are just not fully aware of the advantages of having one.
A freelance business plan is created with the specific requirements of freelancers in mind. I strongly believe that the template of the plan should be simple and should not consume too much of your time when you need to create, update or modify it.
Business plans of shorter timeframes say 3 to 6 months, are usually most suitable for freelancers. The work environment for most freelancers is just too dynamic to be able to plan ahead for the next few years.
I'll share my preferred template for a freelance business plan here, and take you through the steps. But first, let's see who needs a freelance business plan and what are the benefits of creating one.
Who Needs a Freelance Business Plan
Is a business plan essential for all freelancers? Maybe not, so take a look at the list below and decide whether you need one.
You will benefit from having a business plan if:
1. Freelancing is your main source of income
A plan may not be important for someone who has a job or another primary source of income and is freelancing as a side gig. But if you depend mainly on your freelance business, then the business plan should be a high priority for you.
2. You want to grow your business
If you have the ambition to grow your business, possibly planning to create more bandwidth when you get busy or build a team, then a business plan will help you to achieve that growth.
3. You plan to seek external advice or funding
If you are considering discussing your business with potential mentors, investors or consultants, a business plan is a good starting point.
Benefits of a Freelance Business Plan
The time and effort that you invest in creating your business plan will yield a variety of benefits.
Clearer direction and focus
The process of listing your goals and the steps that you must take in order to achieve them brings tremendous clarity and a sharper focus to your efforts. You will consciously pursue business relevant to your goals rather than respond to every opportunity that comes your way.
Prioritize better
If your working days are a blur of meetings, deliveries, and firefighting, chances are that you don't have the time to do tasks that are important rather than urgent. Once you list these tasks down as weekly milestones that must be achieved for your goals to be realized, you are much more likely to make time for them. Maybe you need to attend networking events in your vicinity in order to attract talent, or maybe you need to spend time creating marketing collateral. Putting these tasks down in the plan makes it much more likely that they will get done.
Track your financial performance
Your business plan helps you track whether you are achieving your revenue targets and keeping expenses within control, or in other words, manage your profitability.
Builds the confidence of external stakeholders
When you need to discuss your business with investors, mentors or other external stakeholders, the business plan will inspire confidence in them and show them that you have thought things through.
Now, go make yours!
Although my template is a little longer than some others, I have seen that it works really well for freelancers. It takes some time when you do it for the first time, then regular reviews and updates are pretty quick. I'm confident that you will find this time well worth it, for the direction, focus, and clarity that you gain from your freelance business plan.
Keep the conversation going...
Over 10,000 of us are having daily conversations over in our free Facebook group and we'd love to see you there. Join us!