***********************UPDATE************************
Congratulations to our giveaway winner: Rob T Duvall of Cortica Creative Design in Kansas City, Missouri, USA!
Thanks, everyone, for your participation, and good luck next time!
Bad luck with clients? Trade your worst clients for some of the best companies in the world with our premium gig list, SolidGigs. Join this month and get your first gig list FREE.
*********************************************************
Remember when you were in college (maybe you still are) and you stressed to no end about your resume and portfolio?
You were all about getting it perfect. "Just right."
It had to be impressive, but not too outlandish. Creative, but legible. Above all else, memorable.
Now, years later, you may not worry much about a resume anymore as you're working to meet and win new clients.
But not much else has changed in how you should represent yourself. Should you be impressive? Check. Creative? Check. Memorable? Double check.
Psst... Looking for more passive income as a freelancer? Learn from 4 solopreneurs who built their own passive income streams from scratch. Enter your email below and we'll send you a link to our free guide. Or preview it here.
So today, we're excited to partner with PlasticPrinters.com to give away 250 impressive, creative and memorable business cards.
What makes these cards so unique?
They're transparent.
Which really opens your mind to some cool creativity.
For details on how to win the set of 250 cards, scroll to the bottom of this post.
But before we dish all the details, check out these really cool examples of what can be done when designing with clear plastic business cards.
23 Cool Examples of Clear Plastic Business Cards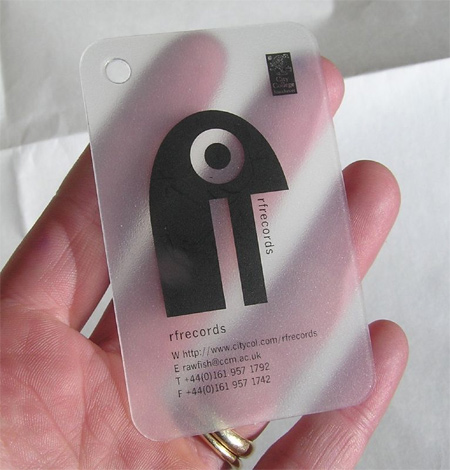 How to win 250 Transparent Business Cards 
We're not going to complicate things. Here are 3 ways to enter to win 250 business cards from Millo and Plastic Printers.
3 ways to enter (choose one, two, or all three)
1. Click here to tweet about the contest.
2. Leave a comment on this post telling us why you want to win.
3. Subscribe to our email newsletter here (we'll send you great content a few times each week, too).
There you have it. Three easy ways to enter.