Table of Contents
This post may contain affiliate links. See our affiliate disclosure for more.
Bloggers are having a moment. What started out as a journal or a side hobby for many back in 1999 has become a multi-billion dollar industry.
Whether you are a seasoned blogger or just getting started, blogging has become a serious business, and you need serious business tools to get ahead. This includes carrying blogger business cards with you everywhere you go, just like any entrepreneur would.
Business cards show that you are a professional. Blogger business cards indicate a commitment to your business––you are willing to invest in well-designed, beautifully printed cards to get ahead in the industry.
Other professionals take any advantage to talk about their jobs, network with peers, and share the news about their company with anyone who will listen. Successful bloggers need this same kind of intensity. Carrying business cards helps with that.
Handing out blogger business cards is practical, as well. How many times has someone asked about what you do, you describe your blog to them, and they want to know what it is called so they can check it out?
Writing down a lengthy title, or even texting the URL is cumbersome, and by the time you finish, they may have already lost interest or moved on to another topic. Besides, blogger business cards are just a more memorable way to share your story. People are far more likely to actually look at the site when they get home if they have a tangible reminder of speaking with you.
You just never know when an opportunity to find new readers, collaborate with other bloggers, or earn a new sponsor might present itself. Blogging may be an online business, but offline interactions are often the most meaningful way to make connections and grow your brand.
What to put on your blogger business cards
If you work at a large corporation, they design and print your business card for you, so it's likely that you've never had to think about the information that is printed on them.
Blogger business cards are different.
As a solopreneur, you are responsible for everything from start to finish. The color, paper, font choice, and all the text are completely up to you. Do not let this intimidate you or keep you from creating the kind of blogger business cards you want. In fact, putting together a business card can be fun and rewarding!
At a minimum, your blogger business card should include the following information:
1. Your logo
Unless you are a professional designer, you should probably outsource your logo design. It's about so much more than just a nice image. Your logo needs to be easy to see in a smaller format, and it needs to make sense with your brand.
2. The name of your blog
For some bloggers, the blog name and your own name might be the same. Just make sure that it's clear what the blog is called––the name should either be incorporated into the logo, or should be a large, bold font.
3. Your name
The people you hand out blogger business cards to need to remember who they spoke with, and need to know how to address you if they choose to contact you.
4. Job title
You might feel silly giving yourself a title, but this detail can really set you apart from other bloggers. You can choose to call yourself simply, "Blogger," or you can call yourself "Founder," "Creator," or, if you have incorporated your blog as a business, you might be the "CEO."
Others go a more creative route, styling themselves as "Evangelists" of whatever topic they write about, or "Chief Problem Solver," or something similar. Your title can also be specific to your blog niche, like "Home Guru," or "Food Critic." The simplest title of all might be "Editor." The choice is completely up to you, but don't skip this part. Just choose a title that is true to who you are and what you do.
5. URL
Nearly all business cards have a website listed, but for blogger business cards, this should be one of the dominant features. After all, the URL is your business. Make sure this is easy to read. You may even want to create a scannable QR code so that people don't have to type in a lengthy website address.
6. Contact information
Make sure people can get a hold of you! You don't need to give out your personal address, but at minimum you need a business email address and a phone number people can use to contact you. You can also list a prefered way to receive messages if you choose, like, "Text @ 555-555-5555."
If you don't always pick up the phone or don't think you will be able to return calls in a prompt manner, I wouldn't include that information. Whatever contact info you use, make sure it truly is a good way to get your attention.
7. Tagline
This is optional, but having a catchy, 3-5 word description of your blog can jog people's memory when they are reviewing your blogger business cards later. For example, the blog SEO Book has the tagline: "Learn. Rank. Dominate." It's simple, concise and tells you something about their blog instantly.
There are other things you can include on blogger business cards, but remember, you are generally dealing with a 2"x3" space. Anything that isn't adding real value to the business card doesn't need to be there. This is not the place to tell your life story or list skills and experience. This is a snapshot of who you are, what you do, and an invitation for people to find out more.
8 Blogger business cards examples
1. Business postcards from MADE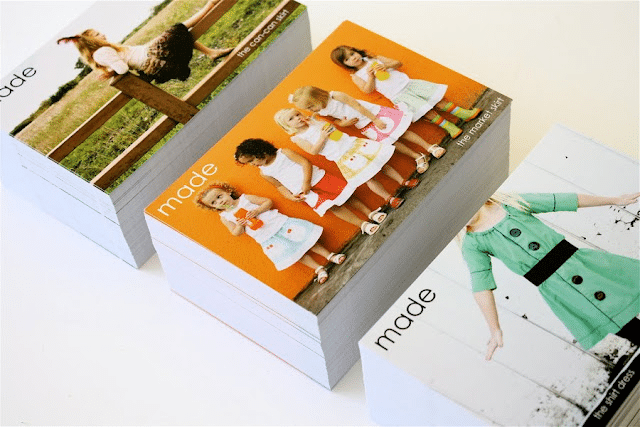 Dana Willard has been a blogging powerhouse almost since the industry started, so what she is doing works. Her blog is mostly about sewing, so putting photos of the different items she has created is a smart move. She went with larger-than-normal blogger business cards in order to stand out from the crowd. On the back of these postcards is some simple information and her URL.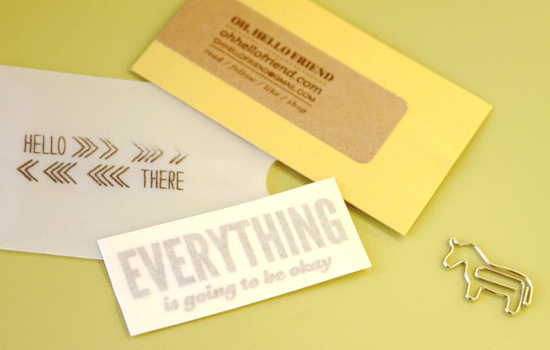 This blog-turned-shop nails the branding and leaves a lasting impression by packaging blogger business cards up in an envelope with an added decal and unique paperclip. It may be pricey to do add-ons like this with your blogger business cards, but you can bet people remember you.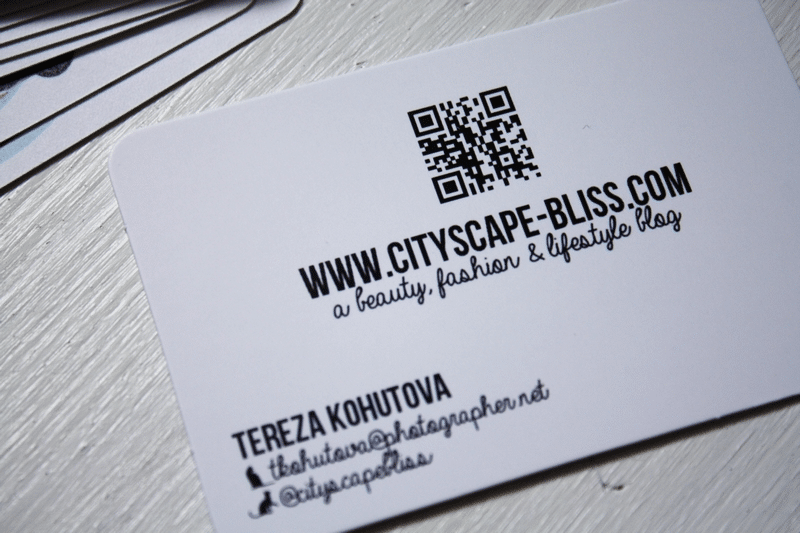 This card proves that sometimes, less is definitely more. The minimalist design includes a QR code, which means readers can find out all they want about the site just by turning on their smartphone.
4. Stand out shapes by Sarah Caron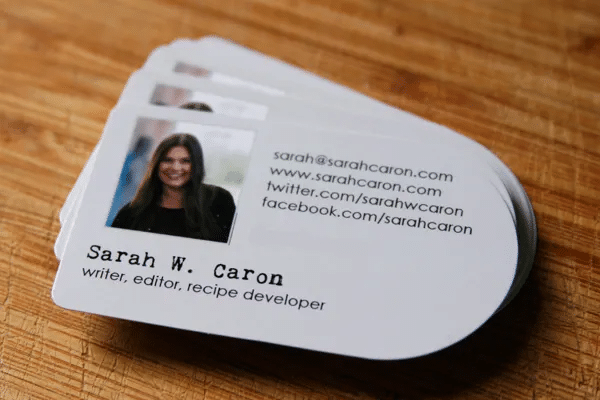 Not all business cards have to be a rectangle. These blogger business cards stand out because of the rounded sides, but there are so many interesting shapes and edge designs you could explore. Sarah's cards are also unique in that Sarah maintains multiple blogs, both of which are represented on the back. It is smart to integrate all of your brands into a single business card.
5. For writers, by Simply Pixel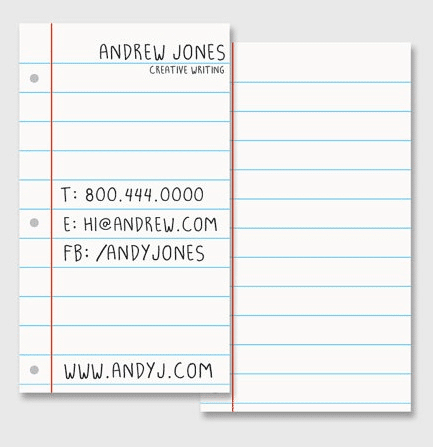 If you have a blog focused on writing or something academic, these fun, notebook design cards from the Etsy shop Simply Pixel could be just the thing to show off your site. Unfortunately, the shop doesn't seem to be currently active, but definitely take inspiration from the idea of using tools of your trade to make stylish blogger business cards.
6. A picture tells 1,000 words from Skinnedcartree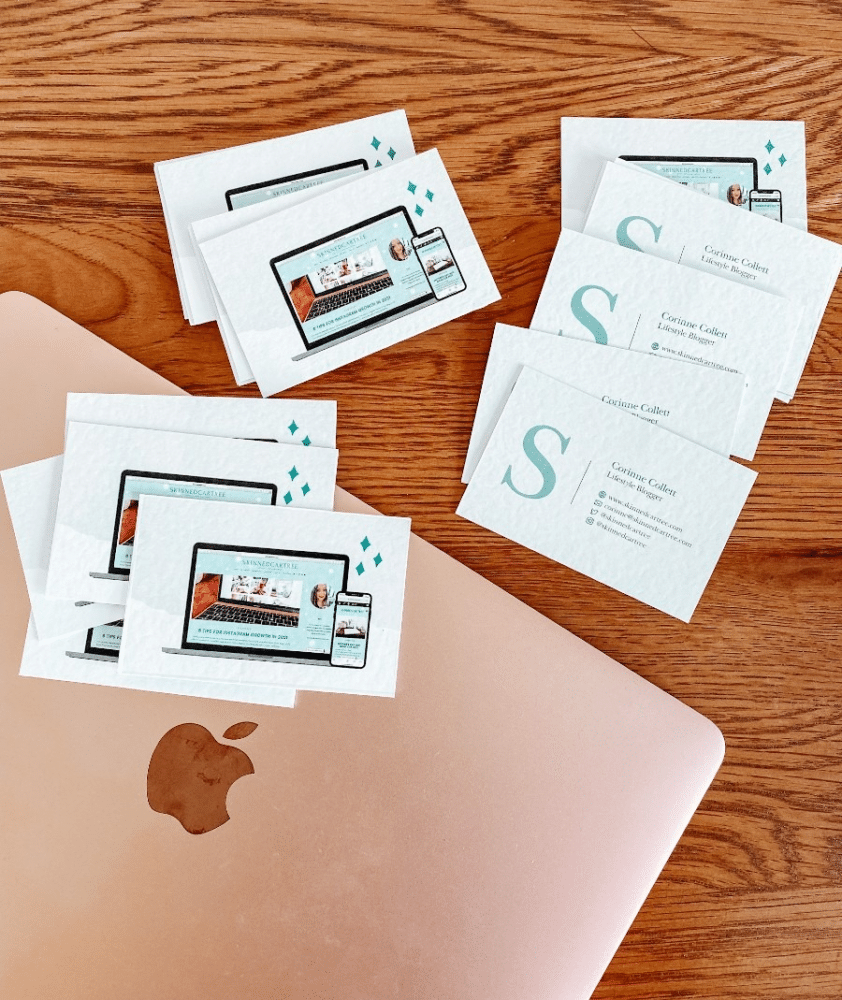 This UK lifestyle blogger found a way to let her blog shine without including too much text in a small space. She simply included her actual blog in the design. This screenshot showcasing what the blog looks like on your screen is brilliant.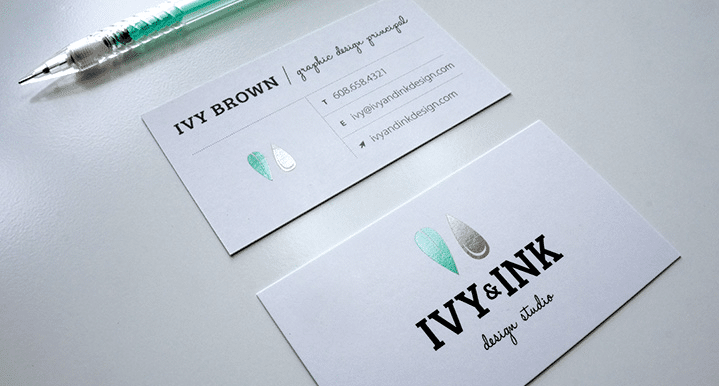 For a design blog or any other art niche, the details and finish might be the only impression you leave with any potential readers or partners. These lovely foiled cards are beautiful and bold without being over the top.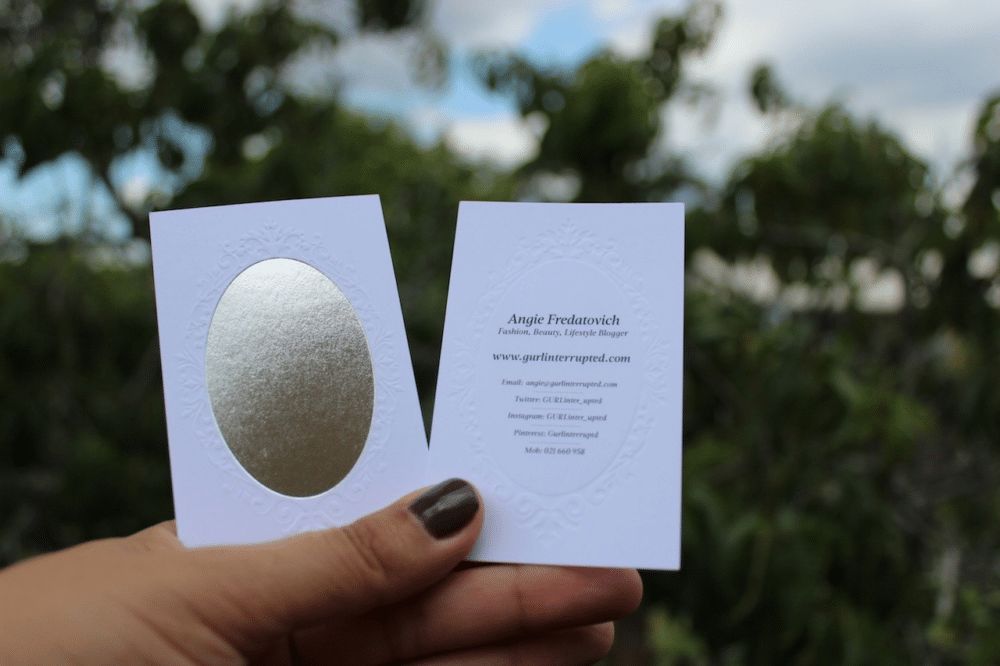 This fashion and beauty blogger has a reflective mirror inset into her business card, with her details framed on the back. In this instance, the actual logo is not represented. This works if your blogger business cards still showcase and stay true to your brand.
Where to get your blogger business cards from
Blogger business cards are the face of your personal brand, so quality matters. When it's time to decide where to have them printed, luckily, there are a lot of stellar options out there.
Around since 2011, Moo is highly rated by many independent bloggers and business owners. Moo has a variety of beautiful templates, or you can design your own blogger business cards.
This is a great budget-friendly option for bloggers just starting out, or if you want to try multiple business card designs. Vistaprint also features templates or the option to upload your own design.
When you're in a hurry to get your blogger business cards printed and in your hands, NextDayFlyers allows you the option to upload your design, print it, and have it sent to your address in as little as one day. Keep in mind that you will pay for expedited shipping, but sometimes it is worth it!
Most people have heard of Minted by now, and have probably received a stylish holiday card or wedding announcement with the Minted logo. Did you know they also print business cards? Although you won't be able to upload your own design to Minted, they allow you to customize any of their beautiful designs, all created by independent artists, with your details.
If you're on a tight budget, you cannot beat overnight prints for printing business cards. Their range of templates is fairly generic, so I don't recommend using this service unless you have your own custom design for blogger business cards.
Now go create your business cards!
Whatever niche you are in, blogger business cards are a great way to take your blogging business to the next level.
Passing out physical cards at every opportunity will increase your exposure to all types of audiences and help you present yourself as a professional. It's a minimal investment that will yield maximum results. Find the design that speaks to you, choose a printer, and start using those blogger business cards today!
Keep the conversation going...
Over 10,000 of us are having daily conversations over in our free Facebook group and we'd love to see you there. Join us!