Table of Contents
This post may contain affiliate links. See our affiliate disclosure for more.
As more and more people get online on a daily basis, the way people have advertised shifts along with the move. In 2005, people logged around 10 hours online per week.
In 2014, that number jumped to over 20 hours, with 16-24-year-olds spending the most time online, around 27 hours. Today, the number continues to grow as a Pew Research study notes that 81% of Americans spend at least some time online on a daily basis. In short, people are spending rather a lot of time online.
The more time spent online, the more things there are to do from reading the news, scanning social media and shopping. In 2016, 1.6 billion shopped online for goods and services, but that number is expected to reach 2.14 by 2021 according to forecasted trends. As a response, the marketing world has altered its course and begun to focus where the consumers are: online.
Today, brands slip in on your social media feeds, marketing is directed at you, through your device, often based on your history or likes. It's an elegant system if you're a company, and it's perfectly personalised if you're a consumer.
All of this is of course very good news if you're already in a digital marketing job or considering entering the digital marketing jobs market – it's a market that is only going to continue to grow.
What is digital marketing?
Even if you're involved in digital marketing you might not realise quite how broad the industry has become. So, we'll take a quick look through what digital marketing is today and how influential it is on consumers.
Digital marketing is simply any sort of marketing on electronic devices. Since most people are spending time online, it's marketing catered to each individual.
The history of digital marketing
This aspect of marketing includes more than marketing on Facebook or personal websites, digital marketing has been around for over 100 years, beginning when Guglielmo Marconi invented the radio.
He sold show tickets to a Met opera after broadcasting it through the radio, but the technical definition of what he did wouldn't exist until the 1990s. In the 1970s, Ray Tomlin sent an email, and that technology would forever alter marketing and the consumer. Officially, digital marketing began in 1990 when FTP sites created the Archie Search Engine as an index.
As consumers have changed, so have digital marketing methods. Massive changes were made in the 2000s and 2010s as the internet gained more daily users and as smartphones became prevalent. Opportunities for advertising now exist in people's hands.
But, with the rise of personal devices came issues.
The switch to online shopping caught many companies off guard. As late as 2000, many UK retails neglected to even register their domain names. Marketing automation helped marketers, but moved slowly integrating adaptability to personal devices.
Today, there are concerns about customer privacy and data protection. As the world of digital marketing evolves, so will the issues being faced and how they are handled.
Digital marketing campaigns made up of search engine optimisation (SEO), content marketing, influencer marketing, e-commerce marketing, and more require experts in these fields to best cater to consumers.
While many of these digital marketing jobs require technical ability, they all still require many traditional job skills such as teamwork, personal motivation, and excellent verbal and written skills. Today, digital marketing is as much an art form as it is a science.
Of course, some of the newer jobs, such as virtual reality developer, will require an intensely high tech background that comes from years of learning. Just as every person has a unique skillset, so does every job in digital marketing, and there is probably a place for you within this field that fits your qualifications.
Most popular digital marketing jobs right now
Social Media Marketer
With the influx of social media comes more and more jobs. As a social media marketer, your job is to help companies interact with consumers across a wide array of social media platforms. You'll give input on social media campaigns designed to attract new customers, and retain current customers with your knowledge of analytics and consumers.
Bot Developer
Today fewer people are willing to make a phone call for help and instead head to a company's website for assistance. As a bot developer, you'll be overseeing the creation and interaction of a chatbot with customers. Your chatbot will converse and hopefully sell products to customers or nudge customers towards a buying decision, making your contribution invaluable.
Digital Marketing Manager and Director
Overseeing and implementing digital campaigns is the job of digital marketing managers and directors. Tasks include organizing and managing a budget, planning out the project, setting milestones, and more.
To be a digital marketing manager and director, you must have stellar communication and organization skills, as well as staying firm with decisions and excellent delegation skills. Typically, this job requires a considerable amount of experience (which you can easily get at a digital agency), but the payoff is excellent.
Content Manager and Strategist
A content manager and strategist can often work on developing content for a variety of marketing needs. They will have a solid knowledge of creating keyword orientated content, in addition to organizing and managing it.
They will know how to write well, channelling a wide variety of information into concise and informative content that will reach people effectively.
Email Marketing Specialist
If your writing is stellar, and you have a background in marketing, copywriting, or editing, this highly specialized job field may be for you. An email marketing specialist is part of a specific area of content development and marketing, and will probably be in charge of launches, campaigns, or PR activities.
As email is a strong and effective way to reach consumers, this job requires a persuasive method of writing. Not just any person can be an email marketing specialist, you must be able to showcase your excellent writing and editing skills and be prepared to work quickly and efficiently.
Data Analyst
A data analyst organizes and examines data, whilst preparing it for a company to interpret and apply it to their own digital marketing campaigns. As a data analyst, you must have a technological and computer science background. You understand programming, data optimization, and machine learning.
User Experience Designer (UX Designer)
A user experience designer or UX designer is involved throughout the design and development phases of a website's creation. Bigger websites may even have a UX team to ensure ongoing user experience improvements on their website properties.
Many tend to shift towards the technical or the design aspect of creating, but they must understand the website from a marketing aspect.
Additionally, they must understand their audience, as well as the product or service they are promoting via the website. A UX designer often takes on the lead roles in project management and caters to website usability throughout the process.
SEO and SEM Specialist
SEO (search engine optimization) and SEM (search engine marketing) specialists are vital to a digital marketing campaign. Their knowledge is made up of both digital and technical aspects. As search engine algorithms fluctuate, so do businesses, and a person with SEO and SEM experience cannot lag behind in this speciality.
While businesses, particularly ones in e-commerce, will always need someone in SEO/SEM to maintain high ROI, this job requires a considerable amount of experience and knowledge. The payoff is fantastic though, and SEO/SEM jobs command a high price.
Internet of Things Marketing Specialist
With the rise of the Internet of Things (IoT) comes more and more jobs. An IoT specialist will understand and corral data collected from computing devices and be able to create a campaign from those devices to users of each device.
As personal computing devices grow, so will the needs and requirements of IoT specialists.
Virtual Reality Developer
This is definitely a highly technical role, but the paycheck should equal the technical requirements necessary for this gig. It is both new and highly specialized, but you must have strong creative skills.
A background in visuals, technology, or special effects would be helpful, as well as a very strong creative vision with an eye to the future. Many predict that virtual reality is the future, so you'll be on the cutting edge of technology.
Where to look for digital marketing jobs online
The best resource for digital marketing jobs would be found on the internet itself. Here are some of the best sites out there, from smaller websites to the largest.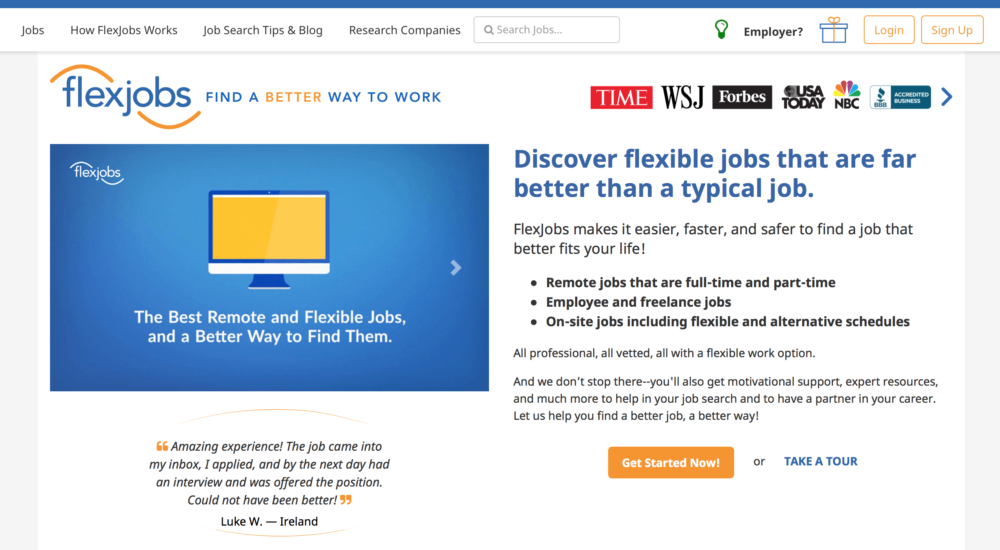 FlexJobs offers a variety of different job options in either full or part-time capacities. Their blog gives helpful advice, but more importantly, their research companies section allows you to research and ensure that a particular company and you would be a great fit. For professional, flexible jobs, FlexJobs is the site for you.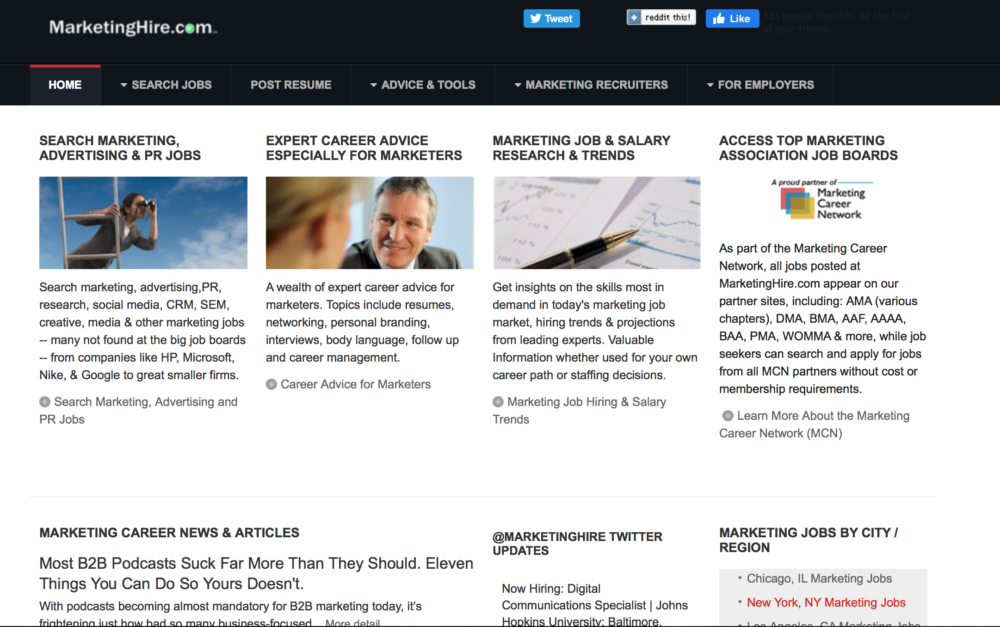 Use Marketing Hire for specific searches in the marketing field. While the website feels dated, they have the info available in a wide variety of sources from podcasts to summer internships. Their free videos and webinars are helpful as well. They state that they display jobs from HP, Microsoft, Nike and more, as well as smaller firms, making them an excellent resource for reliable digital marketing jobs.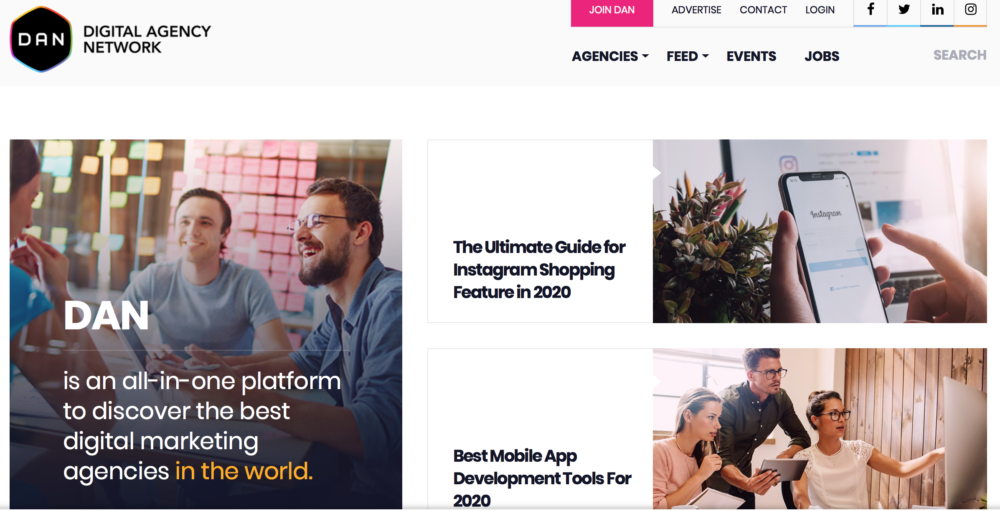 Digital Agency Network features jobs from all over the world, from Charlotte, NC to Vancouver, Canada. Their mission is "… to support the digital marketing industry and enhance the intelligence, expertise, reach and effectiveness of digital agencies, companies, and individual marketers through online platforms, consultancy, events and training." Additionally, the ability to showcase work through DAN gives you the opportunity to display your talent, depending on your field.

Glassdoor is a behemoth in the job searching industry, and many employers use this site. While the jobs posted here will always have a high concentration of competitiveness, it's a valuable resource to use. Additionally, you can search for jobs worldwide and in specific fields, so it offers more options than some of the smaller, specialized sites. Most importantly, Glassdoor allows you to assess your salary, making it an invaluable resource as you determine what to charge for your services.

Just the task of looking for digital marketing jobs is a full-time job in itself. Looking to save time and just get to the best jobs? Enter: SolidGigs.
For a mere $2 to try it out, SolidGigs scours the internet for the best jobs online and sends them directly to your email. It leaves you to just apply and do what you love (not searching for jobs). Not only that, they have a library full of resources to help you become a better freelancer.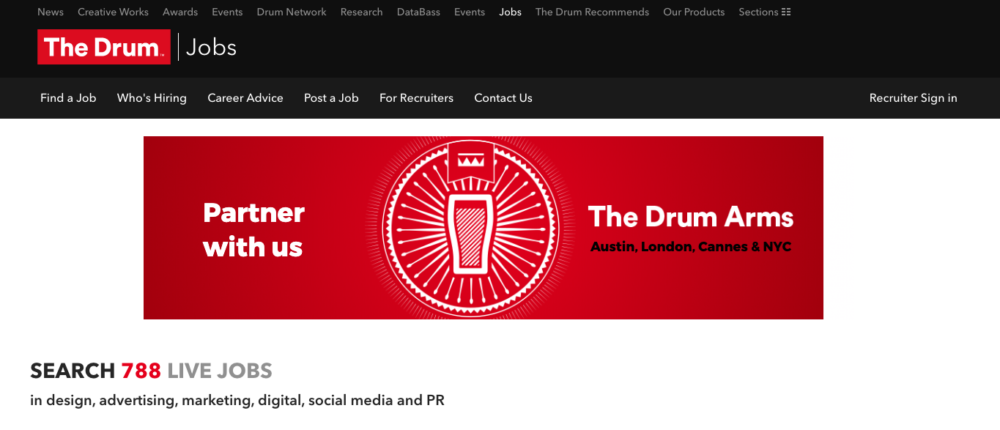 If you're looking for a wide variety of information on digital marketing, the Drum is the website for you. They have an equally wide array of job postings from design to PR. Their email newsletter offers useful information about the market, while their comprehensive social media helps you stay connected and informed. This is a worldwide job posting site.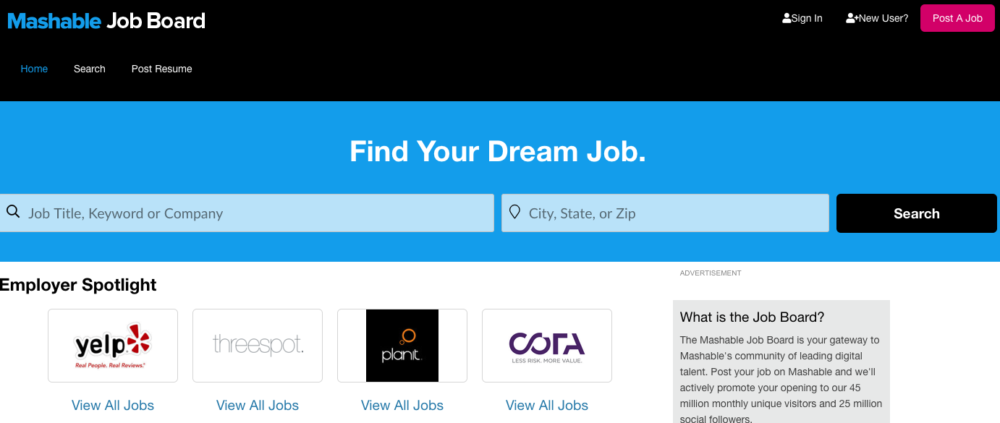 Surprisingly, Mashable has a thriving jobs board that allows you to select your job title, location, and then organizes jobs by employers. It doesn't display nearly as many helpful options about perfecting your CV or your specific job market, but it does have jobs available in marketing/PR. As a big name in digital talent, Mashable offers a unique way to find your perfect job.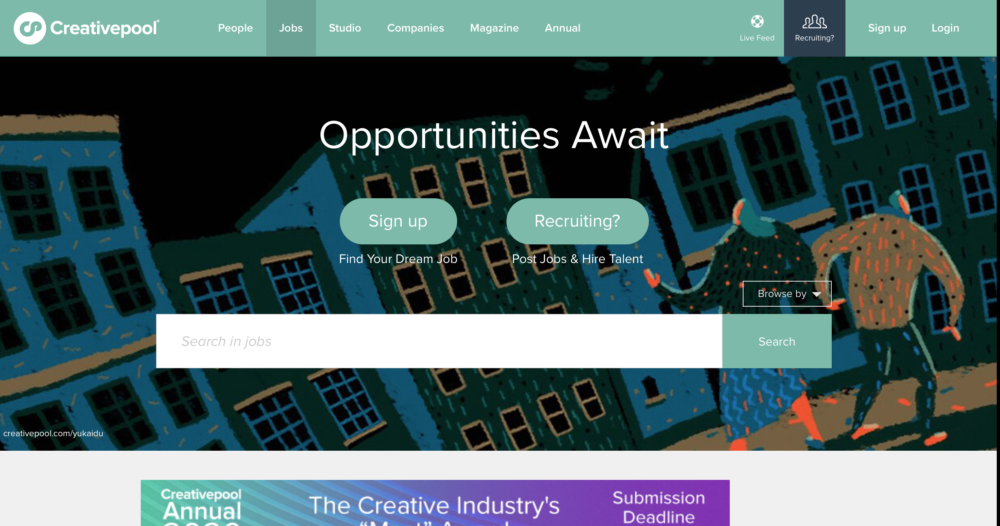 If you're looking for worldwide jobs, Creativepool is an excellent resource. They also cater towards freelancers and contract roles, but permanent roles are also available. Their magazine offers a wide variety of career advice, making this site an excellent and unique resource for job hunting.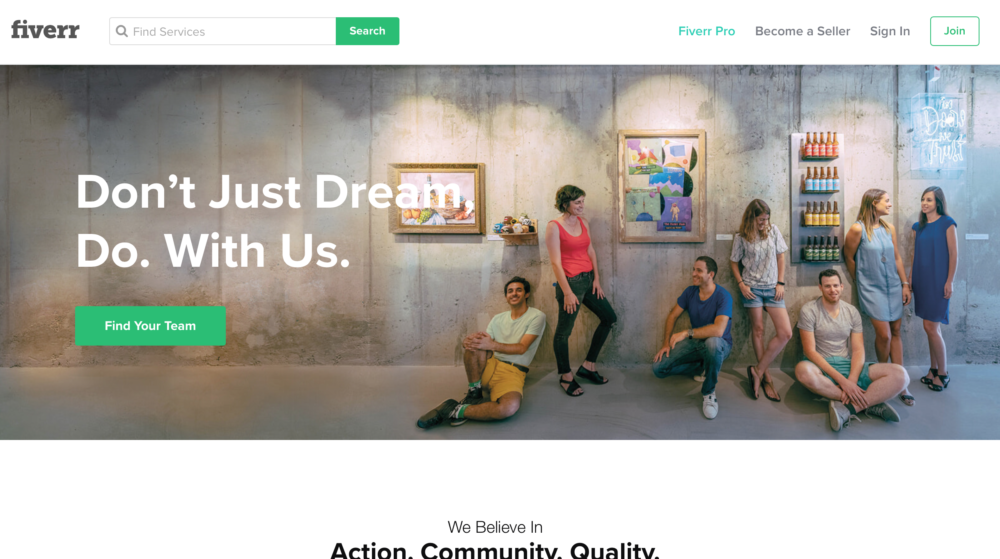 Fiverr isn't technically a job board, but it's a great way to stay connected with others in the digital world. If you're a freelancer, signing up will help you find short term projects, with a starting fee at $5. With a broad user base, and guaranteed payment, Fiverr opens up opportunities for the short term to give you experience and possibly help you transition into a full-time job.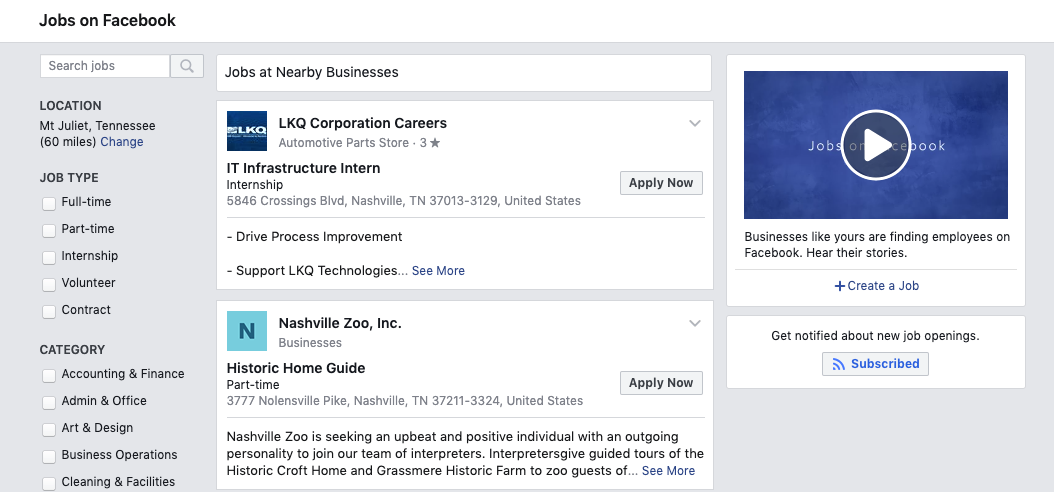 Utilizing the jobs on Facebook feature may display possible jobs in the digital marketing sphere. While this is a relatively new feature, it might prove helpful for people in the tech world. The advantage is that it is connected to your social media already, making it simple to upload your CV and connect with others.

Lastly, no comprehensive list of job sites would be complete without including Indeed. As easily one of the largest and most recognized names in the job search world, Indeed offers a wide variety of job postings across the world. Their job resources are helpful and it's very easy to upload your CV and apply to an assortment of jobs.
Other ways to find digital marketing jobs
By staying up to date on LinkedIn and following companies relevant to your interests, you will stay abreast of changes and possibly find yourself ahead of the competition for a job.
Even Twitter can be beneficial, as long as you're active on it and not derogatory or demeaning. Utilizing the background information that is available on social media may also help you better understand certain companies and hopefully help you ace that interview.
If you use social media in applying for jobs, remember to keep your social media clean and try to paint yourself in a positive light. Using social media to attack others, act violently or erratically, or use hate speech is not just unkind, but will probably keep you from getting a job in the digital field.
More often employers today use social media as a way of checking on possible employees to make sure they measure up. Think of your social media as an extension of your CV.
Do you really want your future employers to see your drunken comments and pictures from your holiday in Cancun? Probably not. So use this time to clean up your accounts.
Tips on landing digital marketing jobs
So, you have your dream job in mind, you have resources for finding your job, now what?
Do your research on the companies you're applying for to make sure you're going to be a good fit and that you and the company are aligned in values and culture. Before you send in your cover letter and CV, make sure they're unique and will stand out from the crowd.
Have a friend proofread your documents to make sure you use proper grammar and spelling. Stay honest and tell the truth. Be positive, but don't add falsehoods to your CV. And lastly, check-in, but don't stalk. Prove yourself as a go-getter, but if the job is a bust, move on to another company.
Best of luck on your digital marketing journey!
Armed with your newfound knowledge and skills in digital marketing, you should be set to land yourself a job in digital marketing. While you're waiting for your job, keep practising your skills and stay relevant online to keep yourself qualified for your new digital marketing job.
Keep the conversation going...
Over 10,000 of us are having daily conversations over in our free Facebook group and we'd love to see you there. Join us!