Table of Contents
This post may contain affiliate links. See our affiliate disclosure for more.
Being an artist is about so much more than just drawing pictures or designing logos. The creativity required to be a professional artist is part of who you are, and you're always looking for ways to apply your creativity and individuality.
Your freelance artist business cards are the perfect opportunity to really put your own stamp on your brand.
Not only will unique business cards help you stand out, but you'll also find designing them to be a creative challenge. How do you express yourself in such a small space?
The importance of freelance artist business cards
I can practically hear all of you asking: why would I even need freelance artist business cards when my contact information is all online?
Surprising as it may be, the internet just can't solve everything.
Business cards are a great way to exchange information in a face-to-face environment. Imagine going to a networking event, meeting a potential client through a mutual contact, or chatting with a stranger on a plane. You get talking, and find out they need a designer or are looking to commission an art piece. You are super excited, so you give them your name and wait to hear more.
But they never reach out.
They may have changed their mind, but it's also completely possible that they just don't remember the whole exchange. Or if they do, they can't remember your name or who introduced you.
Don't be that artist.
Be the person who carries freelance artist business cards at all times, so you always have a way to leave an amazing impression. Sure, you could ask to put your info into their phone, but that is a much more pushy approach than just handing them a business card.
Freelance artist business cards are a personal, stylish way of making connections and under the right circumstances, they can help drive client connections.
6 Ways to utilize your freelance artist business cards to get clients
You've probably heard that most business cards wind up in the trash, anyway.
But let's think about it in terms of cold, hard statistics. (I know, the last thing creatives want to hear about is math, but hear me out!) Average artist websites have around a 2.5% conversion rate, according to Wordstream.
The most commonly thrown around number for business cards is that 88% of them end up in the trash. I couldn't find a legitimate source for that, but let's assume the statistic is true. That means that business cards have a 5x better conversion rate than your art!! Would you go into business without an artist website like these? Probably not.
Even if that number is somewhat inflated, physical freelance artist business cards are a great tool in your arsenal when you're trying to make money as an artist. Here are just a few ideas to get you thinking about how to make them work for you:
1. Referrals: Hand out a dozen cards to each of your best clients and ask them to help spread the word. While you're at it, give them to family and friends and ask them to do the same.
2. Pass them out to strangers: Start by challenging yourself to give out ten business cards this week. The more cards you pass out, the better your odds are of finding a new client.
3. Place them at a local business: If you know someone with a retail shop who wouldn't mind showcasing your cards, take them up on it! Don't discount the power of foot traffic, even for digital products.
4. Team up with other artists: If you're participating in a boutique or fair, be sure to include your freelance artist business cards in shopping bags with every purchase. Someone who has already purchased your product is doubly likely to keep your card and tell their friends.
5. Bulletin Boards: Many communities allow businesses to put up flyers in public spaces, grocery stores, banks, etc. Ask if you can stick a few business cards on the bulletin board and see who notices.
6. Leave a trail: Drop a card on top of your tip at restaurants, slip one into art books at the local library, stick a few in the brochure stands at tourist locations, or stick one in with your electric bill payment. Get creative! Freelance artist business cards aren't that expensive, and if you leave one just about everywhere you go, you never know who will find one and reach out!
What to include on your freelance artist business cards
Freelance artist business cards are like most freelance business cards. There is a loose structure that you can follow to ensure your cards will be useful to prospective clients.
Here's what to include:
Your name
Your freelance business name (if applicable)
Contact information
Website
Social media handles
Get creative — add your own flair to make your card stand out. If it fits with your brand, you can do techy things like adding a QR code to link to your work. Because you are creating freelance artist business cards, you may want to have a sample of your work. Some cards have a photo of the artist—but a self-portrait in your preferred medium would be better!
You might come up with a clever title, like "Plaster Guru" or "Digital Art Evangelist." At my first ad agency job, all of our cards used the title "Problem Solver" under our traditional job title. You could use some of your precious real estate to tell your story in a sentence or two.
Every choice you make shows a piece of who you are to new contacts, so choose wisely. Above all, be authentic to what you do.
Here's a few things you can just leave off. For freelance artist business cards, do NOT include:
Your address (unless you have a professional PO box).
Links that are not your own website (even if they are work samples).
Tiny print. Nothing under 7 points, or people just can't read it.
Too much text. You're an artist, show your value instead of telling.
5 Examples to inspire your freelance artist business cards
Remember, it isn't enough to just have business cards. As an artist, your business cards have to convey an entire sense of style and sophistication in a space smaller than your fist.
Here's some of the best business card examples I could find, to help inspire you.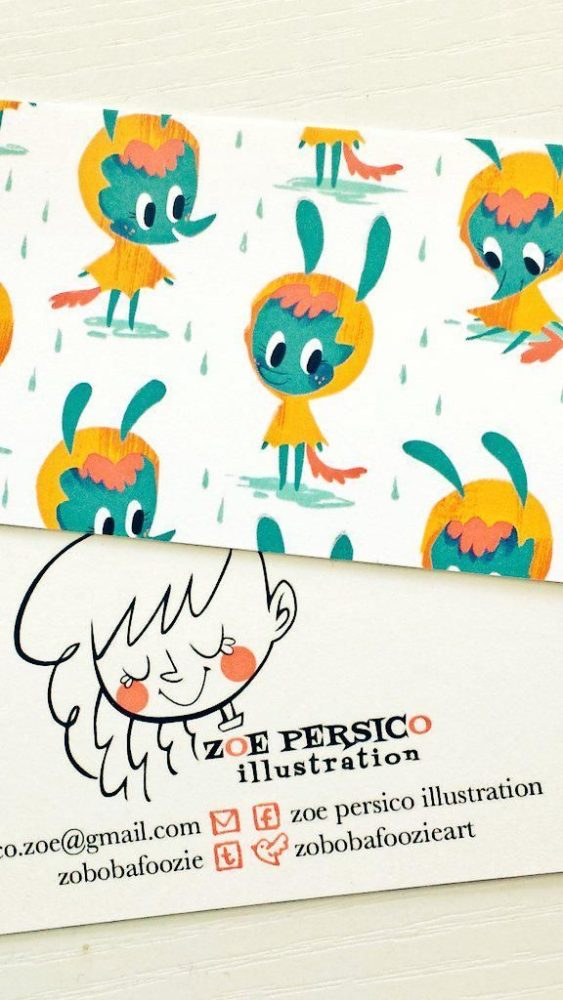 Business cards that use color are way more likely to be effective than a boring black and white card. I love Zoe's use of a cute character to show off her style. I can tell exactly what she's all about from one glance. At the same time, she leaves enough white space that the card doesn't feel cluttered.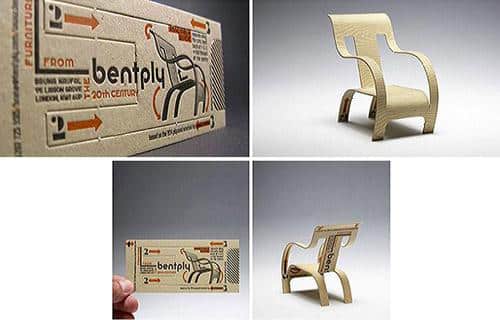 This London furniture shop created a simple interactive business card that exudes style. The odds of this card going directly into the trash are almost nil. This is the kind of card that will get shown to friends and passed on to other people. As technology improves, fancy business cards are more and more affordable, so if you have a strong idea, get a quote!
These fabric-backed business cards go beyond just a unique design, they will have a unique feel in your clients' hands. Printing on unconventional materials is a great way to stand out from the pack. If you can't find a printer to do exactly what you've got in your head, buy a custom-made rubber stamp and create your own, or do what this designer did and simply glue the material to the back of your printed cards.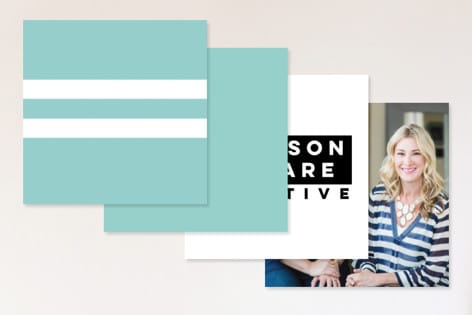 If you really don't have time to design your own freelance artist business cards, or lack the computer knowledge, there are a few quality sites to get them from. Minted offers high-quality designs like this one from Robert Tru.
The square shape is a good way to get noticed, and you can upload a photo of yourself or your work for the back. If you're ordering a pre-designed card, just be careful about choosing one with artwork that you haven't drawn yourself. Stick to something basic that fits with your style.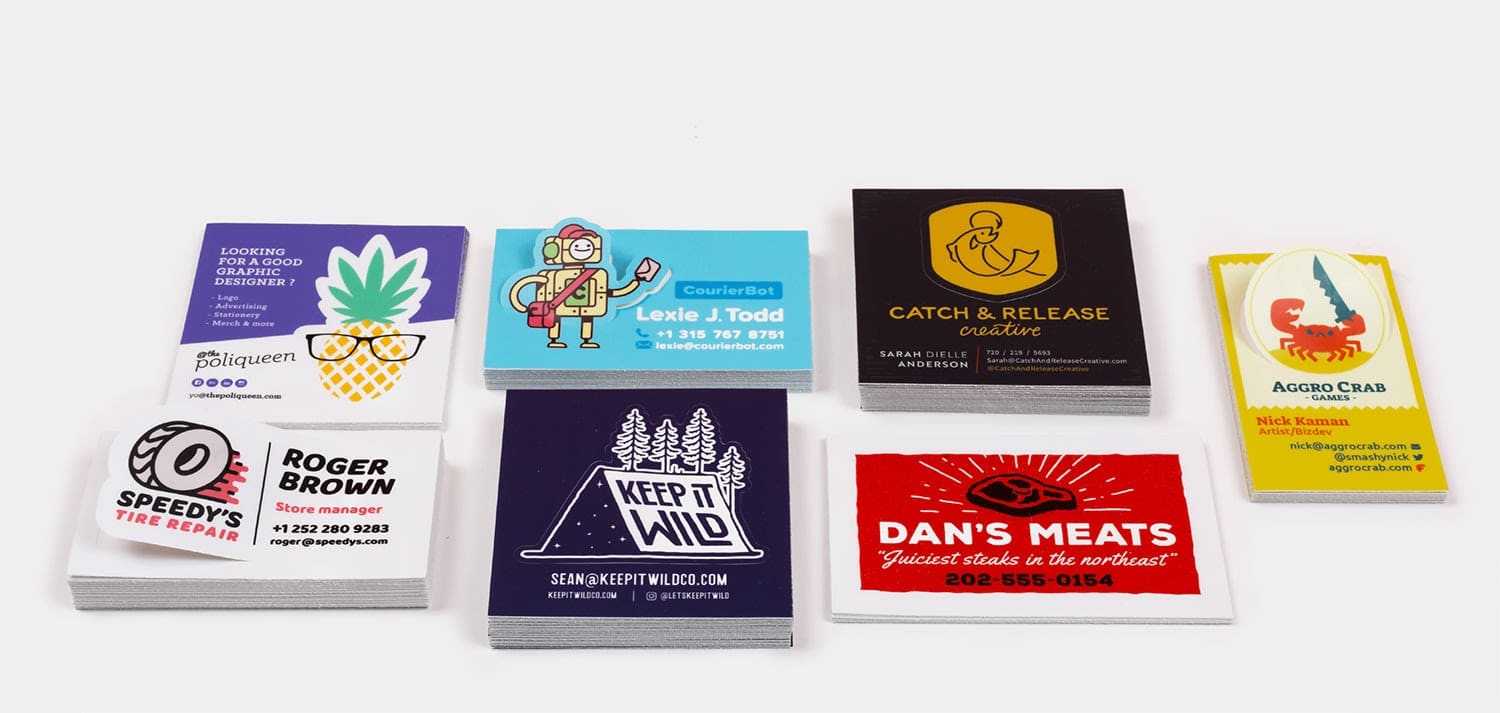 If you have a killer logo or a small-scale piece to show off, stickers are an amazing way to spread your art. These fully custom sticker business cards from Stickermule are sure to be kept and used. Once your art is on someone's laptop, water bottle or car, it's sure to spark more conversations and generate sales leads.
Conclusion
There are as many ways to design freelance artist business cards as there are freelance artists. The important thing is to be creative within your brand as an artist. Make style choices that stand out, but truly represent what you can do for clients. Think about the kind of art you do: utilize paints, ink, textures, scenes or characters that are important to you.
Be as creative in the ways that you use your business cards as you were in how you designed them.
Because at the end of the day, the biggest mistake you can make with your freelance artist business cards is to just let them sit in your wallet.
Let your art be seen, and good things will come back to you!
Keep the conversation going...
Over 10,000 of us are having daily conversations over in our free Facebook group and we'd love to see you there. Join us!