Table of Contents
This post may contain affiliate links. See our affiliate disclosure for more.
Knowing where to find good freelance graphic design jobs is crucial.
Luckily, these days you don't have to search far and wide just to secure good leads to stay in business. Whether you want to supplement your income with a side hustle or you want to finally pursue a full career in the creative arena, there's always something for you.
Today, we'll be listing down 16 of the best places to find freelance graphic design jobs for your next gig.
Let's get started!
Dribbble is the world's leading destination for freelancers and creatives and is the home for the world's best design professionals. It offers remote freelance graphic design jobs so you can land clients here no matter where you are on the globe.
You might also have the chance to work with the world's biggest brands since Dribble has been working with some of the world's best design-forward companies including Apple, Airbnb, IDEO, Facebook, Google, Dropbox, Slack, Shopify, and Lyft.
A very underrated job service, SolidGigs finds freelance graphic design jobs for you and sends them directly to your email inbox. Yep, you read that right — save the hassle (and time) scouring the internet for jobs and let them do it for you. You can learn more in our SolidGigs review, but SolidGigs eliminates the questionable/sketchy/unreliable job listings, and give you only the best. So if time isn't on your side, check it out for only $2.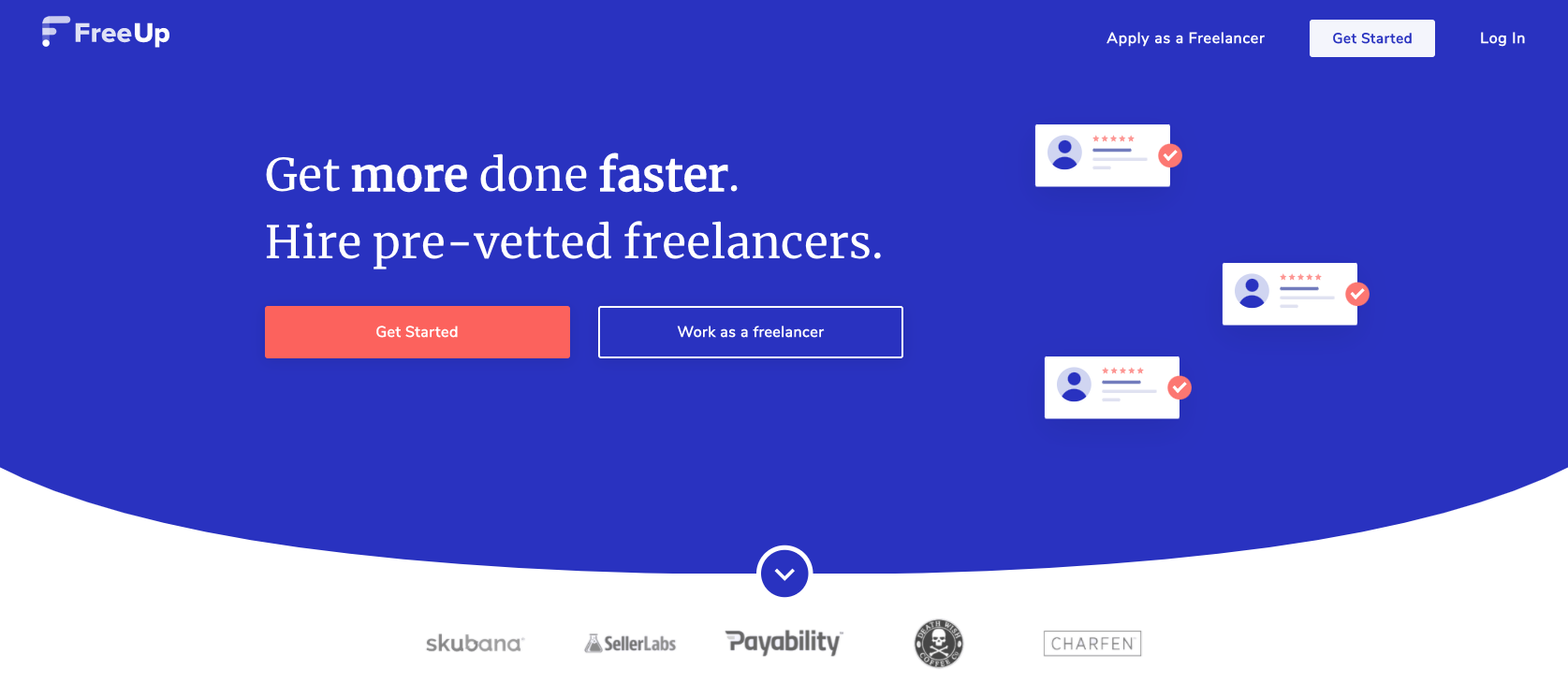 FreeUp is a freelancer marketplace that takes pride in connecting pre-vetted freelancers with business owners from around the globe. As a freelancer, you can offer over 85 different skill sets at the hourly or fixed rate that you set yourself.
Businesses are often looking for designers who can create compelling images to help them reach their goals. On FreeeUp, you can find clients easily through the Open Projects Board in your FreeeUp account.
FlexJobs is the leading job search site specializing in the best remote, part-time, freelance, and flexible jobs available. It is designed for anyone who wants a job with some kind of flexibility. They pre-vet the postings to make sure that there are no scams, too-good-to-be-true business opportunities, ads, commission-only jobs, or junk jobs that will come your way when you use their platform to find freelance graphic design jobs.

Dubbed as the largest global freelancing website, Upwork helps freelancers earn money by providing clients with over 5,000 skills across more than 70 categories of work. They have a streamlined process that uses sophisticated algorithms that highlight projects you're a great fit for.
You'll have the freedom to work on ideal projects involving graphic design, presentation design, image editing, art directing, print layout design, instructional design, and more!

Smashing Magazine is primarily a website and eBook publisher that offers editorial content and professional resources for web developers and web designers. It is still, however, a valuable resource if you're looking for freelance graphic design jobs. They have a platform on their website where you can find remote work with some of the greatest companies today.
99designs is a Melbourne, Australia based company that operates a freelancer platform for connecting graphic designers and clients. They connect more than one million talented freelance designers with creative people, genius entrepreneurs, and savvy businesses to create designs they love.
Here, you can either work directly with clients via their 1-to-1 Project system or you can submit your concepts to a Design Contest and earn big bucks.
Fiverr's mission is to grow and cultivate the world's largest digital marketplace so that you can find the people and services you need to build any business you can dream of. It is a technology-driven platform that even has a mobile app for on-the-go entrepreneurs like you! There are a slew of different freelance graphic design jobs available, starting from $5.
Behance is a social media platform owned by Adobe which aims to showcase and discover creative work in graphic design, fashion, illustration, photography, and more. As part of empowering creatives all over the globe, they have a platform where you can find freelance graphic design jobs easily.
LinkedIn Profinder was designed for top quality freelance or independent professionals looking to get new clients and leads. Through this platform, LinkedIn matches you with other members looking for services that match your expertise. If you're interested in their request, respond to the member with a short proposal. They'll also get access to your full LinkedIn profile, so be sure to keep yours updated. Currently, however, ProFinder is only available in the US.
CrowdSpring is an online marketplace for crowdsourced creative services. Here, you can find projects involving custom logo design, website design, illustration, marketing materials, industrial design, and more. Freelance designers can participate in a crowd project by sharing custom concepts based on the design brief. There are also 1-to-1 projects on this platform.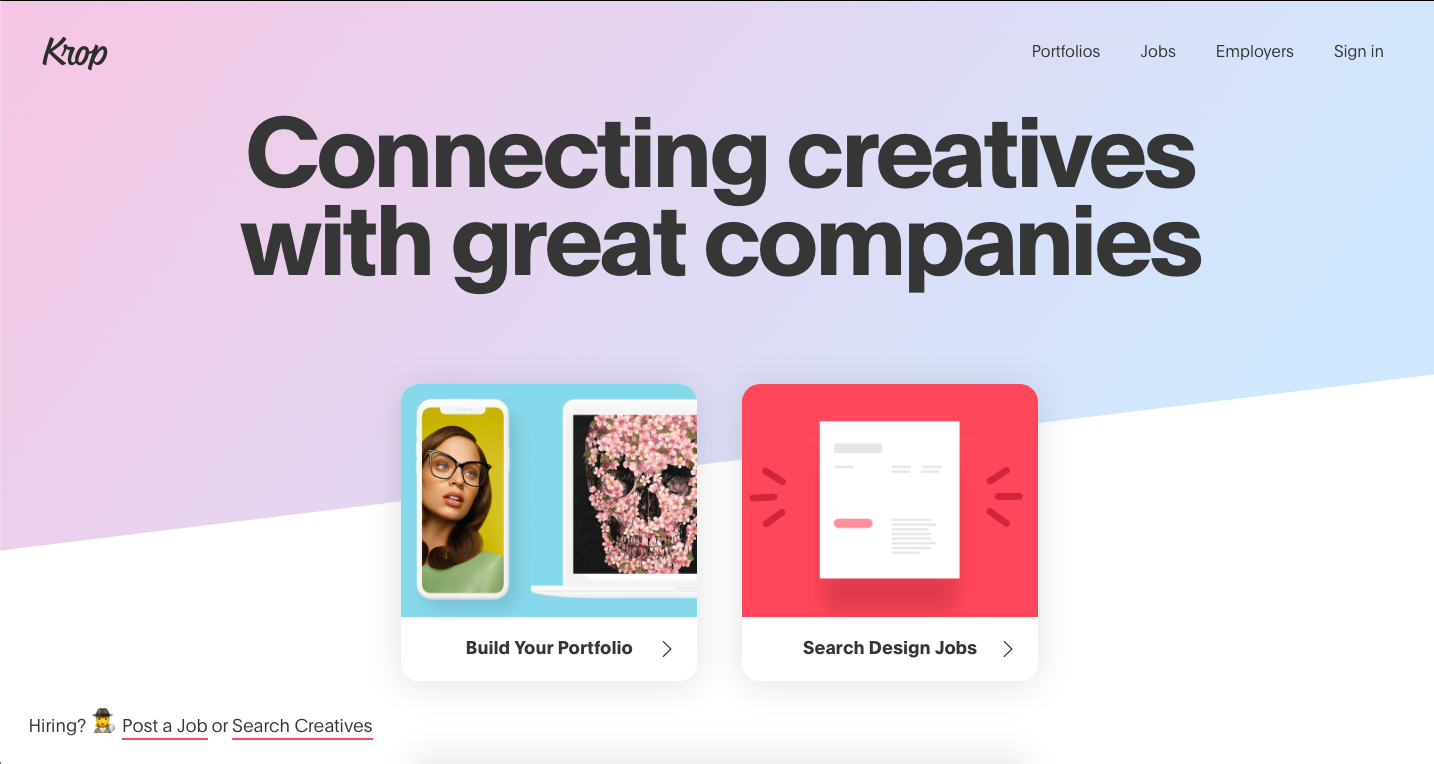 Krop is a platform that lets creatives built a portfolio website, create a profile and get found by potential clients, and search for projects in the creative field. The company aims to connect creatives with great companies. They have worked with big names like Nike, Tesla, Netflix, Apple, HBO, MTV, ESPN, Twitter, and more.
Designhill is a graphic design platform for designers to earn, participate, work and share their portfolio It's a one-stop-shop for business owners to source high-quality designs including logos, website design and more at affordable prices. Here, you can find graphic design gigs, join design contests, and earn extra dollars by selling through their PrintShop.
Toptal is a freelancing platform that connects businesses with software engineers, designers, and business consultants globally. They take pride in providing an abundance of opportunities for freelancers like you so you can pick your favorite freelance graphic design jobs easily.
PeoplePerHour is a UK-based online platform giving businesses access to freelancers. They aim to empower people worldwide to live their dream work, build their business from the ground up, and become financially and professionally independent.
They take pride in their Project Streams system where freelancers can communicate with clients, share assets, and gather feedback in one secure place.
Here, on Freelancer, verified freelancers can get access to projects that suit their skills, expertise, price, and schedule. Once you've found something appealing to you, simply write and submit a pitch that tells clients how much you understand the project and why you're the best person for the job. You can also save your searches and get alerted when relevant projects become available.
Vollna is a freelance job site that's built to be unique. By setting up a job filter specified to your needs, Vollna's job listings sort through all the top freelance job sites and compile them into one. Created by a fellow freelancer, you get all the latest freelancing jobs posted on freelance platforms such as UpWork, Freelancer, Peopleperhour, etc straight to your inbox or your mobile phone.
Freelance graphic design jobs you might be looking for
The truth is — it's hard to imagine the modern world without graphic design and the creatives behind it. As a graphic designer, it's your job to create visual concepts that effectively communicate ideas, inspire and inform people, and captivate the hearts of consumers.
Regardless if you're a budding graphic designer or if you're looking or more freelance graphic design jobs to expand your repertoire as a creative, you can find tons of work that revolves around your skillset.
Below are seven positions you can pursue as a graphic designer:
1. Multimedia Designer
As a multimedia designer, you are expected to integrate multiple forms of media when creating your designs. Commonly, this involves combining animation with design to create collaterals for video games, movies, commercials, music videos, and other media.
2. Web Designer
Web designers play a key role in web development. As a web designer, you are in charge of creating the pages, layout, and graphics for web pages. You'll also need to decide the content that should be included on web pages, like graphics, text, navigation, and the like.
3. Logo Designer
Logo designers help businesses build brand recognition through a special-designed image that acts as the face of the company. A well-designed logo that captures the essence of a company helps customers remember the brand for years to come.
4. Brand Identity Designer
As a brand identity designer, you're in charge of helping businesses and organizations develop consistent branding throughout their collaterals. You will be developing new and innovative ways to express what the brand stands for through imagery including logo, typography, color palettes, and the like.
5. Photo Editor
Photo editing is a crucial task in the modern world and graphic designers are expected to be knowledgeable in the use of tools such as Photoshop or Illustrator and even mobile applications for portable editing work like Instasize, among other design systems. When you work as a photo editor, you'll be manipulating and customizing images, creating compositions, designing high-resolution graphics, and more.
6. Layout Artist
A layout artist is a graphic designer that puts together typography, images, illustrations, photographs, or drawings to create a visual design. You'll often be working with publications, advertising companies, and public relations firms to create page layouts that are balanced, pleasing to the eye, and easy to read.
7. Creative Director
As a creative director, you will be tasked with managing groups of creatives. Common duties include planning advertisements, monitoring brand campaigns, revising presentations, and shaping brand standards. Since this involves strategic planning, it is often assigned to senior graphic designers who already have experience in the field.
Key Takeaways:
Freelance graphic designers can find work through a variety of sources including job boards, freelancing platforms, social media, and personal networks.
Networking, building a strong portfolio, and consistently marketing oneself are essential for success as a freelance graphic designer.
It's important to research potential clients and only take on projects that align with one's values and abilities.
Final Words
The creative industry can be competitive and—sometimes—landing projects can seem like a gargantuan task. Luckily, the freelancing market has made it possible for graphic designers like you to find freelance graphic design jobs no matter where you are in the world. As long as you know where to find work, you can sustain your freelance business for a long time.
Keep the conversation going...
Over 10,000 of us are having daily conversations over in our free Facebook group and we'd love to see you there. Join us!