Gifts for writers on your holiday list can be a struggle to find. We writers are a rare breed, with specific interests and a rather low tolerance for nonsense. After all, writing is our trade.
So if you're looking for the perfect gifts for writers this holiday season, we've got you covered with plenty of kitschy, useful, and novel (pun intended) gift ideas.
Here are our favorite 2021 gifts for writers:
Unexpected Gifts for Writers
While plenty of gifts for writers can be more practical (see our "practical" section below), the best part of giving gifts is surprising the receiver. That's why we're leading our writers gift guide with a few less-than-expected gifts for writers who deserve to be delighted this holiday.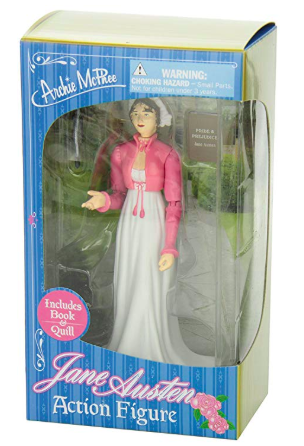 Jane Austen Action Figure
No list of gifts for writers is complete without mentioning THE Jane Austen, so let's just get it out of the way up front. (No, I DON'T promise not to bring her up again…) For the writer who has everything, this whimsical Miss Austen action figure is sure to bring "a glow of such happy expression," to any writer's face.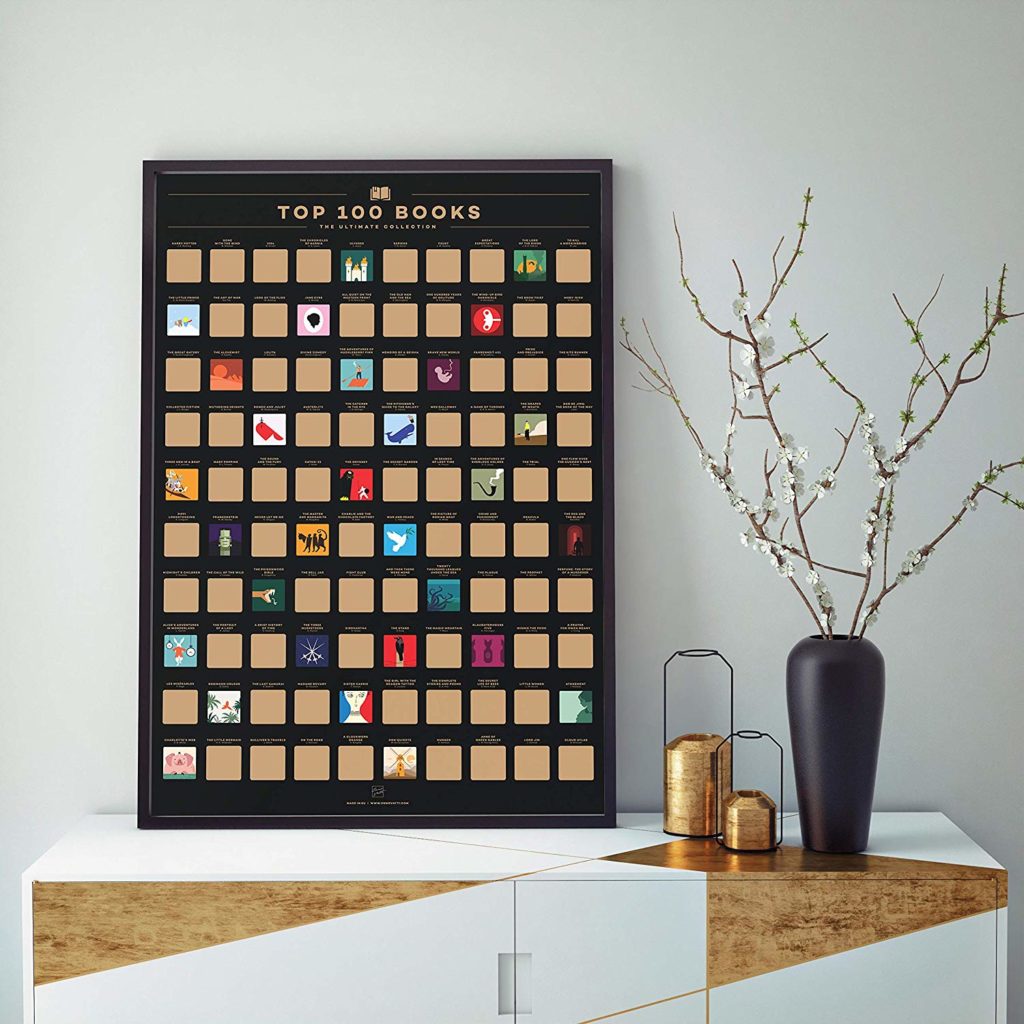 Ultimate Books List Scratch-Off Poster
One way many writers unblock their creativity is by getting lost in a good book. If you're looking for gifts for writers who are also bookworms, then this absolutely brilliant scratch-off poster might be just what you need. As your loved one reads (or re-reads) every book on the list, they get to scratch off the gold film and reveal a creative image representing the book they just finished.
The Modern Manual Typewriter
If you need gifts for writers who are serious about their craft, nothing will excite them more than writing the old-fashioned way! This modern manual typewriter will help your lit enthusiast channel their inner Hemmingway or Louisa May Alcott. It's a bit on the higher-price end of our list of gifts, but it's sure to please.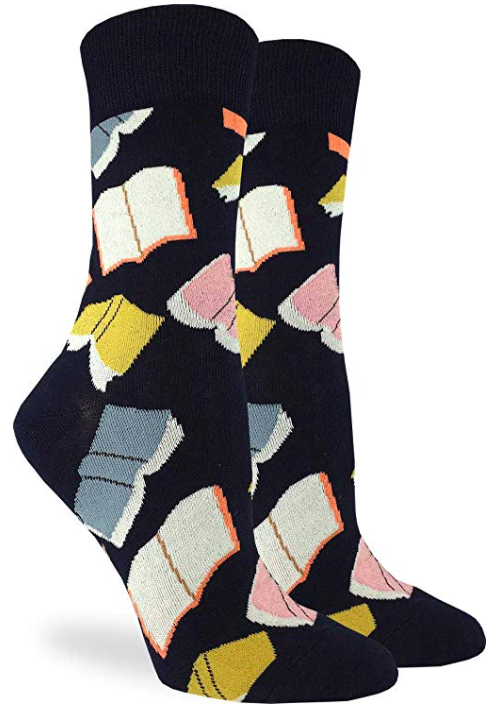 Whimsical Book Socks
Just like Robert Louis Stephenson who said, "I kept always two books in my pocket, one to read, one to write in," writers tend to also be avid readers. Celebrate this most worthwhile of hobbies with these awesome book socks on Amazon.
An Actual Quill & Ink Set
While most authors probably won't go so far as to write an entire book with a quill and ink set like this , having an interesting writing tool could help inspire your writer with their next great idea. Chalk this one up to gifts for writers that the rest of the world just won't understand (but writers will love!).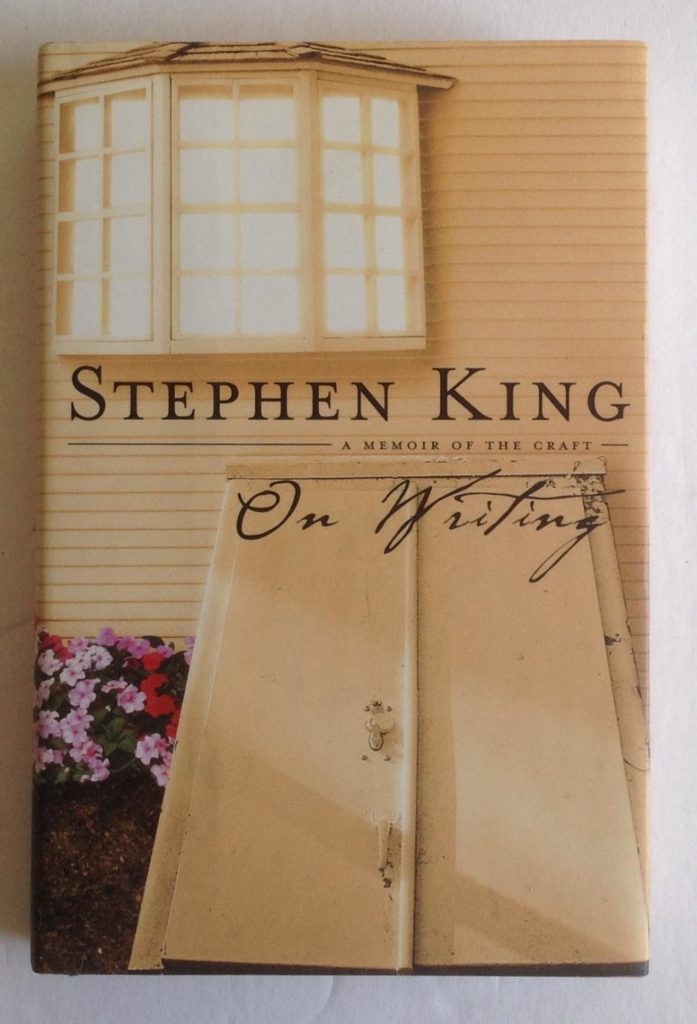 Stephen King's Memoir to the Craft of Writing
Who better to learn from than one of the most recognized writers of our time? On Writing, by Stephen King is sure to spark some new techniques and thrill any author; making it one of the best gifts for writers of any experience level.
Under $10 Gifts for Writers
Finding the right gifts for writers doesn't mean you have to break the bank. In fact, writing tools can sometimes be the most simple things around—many writers are content with a pen and paper. If you don't have a huge budget for gifts for writers this holiday, try our list of gift ideas under $10.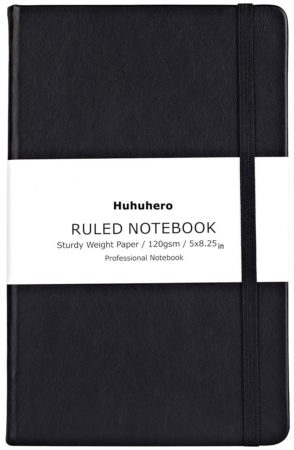 Classic Hardcover Ruled Notebook
I don't know any writer – or anyone else, really – who wouldn't love a fancy new notebook. Nothing beats the smell of new paper and blank pages ready to take on new ideas. This simple journal from Amazon is plain enough to suit any type of writer and classy enough for them to love it.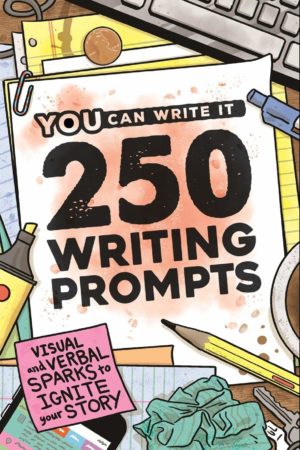 250 Writing Prompts Book
Writers of all kinds experience the dreaded "writer's block" from time to time. This simple journal contains a variety of prompts that will help kickstart creative juices. The best part? The prompts are non-specific, so they can help novelists, copywriters, content marketers, script writers…you name it, this book is for them.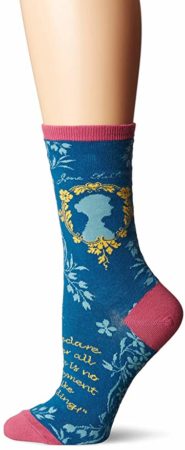 Jane Austen Socks
See – I'm back with more Jane Austen! Really though, for only $8 you cannot go wrong with this perfect pair of Jane Austen socks.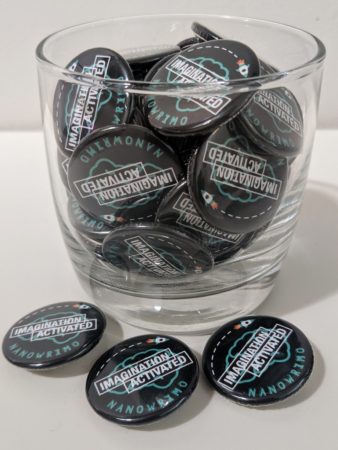 Don't worry if you've never heard of NaNoWriMo – odds are, the writer on your gift list has. Many aspiring authors participate in National Novel Writing Month, where you attempt to write an entire book, start to finish, in the month of November. This intense goal has helped jump-start hundreds of thousands of creative projects all over the world. The NaNoWriMo shop has dozens of great gift items, but at only $5 (plus shipping), we love these "Imagination Activated" buttons.
George RR Martin Figurine (Game of Thrones)
Do you know an author who's really into fantasy fiction? This hilarious George RR Martin vinyl figure is the perfect addition to their collection!
Practical Gifts for Writers
While writing is one of the most satisfying careers or hobbies around, that doesn't mean writing isn't hard work. Which is why we couldn't create this gift guide without adding a few highly practical gifts for writers too.
Fingerless Writing/Typing Gloves
Whether they work from home or in an office, the writer you know is bound to need these fingerless writing gloves to keep their hands warm while they type up their next masterpiece. If JM Barie isn't their muse, the Anne of Green Gables, Pride and Prejudice, or other versions might be just the thing!
How to Write Science Fiction & Fantasy
If you know someone who's ready to write the next Harry Potter, Lord of the Rings, or Dune, this handy guide by Orson Scott Card (prolific Sci-fi writer) has some great ideas for beginning and seasoned authors alike.
The Greatest Opening Lines Of Literature Mug
Of course, you didn't think we could build a list of gifts for writers (aka coffee-lovers) and not include a mug did you? True literature aficionados will truly appreciate this mug sitting in their workspace. With famous first-lines staring you in the face as you start your morning, what wordsmith could help but be inspired?
John Williams' Greatest Songs
John Williams may possibly be one of the best movie composers of all time—bringing us unforgettable music from films like Star Wars, E.T., Superman, Jaws, Indiana Jones, Jurassic Park, and many more.
Whether you're in search of gifts for writers who specialize in movie scripts or exciting novels, what better to provide the ambience they need than the great John Williams himself? Get the greatest hits for only $15 on Amazon.
Gifts for Professional Writers
While plenty of people are shopping for gifts for hobbyist writers, maybe the person you're buying gifts for this holiday is a real professional. If you know someone who spends most of their waking hours as a writer, then these pro-level gifts for writers ought to do the trick.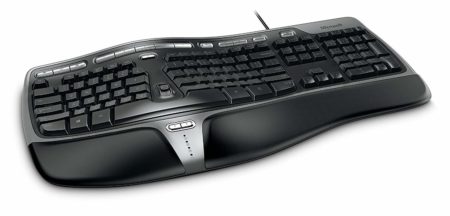 Natural Ergonomic Keyboard
Professional writers spend hours in front of their screens, typing endless notes, stories, articles, or blog posts. All of the keyboarding can take a toll on the wrists. A basic ergonomic keyboard from Amazon can help ease the pressure on your writer's hands.

Folding

Ergonomic

Bluetooth Keyboard
If you're searching for gifts for writers "on the go," this inexpensive, foldable ergonomic Bluetooth keyboard can sync with a tablet or smart phone to make typing a breeze.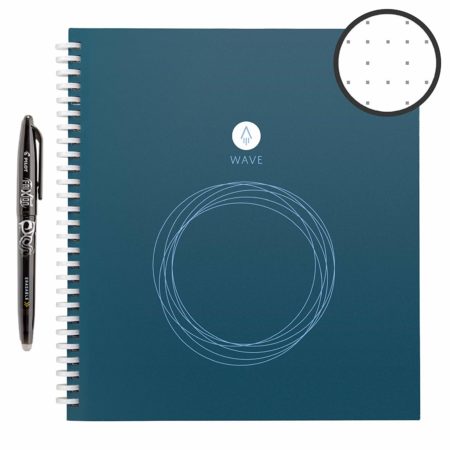 Rocketbook Reusable Notebook
Dedicated writers can go through a massive amount of paper, keeping track of ideas, doodling family trees, sketching out settings, taking notes in meetings, and sometimes even writing stories or articles by hand. Thanks to the technology of Smart Notebooks, they can do all that and still save the rainforest. The Roketbook Wave reusable notebook works just like its paper cousin, except it digitizes all of your notes. The notebook can then be completely cleared simply by popping it in the microwave.
Tombow Color Markers
More visually oriented writers may need a non-digital set of tools. Whether you're practicing your calligraphy or illustrating your own children's book, these Tombow markers come highly recommended from pros in the field.
Gifts for Writers under 18
Of course, no list of gifts for writers would be complete without including our young, aspiring writers in the mix. Below, you'll find a few fun and age-appropriate gifts for writers under the age of 18 (and we won't tell if you get one for someone over 18 too).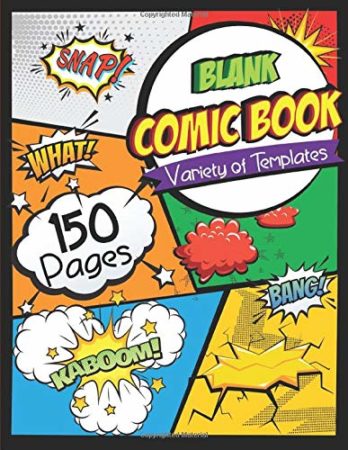 Black Comic Book (Draw your own comic)
I don't know any kids these days that aren't into graphic novels. Get their imagination really churning with their own blank comic book! This simple book has panels for kids to draw their own stories however they want.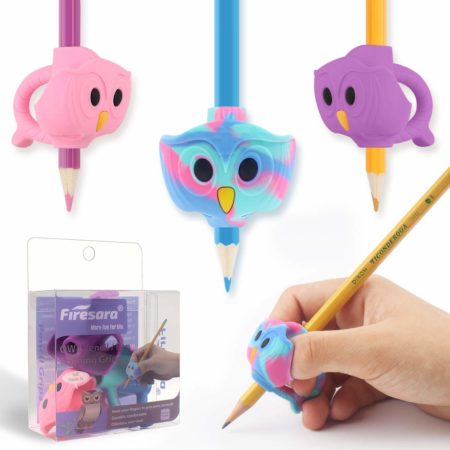 Pencil Grip for Kids
The smallest creative kids may need a boost in their writing endeavors. These cheerful pencil grips will get them off to the right start, and help maintain those muscles by reinforcing a more comfortable grip.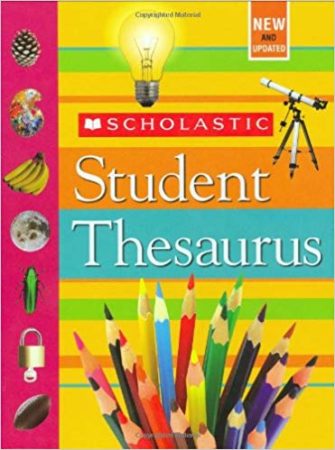 Scholastic Student Thesaurus
Your budding author may need a bit of inspiration for words other than "awesome" to use in their stories. This kid-friendly thesaurus from Scholastic will be just the tool they need. Bonus points if you can teach them to say "thesaurus" three times fast.
Dr. Seuss Inspired Soft Flannel Blanket
Kids day-dreaming about writing their own stories need a comfy spot to think. Create a cozy corner with this sure-to-please soft flannel blanket featuring everyone's favorite writer: Dr. Seuss.
If you're still stuck – go back to the basics: favorite paper and pens can always be replenished, and every writer (whether they're in marketing or science fiction) is constantly looking for their next great book to read. Whatever you land on, wrap the whole thing up with some amazing wrapping paper to really finish any great gift for a writer off perfectly.
Good luck and Happy Holidays!
Keep the conversation going...
Over 10,000 of us are having daily conversations over in our free Facebook group and we'd love to see you there. Join us!