Table of Contents
This post may contain affiliate links. See our affiliate disclosure for more.
As a designer, your graphic design invoice can say a lot about you and your small business.
Not to mention, your graphic design invoice can impact when and how you get paid as a freelancer or creative.
So today, we've compiled some of our favorite graphic design invoice examples for your inspiration and enjoyment. We've also included 6 graphic design invoice templates you can download completely free (see below) and some of our favorite tips for creating your own professional invoice.
Let's start this ultimate resource for graphic design invoices with the best part: inspiration!
Graphic design invoice examples to inspire you
Graphic designers all over the world use graphic design invoices to bill their clients and get paid on time. Here are some of our favorites along with lessons you apply from each one:
1. Start by including the basics
In your graphic design invoice template, include a unique invoice number, company name/address/logo, date of the invoice, client details, scope of work, contact information, cost or price of the services that need to be paid.
2. Make your branding consistent
It can be tempting to just whip up an invoice in Excel or Google Sheets, but taking the extra time to at least add the right colors and fonts to your invoice can give it that one extra step of professionalism.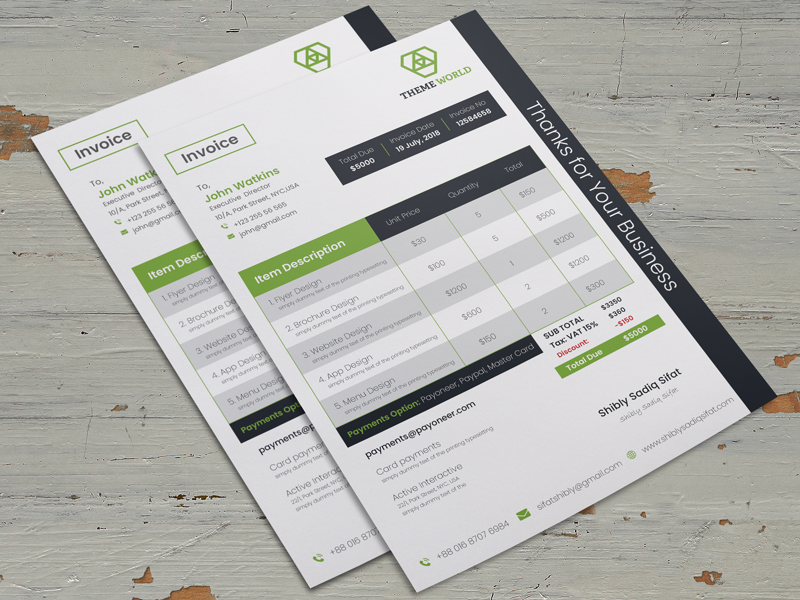 3. Give it some character — have fun with it!
By nature, business and finance documents tend to be a bit…well…boring. But that doesn't have to be the case with your graphic design invoice. Try adding some fun character to your invoice. Not only will you get paid for your work, but you might also make someone smile along the way.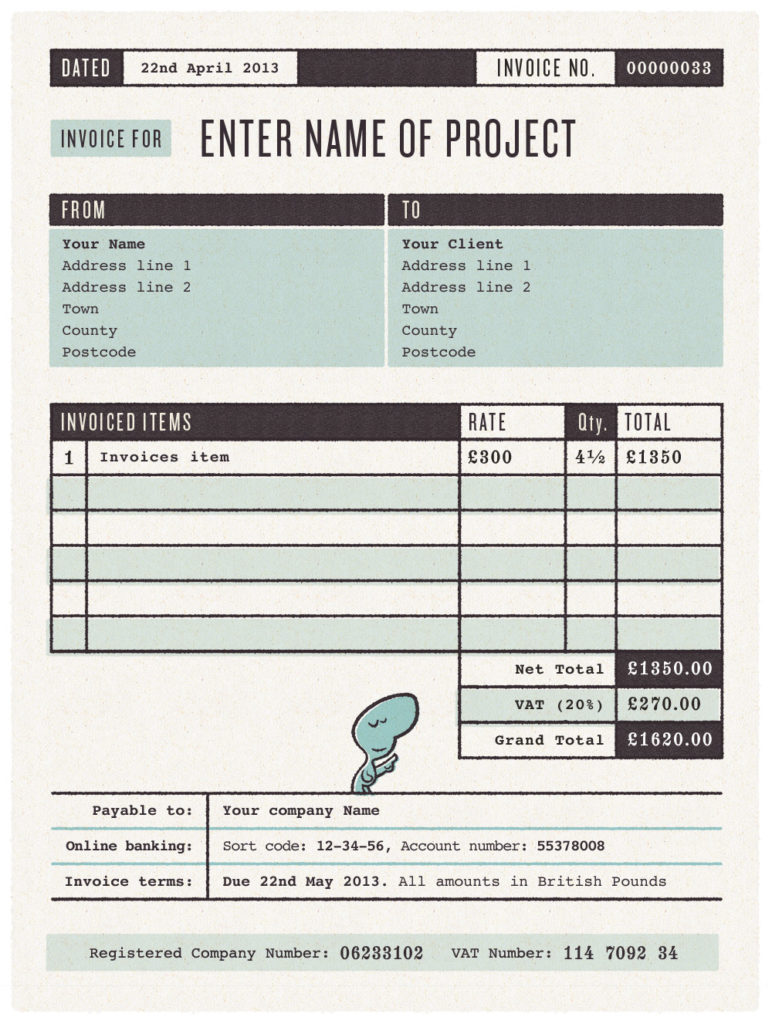 4. Keep it modern and clean
Contrary to the above, you could go with a straightforward, modern design for your graphic design invoice. To some, it may come off as a bit boring, but when it comes to an invoice — white space is never a bad thing.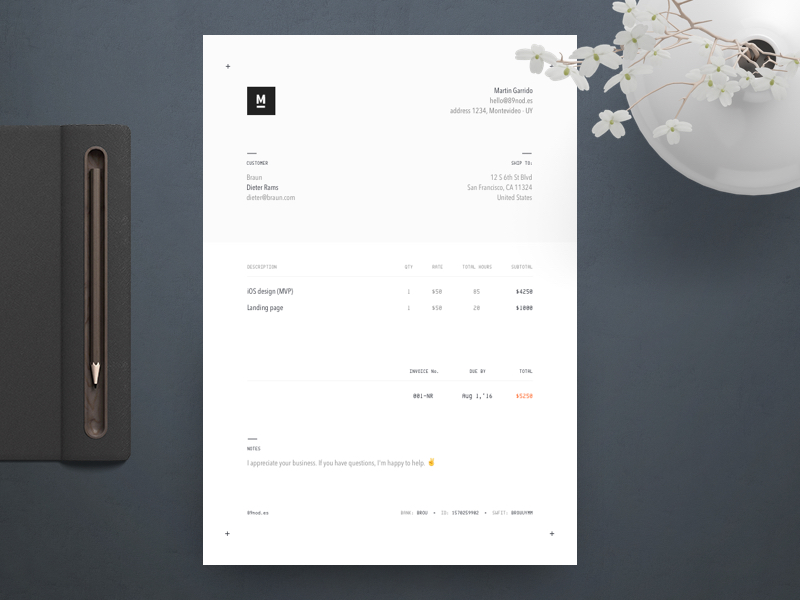 5. Get creative
Combining a mixture of modern and creative can produce a really appealing graphic design invoice, too. Think outside the box, and vary your font sizes for an easy to read hierarchy.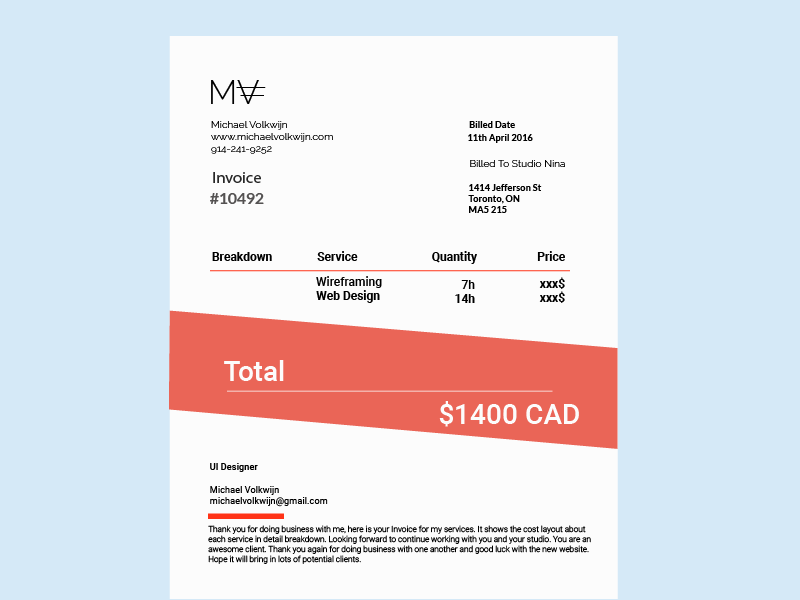 6. Don't leave any detail out
In the sample below, you'll see that this graphic designer made sure to not leave anything out. Going down to the specific company name, the person it's addressed to, their position in the company, address, and even a small terms and conditions section. This may sound like a lot, but when done nicely, it maintains good readability and is not overwhelming.
7. Give thanks to your client
Where would your business be without your client? It's always a nice touch to include some sort of thank you note at the bottom of your invoice to show your appreciation.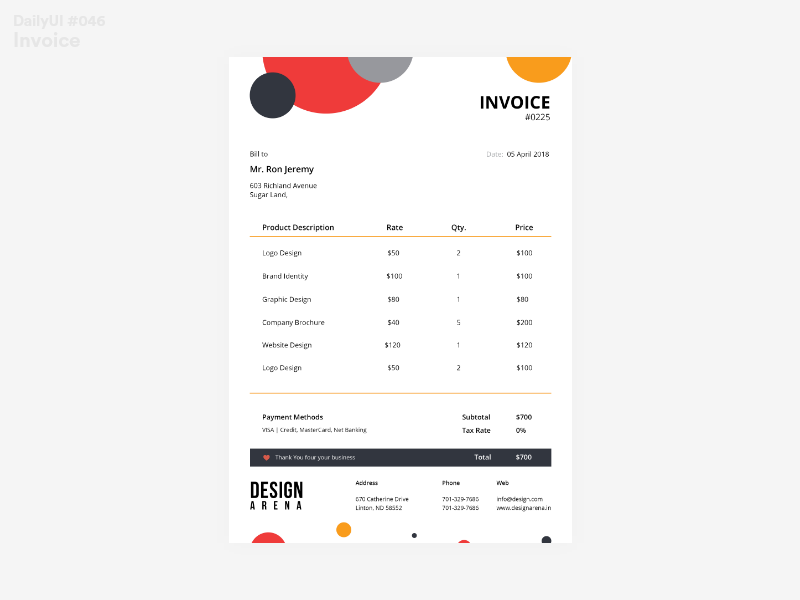 8. Go all out!
If you really want to show off your design skills, take it to another level by creating a really unique invoice. Just be sure you keep only the essentials there for maintaining an effective invoice.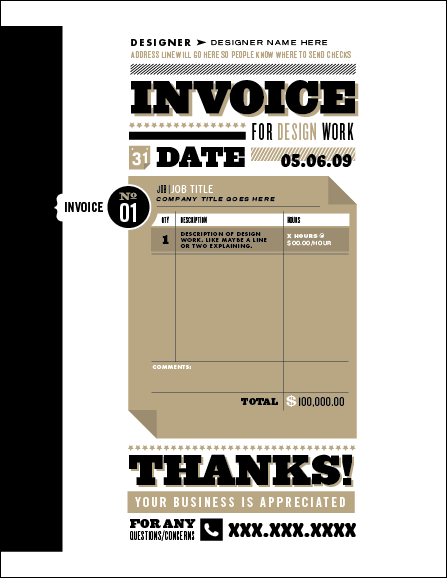 9. Professional, but colorful
Thomas Maxon displays how to design your invoice in a professional layout, but incorporates his brand color throughout. This style of the invoice can make yours noticeable, without overdoing it.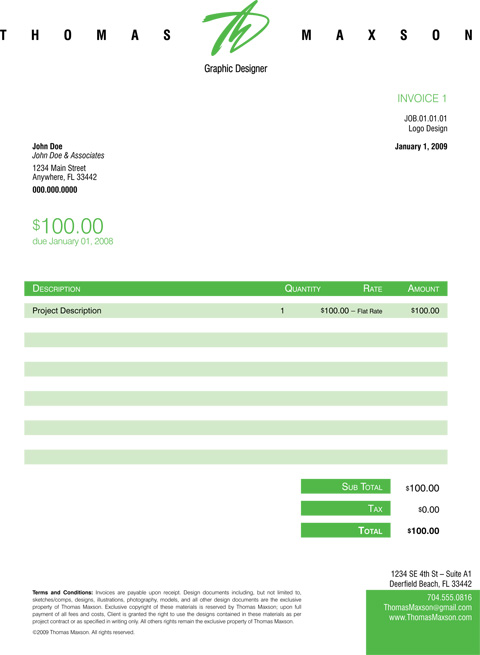 Creating your own graphic design invoice
Ok, now you're all fired up about creating your own graphic design invoice, right? Here are a few ways to get started:
Start from scratch in InDesign, Photoshop, Google Docs or wherever you feel comfortable. (Slow)
Use software like Canva where they have lots of pre-built invoices. (Medium)
Check out a website like PayPal which allows you to send professional invoices too. (Medium)
Try a free invoice generator like the ones offered by Freshbooks or Zipbooks. (Fast)
or Download our Free 6 graphic design invoice templates and customize them to meet your needs. (Fast)
Regardless of the method you use to actually design your invoice, there are a few key things every designer should keep in mind when creating a graphic design invoice. And we'll get into a few of those next:
6 Must-haves for every graphic designer invoice
There are several key things that every graphic design invoice (or any invoice for that matter) should include. Here are the 6 that you cannot forget:
1. Client info (and yours)
You must have the information for both the company you are invoicing, as well as yourself:
Business or Company name/logo
Client's name
Contact information
Address
Email/phone number
Having all of this information on your invoice makes it professional and clear who is receiving it.
2. Itemized list of services
List each and every service you will be providing. Breaking down the charges helps those on the receiving end easily understand your graphic design invoice.
Additionally, listing out the services involved on the invoice directly saves you the time from having to answer your client through email or phone.
3. Invoice number
This provides a way of tracking the invoice specifically if it was lost, not paid, etc. Following up on an unpaid invoice with an invoice number is definitely more efficient.
4. Prices/Rates
In your detailed list of services, accompany each service completed with your rates. Being transparent in your pricing is also important to gaining respect and trust with your clients. So include every detail, including the total number of hours (if applicable).
5. Total due
Don't forget to add up your invoice for a grand total amount due. Make it clear by bolding and/or enlarging the text.
6. Dates
There should be a few separate dates to include. First, the date of the invoice in which you're sending it. Second, the dates from which the services were completed (i.e. November 2018, or 11/1/18 – 11/30/18). Lastly, and most importantly, the date on which the invoice is due — also known as the payment terms. An invoice without a due date does not set you up well for getting paid on time 🙂
There are, of course, lots of other things you can add to your invoice. Project details, payment options, and more. But the items above will give you a good foundation if you want to create your own graphic design invoice from scratch.
Key Takeaways:
Include all relevant information, such as your name, address, and payment terms, on the invoice.
Be clear and specific about the services you provided and the corresponding costs.
Use a professional and easy-to-read format to help ensure timely payment. Or use an invoice app.
Tips for making a graphic design invoice
Be cautious about making your design invoice too flashy or hard to navigate.
It can be tempting as a designer to make your graphic design invoice really flashy. While sometimes that can be really good—a flashy invoice may really stand out in a pile of white papers on your client's desk—consider a few reasons it could also be a poor decision:
Too much color on your invoice means your client chooses not to print it—saving on ink—which means it never makes it to accounts payable.
Too much visual noise may slow down the process of getting your graphic design invoice paid on time and the correct amount. Making it simpler to read and navigate is almost always the best decision.
That's not to say your design invoice shouldn't be well-designed. I mean, you are a designer after all, right? So add your own flair and character to your graphic design invoice, just make sure it also achieves its primary purpose: getting you paid.
One of the most efficient ways you can make it easy to get paid is to accept credit card payments — this allows you to transfer funds directly to your bank account. So this cuts out mailing a check and waiting on the deposit. You can do this by using sites like Bonsai, FreshBooks, Fiverr Workspace, Lili, QuickBooks and more.
Remember, the function is often a major factor in good design anyway.
Here are some more questions you might have when designing your invoice:
Do I always need to send an invoice?
Absolutely! The answer is always yes. No matter how big or how small the job is you must always send a graphic design invoice. It is of the utmost importance to not only send an invoice but to keep one on file for your own records. You never know when you will need to refer to it.
Some might say it's not necessary, but without one, you are lowering your chances of getting paid. I'd even bet that majority of clients prefer receiving an invoice — after all, they're running a business too, right?
When should I send my invoice?
Don't wait weeks to send your invoices. You should be organized and ready to go when your project is wrapped up. With the proper graphic design invoice template, all you have to do is plug in a few things and you're done!
For the highest chances of getting paid, send it promptly upon project completion.
What if my client still hasn't paid my graphic design invoice?
A common issue that can arise with your graphic design invoice is the failure to ever receive payment. Here's a quick list of invoice dispute dos and don'ts from Millo's April Greer:
The dos and don'ts of invoice disputes
Always be professional and mature, regardless of your client's behavior.
Don't be afraid to confront the issue — the longer you wait, the harder it is to collect payment.
Start out friendly and understanding. You'll have plenty of time to dig in and express your disappointment as the situation drags out.
Phrase your statements as the choice your client has made (e.g. "I have no choice but to," "I'm disappointed that I'm forced to," etc.)
What methods should I use for sending my invoice?
Nowadays, there are so many different ways you can generate, send and track your invoices. Here are some suggestions:
Good 'ol fashioned email — sending a PDF of your invoice directly to the client (their accounting department, preferably) still shows as an effective way of getting paid. If you're using Google Docs or Google Sheets, just download it as a PDF for sending.
Bonsai — get paid easily, and quickly, by creating and sending your graphic design invoices with Bonsai.
Freshbooks — with their intuitive software, you can easily create, track and manage your invoices with a breeze.
Quickbooks — since they've been around a while, they know what they're doing when it comes to quality invoicing and bookkeeping services.
Fiverr Workspace — its smart invoicing tool automatically creates invoices for you and lets you know when they're viewed or paid. The Fiverr Workspace app has a no-credit-card needed free trial which you can try out right here.
Ready to get paid?
If you haven't already, download our free templates to get started on yours! Be sure to utilize our tips for creating a beautiful, yet effective graphic design invoice for getting you paid!
Keep the conversation going...
Over 10,000 of us are having daily conversations over in our free Facebook group and we'd love to see you there. Join us!